While Clek hasn't become a household name quite yet, we've kept an eye on them because of their industry-leading safety innovations and eco-friendly car seats. We found that Clek car seats are conveniently narrow but, in their own words, "built like a tank," with safety features like rigid-LATCH systems, anti-rebound bars, and impressive crash management systems.
As parents ourselves, we know that keeping your kids safe goes further than safety features. It's more important than ever to do our part to save the environment and expose our children to fewer toxins, which is one of the reasons we love Clek and its mission. 
In 2014, they became the first car seat company to remove all brominated and chlorinated flame retardants from their car seats. They're one of the only seats we've seen that give you multiple different fabric options, all of which are non-toxic.
Our favorite is the Merino Wool, a soft and natural fiber that's ethically sourced. Clek carefully chooses materials with sustainability in mind and is the only car seat company with a car seat recycling program.
We love the Clek offers best-in-class safety, style, and convenience. More than that, they design as parents, creating car seats that give us peace of mind on all fronts.
After a thorough examination and testing without a doubt, we found that the best Clek car seat on the market is the Clek Liing Infant Car Seat. This lightweight luxury infant seat feels like a dream but takes no shortcuts when it comes to safety features. It has an energy-absorbing metal load leg, rigid-LATCH connectors for easy installation, and seven recline positions for the best angle for your baby from 4-35 pounds.
We were extremely impressed that it's also the first infant seat with a baseless option. We told you Clek was changing the game, didn't we?
Below we included the best infant, convertible, and booster seats that will give you and your child a piece of mind knowing that you chose the best car seat for many years to come.
Best Clek Car Seats 
| Name | Weight Limit | Height Limit | Mode |
| --- | --- | --- | --- |
| Clek Liing Infant Car Seat | 4-35 lbs. | 32" | Rear-Facing |
| Clek Fllo Convertible Seat | 14-65 lbs. | 49" | Both Rear-Facing/Forward-Facing |
| Clek Foonf Convertible Seat | 14-65 lbs. | 49" | Both Rear-Facing/Forward-Facing |
| Clek Oobr High Back Booster | 40-100 lbs. | 57" | Highback Booster |
| Clek Olli Backless Belt Positioning Booster | 40-120 lbs. | 57" | Backless Booster |
| Clek Ozzi Baclkess Belt Positioning Booster | 40-120 lbs. | 57" | Backless Booster |
The Liing Infant Car Seat is the first infant car seat Clek has done. Synonymous with the company's reputation for quality, safety, and style, this car seat is a dream. It is lightweight (approximately 9 pounds fully loaded with inserts), compact, and has a one-hand quick release making it effortless to remove the carrier from a car seat base or stroller.
The Liing is one of the lightest infant car seats on the market. The carry handle is ergonomically constructed for comfort when carrying the baby seat in your hand or mid-arm.
The Clek Liing has leading safety features.
The metal load leg stabilizes the base in the event of a collision. The Rigid-LATCH system offers effortless and secure installation with the anchors in your vehicle. Where the LATCH system is unavailable, the belt-tension system provides secure belt installation. Perfect for 3-across seating. The seat did well in crash tests for both setups. 
The base of this infant car seat can be adjusted to recline in seven positions so that you can always and easily get the right angle for your baby regardless of the shape of the seat. The recline position is easy to adjust even when the base is installed. You can also use it without the base using the European seat belt path. This makes it a great option if your traveling by cab or plane. 
Price Comparison
$489.99
$529.99
in stock
3 new from $489.99
as of November 29, 2023 11:47 pm
$499.99
in stock
1 new from $499.99
as of November 29, 2023 11:47 pm
It has a 2-stage insert system that provides head support and a snug fit, making it perfect for preemies. Its large canopy delivers full coverage with SPF 100+ protection and can be adjusted to three positions. There is also a mesh window on the back, allowing air-flow and visibility. The fabric on the seat covers comes in three Crypton Super Fabrics choices – 100% Merino Wool; a jersey knit polyester-spandex; or fluorine-free, moisture-wicking, stain-resistant Zero+. 
None of the fabrics contain chlorinated flame retardants or brominate. Spot cleaning is recommended. However, the covers can be hand washed using a gentle detergent.
What We Like 
Easy to Install

Lightweight 

LATCH System or Belt System

Canopy

Load Leg

Narrow Enough to Fit 3-Across
What We Don't Like
No-Rethread Harness

Limited Color Choices
Clek Liingo – made for Use in Taxis, and Ubers
Clek has recently released the Liingo, North America's first baseless infant car seat. It's the exact same seat as the Liing, just without the base. There are LATCH connectors stored in a detachable bin within the seat that can be used to quickly and safely install it without a base. You also have the option of using the European seat belt path. The revolutionary Clek Liingo was made specifically for parents without cars, for use in taxis, Ubers, or any car you may be riding in.
2.Clek Fllo Baby and Toddler Seat Rear and Forward Facing with Anti-Rebound Bar – Designed for Safety
The Clek Fllo Convertible Baby and Toddler seat is one of the safest narrow convertible car seats on the market. It has advanced safety technology that ensures child safety in the event of a collision, without diminishing comfort.
This convertible car seat can also be installed using the LATCH system or the seatbelt system. The LATCH connectors are button style, making it easier to connect than the clip style. 
The Clek Fllo is loaded with safety features. It has advanced side impact protection to prevent serious injury should a side-impact collision occur. This convertible seat has energy-absorbing foam layers on the inside and outside of the frame. It also has an adjustable headrest lined with energy-absorbing foam and deep side wings for added protection. 
Additionally, it has a steel anti-rebound bar located near the base of the car seat that engages when a collision occurs. This reduces the forward and backward movement of the seat. The anti-rebound bar catches on to the back the seat of the car to stop the rebound movements that happen in front and side collisions. Because of the anti-rebound bar, the Fllo allows for extended rear-facing seating. 
Price Comparison
$39.99
in stock
4 new from $39.99
2 used from $31.67
as of November 29, 2023 11:47 pm
$449.99
in stock
7 new from $359.99
as of November 29, 2023 11:47 pm
Clek also developed and patented "energy absorbing crumble technology" (EACT).
It transfers the energy of the crash to aluminum, honeycomb cores in the base of the car seat. The fabric on the seat comes in several choices – Standard Crypton; Noire Crypton; Tailored Crypton; Tokidoki for Clek; 100% Merino wool. They contain a stain guard that protects against stains and odors. The fabrics are also free of chlorinated flame retardants and brominate. It's recommended that they are cleaned by hand.
What We Like 
Easy to Install

Lots of Safety Features

LATCH System

Anti-Rebound Bar

Narrow 

Ideal for 3-Across

Rear-Facing Weight Limit Extends to 50 Pounds
What We Don't Like 
A Bit Heavier than Other Seats

No Adjustable Recline
The Clek Foonf is a luxurious and chic convertible car seat. It does have a strange name, but it is one of the most remarkable car seats sold on the market in the U.S. It is also one of the few car seats on the market that will allow a child to rear-face up to 50 pounds.
Though the Foonf weighs about 33 pounds, it is easy to install both rear-facing and forward-facing. It's narrow, making it easy to 3-across the backseat on many vehicles. 
It also boasts outstanding safety features. Clek incorporated REACT which stands for Rigid-LATCH Energy Absorbing Crumple Technology. The technology uses a "crumple zone" to slow down the change in momentum, thus reducing the force that affects the child. 
The Foonf has outstanding side impact protection with layers of foam on the inside and outside of the car seat and an energy-absorbing headrest that connects to the seat frame using sturdy metal rods. The seat has an anti-rebound bar and is constructed of steel and magnesium substructure. 
Price Comparison
C Zero+ Crypton Super Fabric With A Moisture Barrier.
They are stain-resistant and have a GREENGUARD Gold certification. They are free of toxic brominated and chlorinated flame retardants.The Clek Foonf has a higher weight limit for rear-facing than most convertible car seats.
It can remain rear-facing up to 50 pounds, and by purchasing the Infant-Thingy insert, newborns as small as 5 pounds can ride safely and comfortably. This car seat can recline to three positions smoothly allowing your napping child a very comfortable ride.
Pros
Easy to Install

Extended Rear-Facing Capability

LATCH-REACT System

Anti-Rebound Bar

Heavy-Duty

Easy to Get the Child in and out

Narrow

Water-Resistant Fabric
Cons
Heavy

Can be Difficult to Assemble

Crotch Buckle is Uncomfortable for Some Kids
Clek's High Back Booster mimics a regular seat found in your vehicle and they added some wonderful features that are certain to make your child's ride a comfortable and safe one. It has a removable back so it can convert high back to a backless booster seat.
This means saving money since it will accommodate the child longer. With the backup, it weighs about 20 pounds. With the back removed, it weighs about 10 pounds. 
The Oobr booster has layers of energy-absorbing EPP foam around the child's head and body to increase protection in the case of a side impact and reduce strain on the body during a collision. 
The headrest keeps the child's head, and neck stable in the event of a crash, and the headrest has deep-padded side wings. The headrest can be easily adjusted as the child grows.  There are adjustable belt guides attached to the headrest to ensure a proper fit. 
Price Comparison
$399.99
in stock
4 new from $399.99
as of November 29, 2023 11:47 pm
$399.99
in stock
2 new from $399.99
as of November 29, 2023 11:47 pm
$419.99
in stock
4 new from $419.99
as of November 29, 2023 11:47 pm
Clek Oobr uses the Rigid-Latch System
The Oobr can be installed using either the car's LATCH system or the seat belt system. The Rigid-LATCH system locks the booster seat into place, giving it even more stability in a collision.
This car seat comes in various colors and fabrics. All are stain and spill-resistant and resist moisture and odor-causing bacteria. They don't contain any brominated or chlorinated flame retardants. 
It is recommended that you remove the seat cushion and wash it by hand with a gentle detergent. The fabric on the headrest and side wings are not removable, but can easily be spot cleaned.
What We Like 
Rigid-Latch system

Easy to clean removable seat cushion and cover

Good for cars without head restraints

Great test results

High quality

Smaller and compact – good for smaller vehicles
What We Don't Like 
Heavy

May be too wide for some vehicles

Armrest makes it difficult to remove the child

Recline feature can only be used with the Rigid-LATCH system
5.Clek Olli Backless Belt Positioning Portable and Compact Booster with Latch – Super Lightweight
The Clek Olli is a multi-award-winning booster seat having won the 2007 JPMA Innovation award; the iParenting Media Award for Outstanding Products; the 2008 Parent Test Parent Approved Media Award; and the 2008 National Parenting Centers Seal of Approval. 
This booster car seat meets all Federal Motor Vehicle Safety Standards and Canadian Motor Vehicle Standards. The belt options and portability make it great for traveling. It's easy to install. You can place it on the seat without using the LATCH system, or you can easily click the LATCH connectors. 
This makes it convenient if you don't have a LATCH system or if you are traveling on a plane or hopping in and out of cars. It also comes with a "strap-thingy," that clicks onto the LATCH connectors making it easy to carry it around like a purse. It also comes with a cupholder.
It's lightweight, weighing in at a mere 5 pounds, making it easy for a school-age child to tote around on their own. It measures 13 inches wide with a seat pan depth of 13 inches.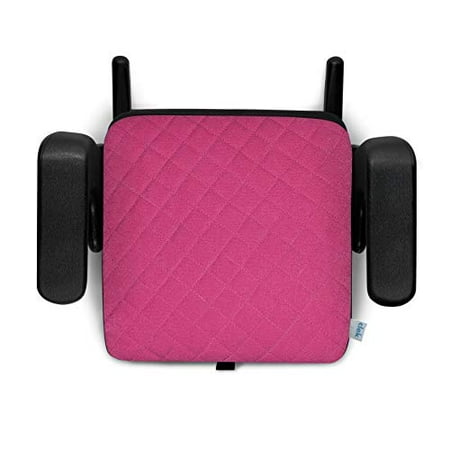 Clek Olli Backless Booster Car Seat with Rigid Latch, Flamingo X
Buy Now
Walmart.com
as of November 26, 2023 11:46 am
With its integrated Rigid-LATCH system, The Clek Olli securely fastens to your vehicle's lower anchors providing additional stability in a collision and a consistent belt fit every time. It comes built with an additional thick layer of padding to eliminate numb-bum. With a carrying strap and a...
The Olli has a comfort cube that includes an additional layer of padding to prevent "numb-bum." Numb-bum is what happens when one sits on hard surfaces for an extended period of time, and their legs fall asleep. 
The comfort cube is comprised of a molded polyurethane foam pad giving it a cushy feel. Its metal substructure provides stability keeping your child in a safe and comfortable position, and its polypropylene base is energy-absorbing.
Bacteria Resistance
The durable fabric is easy to clean, and the seat cover is machine washable. 
What We Like 
Lightweight

Easy to install

Comfort cube prevents numb-bum

Strap-thingy allows the child to carry it themselves

Seat covers can be changed out
What We Don't Like 
Doesn't work with every car seat

Lower LATCH anchors can create a gap on some car seats
The Clek Ozzi is very similar to the Clek Olli, just a bit more basic and lower in price.  It also meets all Federal Motor Vehicle Safety Standards and Canadian Motor Vehicle Standards. 
The Ozzi is portable and lightweight and also weighing in at a mere 5 pounds, making it ideal for transporting from one vehicle to another or for plane travel. It has a sleek design and is meant to both feel and look like a regular seat in your car.
The seat covers are easily detached and are machine-washable. It also has the comfort-cube, ensuring a comfy ride and no numb-bum. The Ozzi only comes in black and is not made with Crypton Super Fabrics. Additionally, it does not come with the strap-thingy, drink-thingy, or padded armrests. 
Though it has not won the awards the Olli has, it does come with a Rigid-LATCH system and a quick release method making it easy to install and uninstall.
What We Like 
Easy to install

Machine-washable seat cover

Stylish

Comfort-cube
What We Don't Like 
Doesn't work with every car seat

LATCH anchors can create a gap on some car seats
Why We Love Clek Car Seats
The founder and owner of Clek, Chris Lumley, spent the majority of his career working for one of the world's largest automotive suppliers. This provided him with a strong background in safety technology used in cars. 
Management offered him an opportunity to start a consumer products business.  About to become a new father, he became interested in early-stage Research and Development of child booster seats. 
Realizing that parents had concerns about safety, ease of installation, and style, Lumley seized the opportunity to create a line of child seats for both parents and kids. Clek was born. Clek is now an award-winning child passenger safety seat manufacturer based out of Canada that offers the best in safety features using the latest technology, modern design, and ease of use. 
Safety
Because Clek was the brain-child of someone who previously worked in car part manufacturing, they have a strong working knowledge of safety technology used in vehicles. This carried over into the development of their car seats.
They test their car seats at higher speeds than the U.S. requires and do extra testing to ensure the effectiveness of their seats in a collision. The test results are impressive. They also publicize their results so you can see how the seat performed in the tests. In the U.S. the NHTSA only requires manufacturers to release a few random tests. 
Warranty 
Clek extended its warranty policy in 2018. Instead of a one- or two-year warranty, they have an automatic two-year warranty that becomes a three-year warranty when you register your seat. 
Extended Rear-facing
Thanks to the anti-rebound bar, their seats have extended rear-facing. The anti-rebound bar stabilizes the seat in the case of a crash. It also pushes the seat away from the back seat enough to allow growing children the ability to ride rear-facing for a longer period.
Fabrics
They use Crypton fabrics that are breathable, non-toxic, and don't retain moisture. All the car seats are made without any added flame-retardants.
Recycling Program
Clek is the only car seat manufacturer to offer a recycling program in North America.
They have formed partnerships to handle disassembling, recycling, and reuse of metal, plastic, foam, and the fabric of their products. So, when you are done with your Clek car seat, you can turn it into the Clek Product Recycling Program.
Buyers Guide
Finding and purchasing the best car seat for your child, and your needs aren't always that easy. Here are some things to consider: 
Safety
The safety of your child is first and foremost. When purchasing a seat, consider the safety features offered by the product. Does it have side impact protection? Is it easy to hook and unhook when using the LATCH system or seat belt system? What are the various installation systems? What other features does it have? How did it do in crash tests? 
Durability
Look for a car seat with a steel-reinforced frame for durability. When it comes to fabric, look for water-resistant, stain-resistant, and ease of cleaning.
Comfort
Keeping your child comfortable while traveling will make a car ride much easier. Look for thick padding, breathable fabric, energy-absorbing foam, reclining features, and adjustable armrests and backrests. 
Ease of Installation
Most car seats are installed either using the seat belt system or the LATCH system. The LATCH system is typically easier to install a car seat due to the built-in tethers and anchors. Finding a car seat that has both systems is excellent should you find you are traveling on a plane or jumping from car to car.
We have reviewed the six Clek car seats, from infant to convertible to a booster, so you can purchase the one that has the ultimate safety, comfort, and convenience that is best for you and your child.
Why is Important to Choose a Car Seat with Superior Safety Features?
Besides the car itself, a child's car seat is the main form of protection in the case of an accident.  According to the National Highway Traffic Safety Administration (NHTSA), car accidents are a leading cause of death in children aged 1 to 13.
Though the laws vary from state to state, it is mandatory that all small children should be in a car seat. In fact, all children under the age of 13 should be in some form of a car seat, which means you will probably end up investing in more than one car seat as your little ones grow up. 
You could be switching seats from the infant car seat, to a regular car seat, to a booster seat. Alternatively, you could purchase a convertible car seat that will go from birth to school-age.  With hundreds of different models, types, and variations on the market today, finding the best child car seat can be very challenging.  Most parents focus on safety and comfort and whether they should be rear-facing or forward-facing. 
However, there are other considerations that should be taken, and we found a company that not only meets but exceeds the typical regulations for child safety seats.
Which Clek Car Seat to Choose?
Whether you're getting an infant car seat, convertible car seat, or a booster car seat for the first time, the safety of your child is non-negotiable. Your child's car seat is the main source of protection should an accident occur. 
Car accidents are one of the highest leading causes of preventable child injuries and deaths. You don't want to skimp on the safety and quality of your car seat. And you probably don't want to skip out on comfort either. Trips with your little ones can become unpleasant if they have "numb-buns" and are uncomfortable.
Just remember the purpose of the car seat and choose the one that will best fit your needs. Which Clek car seat did you buy? Let us know in the comments section below!