Infants are especially vulnerable in the car because they lack muscle tone and strength, so the car seat needs to provide safety for them. Although it is tempting to choose an all-in-one seat that will last for 10 years or a convertible seat the safest choice is an only rear-facing infant seat.
Through extensive research and testing, we found that the UPPAbaby Mesa is the best infant car seat. This seat excels at safety. It has a five-star rating for ease of use and installation from the National Highway Traffic Safety Association. The UPPAbaby Mesa uses a retractable LATCH system to ensure the car seat is installed correctly and securely every time.
Additionally, the Mesa boasts superb side impact protection and an easily adjustable headrest with no harness rethreading. Furthermore, two of the fabric choices for the Mesa, the Henry, and the Jordan, are made with a wool blend, and therefore need no synthetic fire retardant chemicals. Even the canopy on this seat has an additional 25+ UPF sun protection.
We have included detailed information about multiple infant car seat models. Keep reading to compare the options and see which choice is best for your family.
Best Infant Car Seats 
| Product | Weight Range | Height Range | Product Weight | Machine Washable Fabric |
| --- | --- | --- | --- | --- |
| Safety 1st onBoard | 4-35 pounds | Under 32" | 18.48 Pounds | Yes |
| Chicco Fit2 | 4-35 Pounds | Under 35" | 20.5 Pounds | Yes |
| Graco SnugRide | 4-35 Pounds | Under 32" | 18.8 Pounds | Yes |
| Evenflo LiteMax 35 | 4-35 Pounds | 17"-32" | 16 Pounds | Yes |
| UPPAbaby MESA | 4-35 Pounds | Under 32" | 20 Pounds | Yes |
1.UPPAbaby MESA – Best Infant Car Seat Overall
I love the UPPAbaby MESA, but the price is hefy. I will say that it was easy to install using the Smart Secure System.
There's a nifty indicator that will change from red to green to let me know that the seat was properly positioned. It's a straightforward installation process with no difficulties. 
The infant insert is super helpful for preemies. I wasily removed it once my baby was too large for it.
One thing I didn't like was that even though the safety ratings were through the roof, the fabric isn't breathable. It made my baby sweat after just a few minutes when it was warm outside. However, the fabric is washable.
$339.99
in stock
8 new from $339.99
as of March 25, 2023 2:29 am
The Smart Secure System 
The UPPAbaby MESA is easy to install, using its Smart Secure System.  There is an indicator that turns from red to green so that parents know when the seat is properly positioned. Not only is it straightforward, but moms and dads can count on its safety and accuracy.
Fabric Issue
That said, some parents have complained that the wool fabric isn't breathable. Stating that their baby begins to sweat after only a few minutes. This is especially true in the warmer months.
There is also a large plastic sticker that runs across the small of the baby's back. Many parents have said their baby will cry because the sticker causes the baby's back to sweat. Still, though, it has one of the highest overall customer review ratings for safety. 
The Infant Insert 
An infant insert is included to accommodate tiny babies. Based on doctor recommendations, preterm babies may ride in it. This infant car seat is perfect for parents who want to use the car seat as a stroller attachment.
There are many benefits to this, including simplified baby gear and not having to wake a sleeping baby when it's time to get out of the car. Just ensure that a baby doesn't sleep too long.
The UPPAbaby MESA Infant Car Seat is also the best infant car seat for taxis. When you are driving in a taxi, you will find that this infant seat is easy for you to take in and out of the car, no matter how many times you need to do this on your travels. 
Easy to move Around
The UPPAbaby MESA infant seat is easy to move around and install in any vehicle that you would like. You can choose to add the base into the vehicle or use the infant seat and hook that in as well. 
The base has several safety features so you know it is in right and your baby is safe. It comes with a smart secure auto-retracting mini latch connector. There is also a red to green tension indicator window to help give you more peace of mind. 
If you are traveling without the base, it is still easy to use this option in a taxi or another vehicle. It can easily connect through the sides with a regular seat belt to keep it steady and secure. 
Extra Protection
The UPPAbaby MESA infant seat understands that when you travel, you want extra protection for your baby. It provides a no-rethread harness and an adjustable headrest with side impact protection to make things easier. It also has a seat-direct attachment that doesn't need any adapters, making it easier to connect to any seat you need.
Measurements 
Weight: 26 pounds Height: 23 inches
Stroller Compatibility
Joovy: Caboose Ultralight Graphite, Twin Roo Thule: Glide 2, Urban Glide 2 Single, Urban Glide 2 Double UPPAbaby: VISTA, CRUZ, MINU Mima: Xari, and Xari Sport
What We Like:
SMART secure system

Carrier without base is under 10 pounds

High quality
What We Don't Like: 
For some, the inserts are too snug for babies and cause them to overheat

Straps are short

Overpriced

I chose the Safety 1st onBoard 35 Air 360 as the 2nd best infant car seat for small babies because it has the extra padding a tiny baby would need and race car foam for optimal crash absorption. It also has an expiration date of 8-years from the date on the sticker on the car seat. 
This is one of the most well-made car seats with a child's safety in mind. I love the deep seat structure because it shields my child.
The GCell HX race car foam seemed comfortable and sturdy enough to keep my tiny baby in place in the event of an accident. Additionally, there are reversible pillows that allow even the smallest babies to properly fit in the seat. 
I liked how easy it was to install the seat with the LATCH system and adjust with the front adjustment tab.
If I needed to adjust the harness, I simply pulled on the designated area and it adjusted with just one hand. When it came time to carry my child around, the car seat was lightweight enough to allow me to do so easily. 
My all around favorite feature, aside from any of the safety features, is the extended coverage canopy. It did a great job of keeping the sun out of my child's eyes.
Onboard 35 is been around for a long time. It has an anti-rotation stability leg to give extra protection if you are in an accident. 
The harness covers and seat pad are removable, which makes them easier to machine wash as necessary. This infant seat even has some comfort features for your baby. It has an extended coverage canopy to keep the sun away. And the soft fabric will help keep your baby comfortable and snug.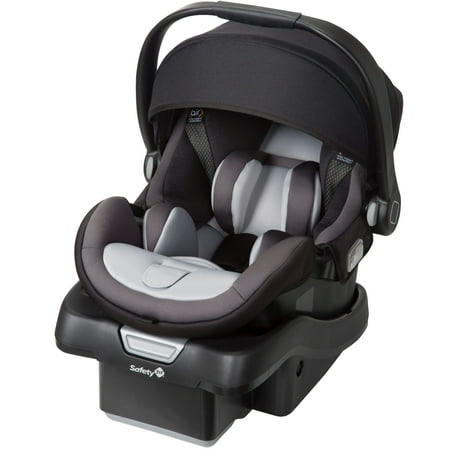 Walmart.com
out of stock
as of March 25, 2023 2:29 am
Bulky Padding 
Some moms have stated that the extra padding had to be taken out, though, because their baby wouldn't fit properly. Still, this car seat has made a name for itself in the ease of use, and comfort categories. It also is more lightweight than other car seats.
The Best Infant Car Seat for Preemies
The best Infant car seat for preemies is the Safety 1st onBoard 35 Air 360 Infant Car Seat. This infant seat has five layers added in for safety to help it exceed all federal safety standards.  It features side impact protection, races car foam to absorb additional energy and has aced all sides crash testing. 
High Safety Scores 
The Safety 1st onBoard 35 Air 360 Infant Car Seat performed well in crash tests. It has been tested with front, rear, and side-impact collisions as well as rollover accidents.  It is a very safe seat and it exceeds the Federal Safety Standards.
Stroller Comompability 
All Safety 1st and Eddie Bauer strollers
The Weight and Height Limits
Weight: 18.48 pounds  Height: 31.5 inches
The Safety 1st infant seat is designed for infants as small as four pounds. It has met all of the safety requirements to work for children this small. This gives you some added protection for your child, no matter how small they are when you bring them home. 
The car seat is also light enough to carry around if you need and fits with most stroller systems so you can walk around town all you want.
The light materials don't take away from the strength though and this infant seat has all the sturdy and high-quality materials you need to keep your preemie safe.
What We Like
lightweight

easy one-pull harness adjustment

reversible pillows for more compatible adjustment
What We Don't Like
almost has too much padding for bigger babies

seat holds heat

canopy has trouble staying up 
3.Chicco Fit2 – A High-End Infant Car Seat
The Chicco Fit2 was one of my favorite infant seats. I have a preemie and they fit very well in this seat. There was no head wobbling or drooping and it was very easy to install.
It has the SuperCinch LATCH system and tightener. This made it easy to tighten the latches as I saw fit. Additionally, there's a RideRight bubble level that helped me level the car seat to ensure proper installation. 
I appreciated how easy it was to reposition the headrest and harness. The harness is no-rethread, so all I had to do was push a button and the harness went up a notch. Lastly, I can't even begin to tell you how amazing it is that this car seat fits with Chicco strollers.
I didn't have to run out to buy a special stroller to work with this car seat. It made traveling with my little one so much easier since the car seat is a tad on the heavy side.
The baby, however, was untouched. This real-life experience speaks volumes for its accountability.
Many moms also love it for its easy installation and comfort level. Stating their baby doesn't fuss while in the seat, and isn't sweaty when they are taken out of it.
This car seat is, however, heavier than some others on the list, but many moms said they're more willing to carry a heavy seat if it means their baby is safe.
$329.99
in stock
4 new from $329.99
1 used from $220.55
as of March 25, 2023 2:29 am
What We Like 
Doesn't take up much room in the car

Easy to install even without the base

Great quality
What We Don't Like 
Not the most durable seat on the market
Weight & Height Limit 
Weight: 20.5 pounds Height: 16 inches
This car seat is loved across the board for its overall rating. It scores well in all categories.
The base features a bubble leveler and a convenient 4 position recline option. This not only ensures proper install but also that it'll fit in most cars.
Rotating Canopy 
The rotating canopy is a loved feature by customers. It keeps the sun out of the baby's face no matter what direction you drive in. It was also crash tested to exceed the US safety standard.
Padding Lacking 
Some parents have stated that the padding was not efficient enough for their baby, though. Stating their baby's head is not supported enough by the head support.
$322.99
$429.99
in stock
2 new from $400.00
as of March 25, 2023 2:29 am
What We Like 
Easy to install

Durable material

Great crash test rating
What We Don't Like 
No padding after the infant insert is removed

The head support is too wide for a newborn

Too big for smaller cars
Stroller Compatibility 
All Graco strollers and Ergobaby: 180 Reversible Joovy: Caboose Ultralight Graphite
Weight & Height Limit 
Weight: 14.7 pounds       Height: 16 inches
The Evenflo LiteMax 35 is the car seat for ultimate comfort for you and your infant. It is one of the best car seats overall, including its price tag.
Moms and dads love that its soft and light, making it easy to carry.
Breathable Material 
Also stating that the lightness of the material allows for the car seat to breathe. The baby can sit in the seat comfortably on a hot day without overheating.
However, some parents complained that there was too much padding for their child. Stating that it leaves little room for larger babies. 
$125.49
$139.99
in stock
3 new from $125.49
as of March 25, 2023 2:29 am
Tested For Rollover 
Evenflo infant car seats are crash safety tested, including rollover tests. Rollover car accidents are the most deadly, so it is best to choose a seat tested at this level.
Weight: 16 pounds  Height: 30 inches
Stroller compatibility: Joovy: Caboose Ultralight Graphite and Evenflo strollers
The Pros 
Extremely lightweight

Belt lock-off system for proper installation

Safe for low birth-weight babies
The Cons 
Seat is a bit narrow

Harder to get level when the child is over 20 pounds

Not compatible with most strollers
The Doona is the world's first car seat that turns into a stroller.
You don't have to worry about stroller compatibility with this car seat because it has the wheels already attached. It is the best car seat stroller combo by far. 
Tailored more for the urban family, this baseless car seat makes it easy to hop in and out of Ubers.The switch from a stroller to car seat and back is simple and seamless. The whole process takes a matter of seconds to complete.
$550.00
in stock
11 new from $550.00
as of March 25, 2023 2:29 am
Award-Winning 
The Doona is the recipient of 27 different awards. Among those who sing its praise are The Bump, Fit Pregnancy, Mom's Picks Award, and Family Choice Award. Various celebrities have been seen pushing their own Doonas or loading them into their vehicles, including Conor McGregor and Ivanka Trump.
Easy To Manage
Many parents love it because the stroller is easily maneuvered with one hand. As far as the crash test rating goes, though, this stroller didn't do so hot. This car seat just doesn't have all of the added safety measures of some of the other seats. 
Weight & Height Limit 
Weight: 35.2 pounds            Height: 23.6 inches
What We Like
Doesn't require a base

Easy to use

2-year warranty
What We Don't Like 
It's heavy

High price point 

Low crash test rating
Good Seats That Did Not Make The List 
Britax B-Safe 35 is The safest infant car seat. Britax is known for its high standards in infant seats, and this seat is veteran. 
While all infant seats need to pass minimum safety standards, Britax puts their seats through a stringent side impact test of their own.
This helps ensure that the car seat will stay safe and secure in your vehicle, no matter what. For full review. 
out of stock
as of March 25, 2023 2:29 am
8.Nuna Pipa Carseat – Best Infant Car Seat For Big Babies
The best infant car seat for big babies is the Nuna Pipa infant car seat and base.
It is easy to install, has all of the safety features that you want, and weighs less than 8 pounds to carry around. 
$379.00
in stock
2 new from $379.00
as of March 25, 2023 2:29 am
9.CYBEX Aton 2 – Unique Infant Car Seat
This seat is compatible with many different strollers, which is a plus for many moms. It is also one of the few seats with a load leg for added safety. The crash test rating is one of the highest on the list if you have the load leg installed.
Moms love that it is high in safety, but still relatively lightweight. It's also easy to install, which is a bonus. Not to mention babies love how comfortable it is!
A common complaint, though, is the distance between the handle and canopy. A lot of moms find it hard to fit their hand in between the two when the canopy is extended.
out of stock
as of March 25, 2023 2:29 am
10.Clek Liing Infant Car Seat – A Comfortable Infant Car Seat
How Long Can My Baby Use an Infant Car Seat?
How long you can use an infant car seat will depend on which option you choose. Many of the infant car seats we discussed in this article can hold up to 35 pounds. Some infant car seats may hold less so always check the manufacturer recommendations before using. 
This means that your baby can fit into the infant car seat until they reach 35 pounds, or whatever the maximum weight limit is for that particular car seat. 
So, Can I Skip the Infant Car Seat?
It is possible to skip the infant car seat, as long as you get a good, high-quality convertible seat to use in your vehicle. 
Many parents, however, choose to purchase an infant seat. This gives them some ease of use and added safety to protect their children. They can then choose a good forward-facing car seat later on. check out the detailed guide on infant vs convertible. 
How To Choose the Best Infant Car Seat?
When choosing an infant car seat, safety is the most important thing. You want to make sure your child is safe when you are driving, no matter where you may go. To help with this, looking at the height and weight requirements can make it easier for you to know how long your baby can stay in that seat as well.
The ease of use is important too. You don't want to spend hours trying to install the car seat either and you need it to be portable to help get your child in and out when needed.
Finally, you may want to consider the compatibility of the car seat, checking that it will fit in your car and your chosen stroller and how easy it is to clean the car seat is a consideration too. 
Now that we know more about which features are important in an infant car seat, let's take a dive in and see what the best infant car seats are for your needs. 
The Do's and Don'ts of Infant Car Seats
When you are using an infant car seat, there are a few things you can do to keep your baby safe. There are also a few mistakes you can make that may cause more problems with the safety of that car seat. For example:
Do keep toys tucked away while driving. Never hang from the handle of the carrier. 

Do put a light blanket over the harness on cold days. Never put the baby in a big winter coat in the car seat. 

Do place the infant seat in the back of a grocery cart, not in the place where toddlers usually sit. 

Do put the child rear-facing in the back of the car. The front seat is not a safe place for them. 

Do leave the infant seat on the floor, in a stroller, or the car. Never leave it on a countertop, table, or bed.
The Benefits of an Infant Car Seat
You may wonder whether it is worth it to get an infant car seat at all. The infant and the convertible car seat may seem similar, though the infant car seat will not last as long. 
Some of the benefits of choosing an infant car seat include:
Higher safety standards: Smaller and younger babies use the infant car seat so it has higher safety standards than some convertible car seat options. 

More comfort: The infant car seat often has more comfort in it compared to other options. 

Easy to carry: The seat can detach from the base, making it easy for the parent to carry the child around. 

Fits into strollers: Most infant car seats can fit onto strollers, allowing for more safety and protection when walking around. 

Can hold smaller weights: If you have a preemie or a small baby, the infant car seat is designed to handle this more. 
Is it worth getting an infant car seat? This will depend on you and your family. It is a safer option and much easier to take along with you while shopping. You can carry it around or add it to a stroller to add extra protection. 
However, some parents like to use a convertible car seat because it lasts longer. It helps save them money because they can use it for higher weight and height limits. The convertible car seat also works well for both rear-facing and forward-facing driving. 
Best Infant Car Seat Brands
When it comes to car seats in general, there are a few different brands that seem to pop up the most. We have a few favorites as well, each for their own reasons. Here are some of the most popular brands we've noticed among parents.
Graco Baby
Graco, in general, is a go-to brand for most parents. They sit on the more budget-friendly side but don't compromise on added features or safety. Graco also offers plenty of models to choose from, so you're likely to find an infant seat that works for your baby.
Britax
Britax, while pricier than Graco, is prime for parents who are worried about chemicals. Their Britax Endeavors SafeWash seat is completely free from added flame retardants, making it 100% non-toxic to babies. 
Nuna
Nuna also carries a non-toxic option, the Pipa and Pipa Lite. This is the most "high-end" of the three brands mentioned, but you really get what you pay for with these seats. Along with being completely non-toxic, it also has a removable canopy and other features for convenience.
Infant Seat Safety Precautions
Becoming a parent for the first time can be scary. Especially when it comes to car seats and road safety, it's important to be extra cautious with your new bundle of joy.
While it's easy to fit baby correctly in their seat, it's also extremely common for parents to unknowingly do it incorrectly.
To avoid unfortunate situations, here are a few key things to keep in mind:
Rear-Facing as Long as Possible
It's pretty much common knowledge that newborns/infants need to be rear-facing while in the car. However, there are plenty of parents out there who have opted for a convertible seat from the start. These parents may not know for sure when to flip their baby to forward-facing mode. 
A study was done recently in regards to the importance of extended rear-facing. The study found that before the age of two, the bones haven't ossified yet.
This leaves children more at risk for paralysis and even death if those bones haven't formed fully. When a child is rear-facing, they're more protected, thus decreasing the possibility of a serious injury.
With convertible seats, the weight limit will vary by seat and brand. However, all car seats should remain in rear-facing mode until your child outgrows the height/weight restrictions of the seat. You'll find that many brands design their seats for extended rear-facing and can be used up to 50 pounds.
Go For Non-Toxic Fabrics
Because your little one will be spending a good amount of time in their car seat, opting for seats with non-toxic fabric may be something you'd like to keep in mind. Brands like Britax, Clek, and Nuna, among others, place importance on non-toxicity and offer flame-retardant-free car seats.
Get the Right-Sized Seat
It's also important to get a seat that will fit well in your car. If you drive a compact vehicle, you're going to want to look for seats with a slim/compact design.
Failure to do so may result in shoddy installation which will, in turn, compromise the safety of the seat. Seats that are too big for your car will also likely cause stress as you're struggling to get it to fit properly.
Steer Clear of Projectiles
While shopping around for baby gear, you're sure to find several toy attachments meant for car seats. These may help keep baby occupied, but they should never be used while the car is in motion.
Any toy or attachment made for car seats that DID NOT come with the car seat should be avoided. Failure to do so can cause put your baby in danger if you end up in an accident.
To keep your little one entertained, we recommend super soft toys or cloth books. Steer clear of hard plastic/sharp toys.
Always Buy New
It can be tempting to buy that "gently used" car seat from Facebook Marketplace, but the truth is that you don't know how gently used the seat actually is. It can be almost impossible to know the true condition of a used seat, so we firmly believe in always buying new.
Never Leave Baby Unattended
This is the general rule of thumb for any aspect of parenting during the baby stage. Especially when it comes to car seats, you need to be alert and near your baby to know if something goes wrong. Leaving your young child unattended in a vehicle is illegal and can be extremely dangerous.
Also, if you're out and about and your baby is in their infant carrier, be sure to check their breathing periodically. Sitting too long in their car seat can cause breathing issues.
Go For a Seat Check
If you're unsure whether or not your car seat is installed correctly, you can go to any fire station for a free car seat check. Your home hospital should have someone on staff to check your seat as well.
If you're still worried, SafeKids has a directory of certified Child Passenger Safety Technicians (CPST) who are extremely knowledgable about car seats and proper installation. You can find that directory here.
Infant Seats and Air Travel
For children under the age of 2, airlines give you the option to have a "lap baby" or purchase a separate seat and use an FAA air-travel approved car seat. It's recommended to use a car seat, not just for your convenience's sake, but for safety's sake as well.
When shopping for an infant seat, look out for an FAA-approved label if you plan on jet setting anytime soon.
Harness Issues and Getting the Right Fit
A common complaint with infant seats from parents is the fact that the harness is difficult to adjust when getting baby in and out. There are a few reasons this could be happening:
Improper care: When getting baby out of the seat, always loosen it before taking their arms out.

Harness at the wrong setting: It may be hard to adjust the harness if it's too low or too high for your baby's shoulder height.

Twisted straps: If the strap is twisted somewhere, it can obstruct the locking mechanism and make it difficult to tighten the harness.
It's extremely important to make sure your baby is buckled in correctly to maximize the safety of the car seat. Both the harness and both crotch buckles should be buckled in.
The straps should be pulled tight enough so you can't pinch the fabric between your fingers. The shoulder straps should be at or just above your baby's shoulders.
What Is The Weight Limit For An Infant Car Seat?
Most infant car seats will go to at least 22 pounds. Always keep your baby in a rear-facing seat for as long as he/she stays under the minimum weight.
Infant car seats usually start at 4 to 5 pounds (source). If your baby is small you may consider placing two rolled up receiving blankets on either side of the head. However, never place anything under or behind the baby, or between the baby and the straps.
The Importance of Rear Facing 
Infants should always ride in a rear-facing car seat in the back seat. They should remain rear-facing until they exceed the maximum height or weight limit for the seat.
When installing a car seat and using it for the first time, always reference the Car Seat Check-Up. This will help you ensure your little one's maximum safety. Never leave a child in a car seat unattended, as they are at risk of overheating and even death.
Why We Chose Those Seats 
Superior crash test rating

Ease of installing with a latch

Ease of installing with a belt

Ease of installing without a base

How easy it is to use 

Comfortability 

Weight 
No matter your price range, you will find a car seat that is right for you and your baby. Even if you don't choose one from this list, you will feel more confident in your decision.

What To Look For When Buying Infant Seat
The most important things to look for when shopping for an infant car seat are safety, ease of cleaning, durability, and pricing. Parents want their baby to be protected. They also want a car seat that lasts and that doesn't need a complicated cleaning procedure. And of course, they want to get a good value.
Safety
Safety is always the number one priority, as it encompasses a car seat's primary purpose. All of the infant car seats on our list meet rigorous safety standards. Every infant car seat must meet these standards of protection to be sold. Of course, parents want maximum security when it comes to their babies.
When shopping for an infant car seat, look further than the basic standards. Select a seat with the highest-grade safety features.
Ease of Cleaning
Newborns drool, spit-up, and even have blowouts. In general, they make plenty of messes! Cleanliness also protects from germs. Moms will undoubtedly need to take time to regularly clean their infant car seat.
Therefore, ease of cleaning is an essential factor to consider. Ideally, you will want an infant car seat with removable fabric that can be machine washed.
Even better if smaller spills can be wiped up with a damp cloth. Try to select an infant car seat whose straps remain in place when you remove the fabric to wash it.
Durability
Durability matters because infant car seats will get a lot of use. They generally function as a bassinet-like stroller attachment. Therefore, the car seat is in use at any time you transport your baby with a method other than carrying her. It is wise to choose a sturdy model.
An infant car seat will usually last you between birth and age two. That may seem like a short amount of time to own a baby product. However, do not underestimate how much wear and tear an infant car seat will take. Choose one that lasts.
Versatility
When it comes to kids, going out seems like an absolute chore. This makes versatility an essential factor when deciding on any baby item, let alone a car seat.
When it does come to car seats though, it's important for your sanity to find something versatile. Check on how easy it is to maneuver in, around, and out of the vehicle as well as which strollers it's compatible with if any.
Best Price
Getting a good price always matters to families. Budgets are a balance between saving the extra money and getting solid value for what you pay. It is important to consider all of the factors that matter and weight that out with the price.
Always look at the price of an infant car seat, but never purchase one based on price alone. First, narrow down several car seats that meet your standards. Only then consider the various prices and decide how that will affect your final selection.
Frequently Asked Questions
What infant car seats are FAA approved?
Car seats that are FAA approved are safe for air travel. The AAP recommends that babies under two travel by plane strapped into a car seat. Some examples of FAA approved car seats include the Safety 1st 65, Maxi Cosi Mico, and the Nuna Pipa.
What is the best infant car seat and stroller combo?
We recommend using a combination car seat and stroller from the same brand. At the very least, choose an option that does not require adapters. This will ensure the best fit. Graco and Uppababy are two great choices for this.
Which Infant Car Seat To Choose?
Choosing an infant car seat is a huge decision that parents should not take lightly. Your baby will sleep in the infant car seat and have at least the first two years of his life riding in it. This newborn car seat should possess optimal safety features, reliability, and durability. It needs to be light enough to move a sleeping baby from the car without any disturbance.
While some parents do choose to work with a convertible seat instead, many parents find that the ease of use with an infant car seat, and the added safety features, makes it a better choice for them.
We do recommend buying an infant car seat, because of the added flexibility and portability it provides new parents. It also tends to be a more comfortable and safer fit for newborns.
Every family has its unique needs so take time to select the best seat for yours. Which infant car seat did you like from our list? Which one did you buy in the past? Let us know in the comments below!