Known for its effortlessly sleek and incredibly safe car seats, Chicco is an Italian brand with sixty years of experience that prides itself on both innovation and sustainability.
The Chicco Research Center, located in Italy, proudly partners with parents, pediatricians, and a wide variety of experts in the child and medical fields to research and engineer their high-quality products. 
We love that Chicco car seats employ user-friendly touchpoints to give parents the peace of mind that they're installing their car seat correctly every time. In addition, their seats are FAA-approved for air travel and scored exceptionally well in a crash and side-impact performance among similar brands. It doesn't hurt that their beautifully designed car seats made with premium Italian fabrics spice up the daily routine of yoga pants and carpool lines.
After testing and examining all the car seats that Chicco has to offer, our top pick is the Chicco Fit 4 Adapt 4-in-1 Convertible Car Seat. As practical parents who want safety without breaking the bank, it's hard to beat a car seat that will last your child 10 years. With four different stages and removable mesh layers, they can use this seat from 4-100 lbs.
Even better? For such a robust, heavy-duty seat, I was impressed by the slim profile, which allowed me to fit three across the backseat. As always with Chicco, the easy installation is just the icing on the cake.
We've compared and extensively tested various Chicco car seats and have ranked the top 6 below. 
Top Chicco Car Seats 
Chicco's wide range of infant, convertible, and booster seats are moderately priced and designed to grow with your child from infancy up to 110 pounds. Read on to learn what each unique car seat has to offer. 
Top 3 Chicco Car Seats
1. Best Chicco Infant Car Seat – Chicco KeyFit 35 Infant Seat
2. Convertible With The Best Safety Features – Chicco Nexfit Zip Convertible
3. Top Rated 5-Point Harness + Booster – Chicco MyFit Car Seat
Best Chicco Car Seats

| Name | Weight Limit | Height Limit | Mode |
| --- | --- | --- | --- |
| Chicco KeyFit 35 Infant Seat | 4-35 lbs. | 35" | Rear-Facing |
| Chicco Fit2 Infant & Toddler Car Seat | 4-35 lbs. | 35" | Rear-Facing |
| Chicco Fit4 Adapt 4-in-1 Convertible Car Seat | 4-100 lbs. | 49" | Both Rear-Facing/Forward-Facing |
| Chicco NextFit Zip Convertible Car Seat | 5-65 lbs. | 49" | Both Rear-Facing/Forward-Facing |
| Chicco MyFit Harness + Booster Car Seat | 25-100 lbs. | 57" | Highback Booster |
| Chicco KidFit Zip 2-in-1 Belt-Positioning | 30-110 lbs. | 57" | Both Highback/Backless Booster |
The KeyFit 30, the KeyFit 35's predecessor, remains a popular choice among parents and car seat experts alike, us included. However, we're confident in saying that the KeyFit 35 will be your new favorite Chicco infant seat, despite the higher price tag.
At first glance, the KeyFit 35 appears more sleek and modern than the 30, which is no surprise given this Italian company's ability to make car seats look stylish. 
Infant Safety Features
One of the most notable updates is the increased roominess. It will fit your infant from 4-35 lbs and up to 32", which is an additional 5 lbs and 2" than the older model. There's more legroom and an adjustable headrest, and the ergonomic newborn insert keeps tiny babies snug. Many parents were able to use this seat for 18 months or longer. 
Another added feature is the anti-rebound bar, which helps stabilize the infant seat against the seat of the car during impact. Luckily, Chicco didn't leave us hanging on the installation either, with a secure baseless installation option, LATCH connectors, and an easy-to-use SuperCinch tightener. 
Price Comparison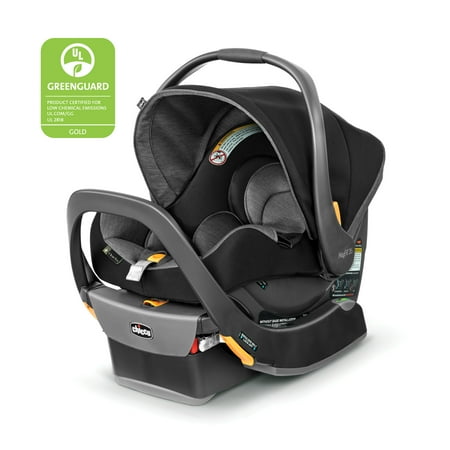 $252.02
$269.99
in stock
5 new from $250.00
as of November 30, 2023 7:53 pm
Non-Toxic ClearTex Fabric
Chicco ditched the quilted pattern of the 30, opting instead for a durable woven fabric called ClearTex. ClearTex is a non-toxic fabric that complies with all flammability standards without using any chemical treatment. The seat is also very well padded, with a larger, extendable sunshade with UPF 50+ protection. With this seat, I truly felt like my baby was protected on all fronts– safe in the car, safe from chemicals, and safe from the sun. 
The major drawback of this seat is that it's heavier than earlier models and can feel a little bulky. Keep in mind that if you're on a budget, the KeyFit 30 is still an outstanding choice for an infant seat, even without the additional safety features of the 35.
Pros
ClearTex non-toxic fabric

Additional legroom

Adjustable headrest

Compatible with Chicco strollers

Carrier-only install option

Anti-rebound bar

Contemporary appearance
Cons
Heavier than previous models

Expensive 
This two-stage car seat will get your child through their first year in the infant position and their second year in the toddler position. To switch positions, simply lift the lever on the base.
Both positions will keep your baby rear-facing, but the toddler stage helps them sit more upright. The newborn insert and 7-position headrest ensure that this fits your baby properly from birth through toddlerhood.
Our favorite features on this seat are the one-hand adjustable handle (who has two free hands?), the no-rethread harness, and an adjustable and removable canopy. The ReclineSure leveling foot helps to properly angle the base, and the bubble levels help you read when the seat is completely level. Easily pull the LATCH tightener, and you have a simple and safe installation.
Chicco Fit2 vs. Chicco Fit2 Air
Why did we choose the Fit2 over the Fit2 Air? For an additional $50 on an already expensive car seat, it didn't seem worth it for the switch to cool mesh fabric, no matter how functional.
Price Comparison
$247.49
$319.99
in stock
1 new from $247.49
as of November 30, 2023 7:53 pm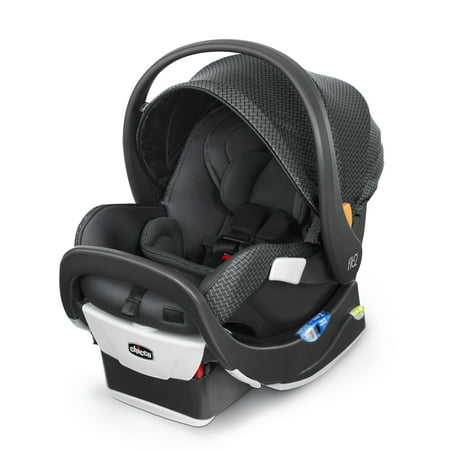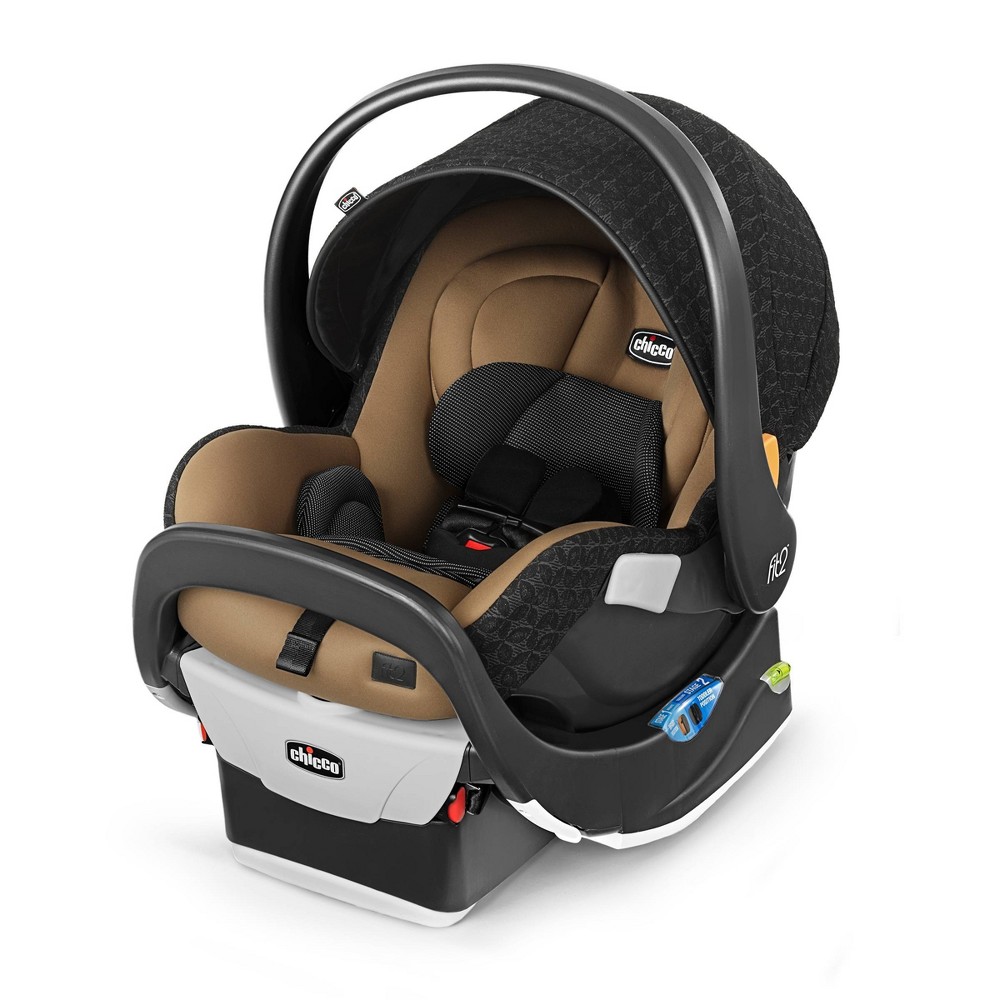 Pros
Rear-facing for longer

Two-stage base

Easy installation features for a level seat

7-position headrest

Soft and padded seat

Fits in smaller cars
Cons
No forward-facing option

Heavy
Something I hear often is how frustrating it is to have to research and purchase as many as three different car seats throughout your child's life. Chicco's 4-in-1 convertible car seat simplifies the entire process by being the only seat your child will need from birth to age 10.
There are two rear-facing stages for infants and toddlers 4-40 pounds, a forward-facing stage from 25-65 pounds, and a belt-positioning booster from 40-100 pounds. This seat is also surprisingly slim, enabling you to fit three across the backseat.
The Only Seat They'll Need
We can't say enough good things about the Fit4 Adapt in terms of versatility, not to mention the time and money you'll save by buying only one seat for ten years of childhood. The innovative 4-stage FitKit System features removable mesh layers to customize the seat as your child grows.
Price Comparison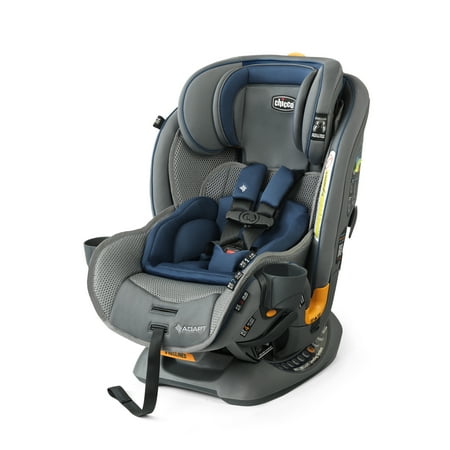 out of stock
as of November 30, 2023 7:53 pm
Amazon.com
The mesh is not only breathable, it has active particles that are temperature-regulating to keep your child cool in the summer and warm in the winter. There are also 9 recline positions and a 10-position easy-extend headrest.
Pros
4-in-1 versatility

Breathable, removable, AND washable mesh layers

Fits up to 100 lbs and 57"

Easy LATCH install

Two cup holders

Slim design

Steel-reinforced frame
Con
Heavy and not easily moved between cars
One of the most affordable NextFit models, the Chicco NextFit Zip is a convertible car seat that will fit your child from infancy until they're ready to transition to a booster. With 9 recline positions, 9 headrest positions, and an easily adjusted no-rethread harness, this convertible car seat will comfortably fit your child from 5-65 lbs.
We also love the "CupFolder"– which is a dishwasher-safe cup holder that easily folds away when not in use.
When it comes to safety features, the NextFit Zip features a steel frame, a deep hardshell with EPS foam, and a simple but safe installation. The SuperCinch LATCH system provides a tighter fit with less effort, and the seat also has a LockSure belt system for installation with a seatbelt.
Price Comparison
$199.99
$319.99
in stock
3 new from $199.99
as of November 30, 2023 7:53 pm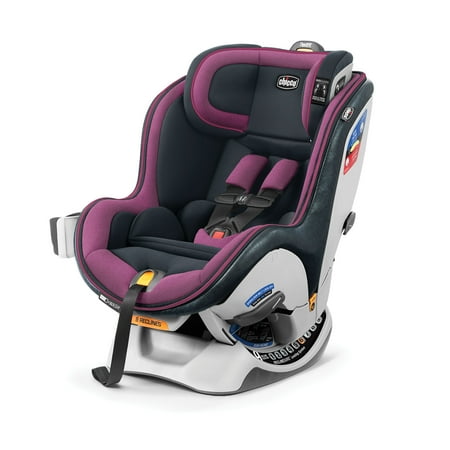 Zip & Wash Fabrics
Quite possibly the most convenient feature of this car seat, appreciated by moms everywhere, is the easy zip-off padding. While convertible car seats are money-saving and convenient, car seat covers can get a little grimy after years of use. Being able to easily unzip and throw this in the wash makes a huge difference in keeping it nice through years of snacks, drinks, and, let's face it, throw up. 
If you're looking for extended leg room and mesh fabric, the NextFit Max Zip Air is worth looking into, despite the higher price tag. While the NextFit Sport is cheaper, the fabric is less padded and doesn't zip. Personally, we found the NextFit Zip to be the best bang for your buck, complete with incredible safety features and day-to-day functionality. 
Pros
Removable, washable cover that zips 

CupFolder

One-pull harness tightener

9 positions for recline and headrest

LATCH system and belt system
Con
Not your best bet for smaller cars
Perfect for kids transitioning out of their rear-facing car seats, the Chicco MyFit has both a 5-point harness and a booster option at an affordable price. It's lightweight but doesn't skimp on safety, with a steel-reinforced frame and DuoZone side-impact protection for the head and torso.
The 9-position headrest and 4-position recline allow the seat to grow with your child, and we found that it accommodates big and tall kids well. Use the LATCH connectors or Lock Sure belt-tightening system for a very easy installation.
Price Comparison
$175.99
$219.99
in stock
5 new from $175.99
as of November 30, 2023 7:53 pm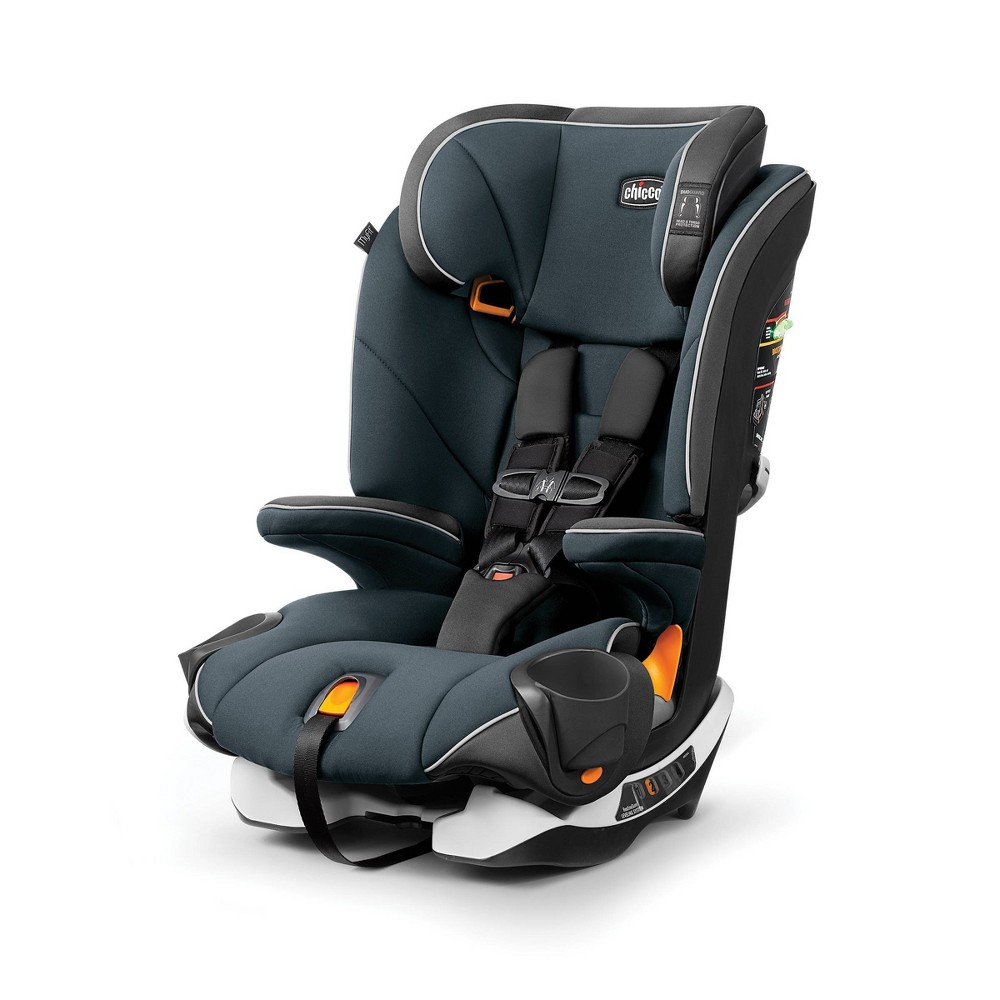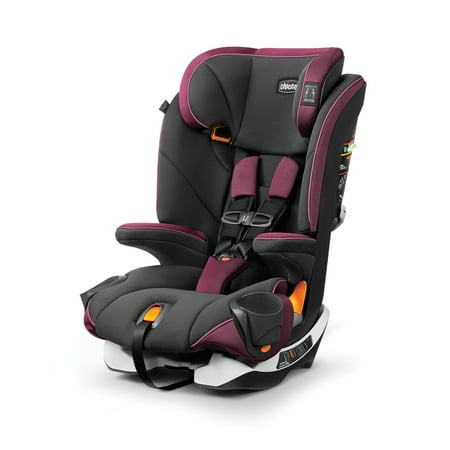 A Comfortable Ride
One of our favorite features of this seat is the well-padded and extremely comfortable headrest. The wings are big enough to rest their head, but not so big that they can't see out the window. On long car rides, they are the perfect size for kids to snooze without their heads flopping forward uncomfortably. The rest of the seat is equally plush thanks to the ergonomically contoured padding.
While there are upgraded models, like the MyFit Zip Air, our personal experience and other parent reviews led us to choose the MyFit as the best choice. Most parents aren't looking for every bell and whistle (and a big price tag) for a booster seat, just a high-quality, reliably safe seat, and Chicco certainly delivers with the MyFit.
Pros
Lightweight 

For use 25-100 lbs

Good for big and tall kids

Well-padded wings on the headrest

Two dishwasher-safe, flexible cup holders

Easy to install

Affordable
Con
No zip-off cover on this model
This 2-in-1 booster seat has a removable back, 10 height adjustments, and a nice, wide base. The DuoZone side-impact protection and ErgoBoost double foam carry over from the MyFit, keeping your kiddo safe and comfortable.
Features we love include the snack or game compartment, the SuperCinch LATCH connector with a one-pull tightener, and a belt-positioning clip to help kids easily buckle themselves.
Price Comparison
$127.99
$159.99
in stock
3 new from $127.99
as of November 30, 2023 7:53 pm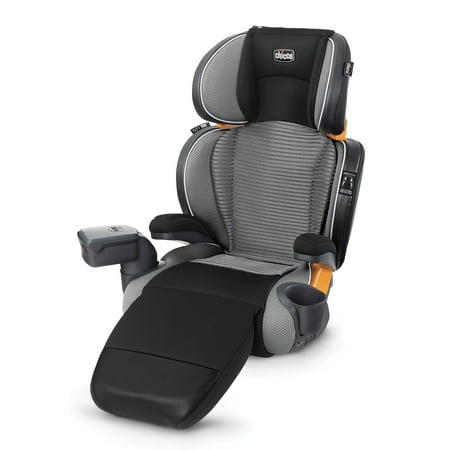 While this one is more expensive than the KidFit, you get a lot of features for an additional $50. The zip-off leg rest is an awesome feature for families that travel a lot and kids that struggle to get comfortable with their legs hanging down. The zip-and-wash mesh fabric (with an extra layer of padding) promotes airflow and is very convenient.
Pros
Removable back

Duo Zone side-impact protection for head and torso

10 height adjustments 

Easy to move between vehicles

Zip-off mesh fabric

Cup holder and snack compartment

Removable leg rest 
Con
Seat belt slips out of the belt-guide
Other Car Seats Considered 
One of the best-rated infant car seats that is loved by parents everywhere for its simplicity of a secure installation. It is ideal for infants from 4 pounds up to 30 pounds.
The Chicco KeyFit infant car seat comes with several top-of-the-line safety features, including a shell lined with EPS energy-absorbing foam for maximum impact protection.  Furthermore, this Chicco Keyfit seat takes away the difficulty of installation with a SuperCinch tightener.
What We Like 
Comes in eight different color combinations

Affordable for most budgets

Can be used with Chiccos stroller traveling systems

Removable full-body newborn support padding
What We Dislike 
Potential to be outgrown quickly

No extended legroom options for toddlers
The Chicco KeyFit 30 Zip infant car seat can provide your infant with maximum sun protection and comfort all year round. When you no longer need the canopy, boot, or visor, you only need to unzip and remove it from the car seat. A perfect car seat model for parents that are always on the go.
What We Like 
5-point harness with a one-pull tightener 

Smooth underside that helps to protect car seat from damage

Compatible with Chicco stroller travel systems

Quick-remove seat pad for easy cleaning 
What We Dislike 
Slightly pricier than other Chicco infant car seat models
9.Chicco KeyFit Infant Car Seat – Budget-Friendly
The Chicco KeyFit Infant car seat is an ideal model for parents looking to transport their newborns and infants with maximum protection safely.
This model offers all the same features as the other Chicco KeyFit 30 models without all the excess bells and whistles. The best part about this particular model is you can use it with most Chicco strollers travel systems!
What We Like 
Removable canopy, head support, and body support

2-position handle and a comfortable grip for easy handling

Compatible with Chicco stroller travel systems

Affordable price
What We Dislike 
Does not accommodate growth stages

No extended legroom
10.Chicco NextFit Sport – Great for Messy Toddler
This is the sporty model of the Chicco NextFit series of car seats. An ideal car seat for parents who have messy toddlers and infants. The machine-washable feature makes cleaning a breeze while keeping the little one safe and secure at all times. 
What We Like 
Comes with a dishwasher-safe cup holder

Padded harness for maximum comfort

LockSure seat belt locking system

One-pull harness tightener for maximum security 
What We Dislike 
Costly compared to other car seat models
Everyone loves a little extra legroom – children included! The Chicco NextFit Zip Air Max Extended-use convertible car seat is sure to deliver. Rear-facing can have 25% more legroom, while front-facing will provide ample calf support.
This way, your little one can move around while remaining safely strapped in at all times. If you are looking for all the best features in one, this is the model for you.

What We Like 
ComfortFlex waist belt and a no-rethread harness

2 dishwasher-safe cup holders

Removable, full-body newborn position padding

Zip and wash padding with 3D air mesh backrest
What We Dislike 
The biggest perk of the Chicco KidFit  Zip 2-in-1 belt-positioning booster seat is the removable backrest. This provides maximum comfort as the child grows. This booster seat is easy to clean and provides your child with plenty of impact protection thanks to the side panels and EPS energy-absorbing foam.
What We Like 
Removable backrest

Easy to switch between harness and booster modes

2-position adjustable backrest

Easy to clean and machine washable

DuoZone head and shoulder side-impact protection
Has 10 adjustable positions
What We Dislike 
If you are looking for a comfortable all-in-one harness and booster seat combo, then you have come to the right model. The Chicco MyFit Zip Air harness/booster seat provides your toddler with a five-point padded harness, user-friendly touchpoints, ample safety features, and a tightener.
You can rest assured that your child is perfectly safe and secure in this booster seat!

What We Like 
Comes with two layers of impact protection

3D air mesh backrest and extra padding for comfort

Easy to clean and install

Offers plenty of adjustment options 

Comes with two dishwasher-safe cup holders
What We Dislike 
Most expensive

Comes in two colors

Non-removable backrest 
With three fun colors, the Chicco GoFit Plus booster seat offers a quick-release latch system and a smooth non-marking underside. This booster seat is great for toddlers who want maximum movement without the restraint of a harness. The best part is about this model, along with the built-in handle, is it is easy to insert and remove from your vehicle!

What We Like 
Very affordable 

Easy to install and remove

Easy to wash

Include 2 dishwasher-safe cup holders

Double foam padding for extra comfort
What We Dislike 
No back support or harness mode

Not good for toddlers under the age of 4
Buyers Guide: What To Look For

Finding a car seat that fits your budget and meets all of the child safety requirements can be hard if you don't know where to start.  With Chicco car seats, they take all the pain out of guessing by providing you with the best car seat and these following features:
Safety
Chicco car seats not only pass various crash tests, but these seats also include various safety features. All infant, convertible, and booster car seats offer side panels for side impact protection, a one-hand latch system, lateral headrests, and neck pillows, adjustable harnesses, and waist belts.
Durability
These car seats are made with durable materials and are tested for quality. Chicco car seats are held to a high manufacturing standard, so you know your child is as safe as possible from day one until the seat expires.
Ease of Cleaning
Nothing can be more frustrating than cleaning crumbs from a child's car seat. Chicco car seats go above and beyond with how easy it is to clean them. The car seat covers are machine-washable for most models. The car seat covers can either be spot cleaned or the cover can be removed and machine washed in cold water with mild laundry detergents. Harnesses should be spot cleaned and never machine washed for safety reasons.
Ease of Installation
The Chicco NextFit and other related models provide parents with two adjustable systems called "ReclineSure" and "RideRight". ReclineSure is a leveling system with nine different positions to ensure the car seat fits just right in any vehicle. RideRight is a smart feature that helps take all of the guesswork out of properly installing a car seat, whether it be rear-facing or forward-facing.
Price
Car seats are an unavoidable expense, but it doesn't have to be the one that breaks the bank. Chicco offers a wide selection of models at varying prices, so you can be sure to have a car seat at almost any budget. Prices can range between $40 to $400 depending on the car seat model.
Chicco Car Seat Accessories

While any Chicco car seat is reliable, some models can be combined with accessories to help keep your child feeling extra comfy during their outing. Outside of Chicco's car seat/stroller travel system combos, you can try any of these recommended accessories:

Sometimes we get caught up in the weather when running errands or taking a stroll outside. Having a way to ensure our precious infants are kept warm and dry is a priority. With this wind and rain cover, you can do just that. All you have to do is slip it on and go.
Sun, rain or shine, bugs, or wind, having a cover is the best way to defend. Infants and young children are highly susceptible to sunburn and bug bites despite our best efforts.
Frequently Asked Questions 
Are Chicco Car Seats Rear-Facing or Front-Facing?

The Chicco KeyFit infant car seat and the Chicco KeyFit 30 infant car seat models are both rear-facing only.
The Chicco NextFit and other convertibles/booster models are either rear-facing and front-facing or front-facing only. Check with the model's manual for further details and instructions.

Can I Use Seat Protectors with Chicco Infant, Booster or Convertible Car Seats?
No, Chicco car seats are not compatible with any seat protectors, including Chicco-branded seat protectors.
Are Chicco Car Seats Certified for Flying / Air Travel?

Yes, all Chicco car seats are FAA certified and approved for flying/air travel.

When Should My Child Transition from a Chicco Convertible Car Seat to a Booster Seat?

You should make the transition from the Chicco convertible car seat to the booster seat if your child meets the following:
Your child is at least five years of age.

Meets both the minimum height and weight requirements for the booster seat.

Can sit up properly without support even while asleep.

Able to sit secured in the seat with a safety belt.
Can You Use a Chicco Car Seat Without a Base?

Yes, you can use the Chicco infant KeyFit and other Chicco car seat models without a base. However, installation may be harder for some models.
Benefits of Chicco System 
Compared to other car seat brands, the Chicco NextFit and other related models provide:
An Easy To Use The Reclining System

All car seats have to abide by a certain recline angle for the baby to breath properly at all times. Unfortunately, making sure the car seat is properly installed can be confusing for many tired parents.
From determining the angle of the vehicle's seat to making sure the car seat is tethered down properly, it helps to have a reclining feature that makes installation quick and easy.
An Easy to Adjust Harness

No two babies are the same size, and children grow at different rates. Having an adjustable harness allows you to always ensure your child is secured properly in the car seat at all times. Car seats for infants should always have a five-point harness system.
Models that fit each age group (0 – 12 years)
Car seats come in many sizes and age ranges depending on your child's needs. Not all brands can cater to each age group, but Chicco ensures your child has a seat no matter their size, weight, or age.

Abundant padding for comfort
Being cramped in a seat all day may seem uncomfortable to some, but with Chicco car seats, it doesn't have to be. A good car seat will come with enough padding to keep your little one feeling snug as a bug.
Chicco NextFit Car Seats: Taking Your Child's Car Safety to the Next Level 
The Chicco brand is one of the few car seat makers that can ensure safe travels for infants, toddlers, and young children alike. This brand meets all of the basic car seat safety features, is easy to use in and outside of the vehicle, and can be combined with various Chicco accessories.
You can never go wrong with a car seat brand that helps your child feel safe, comfy, and secure both on and off the road.