Infant car seats are necessary for all children. They should be safe, affordable, and functional. I was able to test the Britax B Safe 35 infant car seat to see if it holds up. 
Most of the hype from this car seat comes from ease of installation and methods. There are two methods of installation which are via seat belt or LATCH system. The LATCH system secures the base to anchors in the vehicle. This was easy to do, but difficult to undo. The ClickTight installation made it easier to install safely after some thorough navigation. 
I really liked the extra-large canopy. It was very protective for my child and kepth them safe from the sun and rain. Additionally, there were removable head and harness pads that made them easier to clean. The ergonomic carrier handle made it comfortable for me to hold the car seat for extended periods. 
I did feel that my child was safe while riding in the car in this carrier. My only issue is that it's only compatible with B Safe strollers. 
Overall I did enjoy using this infant carrier. It was easy to set  up and I felt my child was safe in it. I do recommend this infant carrier if you have the funds for it since it is a little pricey.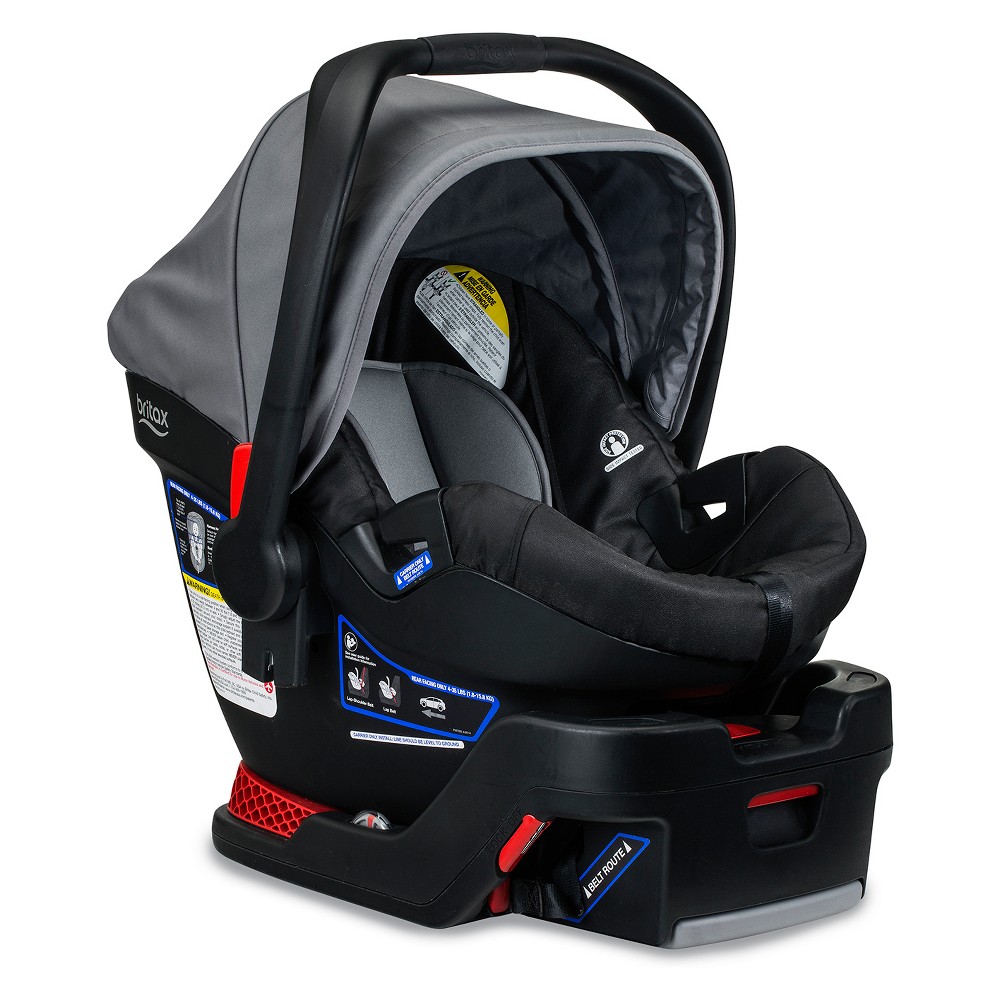 Target.com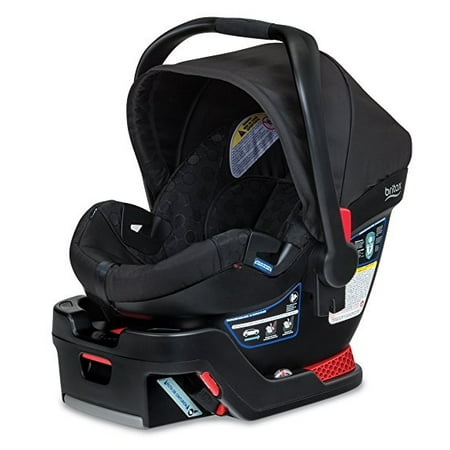 Walmart.com
out of stock
as of March 27, 2023 2:03 pm
Amazon.com
ClickTight Installation
Britax introduced ClickTight installation in 2013 to make it easier for parents to install their child's car seat safely. Studies show that at least 72 percent of car seats are installed incorrectly.
ClickTight technology is simply the process of using your vehicle's seat belt to install your child's car seat rather than the lower anchors in the LATCH system. ClickTight will tension and lock your vehicle's seatbelt for you to ensure a tight fit.
You can find the ClickTight technology on the back of your child's seat around where their lower back meets the car seat. It seems tricky to navigate at first, but it's actually relatively easy once you figure it out.
To use the ClickTight system, squeeze the ClickTight area with two fingers. Then you'll thread the seat belt over the armrest and under the seat's opening. Once you have the seatbelt connect, remove any slack and push the seat closed. Easy peasy.
SafeCenter LATCH
Their SafeCenter LATCH system is similar to their ClickTight technology but caters specifically to their infant seats. The pull straps are located right in the middle of the infant car seat base. Simply pull up on the straps to tighten and then double-check there isn't any slack with the seatbelt before clicking the carrier in place.
Side Impact Protection
Britax is also the first car seat manufacturer to use EPS energy-absorbing foam in the lining of their car seats. The EPS foam is closed-celled and provides superior shock absorption.It's also extremely lightweight which is nice because you don't have to worry about a clunky car seat.
Along with pioneering the use of EPS foam, Britax also made the market's first energy-absorbing headrest and external cushions with energy-diverting compression.
SafeCell Impact Protection
In 2010, Britax released SafeCell Impact Protection. SafeCell protection is made up of several different safety aspects of the car seat. It features an impact-absorbing base, tether and harness, impact-stabilizing steel frame, and various aspects of side-impact protection as well. SafeCell can only be found in Britax car seats.
Price Comparison
out of stock
as of March 27, 2023 2:03 pm
SafeCenter LATCH Technology

SafeCell Impact Protection

Built-in Belt Lock-offs

Removable head and harness pads

Extra-large canopy

Ergonomic carrier handle

One-year warranty

Built-in stroller adapter: B-Agile, B-Free, B-Mobile, B-Ready strollers

American made
Which Carriers Britax B Safe 35 is Compatible With?
This carrier comes with a built-in stroller adapter that is compatible with the following strollers:
Britax B-Agile

B-Free
B-Mobile
B-Ready
This car seat can also be used on BOB Single and Duallie strollers, but the adapter for those is sold separately. There are four different color options available too so you'll be able to find something that matches your aesthetic and your car's interior. If buying American-made is important to you, Britax engineers, tests, and makes all of their seats right here in the United States.
Infant Car Seats – Britax B Safe 35 vs Elite
Don't be confused by the B-Safe 35 and the B-Safe 35 Elite. These are, in fact, two different infant carriers. Both of these seats are new and improved versions of their predecessor. They come with a streamlined design to fit better in most vehicles.
They also both have the larger canopy and SafeCell protection that Britax offers with their seats. The SafeCell protection is, however, newly designed in these seats to offer optimal energy absorption in the event of a crash.
So how is the Elite different than the regular B-Safe? The Elite includes complete side impact protection while the other doesn't. The Elite also comes with a non-rethreading harness to make it more convenient.
Why Britax B Agile? What Makes It So Unique?
This high-end seat provides exceptional safety for your child and has a chic design, so you don't have to cringe when people see it. The B Safe 35 comes with Britax's patented SafeCell impact protection, impact-absorbing base, steel frame, and easy installation system. Not only does this make it extremely safe for your delicate babe, but it's stress-free for you too.
The car seat's base comes with SafeCenter LATCH to simplify installation of the car seat. It also comes with a spring-assisted recline to get the best possible position for your infant. Along with that, it comes with auto-level indicators to ensure proper installation angles.
If you use the belt path option for the base, it comes with built-in lock-offs to help maintain a tight and secure fit. As important as safety is in a seat, so are the comfort and other added features. These extras are going to ensure your baby has a successful ride with no tears. This seat is a click-and-go system that can easily be transferred to car seat and stroller and vice versa.
It also comes with a removable head pad and harness pads too. These will help keep your baby comfortable and may even trigger a car nap or two. The canopy is also extra large so the sun won't be able to shine in your baby's eyeballs.
Comfort for baby isn't the only thing you should be looking for. With infant carriers, you're going to want an infant seat that's easy to carry too. The B Safe 35 comes with an ergonomic handle that will save your forearms. The seat also comes with a one year warranty and has a lifespan of six years. It will accommodate your child from birth until they hit 35 pounds and 32 inches.
Britax B Safe 35 Recall
We would like to note that all B-Safe 35 infant car seats made between Nov. 1, 2015, and May 31, 2017, were recalled. This recall was brought forth due to the issue of the center tab on the chest clip breaking off to pose a potential choking hazard to infants. You can find more information on the recall here.
How to Install the Britax B Safe 35
If you're still confused on how to install the Britax B Safe 35, here's a helpful step-by-step guide on how to do so.
Place the base on the seat where you plan on installing.

The safest place in your car is the middle seat because it isn't near anything that can hot your child on impact. However, using one of the side seats is perfectly acceptable.

Pull up on the recline adjustment lever.

This is going to be located on the front of the car seat's base. You'll want to move the base up and down until the red mark is visible between the two lines on the recline level indicator while it's placed on the vehicle's seat.

Take the vehicle's seatbelt and feed it through the belt guides.

Take care to keep the vehicle's seatbelt from twisting and then buckle the belt.

When removing seatbelt slack, make sure you're pressing the base firmly into the seat. By doing so, you

will ensure a tight and secure fit. To remove slack, start with the lap part and then remove the slack from the shoulder part.

Pull the shoulder belt tightly and then slide the belt under the lock-off on the side of the base that's opposite of the belt buckle.
How to Make Sure if You Installed B Safe 35 Seat Correctly?
Do another check to make sure the seatbelt is tight and the base is secure.

The base shouldn't move more than an inch side to side or front to back.

Double check that the recline angle is in the correct position.

Make sure the red mark is visible on the angle indicator.

Press the seat into the base until you hear a clicking sound.

That's how you know it's securely attached to the base. You'll know it's securely attached when you pull up on the car seat and it doesn't remove itself from the base.

When you want to remove the car seat, simply pull up on the release lever located on the back of the seat.

This will unlock it from the base and allow you to take the carrier out.
Pros and Cons According to Kids
While infants definitely can't talk yet, it's easy to tell whether or not they like their car seat. In this case, there are a few different things that factor into a good car seat for an infant's standards. With comfort being the most important factor, let's go into the pros and cons of this seat according to infants.
B Safe 35 Accessories
If you're considering this car seat for your infant, we recommend checking out some of Britax's extra accessories as well. Before you worry, these aren't the random car seat toys that experts warn against. These are accessories that will make your child's car ride safer.
If you don't want to uninstall the infant carrier over and over to attach to their stroller, the B-Ready Bassinet is a good alternative. It's compatible with all B-Ready G2 and G3 strollers manufactured after March 2016.
No adapters are needed either, so that's really convenient. It will accommodate your infant up to 20 pounds and the canopy is multi-positionable to help block the sun. The cover is removable and can be put through the washing machine.
Back seat mirrors really come in handy if you want to do a quick check on your baby while you're driving. The mirror attaches right the headrest of your back seat, and you can use your rearview mirror to peek at the baby while you're driving.
Britax's back seat mirror is designed to be lightweight and shatter-proof. It's also been crash tested to ensure safety.
This all-weather Britax car seat cover will protect your baby from the sun, wind, rain, insects, and snow. This really comes in handy if you live in the midwest and the weather changes every day. The fabric is full-coverage and blocks 98 percent of UV rays.
The shield also folds back to reveal a mesh layer for ventilation on warmer days. Not only does this fit Britax infant seats, but it will fit most other brands as well.
This Britax car seat cover comes in handy if you're having a winter baby. It has flip-up sides and a zippered snap closure to help regulate your baby's temperature while using it. It's crash tested and approved for use with all Britax infant seats. This will fit most other infant car seat brands as well.
The inside helps keep baby warm, and the outer layer is made of an all-weather material that will repel moisture. The cover is machine-washable for your convenience.
Window shades are nice on sunny days. They stick to your window to help block out the sun's bright rays. Britax makes window shades with reusable mesh that offers UPF 30. It comes with two shades (one for each back seat window) and has a wire frame for easy removal.
If you're worried about how the infant car seat base will affect your back seat cushion, consider getting a vehicle seat protector. These will prevent the base from leaving indents or tears in your seat cushions. These have a no-slip grip and are made of waterproof rubber to make clean-up super easy.
When you purchase the car seat, it should come with a base. However, if you have more than one car, it may be worth it to purchase another base. This will prevent frustration stemming from having to uninstall and reinstall the seat base regularly.
This is just like the base you'll get with the car seat, but it has a rebound bar attached to it. Rebound bars are meant for added safety. Anti-rebound bars limit the amount of rebound rotation in case you get into a car crash.
Britax B-Safe 35 – Frequently Asked Questions.
Is the Britax B Safe 35 compatible with any stroller systems?
This infant seat has a built-in adapter for the B-Agile, B-Ready, B-Mobile, and B-Ready stroller systems. It can also fit with BOB Single and Duallie stroller systems with an adapter that is sold separately. For any other brand stroller, you'll need to contact that stroller brand to see if they have an adapter they can send you.
Is this car seat certified for aircraft use?
This seat is certified for air travel, but not with the base.
How much does Britax Infant Seat weigh?
The Britax B Safe 35 weighs 10 pounds.
What is the correct handle position while this seat is locked into its base?
The infant seat's carrier handle can be positioned in any spot while in the car. It won't interfere with the base lock at all.
How can I tell if Britax B-Safe 35 is properly installed in my car?
If you're still worried about whether or not the seat is installed correctly, you can find your closest child passenger safety technician (CPST) to check it for you. Most hospitals and police/fire departments have CPSTs on staff.
What is the LATCH system?
LATCH stands for Lower Anchors and Tethers for Children. This is the system car seats are equipped with to help with a safe installation. It comes with a top tether that hooks to an anchor found on your car's seat back or sometimes the ceiling.
It also has two lower tethers that hook to anchors located in between the two seat cushions in your car's backseat. Not all vehicles are LATCH compatible, so car seats also come with belt path installation. If your car was made after 2002, it probably has LATCH anchors.
Will Britax B Agile fit in my car?
The Britax B-Safe 35 should fit comfortably in most vehicles. Parents praise the seat for being compact in design.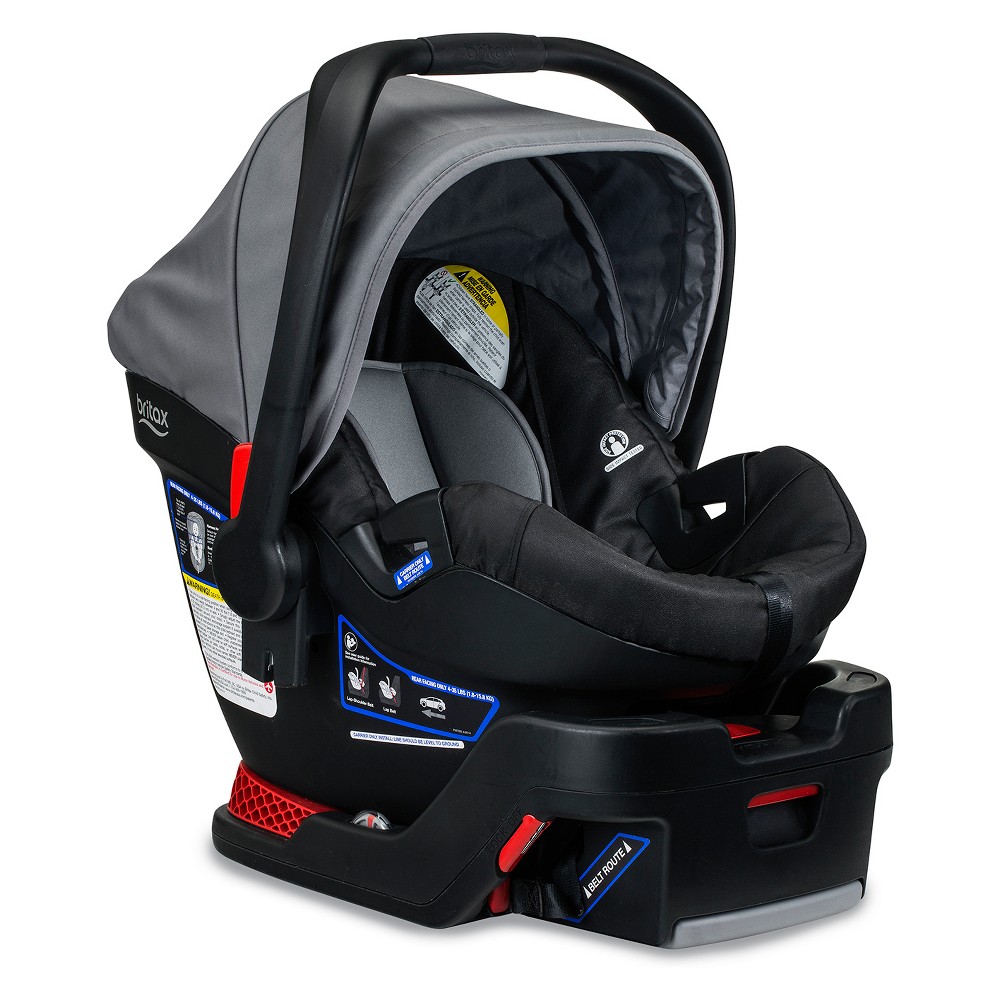 Target.com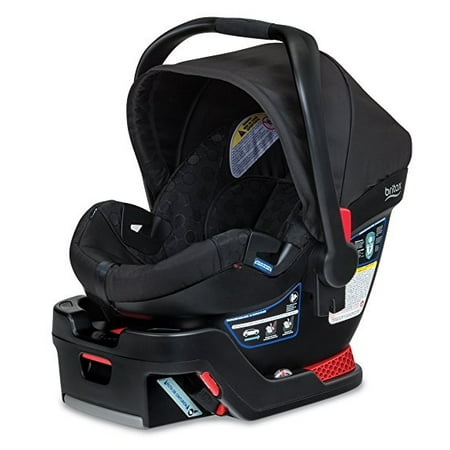 Walmart.com
out of stock
as of March 27, 2023 2:03 pm
Amazon.com
A Brand Devoted to Safety!
It's no question that the Britax brand places a major focus on the safety of their seats. As a parent, there really isn't much more you can ask for. From their innovative ClickTight technology to their revolutionary SafeCell impact system, you can't deny their seats will give your baby the utmost protection.
It's also a nice plus that Britax makes so many accessories to add-on if you choose to. We love Britax for its devotion to car seat safety and for their car seat style. What are your thoughts on Britax as a brand? Do you like the B-Safe 35 as much as we do? We want to hear from you!