The Chicco Bravo Trio Travel System  is a 3-in-1 system, includes a Bravo Stroller and a KeyFit 30 Infant Car Seat and Base. These parts function as either a car seat carrier, travel system, or toddler stroller… all in one package.
The Chicco Bravo Trio Travel System is appropriate for children up to 50 pounds. The system includes a special insert for babies 4-11 pounds. 
After testing the travel system, we realized that the Chicco Bravo Trio Travel System very lightweight. At a mere 23 pounds, the stroller is one of the lightest to carry. The folding feature is also very handy.
Price Comparison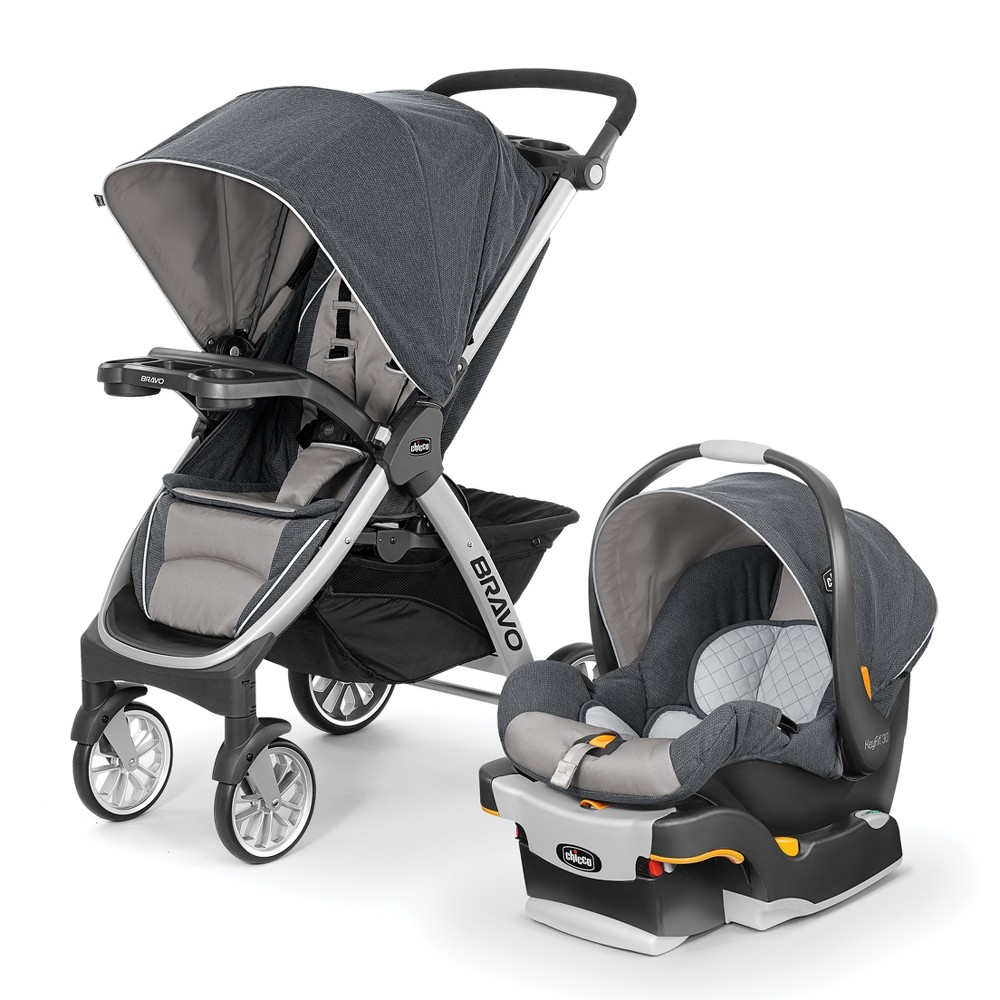 Target.com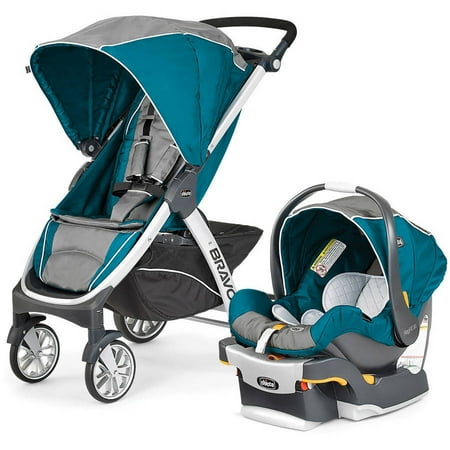 Walmart.com
out of stock
as of November 27, 2023 4:54 pm
Amazon.com
The Specs
 The car seat dimensions are: 27.5L x 24H x 17Win. The seat weighs 17.15 pounds. When open, the Bravo Stroller is 35.5L x 21.75H x 43Win.
When it is folded, the stroller is 16L x 21.75H x 28Win. The stroller weighs 23 pounds.  This makes for a lightweight and compact travel system by Chicco.
What We Like 
Versatility and flexibility

Machine washable

Super soft woven jacquard 

Adjustable handles and canopy

Plush EPS foam cushions for comfort and safety

Lots of models to choose from
What We Didn't Like 
The car seat can be difficult to latch

Small cupholders

Some models may not have a parent tray
Best and Most Unique Features
3-in-1 capability.

The Chicco Bravo Le Trio Travel System can

function as a top-notch car seat carrier, a travel system, or a toddler stroller -whichever you require, as the moment arises. The system was literally designed for versatility.

The stroller features one-hand fold, auto-positioning wheels, and a self-standing compact folded position

EPS foam. The car seat is lined with energy-absorbing, or EPS, foam. This material was made for optimum impact absorption. Not only this, EPS foam is plush and squishy. EPS foam makes for a safer, comfier baby.

All-wheel suspension. The Bravo stroller has state-of-the-art all-wheel suspension to spare baby from bumps, jolts, and the like. The ride is so smooth that your little one can sleep soundly.

Rear-linked breaks. Should you need to stop quickly, the stroller has rear-linked brakes. The double-break system will allow you to take control of the stroller immediately. This is especially useful for going up or downhill, crossing the road, and so on.

ReclineSure Leveling Foot. To help you get the base angle just right, this system includes a Reclinesure Leveling Foot feature. This works in a large vehicle range.

RideRight Bubble-level Indicators. This is another feature to make installation simple. The bubble indicators will show you when the seat is set up correctly.

SuperCinch One-pull LATCH Tightener. When you pull on this latch, it will cinch and tighten the seat belt powerfully. You will not have to put into too much elbow grease.

Padded infant insert. This removable insert is included for babies from 4-11 pounds, roughly. This gives this travel system all the more flexibility. 

Adjustable canopy. Feel free to move and adjust the canopy until it is to your liking. You can give your baby shade, but let fresh air pass through refreshingly.
Other Great Features
Adjustable stroller handles. The stroller handles can be moved up and down until they are at the best level and position for you personally. When walking your baby, their comfort is paramount -but yours is important, too.
Stroller parent tray with cupholders. Most models come with a parent tray, which is easily accessible near the handles. This includes cupholders. You can keep drinks, snacks, toys and more nearby.

Reclining seat. When in use as a car seat, this travel system reclines. You can find the best fit for your car and for the comfort of your baby.
Safety Ratings 
The Chicco Bravo Trio Travel System conforms to all of the Federal Motor Vehicle Safety Standards necessary. This makes for a system that is certified-safe. 
Expiration 
The KeyFit 30 car seat has an expiration date of 6 years from manufacture. Strollers do not expire, and so the Bravo will last longer than this.
Colors and Models
The Chicco Bravo Trio Travel System comes in several delightful color and pattern options to suit any style. This stroller is built to last, so why not pick one that you will love the look of? This system comes in Lake, Lilla, Nottingham, Orion, Papyrus, Poetic, Indigo, and Meridian. 
Lake. The Lake model comes in a dark blue and black design, with a striking white outline. The look is quite dashing and is perfect for a dapper little fellow.

Lilla. The Lilla model is a soft dark-gray, with little white polka dots that are very cute. A darling choice for any baby.

Nottingham. The Nottingham model comes in a dark, textured-gray material. The model has an appearance that is both classy and really cozy.

Orion. The Orion model is a black-colored, plain design. It also has a white outline. The result is quite sleek.

Papyrus. The Papyrus model is tan, almost taupe in hue. This makes for a travel system that is and looks, snug, and comfortable.

Poetic. The Poetic model is designed with shiny gray cross-hatching, for a subtly eye-catching look.

Indigo. The Indigo model features a bright, textured-gray design. The weave is visible for an appearance that is both stylish, nice and cozy.

Meridian. The Meridian model is eye-catching, with unique silver-patterned coloring on solid black.
Warranty
The complete Chicco Bravo Trio Travel System has a 1 year warranty.
out of stock
as of November 27, 2023 4:54 pm
Installation and Removal
To use the Chicco Bravo Trio Travel System as a car seat, you must first refer to ReclineSure Leveling Foot. Use this to adjust the seat to your vehicle as necessary. From here, the  RideRight Bubble-level Indicators, located on each side of the car seat, will show when the base has been installed properly. 
Once the base is placed correctly, it must be secure. The SuperCinch One-pull LATCH Tightener takes care of this. Just pull the tightener until it cinches firmly.Alternately, to use the system as a stroller, there is an attachment included that makes it quick and easy. Just pop the KeyFit 30 car seat onto the stroller accordingly. 
The car seat itself doubles as a baby carrier, free of the car and without the base.Finally, the stroller stores in a super convenient and compact way. Just lift up, using a special handle under the seat, and the front wheels will move into position automatically. The result is a fold that is free-standing for easy storage capability.
Cleaning
The gorgeous woven jacquard fabric is conveniently machine washable. Wash the fabric alone, in cold water or on a delicate cycle. 
The carrier by itself weighs even less, at 17.5 pounds. Chicco Bravo Trio Travel system reviews call the all-wheel suspension a real luxury.The primary complaints about the Chicco Bravo Trio Travel system are that the KeyFit 30 car seat SuperCinch One-pull LATCH Tightener can be a bit tricky.
The cupholders are also rather small and can't hold cups bigger than a water bottle, apparently. One person said that their purchase did not come with a parent tray… so be sure to double-check.
Chicco Bravo Trio System vs. Graco Modes Click Connect
The Graco Modes Click Connect is another top-of-the-line travel system. Like the Chicco Bravo Trio System, it functions as a carrier, travel system, and stroller, respectively.
The systems are quite similar. The Chicco Bravo Trio System, however, has been said to offer more as far as flexibility. For instance, the adjustable canopy.
The Graco Modes Click Connect has greater recline capability. The Chicco Bravo Trio System has a sleeker, more refined design, arguably. The Chicco Bravo Trio Travel System is a bit pricier, but the materials are also of a higher quality. Overall, the Chicco Bravo Trio Travel System wins out with superior looks, comfort, and durability.
Frequently Asked Questions
Is This Car Seat Approved For Air Travel?
Yes, the KeyFIT 30 is approved for airplane use by the FAA. 
Is Chicco Bravo Trio a Travel System? 
Yes! The Chicco Bravo Trio Travel system is good to go, on the sidewalk, or in the car.
How Do You Use a Chicco Bravo Travel System? 
Use as a carrier, or use the attachment to pop the carrier into the stroller. To turn the system into a car seat, it includes a base. 
How Much Does the Chicco Bravo Stroller Weigh? 
Just 23 pounds, making it one of the most lightweight strollers out there. The carrier alone is a mere 17.15 pounds.
Quality Travel System
All in all, this is a top-quality travel system. The stroller is lightweight and versatile, the car seat is secure and cushy, and there are several beautiful KeyFit 30 car seat models to pick from.
The response from the public has been overwhelmingly positive. Perhaps this is the travel system for you and your little one? You may also be interested in Chicco Viaro Travel System Review