"Are we there yet?" You have heard this question several times if you're a parent traveling on long trips with your kids like I often do. A buzzing vacation mood can easily be muted if your kids are uncomfortable riding in the back seat. Limited legroom, tight straps, and uncomfortable inclinations are a few things that make car rides annoying for kids.
I remember the ordeal of sitting in a car on long trips with my parents, and I don't wish it on any of my kids. Uncomfortable car seats made those trips feel longer than they were and often ruined my excitement for the destination. Let's talk about amazing car seats that make these long trips much easier and more pleasant for your kids.
Research shows that both the child's and parent's perception of discomfort leads to the incorrect use of car seat restraints and premature graduation to the next stage of the car seats. The incorrect use of restraints is a significant problem among child travelers, increasing the risk of injury.
In this article, I will help you understand the major factors affecting comfort levels in car seats and why you need to keep your kids comfortable when riding with you. Let's learn about the most comfortable car seats available for each category – infant, convertible, and booster car seats. Understanding the pros and cons of each seat will equip you with the right information to make a better purchase decision.
Factors Affecting Comfort In Car Seats
Several factors influence how comfortable a car seat is. Below, I present some of the major ones:
Seat Type
Depending on age, weight, and height, you must use the appropriate seat type for your child. Different age groups and sizes require different seats. Using the wrong seat can be uncomfortable and unsafe. Infants must be strapped into rear-facing car seats and shift to forward-facing seats and boosters as they age.
Leg Room
Young children like sitting with folded legs when they are younger. On the other hand, they prefer sitting with straight legs as they age. Use rear-facing car seats that allow enough leg room for your infants to sit with folded legs. If your child is older, use car seats with enough legroom that allows them to sit comfortably with straight legs.
Materials Used
Kids like soft materials. They can also develop allergies if harmful chemicals are present in the car seat material. Use seats free of potentially harmful chemicals, soft but strong enough to absorb impact during a crash, and allow enough ventilation to keep your kid cool. Few models also use safe materials to machine wash and dry, ensuring your kid is always in a clean seat.
Padding
Seat pads, also called shoulder pads, help small babies fit correctly into their seats. The primary motive of a seat pad is to secure your baby's body snugly and comfortably in the car seat. They also keep your baby safe, protecting them from involuntary movements that are difficult to prevent when they don't fit perfectly into their seats.
Adjustability Of Straps
The strapping system in the car seat should be flexible enough to secure your child safely, with enough room to move around comfortably. If the straps are too tight and cannot be adjusted further, your child has outgrown the car seat, and it's time for you to upgrade. Check the upper limits of weight and height for the car seat to determine if your child has outgrown them.
Happy Kids, Happy Rides
Have you noticed many negative reviews for car seat products related to the kid's demeanor on long car rides? As a concerned parent, you may invest in an expensive car seat with state-of-the-art features. But if you discover that your child is uncomfortable and hates riding in it, your perception and review of the seat will undoubtedly be negative.
Long journeys can be a breeze for your kids if you invest in a seat that makes them enjoy the trip and forget the distance. Simple features like cup holders and cushions can increase your child's perception of comfort.
Kids like to sleep on long journeys. Today's competitive car seat market offers several options that use soft and plush materials that promise added comfort. Pay attention so you know your kid's preferred seat inclination and the ideal tightness of straps. These points can help your kid snooze on long trips and reduce fatigue.
Most Comfortable Infant Car Seat
Driving with your newborn child can be a daunting experience if you haven't taken every possible safety measure. Using a reliable infant car seat is a simple way to ease the jitters and drive in peace. The Chicco Keyfit 30 is one of the most comfortable infant car seats available today.
Editor's Choice
Chicco KeyFit 30 Infant Car Seat and Base
The Chicco Keyfit 30 is an excellent baby car seat with simple installation, soft materials, and adjustable features. The Keyfit 30 is one of the most accessible baby car seats to install, with a one-pull LATCH fastening system and a bubble-level indication.
Its adjustable canopy and easy-to-clean textiles make it a practical choice for parents. At the same time, its ability to fit developing babies and deliver a comfortable ride elevates it to the top of the list. The Chicco Keyfit 30 is not the cheapest choice, but it is well worth the money for parents searching for a safe, secure, high-quality car seat for their infant.
What We Liked:
Available with Visor Option

Removable Head and Body Support

Available with Breathable Backrest
What We Didn't Like:
Lower weight capacity

Heavier than some other infant car seats

Slightly less easy to stroll
We earn a commission if you click this link and make a purchase at no additional cost to you.
The KeyFit 30 is tailored for comfort and includes a removable infant head and body support insert to accommodate babies as light as four pounds. It features a large removable canopy that provides shade from the sun and lets your baby sleep without distractions.
The removable seat pad is machine-washable, making it easy to keep the fabric clean. The ReclineSureTM leveling foot and RideRight™ bubble level indicators help achieve the most comfortable inclination in the vehicle seat for your precious cargo.
Let's now look at the advantages and disadvantages of using this product:
Pros
Priced at $230, the Chicco Keyfit 30 is a comfortable, affordable, high-end car seat.
The removable infant head and body support insert accommodates small babies as light as four pounds.
According to Tom's Guide, the online resource for product reviews, the KeyFit 30 scored well in all crash tests.
Easy to install via your vehicle's LATCH system.
The easy-pull strap helps you quickly tighten the five-point harness.
Cons
Weight and height limits are lower than similar models from other brands, and you may need to upgrade if your infant outgrows the seat.
Hard to install without the Chicco car seat base.
Heavier than similar models from competitors.
Most Comfortable Convertible Car Seat
A convertible is a seat that can change from a rear-facing car seat to a forward-facing car seat as your child grows older. From my experience, the Nuna Rava Convertible car seat is the most comfortable convertible car seat I have used.
My kids love the padding, and easily adjustable straps make it easy for them to get into their most comfortable posture. The built-in ventilation panels within the shell and breathable knit fabric keep my kids comfy and cool even on the longest of trips. This is a great feature to have during the hot summer months.
As a mother of three children, I have discovered that using car seats with complicated installation systems can be stressful. The Rava Convertible has a simple and secure installation system and is easy to install with the seatbelts of most cars.
With an upper weight limit of 50 lbs, this seat is better than many. The forward-facing orientation can hold your kid up to 65 lbs. The fabric and energy-absorbing foam are made from smartly sourced materials, and no fire retardant chemicals are used. Infant head and body inserts are adjustable to ensure your baby's comfort, and you remove them as your baby grows.
Here are the Nuna Rava Convertible's pros and cons:
Pros
Installation is swift, secure, and straightforward.
Ventilation panels and luxurious knit fabrics create a comfortable environment.
Rear-facing upper limit of 50 lbs.
10 recline positions, which are very easy to adjust.
True tension™ doors that ensure an ultra-secure but simple fit.
Cons
At $450, the Rava Convertible is one of the most expensive car seats.
Large and takes more room in the car than competing seats.
With very few cons, this is one of my favorite car seats. My daughters feel like princesses whenever they ride in the opulent Rava convertibles and enjoy even the longest of trips.
Most Comfortable Booster Car Seat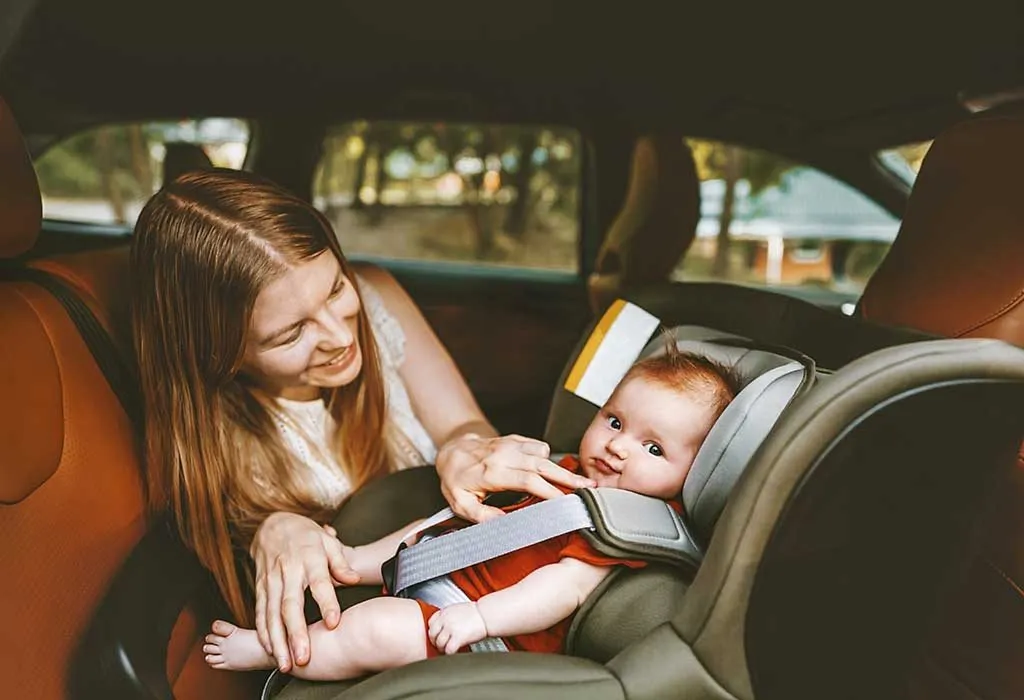 Motor vehicle crashes are the leading cause of fatality and injury in children aged four to eight. Belt-positioning booster seats are an effective tool to reduce fatality and injuries for children. Research shows that injuries to the abdomen and spine were nearly eliminated in crashes when children were positioned correctly in their belt-positioning booster seats.
Children spend many years using booster seats until they are old enough to switch to the regular seat belt in the vehicle. This makes it imperative to choose a booster that offers safety and comfort.
The Chicco KidFit ClearTex Plus is an excellent choice and the most comfortable booster car seat my children have used. The height can be adjusted to 10 positions from the waist instead of the neck, ensuring your child's protection and comfort. 
We earn a commission if you click this link and make a purchase at no additional cost to you.
The KidFit ClearTex Plus is a contoured ErgoBoost® seat with double foam padding that enhances comfort and support. A 2-position backrest adjusts to mimic the vehicle seat position. Older children can get more comfortable in the car by removing the backrest to convert the seat into a backless booster.
To help you make a more informed decision, here are the pros and cons of the Chicco KidFit ClearTex Plus:
Pros
Double-layer foam padding that ensures comfort and support.
Can serve as a highback booster and convert to a backless booster as your child ages.
Two removable cupholders so your kids can sip their favorite beverages and get comfortable on long rides.
Fabrics used in the seat are removable and machine washable.
GREENGUARD Gold Certified for lower chemical emissions, contributing to healthier air quality.
Reasonably priced at $100.
Cons
Seat bottom is very wide and takes up a lot of room in the car.
Fabric material is thinner than fabrics used in products from competitors.
Fabrics are washable but unwieldy and can be cumbersome to return to the seat.
Conclusion
The seats I have described are great options that ensure safety and comfort for your tiny traveler. The Chicco KeyFit 30 is a well-renowned and popular option for infants that offers comfort and safety, as proven by its excellent crash test results.
The Nuna Rava Convertible is an absolute favorite with its opulent design and plush, well-ventilated fabrics that make long trips a breeze. The KidFit ClearTex Plus is a reasonably priced and versatile booster seat that can keep your kids comfortable for several years until they are ready to shift to the vehicle seat belt.
FAQs
1. What key features make a car seat the most comfortable for infants?
The five key features that make a car seat most comfortable for infants include rear-facing orientation, leg room, high-quality soft materials, adequate padding, and adjustability of straps.
2. How does the level of padding and cushioning affect the comfort of a convertible car seat?
Padding and cushioning help children fit comfortably into their car seats. Padding also helps very small children fit securely into their seats, reducing unsafe involuntary movements during rides. The materials used in pads and cushions improve ventilation, keeping little travelers cool during long trips in the hot summer months.
3. What are the top-rated car seat models known for their exceptional comfort for toddlers?
The Nuna Rava convertible car seat and Chicco KidFit ClearTex Plus are two feature-packed seats that offer exceptional comfort for toddlers.
4. How does a booster car seat design contribute to a comfortable and secure seating experience for older children?
According to a study by the Association for the Advancement of Automotive Medicine, a global multi-disciplinary professional organization dedicated to saving lives and eliminating road traffic injuries, the side supports of belt-positioning booster seats affect the child's seating posture. The time spent by children sitting with their backs against the booster seat was nearly halved in seats with large side supports compared to seats with small side supports.
According to another study by AAAM, kids in high-back booster seats experienced a 70% reduction in injury risk. In contrast, kids in backless booster seats did not experience a significant reduction in injury risk compared to those in seat belts.