How much does a good car seat cost? How do I choose the right car seat for my child depending on age, weight, and height? How do I select a car seat that fits within my budget without compromising on important safety features? These questions can keep you busy if you are a new or expecting parent looking to purchase a car seat for your precious little one.
As a mother of three kids, I know parenting is one of the most challenging jobs. I've spent countless hours researching the best car seats and have equipped myself with valuable information about seat installation mechanisms, harness systems, size limits of car seats, and federal safety standards. I've shortlisted the best options so you can find the perfect fit for your budget.
Finding an affordable car seat is easy! Finding an expensive one is even easier. But does expensive necessarily mean good? More importantly, does the priciest seat imply it is the safest? In this article, I will help you navigate the crowded market to find a car seat that ensures adherence to law requirements, safety, and comfort for your child. Most importantly, I hope you find a car seat with a price within the range of your budget.
What Are The Important Factors When Selecting A Car Seat?
There are multiple factors to consider when identifying the perfect car seat for your child. I have listed and described the most important ones below.
Stage Of Car Seat Timeline
There are four stages in the car seat timeline. Depending on the height, weight, and age of your child, you can identify the stage that is most applicable to your child. The car seat timeline is the easiest framework to select a car seat that ensures both adherence to the law and safety for your child.
Safety Standards
Car seats sold in the US must meet federal safety standards. The minimum standard you must check for is the Federal Motor Vehicle Safety Standard 2013. You can confirm this by a label that reads – "This restraint system conforms to all applicable federal motor vehicle safety standards. This restraint is certified for use in all motor vehicles and aircraft."
Installation Mechanism And Vehicle Fit
Not all car seats fit in every vehicle. Choose a seat that fits correctly in your vehicle. The NHTSA has created a useful manual to check if a car seat fits your vehicle.
Comfort
After safety, we must agree that comfort for your child is the most important factor. Irrespective of a manufacturer's claims, pay attention to the comfort level of your little passenger. The materials used, padding, and the adjustability of straps are three comfort elements you can evaluate to conclude the comfort of a car seat.
Car Seat Cost
List car seats with all the features that meet your requirements and compare their costs. You will often discover that one car seat incorporates a specific feature that is important to you and is cheaper than another one that lacks this feature. For example, an installation mechanism that suits your vehicle.
What Should You Avoid When Selecting A Car Seat?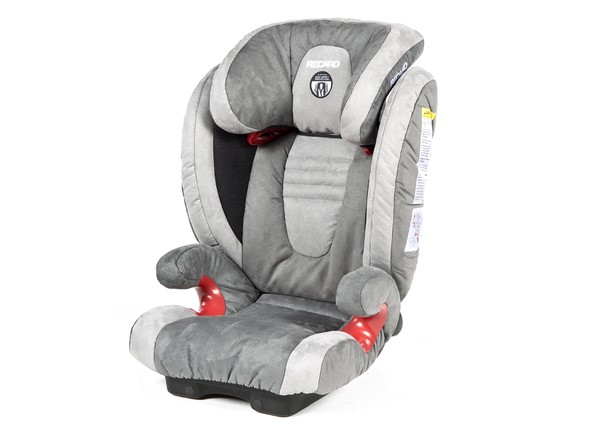 Let me increase your awareness of the avoidable common mistakes new parents can make when selecting a car seat.
Used Car Seat
There is nothing wrong with using a hand-me-down car seat. However, you must check for damages and if the manufacturer ever recalled the model for safety concerns or defects. The seat should not have been through a crash and should not have expired – yes, car seats do expire!
Wrong Type Of Seat
Your kid's age, weight, and height define what type of car seat you should use. Check the type and configuration of the car seat before you purchase it. Several states require that your child be secured in a rear-facing back seat and not any other type of seat until age two.
Wrong Seat Placement
Always install the safety car seat in the back seat of your car. You should never install car seats in the front of a car due to concerns regarding airbag safety. Airbags deploy at a speed of 200 miles per hour. This force can lift a young and small child off the seat and smash their head to the top of the car, resulting in serious injuries.
Wrong Installation
Check the manufacturer's instructions to ensure you install and buckle the car seat securely facing the right way in your car. According to Mayo Clinic, a nonprofit organization committed to clinical practice, education, and research, if a car seat can move more than 1 inch from side to side or front to back, it is not secured tightly enough.
Price Influence
Never assume that an expensive car seat is the safest option or compromise on important safety features by choosing more affordable ones. Along with car seat cost, you must also evaluate the seat's features, safety standards, and compatibility with your vehicle.
Average Cost Of Car Seats
The type of seat is the primary factor influencing the cost of car seats. According to Consumer Reports, the American consumer education resource helping consumers make better decisions, the average car seat price range for rear-facing seats is $30-$180, while convertible systems run $40-$450. Booster seat costs are cheaper; you can get them anywhere between $11 and $320. Modern all-in-one car seats run $100-$300, while toddler boosters range between $95-$295.
While these ranges are large and can be overwhelming, it's worth noting you may not require all the features offered in high-end, more expensive car seats. Always consider the features most important to you and identify the models that offer these features.
Following this, you can compare the prices of the seats identified. If you reverse this process and research seats based on price alone, you will have too many options, leading to confusion and potentially the wrong choice.
Components Of Car Seat Cost
Until I discovered the actual prices of car seats in the market, I thought a car seat was just a car seat! I never imagined that not only price but even safety and comfort could vary drastically depending on size constraints, installation mechanisms, compatibility with vehicles and strollers, and additional crash protection features.
I have outlined below the major components in the design of a car seat that determines its cost:
Materials Used
Manufacturers price their products higher when they use superior quality materials. For example, the Britax B-Safe Gen2 FlexFit Infant Car Seat uses flame-retardant high-performance fabrics with a ventilation mesh and resists stains, moisture, and odor. While this makes the product pricey, it also enhances the comfort of your tiny traveler. 
We earn a commission if you click this link and make a purchase at no additional cost to you.
Type Of Seat
Rear-facing car seats –used for infants from birth up to age 4– will incorporate advanced safety mechanisms to protect your child in a crash. Seats like the Britax B-Safe Gen2 FlexFit use SafeCell Technology to create a crumple zone that absorbs impact energy in the event of a crash. These useful features typically found in seats focused on enhanced safety form a major component in the product's price.
Size Constraints
Car seats with higher height and weight limits tend to be more expensive than those with lower limits. The Chicco KeyFit Infant Car Seat, which has a weight limit of 22 lbs, is cheaper than the KeyFit 30, which has a weight limit of 30 lbs.
Lifespan
Car seats that function across multiple stages of the car seat timeline are more expensive than seats limited to a single stage. The Evenflo Gold Revolve360 Extend is an all-in-one car seat much more expensive than the LiteMax 35, which serves only as a rear-facing infant car seat.
Evenflo Revolve Extend Revere Convertible Car Seat
Separate stay-in-the-car base allows for easy transfer from home to car via the ergonomic easy-to-carry handle; Also available separately
5-point harness with 3 shoulder harness and 2 crotch buckle positions for better fit and longer use
Auto belt guides for use without a base if preferred
We earn a commission if you click this link and make a purchase at no additional cost to you.
Before narrowing down your final choice, research the above factors to identify which features are most important to you. If you are opposed to multiple purchases, an all-in-one car seat is your best option.
If you like change and prefer selecting the best seat in each stage of the car seat timeline, I recommend beginning with an infant car seat before shifting to a convertible that goes from forward-facing to a booster seat.
We earn a commission if you click this link and make a purchase at no additional cost to you.
Best Car Seat Options Across Different Price Ranges
The table below summarizes the best car seats across two different price ranges for each stage of the timeline. You can use these products as reference points as you add more options to your list and begin your comparison.
Car Seats In The Price Range Of $100 – $250
| | | | |
| --- | --- | --- | --- |
| Type of Seat | Model | Price | Features |
| | | | |
| Rear-facing | Evenflo LiteMax 35 Infant Car Seat | $147 | – Includes a shatter-resistant backseat baby mirror.– Meets all federal safety standards and passes Evenflo's comprehensive side impact and rollover test standards. |
| Convertible | Graco Extend2Fit Convertible Car Seat | $198 | – Four-position adjustable extension panel provides up to 5″ additional leg room.– Includes removable, plush head and body inserts that help keep your infant cradled and comfortable. |
| Booster | Britax Skyline 2-Stage Belt-Positioning Booster | $109 | – High back booster seat that converts to a backless booster.– Includes plush foam padding and built-in armrests. – Includes two layers of side impact protection and an energy-absorbing shell and foam-lined headrest. |
We earn a commission if you click this link and make a purchase at no additional cost to you.
Car Seats In The Price Range Of $250 – $400
| | | | |
| --- | --- | --- | --- |
| Type of Seat | Model | Price | Features |
| | | | |
| Rear-facing | Graco® Premier SnugRide® SnugFit™ 35 XT | $320 | – An anti-rebound bar provides your infant with an additional layer of rear-facing safety.– A privacy drape and a canopy window allow you to keep your baby shaded and comfortable with the option to check on them.– Simply Safe Adjust Harness System allows the headrest and harness to adjust together in one motion |
| Convertible | Evenflo Revolve360 Extend All-in-One | $400 | – Converts from rear-facing to forward-facing to a booster seat.– Sure360 Safety Installation System with LockStrong and Tether360 keep the seat safe and secure.– Easy rotational adjustment to shift between stages without reinstalling the seat. |
| Booster | Grow With You ClickTight Plus Harness-2-Booster | $350 | – A toddler car seat that grows with your child. Easy to install with ClickTight Technology.– It starts as a 5-point harness car seat and converts into a belt-positioning booster. |
We earn a commission if you click this link and make a purchase at no additional cost to you.
Conclusion
The market offers several car seats today with state-of-the-art safety features combined with elements of comfort and easy installation mechanisms. Always remember to check if your car seat meets federal safety standards. Various options are available across different price ranges, and price alone does not determine the right car seat to protect your child.
Pay attention to features in your car seat that protect your child from impact energy in a crash. I recommend choosing seats with a straightforward installation mechanism and a secure harness system. Finally, spare a thought for the seat's aesthetics so your little loved one can ride safely and in style. With all these factors in mind, you can select a car seat within your budget and drive with peace of mind.
FAQs
1. What is the average cost of a car seat?
The type of car seat is the primary factor that influences the cost of a car seat. You can find rear-facing seats with an average price range of $30-$180, while convertible seats run $40-$450. Booster seats are typically cheaper; you can get them anywhere between $11 and $320. Modern all-in-one car seats run $100-$300, while toddler boosters range between $95-$295.
2. How much does a booster seat typically cost?
Booster seats can cost as cheap as $11 up to $320. The price of your booster seat varies depending on the comfort and included safety features.
3. What is the price range for car seats?
The price range for car seats is wide, starting as low as $10 – $20 and going up to $450 depending on the type of car seat, the comfort and safety features included, and the seat's lifespan.
4. What factors determine the cost of a car seat?
Important factors determining the cost of a car seat include materials used, type of car seat, size constraints, and lifespan.