Safety 1st has always been my go-to baby product because of how affordable and durable they are. I had the honor of testing the Safety 1st Continuum 3-in-2 car seat and wasn't disappointed.
I enjoyed working with this car seat. I appreciated the fact that it offers three different recline positions to make my child more comfortable and sage. Two of them are for rear-facing and the other is for forward-facing. As your child gets bigger, it will be easier for them to sit up.
I loved the harness holders! I can't tell you how many times I've gotten caught up in the harnesses of other car seats. The holders kept the harness straps out of the way so I could safely place or remove my baby from the seat. Not only that, but the QuickFit Harness made it super simple to adjust the headrest and harness in one step.
Additionally, I found it easy to remove the cup holders and fabric for washing. I threw the fabric in the washing machine and the cup holders in the dishwasher.
When you pair the unique features of this car seat and the price, I can confidently recommend it. It's a great car seat that accommodates children up to 80-pounds.
Price Comparision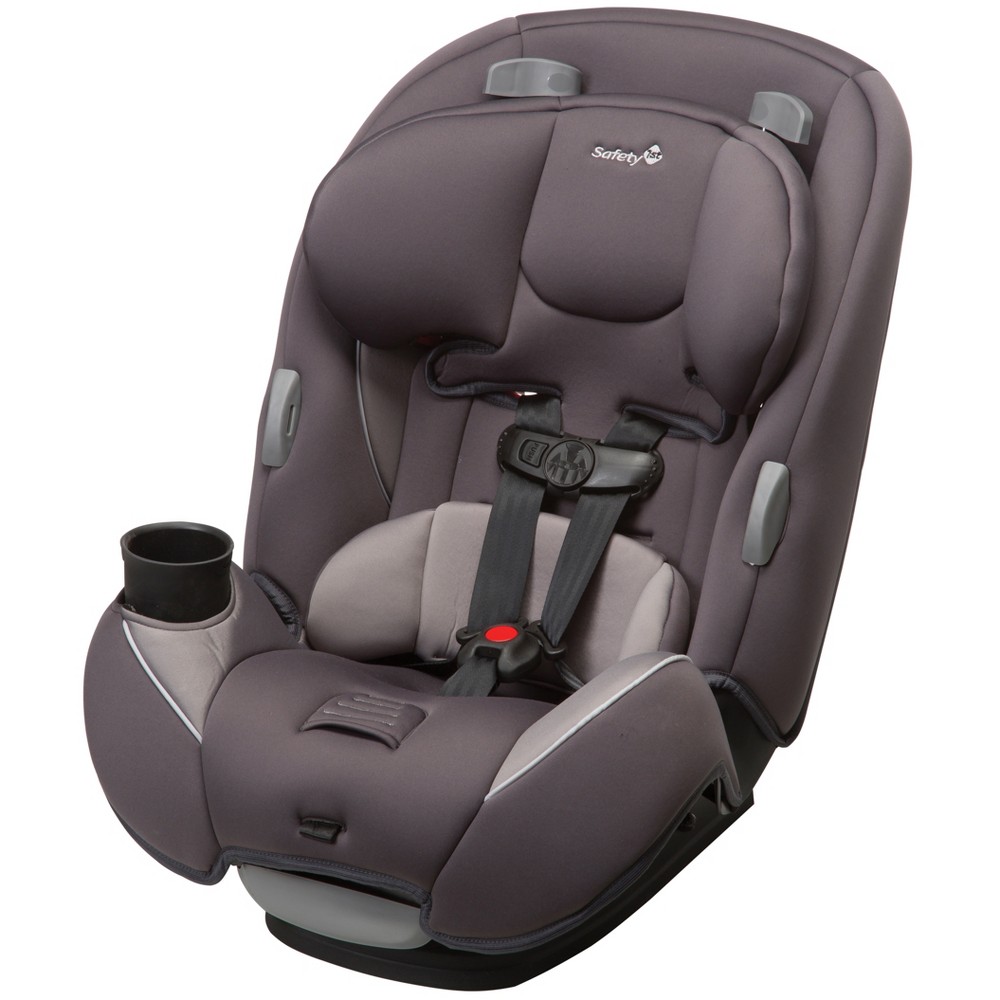 Target.com
$169.99
in stock
1 new from $169.99
as of January 23, 2023 5:02 am
Amazon.com
Free shipping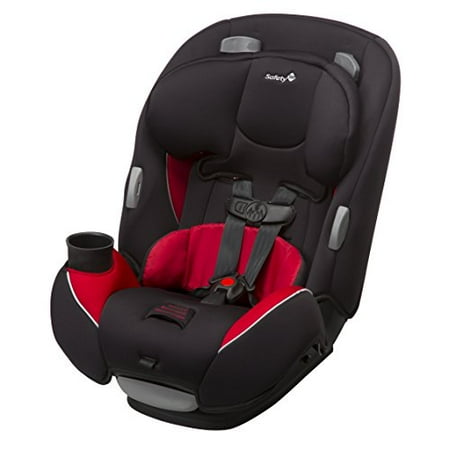 Walmart.com
Our Ratings
Ease-of-Use: 5/5
Features: 4/5
Value for the Money: 5/5
Safety: 5/5
Installation: 3/5
It works for rear-facing up to 40 pounds, forward-facing up to 50 pounds, and is a booster seat up to 80 pounds.
Key Features
Safety 1st 3 in 1 Continuum car seat provides a lot of features that we loved. It is a car seat that does the job, plus a lot of extras, to make sure you have something that you feel safe putting your child in. Some of the features you are sure to love include:
It Grows with Your Child
The Safety 1st Continuum car seat can grow with your child. You can start with the car seat rear-facing. This is designed to work for children between 5 and 40 pounds. Once your child's head gets higher than the headrest, it is time to turn them around.
At that time, this car seat can turn around and still provide protection. As a forward-facing car seat, this option can utilize the harness mode and hold your child until they reach 50 pounds. Your child should be at least 22 pounds and 2 years old before turning the car seat around.
Once your child is at least four years old and 40 pounds, you can turn this car seat into a belt-positioning booster. This helps you to get at least four or more years out of this one car seat.
3 Recline Positions
Safety 1st 3 in 1 car seat offers three different recline positions to help provide more safety for your child. Two of these are used for rear-facing children and one when the car seat is used for forward-facing children.
The two rear-facing positions allow your child to grow into the car seat. Use one recline for the smaller child who needs more care and protection along the way. As they get bigger, it is easier to change the recline position to help your baby sit up more.
Removable Parts for Easier Cleaning
The Safety 1st car seat doesn't have a lot of parts that come off that are dangerous. But all the high-traffic areas that easily get dirty can be cleaned off without a problem.
The removable cup holders come right off and can fit safely in your dishwasher. It is also possible to take off the material of the car seat and get that cleaned off when necessary.
Harness Holders
The Safety 1st car seat provides some easy harness holders to use. These can be held back so it is easier to get any child out of the car in no time.
The QuickFit Harness is a useful feature that we used a lot to make things faster. It is designed to make it easier to adjust the headrest and harness in just one step which was a lifesaver for us.
The Good
The Safety 1st Continuum car seat has a lot of benefits that worked well for our family. We liked all of the features we talked about above, but a few options that stuck out to us include:
This car seat provided a lot of legroom. This allowed us to keep our child rear-facing for longer than we would have with another car seat.
It provided a good deal of protection for an affordable price.
The fabric was durable enough to add to our washing machine without ruining it. This is a plus since our child is pretty messy.
The Bad
The Safety 1st Continuum car seat was relatively easy to use, though we did struggle a bit with the installation. When using a seat belt to help hold this in place, the path for the blet was a little narrow.
This made it hard to thread the seat belt through the whole path and make it secure. This also provided some challenges when we tried to tighten the seat belt for more safety.
While this wasn't a big issue in our vehicle, we did notice that the base is longer on this car seat than some others. Because of this base, it may not be able to stay level with the seat of the vehicle.
You should double-check that you can get a good installation going without all the concerns. This will help prevent the car seat from slipping and sliding.
Despite these two issues with installation, we found that this car seat is safe and easy to use. The user will need to take some extra time to ensure the car seat is steady and installed properly before putting their child inside.
Alternatives
A good alternative to the Safety 1st 3 in 1 car seat is the Graco Extend2Fit Convertible seat. This one allows a little more weight while remaining rear-facing which does provide some more protection. It also has a good deal of legroom to do this and can convert into three different seats.
The forward-facing option on this one can also hold a little more weight. If safety is your top priority and you want to ensure your car seat can meet your expectations for safety, the Graco Extend2Fit car seat maybe a little better choice.
$169.99
in stock
1 new from $169.99
as of January 23, 2023 5:02 am
How Does This Car Seat Work?
The Safety 1st Continuum 3 in 1 car seat works as three car seats in one. It is designed to work as a rear-facing seat, a forward-facing seat, and a booster seat as your child grows.
As soon as you bring your baby home, you can start to use this car seat. It is designed to work as a rear-facing car seat for children 5 to 40 pounds. There is additional legroom so your child can stay rear-facing for longer.
Once your child is ready, and at least two years old, you can turn this car seat into the best forward-facing seat around. This is designed to work for children 22 to 50 pounds so your child will stay safe for longer.
While many car seats stop here, we picked this car seat because it lasted a little longer and turned into a booster seat as well. Once your child is four years old, they can move into the booster part of this seat. It is designed for children between 40 to 80 pounds.