Most moms can agree that you can't put a price on the safety of your child. For this reason, many parents turn to the quality and superior design of Peg Perego for their car seat needs. 
Established in Italy in 1949, the worldwide brand is known for its high-performing, hand-crafted, and quality-made products boasting both comfort and top-notch innovation. The company manufactures a wide range of baby products including strollers, and highchairs, in addition to their world-class car seats. 
While Peg Perego car seats are more expensive than most other car seat brands on the market today, many parents find that the safety, style, and comfort benefits are worth the heftier price tag. 
Peg Perego sources the highest quality materials for their products and is rated safer on the toxicity scale than many of their competitors. In fact, Peg Perego booster seats are free of toxic flame retardants. 
In addition, Peg Perego car seats tested higher in crash tests than other brands. Studies suggest their car seats have a higher standard of safety and protection than basic federal safety regulations. 
After extensive comparison and testing, our top choice pick is the Peg Perego Primo Viaggio 4-35 Lounge Infant Car Seat. The Lounge fits infants from 4 to 35 pounds and up to 32 inches comfortably.
In addition, this car seat offers superior safety features, such as the anti-rebound bar and the ten position metal load leg that work together to increase stability and decrease the risk of injury due to an accident.  It also can recline so that your baby is in an ergonomic position for sleeping when transitioned to a stroller.  
The Pagoda hood offers complete protection for your little one from the elements. In addition, adjustable side impact protection provides additional safety as your baby grows without ever needing rethreading. 
Below we've compiled the top 6 Peg Perego car seats and top 2 travel systems to fit your unique lifestyle. All Peg Perego car seats come standard with a two-year warranty and are available to purchase through various retailers.
6 Best Peg Perego Seats
| Name | Weight Limit | Height Limit | Mode |
| --- | --- | --- | --- |
| Peg Perego Primo Viaggio 4-35 Lounge | 4-35 lbs. | 32" | Rear-Facing |
| Peg Perego Primo Viaggio 4-35 Nido Infant Seat | 4-35 lbs. | 32" | Rear-Facing |
| Primo Viaggio Convertible | 5-65 lbs. | 49" | Both Rear-Facing/Forward-Facing |
| Primo Viaggio Convertible Kinetic | 5-70 lbs. | 49" | Both Rear-Facing/Forward-Facing |
| Viaggio Flex 120 High Back Booster | 40-120 lbs. | 63" | Highback Booster |
| Viaggio Shuttle 120 Booster | 40-120 lbs. | 63" | Backless Booster |
The Viaggio 4-35 Lounge infant car seat is a beautiful car seat with some amazing new features.  This car seat can recline and extend when out of the base and in a stroller to put your baby in a prime sleeping position.  
A huge safety concern for infants in car seats is parents leaving them in too long while sleeping.  The Viaggio 4-35 Lounge takes that concern away. 
While you still should not use a car seat for long-term sleep, physical health concerns are greatly reduced.  
Unlike many infant car seats, the Viaggio 4-35 Lounge has adjustable side impact protection.  This will keep your little one as safe as can be on the road.  The infant car seats from Peg Perego all have some standard features that are excellent. 
Some are mentioned below in the Viaggio 4-35 Nido, but what really makes the Lounge stand out is its ability to recline for both comfort and safety.
Price Comparison
What We Like
Reclinable 

Right Tight System 

Anti-Rebound Bar

Adjustable 6-Position Headrest

Two-Stage Infant Cushions

Provides Optimal Side Impact Protection
What We Dislike
Top of the line comes with top price

Narrow seat area for chunkier babies
2. Primo Viaggio 4/35 Nido Infant Seat – The Safest
This infant car seat provides a safe comfortable nest or Nido, in Italian, for infants weighing between 4 and 35 pounds.  It also has additional features to the Primo Viaggio 4-35. 
The Energy Management Foot on the Load Leg is designed to move energy away from the baby during an accident.
The anti-rebound bar and load leg provide stability preventing base and seat rotation during driving or an accident.
Price Comparison
$299.95
in stock
3 new from $299.00
as of June 7, 2023 8:15 pm
Amazon.com
Free shipping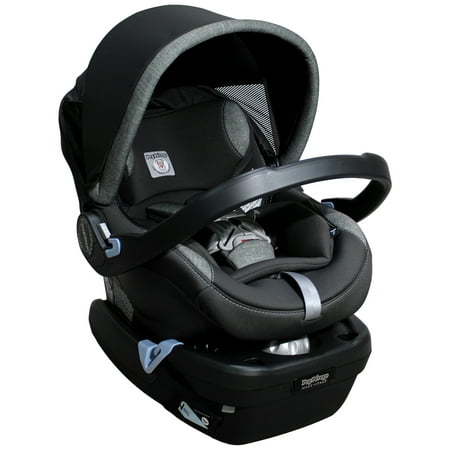 Walmart.com
$349.99
in stock
5 new from $349.00
as of June 7, 2023 8:15 pm
Amazon.com
Free shipping
What We Like
All Primo Viaggio Features for kids 4-35lbs

Load Leg & Crumbling Energy Management Foot

Right Tight System with Color Coded Belt Path

Anti-Rebound Bar

Pagoda Hood 

Multistage Adjustable Infant Cushion

Lightweight Infant Seat Design
What We Dislike
Difficult to Carry When Hood Extended
In the rear-facing position, this seat can accommodate a baby from 5 to 45 pounds. While in the forward-facing position, Primo Viaggio holds babies from 22 to 65 pounds. 
This convertible is the standard package for Peg Perego. The snap and twist conversion is its finest feature. In fact, it eliminates the headache of a full car seat re-install when your child ages up.
All of us parents out there know that once those car seats are installed, it is better if they stay that way! While it meets all the federal safety standards and even exceeds some, it does not feature all of the premium features that other Peg Perego car seats boast.
Price Comparison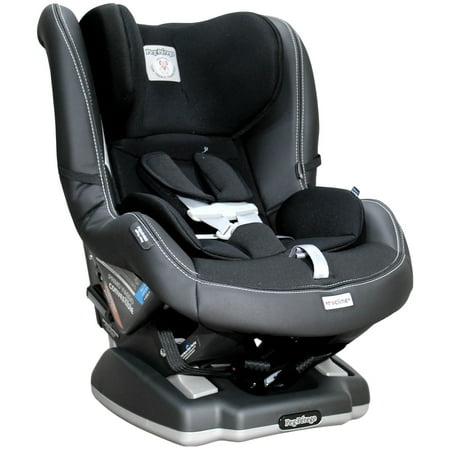 Walmart.com
out of stock
as of June 7, 2023 8:15 pm
Amazon.com
What We Like
Snap and Twist Position Conversion

Standard Harness Covers 

Standard Infant Positioning Cushions
What We Dislike
Fewer Safety Features than Most Peg Perego Seats
The Primo Viaggio Convertible Kinetic Convertible car seat has all the great features of the Primo Viaggio Convertible car seat with some added premium safety features.
This seat can range from the tiniest rider to 65 pounds.  The Anti-Rebound bar gives 2 inches more of leg room so that you can keep your baby rear-facing, comfortably for even longer.  
The Kinetic seat added some new safety features not seen in the base model.  The seat sports kinetic pods that focus energy away from the center of the seat and your baby.  This new feature is also seen on some of the infant carrier models.  
What We Like
Kinetic pods to focus energy away from your baby

Rigid LATCH System

Blind Lock Attach System

Breathable

Washable
What We Dislike
Featuring four independent adjustment points, this ultra-adjustable seat can accommodate the growth rates of any child. 
The headrest and seat can adjust to five different positions each. While the expandable side wings and upper backrest each have three different positions.
This seat has a broad range of height and weight limits. Weights of 40-120 pounds and height limits of 39-63 inches can possibly provide one child years of use. 
This seat includes additional safety features such as an aluminum backrest that provides whiplash protection. Added stability from the use of the seat's rigid LATCH system in conjunction with the vehicle's tethering system.
What We Like
Foldable for Easy Installation, Carrying, and Storage

Accommodates Young Children up to 120lbs

12-year Expiration Date

Aluminum Backrest 

Rigid LATCH System

Blind Lock Attach System
What We Dislike
Doesn't Convert to a Backless Booster
This backless booster seat has many features that similar seats do not. One feature that other backless boosters do not have is its integrated rigid LATCH system with blind locking attachments. 
This allows the seat to be anchored into vehicles that have the LATCH system. The Blind locking attachments keep other passengers from being able to accidentally detach the seat.
However, if a vehicle is not equipped with the LATCH system it can be used to stabilize the seat and avoid movement when not in use or pushed back into the car seat. Unlike most backless booster seats this seat can accommodate a small adult with weight limits of 40 to 120 pounds and height limits of 39 to 63 inches.
The EPS foam assists in absorbing the energy from deacceleration during an accident. The second layer made of EPP is softer and more comfortable which provides extra padding for the seat.
This seat also comes with a cup holder, carry handle, attached shoulder clip, and 12-year expiration date.  Unlike most backless boosters that only have thin padding for the seat, this one comes with a double layer of foam in addition to a washable removable microfiber cover. 
What We Like
Has Large Cup Holder 

Convenient Carry Handle & Shoulder Clip

12-Year Expiration Date

Dual-Layer Foam Seat 

Washable & Removable Microfiber Cover

Rigid LATCH System

Blind Lock Attachments
What We Dislike
A large range in height and weight limits
Top 2 Peg Perego Travel Systems
This stroller has a fully reversible seat in addition to an included Primo Viaggio 4-35 Nido car seat. The stroller's elegant telescoping handle with hand-sewn eco-leather covers adjust for easy use regardless of height.
Strollers' easy-close feature makes closing with one hand possible. The expandable basket on the bottom helps to carry everything.
Easy Maneuvering in Tights Spaces
A streamlined 20-inch-wide chassis makes maneuvering this stroller in tight spaces and crowds easier. The suspension system with 12 ball bearings in the wheels accommodates different surfaces 30% easier than without those features.
What We Like
Easy-close feature

Viaggio 4-35 Nido car seat and load leg base included

Suspension system

Contains 12 ball bearings per wheel

The stroller rolls easily over rough terrain

Adjustable telescoping hand-sewn leather handle

Reversible adjustable stroller seat

Compact design 20 inches wide
What We Dislike
Included Links require a one-time installation to attach seat & stroller.

Optional YPSI bassinet not included
This travel system is compatible with the Primo Viaggio 4-35 car seat which is included with a base as well. The Gmatic system allows for the car seat to fit into the stroller with ease and without additional attachments.
The stroller can be used from the baby's birth until 50 pounds. This is a compact stroller with a streamlined design. It offers convenience, style, and comfort. One of its best features is how easy it is to close. Very little force is needed, and it can be closed with just one hand.
What We Like
Gmatic system allows the seat to attach without extra parts

Compact streamline design

Easily close with one hand

Included 4-35 seat
What We Dislike
Amazon's Top 3 Best Selling Peg Perego Car Seats
Best Selling Peg Perego Travel System
Buyers Guide
Safety, durability, and ease of use are the most important aspects to consider when picking a good quality car seat or booster.  Other considerations include the car seat's fit for the vehicle and the size of the child.  Peg Perego seats must be all these as well as comfortable.
Car Seat Safety
Safety ratings and features should be rated and meet or exceed the NHTSA minimum federal safety standards. Peg Perego seats and travel systems exceed all required safety standards due to time-tested technology and additional safety features.
These additional features include the anti-rebound bar and adjustable load leg with an energy management foot. The energy management foot is designed to crumble during an accident redirecting energy away from the baby. These features alone help reduce seat rotation during an accident by 50% according to the company's website.
Ease of Use
Value, Ease of use, and proper fitting for your child and car are important factors when selecting a car seat. Ease of use helps ensure proper fit and installation of a car seat. The easier seats are to use and install, the more likely it will be properly installed.
In addition to increasing chances for safe correct use, easier seats save time as well. To determine the overall value of a product, look at the cost, quality, and anticipated length of use.
Durability
Durability is important in items intended for infants and children. Products must stand up to demanding use and endure some abuse as well. Durability depends on the quality of the materials used during manufacturing. All Peg Perego car seats use top-quality durable materials. This leads to consistent durability across the entire brand.
Car Seat Types
There are many different types of car seats which are divided into stages. The three main categories are rear-facing, combination, and booster. However, there are many different types, many of which can last through two or more stages.
Infant-only car seats are rear-facing and often include a base. Once installed the base remains in the vehicle. Most seats can be used as an infant carrier as well. Many also attach easily to a base, shopping basket, and certain strollers.
Combination seats adjust for more than one stage of baby's growth. Convertible car seats can be used in both front and rear-facing positions.
However, they are not designed to be used as infant carriers, and once installed they are not intended to be easily removed from the vehicle. A 3-in-1 seat is like a convertible seat. The exception is it converts to a high-backed booster as well as a forward and rear-facing car seat.
Finally, the seats children will be in the longest. Children are often in a booster seat for most of their school years, possibly into their teens. There are several different types of booster seats including two combination boosters. These are the 3-in-1, hybrid, high-backed, and backless boosters.
Most highbacked boosters convert from a toddler seat to a booster by removing the harness and using the belt positioner. The hybrid booster is like the 3-in-1 except it cannot be used in the rear-facing position.
Other highbacked boosters transform to backless boosters by removing the back. The backless boosters lift children to ensure the vehicle seat belt falls properly on the upper legs and shoulders.
Frequently Asked Questions 
Does the Shuttle Plus fold like the Flex 120 does?
The Shuttle Plus does not fold like the Flex 120.
What are the materials used in all of the fabrics?
The materials used are either 100% polyester or a polyurethane polyester blend, depending on the color chosen.
Do you need an additional infant head support for this car seat? or is the one that is included enough for support?
You will not need additional head support for the Primo Viaggio 4/35 Nido.
The Brand That Guarantees The Best!
In addition to having more options for vehicle safety, today's car seats are more durable and safer than ever. With more multi-function items available there are fewer purchases that must be made to keep children safe.
Even after children outgrow their Peg Perego forward-facing car seat, there are still many safe and high-quality boosters available, both high-back and backless.  It is essential for any child to graduate to the backless booster positioned in the back seat of the vehicle.
With the Peg Perego brand you can't go wrong since all Peg Perego car seats are made of high-quality materials that will provide optimal safety for a parent and their precious cargo for many years to come. Which Peg Perego car seat is your favorite? Let us know in the comments below!