Without one of the best lightweight car seats, new parents often find themselves in a heap of trouble.
Here's the situation…
You're on the road with your infant happily riding in the back seat, she falls asleep in her car seat, and when you arrive home, she's (not surprisingly) still deep in slumber. 
Of course, the last thing you want to do is interrupt her nap, but you don't want to leave her in the car either.
So, what's a mom to do? You need to move her as gently and quietly as possible.
Luckily, several lightweight and portable car seat options are available, which is excellent news for exhausted moms like us. Because, let's be honest, when was the last time you successfully transferred your precious bundle from the car seat to the crib without waking her? If you're anything like me, probably never!
That changes today.
After filtering through the lightest infant car seats on the market, below we share the 5 best lightweight infant car seats you can buy.
If you're in a hurry to make a selection, our number one pick is the Graco SnugRide 35 LX.
The reason we chose this car seat as the best overall lightweight car seat was not only for its weight, but also for its safety, affordability, and ease of use. 
This car seat weighs in under 10 pounds. It's developed by a well-known brand that does not skimp on safety features. Plus, the Graco Click Connect system makes it easy to move baby from car to stroller for on-the-go napping.
We'll share more details on our top selection a bit later, but first let's look at all of our top picks.
Under 10 pounds total weight
Very quiet canopy adjustment
Under 8 pounds total weight
Very affordable price point for budget conscious
Harness is easy to adjust with one hand
Load bearing base leg offers added safety
Under 8 pound carrier weight
Added base size isn't great for compact cars
Premium safety features Nuna is known for
Very expensive relative to other options
5 Best Lightweight Car Seats
All the top five options we chose below weigh in at 11 pounds or less, offer a 5-point safety harness, are easy to install latch systems, are FAA-approved for use on airplanes, and are side-impact tested. So, whatever your price point, read on to learn about the best lightweight car seat options for you, your spouse, and your little one. 
| Name | Weight Limit | Height Limit | Mode |
| --- | --- | --- | --- |
| Graco SnugRide 35 LX Infant Car Seat | 4-35 lbs. | 32″ | Rear-Facing |
| Century Carry On 35 LX Infant Car Seat | 4-30 lbs. | 30″ | Rear-Facing |
| Evenflo Litemax DLX Infant Car Seat | 4-35 lbs. | 32″ | Rear-Facing |
| Nuna Pipa Lite R | 5-22 lbs. | 29″ | Rear-Facing |
| Chicco Keyfit 30 Infant Car Seat | 4-30 lbs. | 30″ | Rear-Facing |
After all, the infant car seat is the number one baby accessory you'll use in your baby's early days. On top of that 7 pounds, 9 ounces bundle of joy, you will lug around another 10 pounds of car seat pretty much everywhere you go.
Of course, there are other factors to consider when you choose a car seat, such as cost, safety features, durability, and ease of use. It's also essential for many on-the-go parents to have a car seat that transfers to the stroller or to a new car with ease. However, it's hard to know the best choice for you and your baby with so many options and features available. 
One thing any anxious, new mom needs to know is that a lower-cost car seat does not mean the car seat is unsafe. Just like baby formula, car seats must meet strict regulations before hitting the market. Any of the car seats on our list will keep your baby as safe as possible.
The Graco SnugRide 35 is our recommendation for the best overall lightweight car seat. At 9.7 pounds, it falls securely in the lightweight category.
Though it's inexpensive, it still has excellent safety features and has been tested at 2X the Federal Crash Test Standard. It also has EPS foam, which improves safety if a side-impact crash occurs.
An upgrade seen on the LX version in most recent version of this car seat is the In Right latch system. This allows for easy adjustment of the harnesses. Many infant car seats need re-threading for adjustment, which can be time-consuming, but the In Right latch system eases this headache.
We picked this infant car seat as the best overall because it is affordable and easy to use. A well-known and respected brand builds it. Finally, it is very lightweight, weighing in at 7 pounds.
How Compatible Is Graco Infant Car Seat with Click Connect Stroller?
With my three girls, I only used the Graco Click Connect. I absolutely loved how easy it was to move them from car base to car base or from car base to stroller. With two under two, I used a Graco single stroller and a Graco double stroller. All the systems worked wonderfully together, though two free hands are a must.
Graco has a wonderful variety of affordable strollers in the Click Connect line. This allows you to snap the car seat in the stroller and go on your way without a lot of hassle. The padding is machine washable, which makes it easier when dealing with unpleasant messes.
The minimum weight is 4 pounds, and the maximum weight is 35 pounds. This size range is great for those preemies and even your growing one-year-old.
This car seat has seat belt loops, which would make this car seat easy to use if you did not have a base.
It also can sometimes get caught when taking it in and out of the base, which could cause the baby to wake up. This can particularly be a struggle in a tall car like a pickup truck. You need to get a lot of upward pressure to get it out of the base. I didn't have too much of an issue with this, but it's something to consider.
---
The Century Carry On is our best budget choice, but it's also incredibly easy to use and has outstanding safety features. This car seat is also compact, so it can fit in almost any car.
Even though this car seat is compact, it does not skimp on the sizing requirements. It still meets the standard 4 to 35 pounds. 
Best of all, the Century Carry On weighs in at only 8 pounds. Cleaning the Century Carry On is easy with the WashMe seat. Something new parents may not know is that a blowout WILL happen in that car seat at some point. Cleaning it quickly and easily is an absolute must.
Similar to the Graco SnugRide, the Century Carry On can easily click into a Century stroller. The harness is also adjustable with one hand.
So Why a Compact Infant Car Seat?
Some car seats are incredibly long. If this is your first child, you may elect to part their car seat in the middle of your back row. This will avoid a lot of length issues unless you have a tiny car. However, the middle seat is not always ideal.
There can be several issues trying to fit a rear-facing car seat in a car. I am incredibly short and reaching into the middle of my SUV seemed like too much of a pain. I also had my older two 14 months apart. Another issue is a tall driver with legroom needs of his own. Compact car seats help mitigate some of this struggle. 
Another challenge that a compact car seat can cure is the width. Perhaps you must fit this base next to a booster seat or even another rear-facing car seat. Only a few car seats can fit three across in most cars. The alternative would be to go buy a large SUV and who has that in the budget with a baby on the way?
The Evenflo Litemax is the top of the line for safety features. It surpasses most industry standards for keeping your little one safe.
The materials are mesh and breathable. This can keep your baby nice and cool while inside the car seat. 
This car seat is incredibly affordable (only one car seat on this list is cheaper) and still does not lack in features. It comes with ParentLink customer service to help you install the base if you are struggling. 
The Evenflo Litemax features the SafeZone Load Leg technology, which stabilizes the car seat base and can protect your precious cargo in a collision. This car seat excels in crash test results, keeping your little one as safe as possible in case the unexpected happens.
For those that are looking to shop from companies manufacturing in the United States, this is the car seat for you.
While the base is heavier due to the extra safety features, the carrier is really light at under 8 pounds. Those added safety features definitely add some bulk to the base installation, so be sure to check that it works well for your car. Overall, we think that added size is worth the trade-off.
---
Pick #4: Nuna Pipa Lite R – Best Premium Infant Seat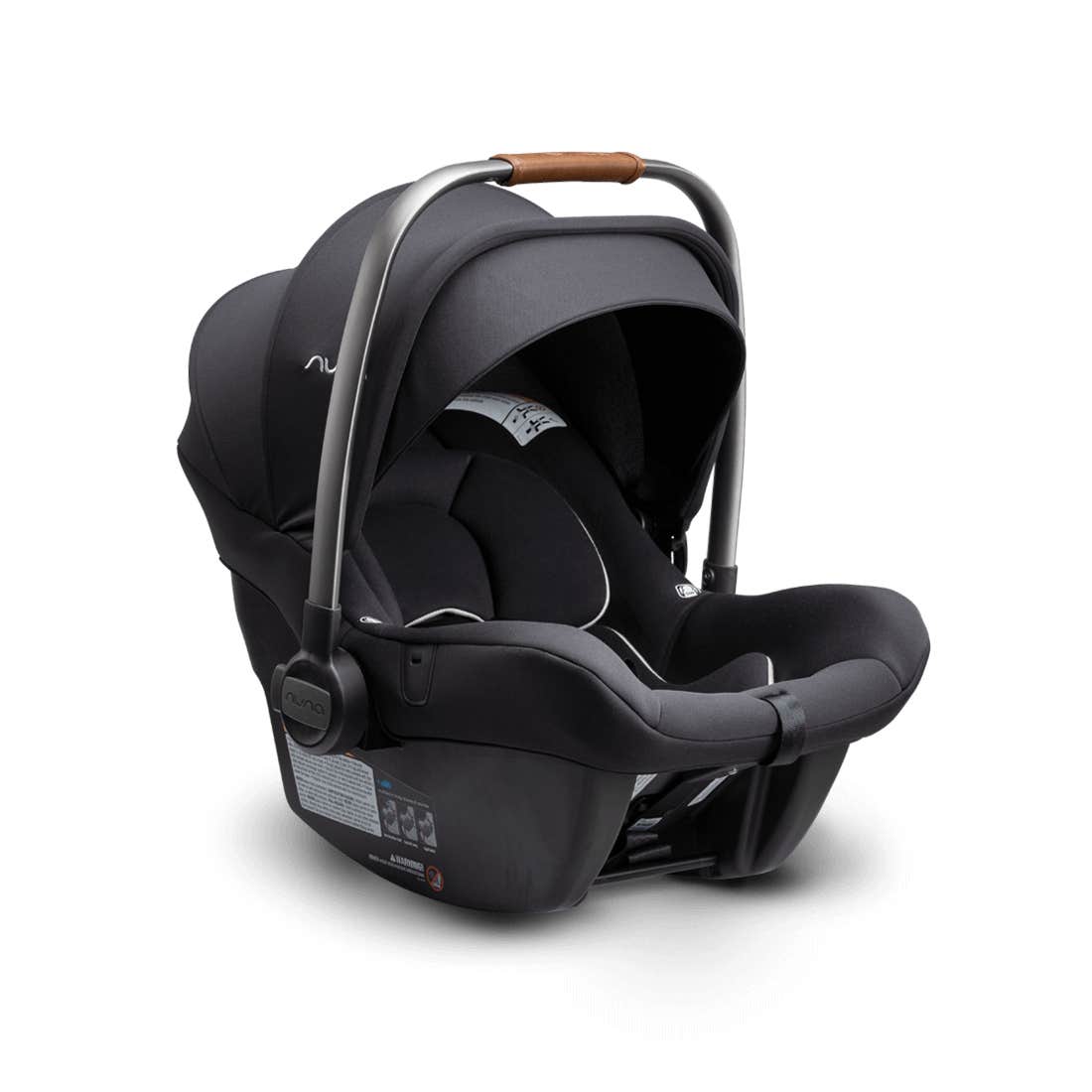 Pros
Advanced side-impact safety features
Cons
Cannot be installed without the base
Car seat base is deeper than most
The Nuna Pipe Lite R is the lightest car seat in its class. Many of the premium car seats are heavier because extra features add extra weight. At 5.3 pounds, the Nuna Pipa Lite R gives you the best of both worlds with a premium seat that won't break your back.
Buyers like the premium padding and the extra comfort of their babies. The newborn insert has good head support. The padding is not only comfortable, but it's also functional as it is machine washable. There are compatible strollers that make toting your baby easier.
Nuna Pipa Lite R Car Seat is also very expensive
This car seat is definitely on the pricey end and to most would seem a luxury, but it is the lightest car seat out there. So, if you will pay for it, you will have the easiest car seat to carry around on your day to day. One thing to consider is this car seat is the same price as most travel systems that also include a stroller.
This car seat is non-toxic and free from Toxic Dyes, Inks, Formaldehyde, PFAS, Flame Retardants, Harmful Phthalates, PVCs, and is low VOC. The Nuna Pipa Lite R also cannot be installed without its base. There are no belt loops to be installed in a back seat if necessary. This could be a big issue if you are taking the car seat on a trip or regularly use car services and do not want to lug around the base.
The Nuna Pipa series is easy to install. It has a color system that changes to green when the car seat The system not only makes it easy but gives you peace of mind that everything is okay.
---
Chicco car seats may be the most popular and most well-known car seat brand out there today. The Chicco brand is a safe bet for a great car seat.
The Keyfit 30 is more expensive than other car seats on this list. It is still very affordable. It has an easy click lock system for both the base and the stroller. This car seat is machine washable for those oopsies moments. 
The Chicco is a crowd favorite. It has excellent crash test results and is easy to use. Installation is a bit more difficult than other car seats, especially without the base. 
---
Why Buy a Lightweight Infant Car Seat?
We highly recommend buying a lightweight, rear-facing infant car seat with a detachable base, because it will make your life easier. The lightest infant seats are the ones with the detachable base, so they are also a good choice if you are looking for something lightweight and compact for travel.
Convertible seats are nice because you can use them for your child after they reach toddlerhood. Though this is an appealing feature, these are bulky. Convertible seats don't have some features infant-only seats have.
Infant car seats with detachable bases are amazing because they allow you to remove a sleeping baby from a car (or airplane for frequent travelers) without waking the baby. For anyone who has ever had a baby, this is no small luxury.
The Motion & Its Importance
Some babies really don't fall asleep easily unless they're in motion, others just fall asleep the best in the car. It's a lot easier to follow the adage "never wake a sleeping child" if you can easily move a sleeping child from the car to your destination without waking them.
Another significant benefit is that running errands is much easier with a sleeping baby than a baby who is awake and needs constant attention. Most models snap right into strollers of the same brand. Therefore, you can easily shop or take a walk without waking your baby up.
These types of infant car seats also allow you to get an extra-base if you have multiple cars or a grandparent or other caretaker who regularly drives the child.
This means that you don't have to either purchase another car seat or install the car seat every time you switch vehicles. Install a base in each car and all you have to do is snap the carrier into the base.
It's also really nice to buckle the baby into a car seat before you leave the house when the weather is poor.
If you live in a cold climate, safety experts warn against bundling up the baby in a snowsuit or winter coat before putting them in a car seat as the bulk can make it impossible to tighten the straps enough to keep the baby safe in a crash. 
This means that those of us in cooler climates benefit from being able to buckle the baby in and cover them with a car seat cover or blankets before going outside so we do not expose them to the harsh weather.
Buyer's Guide
Shopping for a car seat is overwhelming. There are so many choices out there that it is easy to spend hours trying to find the best one. The good news is that any car seat you buy has to meet rigorous safety standards and some also have additional safety features.
Beyond safety, other features can make life easier for a parent of an infant. It can help to choose the style of a car seat, then pick a few key must-have features to narrow down your list.
Additional Safety Features
The point of a car seat is safety, so additional safety features are always desirable. 
Ease of Use
It's important to have a car seat that is easy to use. You want one that has easy-to-tighten straps. So that you can make sure you get your squirming baby securely strapped in every time. 
There will also likely be times when your baby does not want to get in the car seat and will fight hard to keep you from getting them snugly strapped in. Having an easy tightening mechanism is really nice in those moments. 
It's also nice to have features like machine-washable padding since a baby can create a bigger mess than you would think possible for someone so small. 
Price Point
Car seats are expensive. Yes, your child's safety is paramount, but many of us can't afford to drop $400 on a luxury car seat, especially one that is only for infants. 
Thankfully, even if you don't have a lot of money, there are still car seats that are affordable enough that you can take advantage of the benefits of an infant seat with a detachable base. If you want a premium car seat, don't worry because we can recommend for that too!
Let's Find Your Ideal Lightweight Infant Car Seat!
Lightweight infant seats with a detachable base are a great option that is worth the investment. Having the flexibility of moving your sleeping baby in and out of the car and into a stroller easily without waking the baby is amazing for any parent of an infant.
We hope our guide to lightweight car seats will help you navigate the overwhelming number of options. So that you could find one that works well for you and your baby!