As an avid runner, I can safely say that testing the Joovy Zoom 360 stroller was my pleasure and super fun. 
Most jogging strollers are made the same, so what was it that stood out to me the most about this one? First,I have to mention the tires. I have seen jogging strollers with plastic tires and they weren't close to being as reliable as the tires on the Joovy Zoom 360.
These tires are extra-large and air-filled, giving it a smooth ride which my child enjoyed. Not to mention, it came with an air pump! 
As with most strollers, you will find a storage area, peek-a-boo window, and parent organizing area. However, something you may not find on other strollers is the rain cover attachment option. I thought it was pretty cool. 
Unfortunately, even though I really wanted to love this jogging stroller, I wasn't impressed with the lack of car seat adaption. Only certain car seats will fit with the jogger and they're the more expensive ones, so I couldn't use the one I already had.
I recommend this jogging stroller if you want it just for that and not for the car seat attachment option. Other than not being able to use any car seat, I found this stroller to be a smooth ride with convenient attachment options.
Price Comparison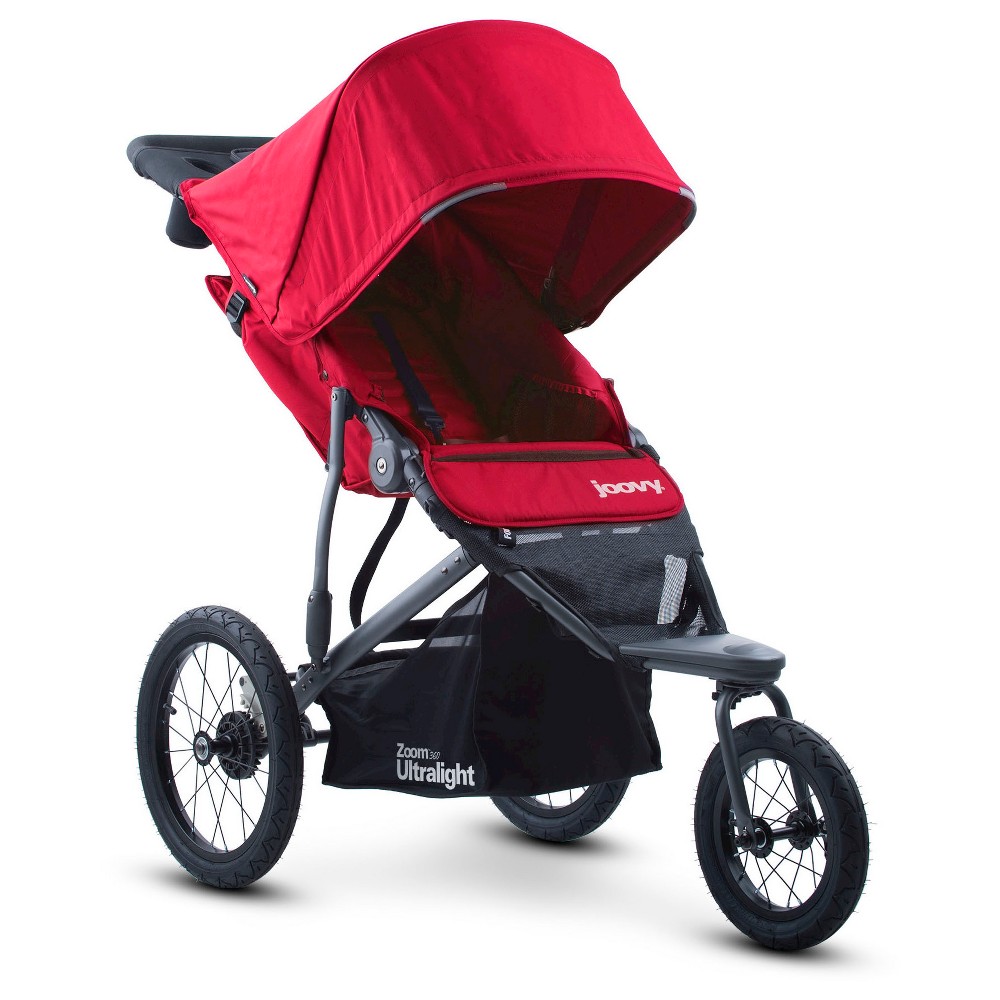 Target.com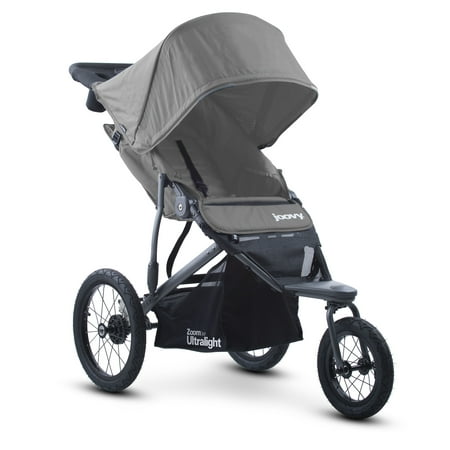 Walmart.com
out of stock
as of November 30, 2023 5:28 pm
Amazon.com
In this guide, we will review its top features, safety ratings, and pricing of course.
Safety First
Perhaps the single most amazing thing about this stroller has to be how much thought Joovy put into safety. Featuring locking wheels for when you are taking a break and a flame retardant coating on the entirety of the cloth parts of the stroller, your little one is locked in and safe from the moment you buckle them into the harness system. 
Car Seat Compatibility
Some concerns are centering around the Joovy Zoom 360 Ultralight Jogging Stroller car seat compatibility since some of the less popular seat brands seem not to suit the adapters. Some people have also reported issues with the stability of the car seat adapter.
Still, Joovy promptly corrected the issue and gave away free repair kits for those who were impacted by the problem. 
Joovy Zoom 360 Ultralight Jogging Stroller, Black
out of stock
Buy Now
Amazon.com
as of November 30, 2023 5:28 pm
Maximum Comfort
Alongside the amazing safety considerations, Joovy really went above and beyond to make this stroller both incredibly comfortable for the little one and the runner, but also added some fantastic extra features even further to benefit both users!
For starters, the air-filled, extra-large, and easily inflatable (with the included air pump) tires make this stroller suitable for a plethora of terrains and provide an incredibly smooth ride, which makes it perfect for sleeping little ones.
On top of this, an optional car seat adapter makes it possible to move snoozing littles or those small enough to still fit in an infant seat more comfortably from the car straight to the stroller in one movement! Joovy also makes sure storing the stroller is a breeze by making it collapsable in a simple one-handed fold due to its lightweight, twenty six pound size!
Just release the latches per the instruction manual, and it folds right up with no strain or work required! 
As if these features weren't enough to attract most buyers' attention, the brand also added a sun and rain canopy to keep your little one comfortable even if you get caught on a hot day or in a sudden downpour. Plus, the added storage and organizational pockets make it easy to bring everything you need along for both the little and yourself!
What We Like 
Weight minimum of 5 pounds

Weight maximum of up to 75 pounds

High seat makes feeding solids easier

Weighs only 26 pounds

Easy to store

Includes air pump for tires

Has optional car seat adapter available
What We Dislike 
Some reports of wheel attachment problems

Joovy Zoom 360 jogging stroller car seat compatibility issues for some car seat models

Cannot be used for more than one child at once

No attachment option for second child
Unique Features
Storage Compartments

Accommodates older children easily

Made to suit Disneyland/Disney World stroller specifications

Includes parent organizing area

Rain cover attachment option

Peek-a-boo window for checking on little ones

Joovy Zoom 360 snack tray attachment option

Car seat adapter option
Product Specs
Age minimum: three months

Weight limit: 75 pounds

Height limit: around 42 inches

Product weight: 26 pounds

Product dimensions:

54 x 25 x 46 inches
Honest Customer Reviews
When looking through the Amazon reviews for this stroller, the first thing everyone seems to mention is comfort. This product is truly designed with the user in mind, as it is angled and padded to ensure comfort for both the parent and child.
It is also carefully crafted for safety and overall features everything one could want from a jogging stroller. The one main concern a small population of users posed concerned the wheels of the stroller.
Some people did report that the wheels of their device fell off or shook when in use but the customer service department did offer a remedy and reached out for contact. Still, for something heavy in use like a stroller, this is something worth considering.
out of stock
as of November 30, 2023 5:28 pm
Pros & Cons 
What Parents Like
Comfortable

Easy to fold and store

Tons of customization options

Easy to clean

Durable

Easy to push "offroad" 
What Parents Don't Like
Does not fit all car seats

Some instability with the wheels on some models
Joovy Zoom 360 Ultralight Vs. Bob Revolution 
When comparing the Joovy Zoom 360 and BOB Revolution strollers, there are quite a few similarities at first glance.
Both provide great comfort for both the child and parent, and there is a lot of customizable organization that makes it easy to ensure you can bring everything you need while using the stroller. 
The main difference comes when you look at the finer details of their designs. The Joovy 360 has a higher weight limit by five pounds (seventy-five-pound limit) and is significantly less expensive.
Since the features of the two are so closely comparable, it makes sense to opt for the cheaper Joovy Zoom unless something in the manufacturer details particularly draws you to the BOB Revolution.
Similarities
Both offer off range suitable tires and features

Both utilize suspension systems that help create smooth rides

Storage attachments available to maximize usage

Customizable options
Differences

Joovy Zoom 360 has a more significant weight limit

Joovy Zoom 360 is larger in both weight and size

BOB Revolution fits more car seats with its adapters

BOB Revolution has a five-year warranty, Joovy Zoom 360 only has two.

The BOB Revolution is significantly more expensive
Warranty 
Joovy has a rather specific warranty layout for all of its products. From the date of manufacture, the stroller is under warranty for two years. Any strollers that arrive with missing parts must be reported to customer service within ninety days in order to receive the parts free of charge. 
The warranty is non-transferable, meaning that it only applies to the original purchaser/gift recipient of the item. If this Joovy stroller bought second-hand, the warranty does not apply. Additionally, you must have proof of purchase to access warranty benefits, as well. 
Recall Info
Joovy has issued one recall concerning the Zoom 360 Ultralight Jogging Stroller, specifically models 00945, 00946, and 00947 of the car seat adapter attachment manufactured between 2012 and 2013. The warranty was issued initially through the Joovy Zoom 360 Ultralight UK website and was quickly spread to ensure that all impacted received support. 
If not adequately secured, the adapter was shown to fail, creating a fall hazard potentially. Joovy remedied this by offering a repair kit for free if those who purchased the impacted models contacted their customer service department. 
Joovy Zoom 360 Ultralight Questions and Answers
What is the seat back height of this stroller?
According to the product's Amazon listing, the seat back height of this stroller is twenty inches. This means that the stroller is suitable and safe for children who do not exceed that seated height, so long as they also meet the seventy-five pounds maximum weight limit requirement.
Can you get replacement wheels?
Yes, you can! Many people have reported reaching out to customer service and purchasing additional wheels.
The one downside to the smooth-riding air up wheels of this stroller is that since they are not solid plastic, they can pop if placed under an excessive amount of duress or punctured. Fortunately, this is not a common occurrence, and Joovy has many spare wheels on hand if something does happen to go awry.
Does the stroller come with a snack tray?
At this time, the Joovy Zoom 360 Ultralight does not come with a snack tray. You can, however, easily purchase attachments, many of which are very affordable and snap right into the stroller with no effort at all!
Staying Active Just Got Easier
If you are looking to be active with your little one, you really cannot go wrong with the Joovy Zoom 360 Ultralight Jogging Stroller.
This is a reliable product that can handle years of use while still performing well and providing comfort and stability to any little ones who happen to be riding inside.
The customer service department at Joovy has been known to go above and beyond to ensure all problems with the stroller are remedied and truly care about their customer base.