The UPPAbaby Mesa is an infant car seat known for innovative safety features and easy installation. It begged a five-star rating from the National Highway Traffic Safety Association. The car seat uses a retractable LATCH system to ensure correct and secure installation. This product suits sophisticated parents willing to pay more for quality and comfort.  
Following extensive research and testing in our labs, we found that the UPPAbaby Mesa is the best infant car seat for 2023. The Mesa boasts superb side impact protection and an easily adjustable headrest with no harness rethreading.
Furthermore, the fabric choices for the Mesa are made with a wool blend and therefore need no synthetic fire retardant chemicals. Even the canopy on this seat has an additional 25+ SPF sun protection. Add the adjustable headrest made from reinforced Expanded Polypropylene (EPP), and you know your baby will always be comfortable.  
While the UPPAbaby MesaIt reached the number one spot on our list, the competition was undoubtedly tight. In this review, I will present nine other car seats we tested. I'll include detailed information about these infant car seat models. So, if you are the kind of parent that wants to compare products before you settle for one, this review is for you. 
Best Car Seats at A Glance   
One thing I noticed while testing the various car seats is that each one excels in a specific area. Here is my list of the best in each category:
UPPAbaby MESA – Overall best infant car seat overall
Safety 1st onBoard 35 Air 360 – Best compact infant car seat
Chicco Fit2 – Best high-end infant car seat
Graco SnugRide 35 Elite – Best affordable infant car seat
Evenflo LiteMax 35 Infant Car Seat – Best lightweight infant car seat
Doona Infant Car Seat – Best infant car seat stroller combo
Britax B-Safe 35 – Best in safety infant car seat
Nuna Pipa Carseat – Best infant car seat for big babies
CYBEX Aton 2 – Best in unique features infant car seat
Clek Liing Infant Car Seat – Best in comfort infant car seat
Here is a table with the specs for each seat to help you compare the ten best infant car seats of 2023.
| Product  | Weight Range | Height Range | Product weight | Price  |
| --- | --- | --- | --- | --- |
| Safety 1st onBoard | 4-35 lbs | Under 32" | 18.48 lbs | $129 |
| Chicco Fit2 | 4-35 lbs | Under 35" | 20.5 lbs | $139 |
| Graco SnugRide 35 Elite | 4-35 lbs | Under 32" | 18.8 lbs | $157 |
| Evenflo LiteMax 35 | 4-35 lbs | 17"-32" | 16 lbs | $125 |
| UPPAbaby MESA | 4-35 lbs | Under 32" | 20 lbs | $299 |
| Doona Infant Car Seat | 4-35 lbs | Under 26' | 16.5 lbs | $550 |
| Britax B-Safe 35 | 4 – 35 lbs | Under 32" | 11.5 lbs | $130 |
| Nuna Pipa Carseat | 4-32 lbs | Under 32" | 8 lbs | $550 |
| Cybex Aton 2 | 4-35 lbs | Under 30" | 9.5 lbs | $299 |
| Clek Liing Infant Car Seat | 4-35 lbs | Under 32" | 15 Pounds | $459 |
Buying Guide 
Sometimes I wish I could just walk into a shop or visit a website, select the first car seat I see, and go home. Unfortunately, buying a car seat for your baby is too important a decision to be taken as a sideshow.
So, what did I look for when I selected the car seats on my list? I did a lot of research on each seat by visiting the manufacturer's website, reading reviews by experts and mothers who have used the car seats, talking to friends who have experience with the seats, and testing the seats myself. 
Here are the major factors I consider when selecting each car seat I feature in this review.
Safety  
According to the Centers for Disease Control and Prevention, buckling children in booster and car seats and securing them in seat belts reduces the risk of injury and death by 80%. Infants are especially vulnerable because they lack muscle tone and strength, so the car seat needs to provide safety.
So, I don't care how cheap a car seat is; I will never compromise my child's safety to save a few dollars. If you are not sure what to look at, you could also seek the advice of a child passenger safety technician using a tool provided by the National Highway Traffic Safety Administration (NHTSA). 
Price 
No matter what you buy, balancing price and quality is always essential. When I buy an infant car seat, my main question is, What do I get for my money? I will choose the seat that gives me the most for my money.
Compatibility 
When choosing a car seat, I want the manufacturer to be clear about the systems to which a specific seat is comparable. I often get this information by testing the car seat, reading the manual, and attending car seat check events. I will always prefer a seat that is compatible with many systems.
Customer reviews 
Those who have used the car seats are the best people to tell you whether a specific product is worth it. So, I invest time reading reviews from different sources before deciding about a specific seat.
Ease of use
If a car seat wants to be on my list, it should have as few steps as possible when installing. Many infant car seats now install within seconds.
Comfort
To ensure your child is comfortable in their seat, you must focus on sizing. You must know whether the seat will fit your child's weight and height. The NHTSA provides a sizing chart that will help you determine the seat size you should buy. I also choose seats made from expanded polyethylene (EPE), expanded polystyrene (EPS), and expanded polypropylene (EPP) because they are great at absorbing impact.
Overall Performance 
Whenever I get a chance, I will test the car seat to assess whether it meets its manufacturers' claims.
10 Best Infant Car Seats By Category
Now that we know how I selected the seats on my list, let's get into more detail about each one.
UPPAbaby MESA: Best Infant Car Seat Overall
The UPPAbaby MESA is an easy-to-install seat fit for the parent who doesn't mind paying for quality.   One of its best features is the Smart Secure System, which detects whether the car seat is correctly installed. There's a nifty indicator that will change from red to green to let me know that the seat is positioned correctly. It's a straightforward installation process with no difficulties. 
The UPPAbaby MESA Infant Car Seat is also the best car seat for taxis or Uber. When you are riding in a taxi or Uber, you will find that this infant seat is accessible for you to take in and out of the car.  
Here are some of the key details about this car seat: 
The Infant Insert: an infant insert is included to accommodate tiny babies. Based on doctor recommendations, preterm babies may ride in it. This infant car seat is perfect for parents who want to use it as a stroller attachment. It is also helpful for preemies. I quickly removed it once my baby became too big for it.
Easy to move around: the UPPAbaby MESA infant seat is easy to move around and install in any vehicle. You can add the base into the vehicle or use the infant seat and hook that in as well. 
Safety features: the base has several safety features, so you know everything is installed correctly and your baby is safe. It comes with an intelligent, secure auto-retracting mini latch connector. There is also a red-to-green tension indicator window to help give you more peace of mind. 
Extra Protection: the makers of the UPPAbaby MESA infant seat understands that when you travel, you want extra protection for your baby. It provides a no-rethread harness and an adjustable headrest with side impact protection to make things easier. It also has a seat-direct attachment that doesn't need any adapters, making connecting to any seat you need easier.
Fabric issue: one thing I didn't like about this seat was that the fabric from which it's made isn't breathable. It made my baby sweat after a few minutes when it was warm outside. However, the fabric is washable. Some parents have complained that the wool fabric isn't breathable. They state that the baby begins to sweat after sometime sitting on it. This is especially true in the warmer months. However, it's important to note that wool doesn't burn quickly. So, manufacturers are always trying to make the tradeoff between safety and comfort. 
What I Liked
SMART, secure system
Carrier without base is under 10 pounds
High quality
What I Didn't Like
Some of the inserts are too snug for babies and cause them to overheat
Straps are short
Expensive 
We earn a commission if you click this link and make a purchase at no additional cost to you.
Safety 1st onBoard 35 Air 360 – Best for Small Babies
The Safety 1st onBoard 35 Air 360 is the best infant car seat for small babies because it has the extra padding a tiny baby would need and race car foam for optimal crash absorption. It also expires eight years from the manufacture date, meaning it's more durable than your average car seat.
This is one of the most well-made car seats with a child's safety in mind. I love the deep seat structure because it shields my child. The GCell HX race car foam seemed comfortable and sturdy enough to keep my tiny baby in place in the event of an accident. Additionally, reversible pillows allow even the smallest babies to fit correctly in the seat.
The best Infant car seat for preemies should be the Safety 1st onBoard 35 Air 360 infant car Seat. This infant seat has five layers added in for safety to help it exceed all federal safety standards. 
Here are some of the features that put this car seat on my list: 
Easy to install: I liked how easy it was to install the seat with the LATCH system and adjust it with the front adjustment tab. I simply pulled on the designated area with just one hand if I needed to adjust the harness. When it came time to carry my child around, the car seat was lightweight enough to allow me to do so quickly.
Canopy: my all-around favorite feature, aside from any of the safety features, is the extended coverage canopy. It did a great job of keeping the sun out of my child's face.
Onboard 35: has an anti-rotation stability leg to give extra protection in an accident.
Removable harness covers and seat pad: making them easier to machine wash.
Padding: Even though I like the extra padding because it makes my little one feel comfortable, some moms have told me that the extra padding had to be taken out because their baby wouldn't fit properly. However, I noticed that the complaint came from mothers with bigger babies.
High safety scores: The Safety 1st onBoard 35 Air 360 Infant car seat manufacturers say it performed well in crash tests. It has been tested with front, rear, and side-impact collisions and rollover accidents, and in all tests, it exceeded the Federal Safety Standards.
What I liked
Lightweight
Easy one-pull harness adjustment
Reversible pillows for more compatible adjustment
What I Didn't Like
It almost has too much padding for bigger babies
Seat holds heat
Canopy has trouble staying up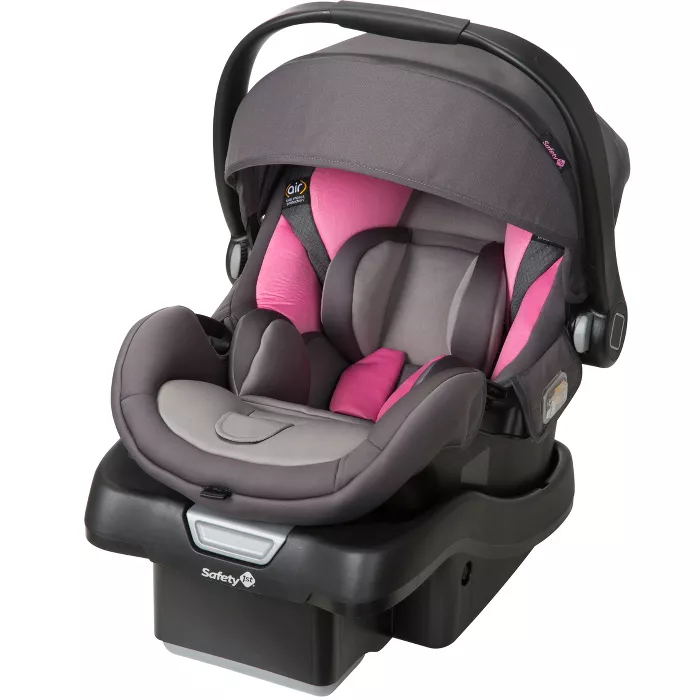 We earn a commission if you click this link and make a purchase at no additional cost to you.
Chicco Fit2 – Best High-End Infant Car Seat
The Chicco Fit2 is a premier car set fit for preemies. It has the SuperCinch LATCH system and tightener. Its RideRight bubble level helps you to level the car seat to ensure proper installation. It comes with a no-rethread harness that pushes the harness up a notch whenever you push a button.
Many moms I spoke with about this car seat told me they also love its easy installation and comfort level. They tell me the baby hardly fusses while in the seat. This is probably because the seat is made from material that keeps it cool.
This Chicco Fit2 is heavier than some others on this list, but many moms said they're more willing to carry a heavy seat if it means their baby is safe.
Here are some of the features I liked about this car seat:
Infant position: for newborns, the seat provides more reclined seating between 0 and 12 months, weighing between 4- and 35 lbs.
Stage position lever: allows you to convert the base with a single motion.
2-stage base: It makes it possible to change the seat from infant to toddler position while still keeping the child rearear-facinghe toddler position provides more leg room so the baby can comfortably sit upright.
What I Liked
It doesn't take up much room in the car
Easy to install even without the base
Great quality
What I Didn't Like
It's heavy
Not the most durable seat on the market
Weight and height limit
Chicco Fit2 Infant & Toddler Car Seat
2-Stage base (included) converts to provide extended leg room and more upright, spacious seating with adjustability for toddlers 9-24m – without taking up extra space in the vehicle!
We earn a commission if you click this link and make a purchase at no additional cost to you.
Graco SnugRide 35 Elite – Best Affordable Infant Car Seat
Graco SnugRide 35 Elite car seat offers affordable protection for babies weighing between 4 – 35 lb and a height of up to 32″. Its base features a bubble leveler and a convenient four-position recline option. This ensures proper installation and it'll fit in most cars.
Here are some of the features that attracted me to this product: 
Rotating canopy: the rotating canopy keeps the sun out of the baby's face no matter what direction you drive.
Safety: The seat was crash tested and met or exceeded the US safety standard.
EPS, energy-absorbing foam: ensuring that these bumpy roads do not enrage your child and the impact will be minimal on the baby in the vent of an accident.
One-step secure attachment: allows you to connect with all bases and strollers from Graco.
Rapid Remove machine-washable cover: this makes keeping your baby's car seat clean easy.
What I Liked
Easy to install
Durable material
Great crash test rating
What I Didn't Like
No padding after the infant insert is removed
The head support is too broad for a newborn
Too big for smaller cars
GRACO SnugRide SnugFit 35 Elite Infant Car Seat, Nico
Protects infants in a rear-facing position: The SnugRide performance car seat is designed to protect infants weighing between 4-35 pounds and up to 32 inches in height while in a rear-facing position.
Anti-Rebound Bar: An additional safety feature that reduces the risk of injury to the child's head, neck, and spine by preventing the car seat from rebounding in the event of an accident or sudden stop.
SnugLock technology: Allows for quick and easy installation of the car seat in under a minute, using either the vehicle seat belt or LATCH system.
Front-adjust No-Rethread Simply Safe Adjust Harness System: Allows for simultaneous adjustment of the headrest and harness while the child is in the seat, ensuring a proper fit as they grow.
InRight LATCH: A one-second attachment for quick and secure installation of the car seat using the LATCH system.
What We Liked:
Fits infants and toddlers 4-35lbs and up to 32"

Lightweight

Removable newborn head support (great for premature babies)

6 recline positions

Rotating canopy

Easy installation

It can be used with all Graco Click Connect strollers

Energy absorbing foam provides comfortable padding

Strong crash test rating

The harness is easy to tighten and release

LATCH anchors can be stored in the base
What We Didn't Like:
Carrying handle sometimes sticks when moving

Sometimes can hear a false click during installation when the seat is not attached

Wobbles slightly in the base

Canopy is small

Not compatible with old Graco bases

Base straps are difficult to tighten and loosen

No belt lock off in the base

Canopy gets in the way of handle
We earn a commission if you click this link and make a purchase at no additional cost to you.
5. Evenflo LiteMax 35 Infant Car Seat – The Best Lightweight Car Seat 
The Evenflo LiteMax 35 is a lightweight car seat designed to provide comfort because it is made from breathable material that allows the seat to remain cool. What makes it more appealing is that it balances quality and affordability.
The car seat manufacturers call it the "easiest car seat to carry." But what did I like about it myself?
Breathable Material: The baby can sit comfortably on a hot day and remain calm. However, some parents complained that there was too much padding for their children. Stating that it leaves little room for larger babies.
Tested for rollover: Evenflo infant car seats are crash safety tested, including rollover tests. Rollover car accidents are the most deadly, so choosing a seat tested at this level is best.
Four shoulder harness positions make it possible to accommodate your baby as they grow.
Full cover canopy: ensuring that the baby is protected from the elements.
Secure and quick installation: thanks to the vehicle belt-lock-off.
Ergonomic handle: this is why the car seat is comfortable when carrying it.
Stroller compatibility
Joovy: Caboose Ultralight Graphite and Evenflo strollers
What I Liked
Extremely lightweight
Belt lock-off system for proper installation
Safe for low birth-weight babies
What I Didn't Like
The seat is a bit narrow
Harder to get level when the child is over 20 pounds
Not compatible with most strollers
Evenflo LiteMax 35 Infant Car Seat, Lightweight, Extended Use, Belt Lock-Off, Ergonomic Handle
This Rear-Facing Infant Car Seat fitting newborns and babies from 4-35 pounds includes a stay-in-car convenience base that minimizes overall parent effort. Height: 17 - 32 inches
The LiteMax is equipped with Sure Safe Latch guides that make proper installation easy in cars equipped with lower latch anchors, as well as a central pendulum level indicator that helps ensure a proper recline
This Infant Car Seat is equipped with a temperature regulating fabric that keeps baby comfortable during hot or cold weather, which provides a safer, more peaceful ride for you and your infant
We earn a commission if you click this link and make a purchase at no additional cost to you.
6. Doona Infant Car Seat – Best Infant Car Seat Stroller Combo
The Doona is the world's first car seat that turns into a stroller. The switch from a stroller to a car seat and back is simple and seamless. You don't have to worry because it has attached wheels.
It is tailored more for the urban family, and its baseless car seat makes it easy to hop in and out of Ubers. The whole process takes a matter of seconds to complete.
Here are some reasons why the Doona Infant Car Seat is winning awards and attracting the attention of celebrities:
Easy to manage: many parents love it because the stroller is easily maneuvered with one hand.
Safety: the people at Doona say that safety is not a sideshow for them but a state of mind. The company says that when it manufactures products, it knows that they should meet stringent standards. Doona seats are the only product that meets all the car safety standards, including the ECE R44, EN1888, and EN12790.
Anti-rebound protection: The Doona differs from other seats in that the handle can be positioned against the back of the seat, which ensures Anti-Rebound protection. This is because the impact from a crash is absorbed by the handle in case of a collision.
Baby-safe materials: according to Donna, all materials used when making its car seats are free from hazardous materials and have been tested and passed by the European authorities.
What I Liked
It doesn't require a base
Easy to use
2-year warranty
What I Didn't Like
It's heavy
High price point 
We earn a commission if you click this link and make a purchase at no additional cost to you.
7. Britax B-Safe 35 – The Safest Infant Car Seat
The Britax B-Safe 35 is the safest infant car seat among the ones I tested. Apart from going through the most stringent side impact tests, the seat is made from a steel-reinforced base. The manufacturers of this seat understand that the most critical parts of the baby's body that should be protected include the torso, neck, and head. For this reason, they have created a protective shield around them.
What are some features I need to put this seat on my list?
Energy absorbing shell: the more your car seat can absorb energy, the safer the occupant is. The B-Safe 35 is made from a steel frame and material that will absorb impact following a crush.
Easy installation: enabled by the seat's quick lower anchors and center-pull straps.
Space efficient design: so that the seat uses less space in the car or when you are storing it at home.
Britax B-Safe 35 Gen2 Flexfit Infant Car Seat, Cowmooflage 2.0 SafeWash
The Britax B-Safe 35 Elite comes in several charming prints and features a sleek design. We love the bright red or the cow print. It also comes with a combo package.
You will get two windows to cling sunshades and a mirror to help you keep an eye on your baby. Britax B-Safe 35 Elite Car Seat features one of the most popular Britax cow print car seats for infants.
This infant car seat is a great value overall. Nothing is missing here between the extra safety features and the added bonuses.
What We Liked:
Comes in cute and unique styles

Includes a back seat mirror and two window shades

The mirror is large enough to provide a view of your child from head to toe

Snug fit for comfort and safety
What We Didn't Like:
It is heavier than comparable models

It is narrow for some larger babies
We earn a commission if you click this link and make a purchase at no additional cost to you.
8. Nuna Pipa Car Seat – Best Infant Car Seat For Big Babies
The Nuna car seat is a lightweight top-of-range product for mothers who appreciate that quality comes at a cost. These seats cost a lot more because they are made from Aeroflex foam and other durable materials coupled with the True lock technology. The seat weighs 8 lbs without the base and canopy.
Here are some of the features I like about the Nuna Pipa Car Seat, so it ended up on my list:
True lock base installation: allows for the base to be installed securely in seconds using the ISOFIX anchor points in the vehicle. The seat's Secure Display turns green to ensure everything is installed correctly.
UPF 50+ canopy: this is a high protection rating for any fabric, meaning that when your child is in this chair covered by its canopy, they have the highest protection from UV light possible.
Smart design: from the micro-knit fabric that keeps the seat breathing and cool to the steel reinforcement, this seat is made to be solid and comfortable.
What I Liked
The great design ensures that the seat can fit in smaller vehicles.
Lightweight
Simple and quick installation
What I Didn't Like
Challenging to use without base
It doesn't have an anti-rebound bar
Expensive 
9. CYBEX Aton 2 – Best Technology Infant Car Seat
This CYBEX Aton 2 is an easy-to-install lightweight product compatible with many different strollers. It also comes with a load leg for added safety. Its crash test rating is among the highest. A common complaint about this seat is the distance between the handle and the canopy. Many moms find it hard to fit their hands between the two when the canopy is extended.
Here are some features that attracted me to the CYBEX Aton 2:
Linear Side-impact Protection (L.S.P.): ensuring that your baby is protected from one of the most common risks on the road, the side collision.
SensorSaf Technology: a phone application that can tell you when the child is uncomfortable while sitting in the car.
What I Liked
This car seat is one of the safest I have ever tested.
The app allows me to keep tabs on my baby's comfort.
Take less space in the car, thanks to its compact design.
What I Didn't Like
As the baby becomes bigger, you will need to retreat the harness.
Compared to the competition, this seat's harness is small. 
CYBEX Eternis S with SensorSafe, Convertible Car Seat
The Cybex Eternis S All-in-One Seat is a versatile convertible car seat that can be used in three modes: rear-facing for infants, forward-facing for toddlers, and as a booster seat for older children. It features advanced safety features such as a steel-reinforced frame, side-impact protection, and SensorSafe 2.0 technology to keep your child safe and secure.
The seat has a sleek and stylish design, is easy to install, and comes with adjustable headrest and recline positions. This car seat is an ideal choice for parents who want a safe, comfortable, and long-lasting car seat for their child.
What We Liked:
Removable cup holder

SensorSafe technology

Easy to clean

Comfortable padding

Easy to install

Manufactured in the USA
What We Didn't Like:
High price point

SensorSafe may malfunction
We earn a commission if you click this link and make a purchase at no additional cost to you.
10. Clek Liing Infant Car Seat – Best in Comfort Infant Car Seat
The Clek Liing is a top-of-the-range infant seat with all the quality finishes a discerning mom would seek. It's made from energy-absorbing metal and EPP foam to keep the child secure in a collision. The seat's seven reclining positions enhance the baby's comfort. Add the fact that the seat is 17" wide, and you will understand it's one of the best in the market.
Here are some features I liked about the seat: 
Narrow profile: I like that the seat is compact enough to allow the other two passengers to ride with us in the back seat when installed.
Adjustable recline: I don't have to uninstall the base to adjust the recline.
What I Liked
Nine-year lifespan
Good crash stability, thanks to the metal leg
Expandable canopy with 100+ SPF
What I Didn't Like
One of the most expensive car seats I have ever tested
It doesn't have a no-thread harness
Clek Liing Infant Car Seat
Designed with both a Rigid-LATCH system and a belt-tensioning system providing a secure and effortless installation whether using the vehicle's built-in latch anchors or the seat belt.
Metal load leg provides anti-rotation and energy absorption features in a collision, reducing crash forces by more than 40%.
We earn a commission if you click this link and make a purchase at no additional cost to you.
Conclusion 
After reading the ten reviews above, I am sure you now agree that choosing an infant car seat is a huge decision that parents should not take lightly. Your baby will sleep in the infant car seat and spend at least the first two years of their life riding in it.
Therefore the newborn car seat should possess optimal safety features, reliability, and durability. It must be light enough to move a sleeping baby from the car without any disturbance. 
Every family has unique needs, so take time to select your best seat. If you didnt find a suitable seat among the ten in this review, you can check out the other infant car seats we have reviewed on our website.
Which infant car seat did you like from our list? Which one did you buy in the past? Let us know in the comments section below!