The Graco Slimfit All-in-One Convertible Car Seat is one of my favorites and I was happy to be able to test it. 
I can't tell you how much I love this convertible car seat. It would have been better if it converted to a backless booster, but I can't complain seeing as how it's affordably priced. It can accommodate children from 5 to 100-pounds. This is a huge weight range that I really appreciate. 
Additionally, I found the InRight Latch attachment made it easy to install the car seat. I knew it was correctly installed due to the audible click. Some people think that it's difficult to install, but it does get easier each time it's done, I promise.  
Everything about this car seat is great. It has a 4-position recline that added comfort to my child's experience and the EPS foam cushioned them for maximum comfort. Not only that, but this foam is safe in the event of an accident. When you need to convert the car seat to a booster, you can remove the harness to maximize space. 
I highly recommend this convertible car seat for a number of reasons. The price is acceptable for all of the features and safety included in the seat. Additionally, it'll last quite a long time.
Price Comparison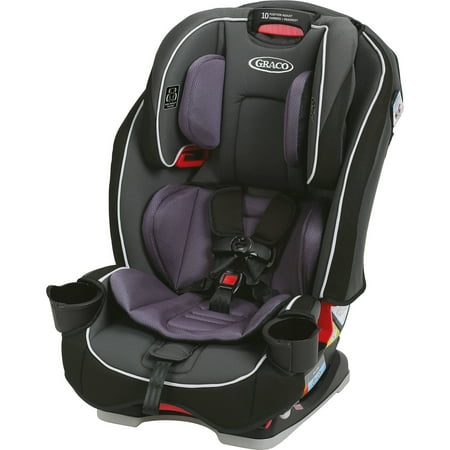 Walmart.com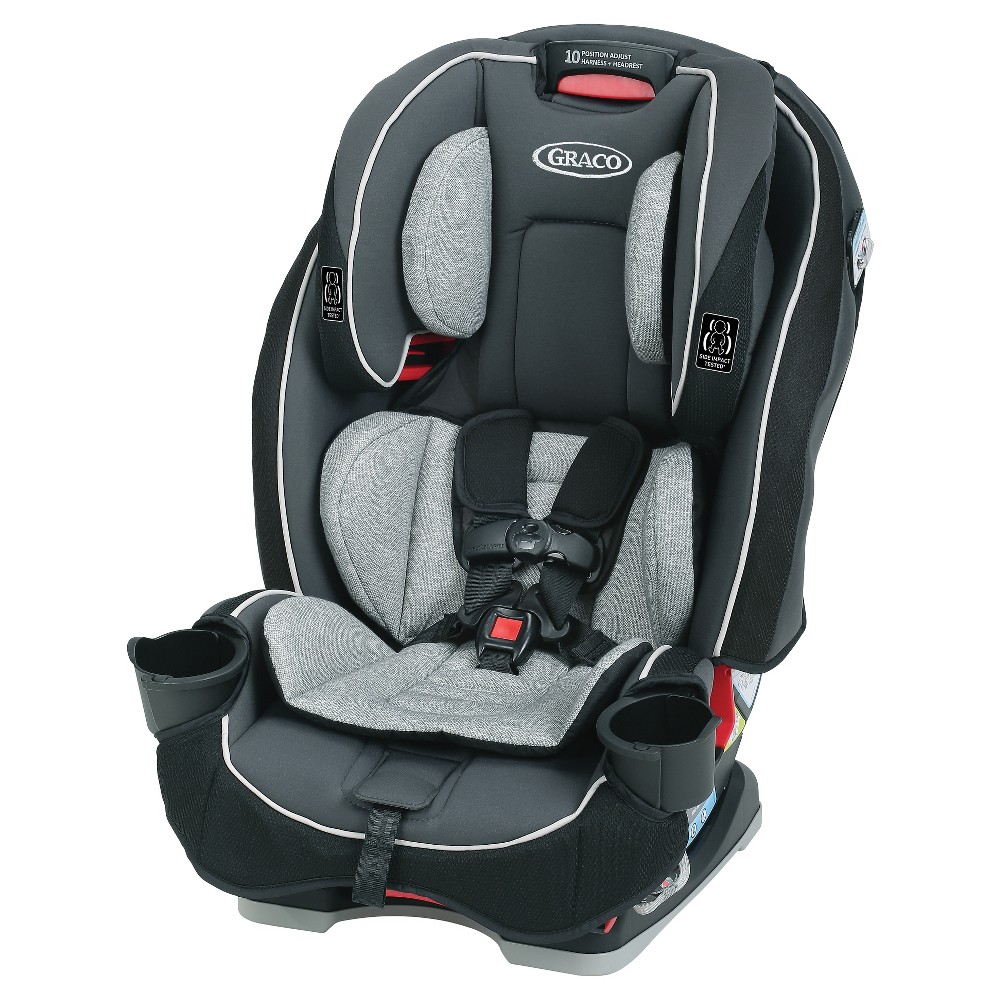 Target.com
$219.97
in stock
1 new from $208.99
as of March 27, 2023 2:03 pm
Amazon.com
Free shipping
Top Features
Simply Safe 
A Simply Safe Adjust Harness System. This system(source) will enable you to customize the car seat to your kids as they grow. This means that Graco Slimfit can be used starting from infancy and well into toddler and kid years. Children anywhere from 5 to 100 pounds can use this car seat safely and comfortably.
Inright Latch 
An InRight Latch attachment. Install this car seat in a jiffy, with a quick latch attachment. An audio click cue will let you know when it has been installed securely. This feature is especially unique, not to mention user-friendly.
Specification
Let's get down to the specs!  The car seat depth is 16.25 inches, the height is 25.5 inches, and the width inside is 19.75 inches.
The car seat weighs 19 pounds, roughly. This car seat design is really sleek. You can rotate the cupholders to move them out of the way, making the seat slimmer by 10%. You can even place up to 3 of these car seats side-by-side. This model has a few color options available. These are Anabele, Darcie, Camelot, and Anabelle.
Graco SlimFit 3 in 1 Convertible Car Seat | Infant to Toddler Car Seat, Saves Space in your Back Seat, Darcie
1 new from $208.99
Free shipping
Buy Now
Amazon.com
as of March 27, 2023 2:03 pm
Other Great Features
4 position recline. For both comfort and convenience, this car seat can recline in 4 different ways. Set the car seat up and then customize it.

Incline bubble. When setting up the car seat, an incline bubble is a nice touch to help you do it correctly.

Backward and forward-facing capability. As you probably know, infants should always face backwards in cars. This car seat can face backwards for infants, and forwards for bigger kids, as their needs change.

EPS foam. The high-quality foam is used in the cushions to keep your kid snug and cozy. The foam is specially made to be energy-absorbing in the event of a crash. The plush supports are removable for cleaning and the like.

An integrated harness storage compartment. When the car seat is functioning as a booster, the unused harnesses can be put away to further maximize space.

The car seat has a frame that is reinforced by steel, for strength and durability.
Safety Ratings 
This car seat has been through all of the tests and meets -or even exceeds- all US standards for car seat safety. The Graco Slimfit has been side-impact tested for occupant retention in all recline and belt position modes, respectively.
Additionally, this All-In-One Convertible Car Seat is ProtectPlus Engineered. This entails some of the most rigorous crash tests. These cover frontal, side, rear, and even roll-over crash, for any eventuality. 
Installation and Removal
The InRight Latch attachment with an audio click cue makes installation nice and basic. You may just need to put some elbow grease into tightening the latch initially.
Thread the seat belt through the car seat, latch it, and you are ready to go. The car seat can be removed the same way. The cushions are also removable separately.
Cleaning
The seat cover is removable and machine washable. This can be taken off without the harness, which is nice and easy. The harness and buckle may be spot-cleaned with a damp cloth. The cushion supports are also removable and machine washable.
Customer Reviews
While most customer reviews have been overwhelmingly positive, there are a couple of issues that have been mentioned briefly. First off, the latch system has been said to be pretty tough to tighten initially.
When the idea is ease-of-install, this is not ideal, clearly. However, this seems to get easier over time, and it certainly is secure. Some have expressed the wish that this car seat could connect to strollers, which it cannot, currently. When the seat is facing backward, it does not recline as far as some would like.
Plush Seat Cushions 
Customers love the plush seat cushions, and the fact that the car seat is lightweight, but still plenty durable. The safety ratings are off the charts. Owners of small cars love how well these seats fit, and how they maximize space.
Some have stated that they were not able to place car seats side-by-side before, whereas with the Slimfit they are able to have 2-3 side-by-side. Additionally, customers like that they need to thread the seat belt through the car seat one time only.
Pros
Lightweight, which makes it easier to carry than some.

Adjustable, so that the car seat can grow with your kid over time.

This car seat has passed all of the safety tests exceptionally.

Plush cushions, which are excellent for long car rides.

The self-same cushions are removable for a hassle-free machine wash.

The latch system installation makes for setup that is quick and simple.

There is no rethreading of the seat belt necessary.
Cons
The latch system for installation has been noted to be hard to tighten the first time.

This car seat does not turn into a low back booster seat, just a high back booster that can be positioned accordingly.

This car seat does not connect to strollers like some models out there.

The car seat does not recline as much when it is facing backwards, and some worry that their kids may not be as comfortable this way.

Threading the seat belt through can be a bit tricky. 
Expiration 
The Graco Slimfit has a 10-year expiration date. At this time, you must cease using the product completely. An expiration date is standard among car seats, to ensure that they remain quality and secure.
Warranty
The warranty is 1 year from the date of purchase. This covers defects and other issues, but not normal wear and tear. This is a fairly standard warranty.  
Frequently Asked Questions 
Does this seat include a base? Or do I have to purchase separately? 
This seat comes with a non-removable base.
Does this car seat take up less space as a rear facing seat than the Graco milestone? 
There may be a slight difference, but it is negligible. When rear facing, the dimensions of these two models are virtually the same.
Is this an infant carrier?  
No. It is an all-in-one car seat, but it is not one that you can carry.
$219.97
in stock
1 new from $208.99
as of March 27, 2023 2:03 pm
In Conclusion
As you can see, the Graco Slimfit is a pretty solid car seat and one which many small cars have been waiting for. Of course, any size of the car can benefit from the size-maximizing capability, quality, and durability of this car seat variety. 
Along with this, this car seat has passed safety tests with flying colors. It is super safe, super-customizable, and super-comfy. The result is a car seat that many have hurried to give a try, and which many have come to love.