The Graco Slim Fit 3-in-1 is a mid-priced car seat designed to grow with your baby. Its rear-facing harness will hold children between 5 and 40 lbs, and its forward-facing harness will accommodate your child when they weigh between 22 and 65 lbs.
It accommodates children weighing between 40 and 100 lbs as a booster seat.  This product is for a budget-conscious parent with a small car who needs to save space in the back seat.   
Because selecting a car seat for your child is one of your most important duties as a parent, you should ensure you get one that will fit comfortably in your car so that you know it will protect your baby during a crush. I recently had the opportunity to review the Graco Slim Fit 3-in-1 car seat for kids.
One thing I realized with this product is that it suits smaller cars. While it's slim, I liked that it has the best functionality and features, like the five-point harness system, which includes shoulder straps, waist straps, and a buckle between the legs. After using the car seat for several weeks,  I found it robust enough to recommend it to other parents, and I will tell you why. 
In this review of the Graco Slim Fit 3-in-1, I will focus on the product's main features, specifications, who the seat is suitable for, and how to install it. I provide insights on why this is a better product when compared to others in its class. Read to the end to find answers to some of the most common questions about this product.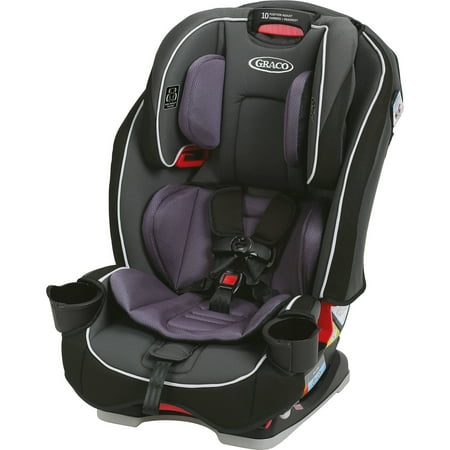 Walmart.com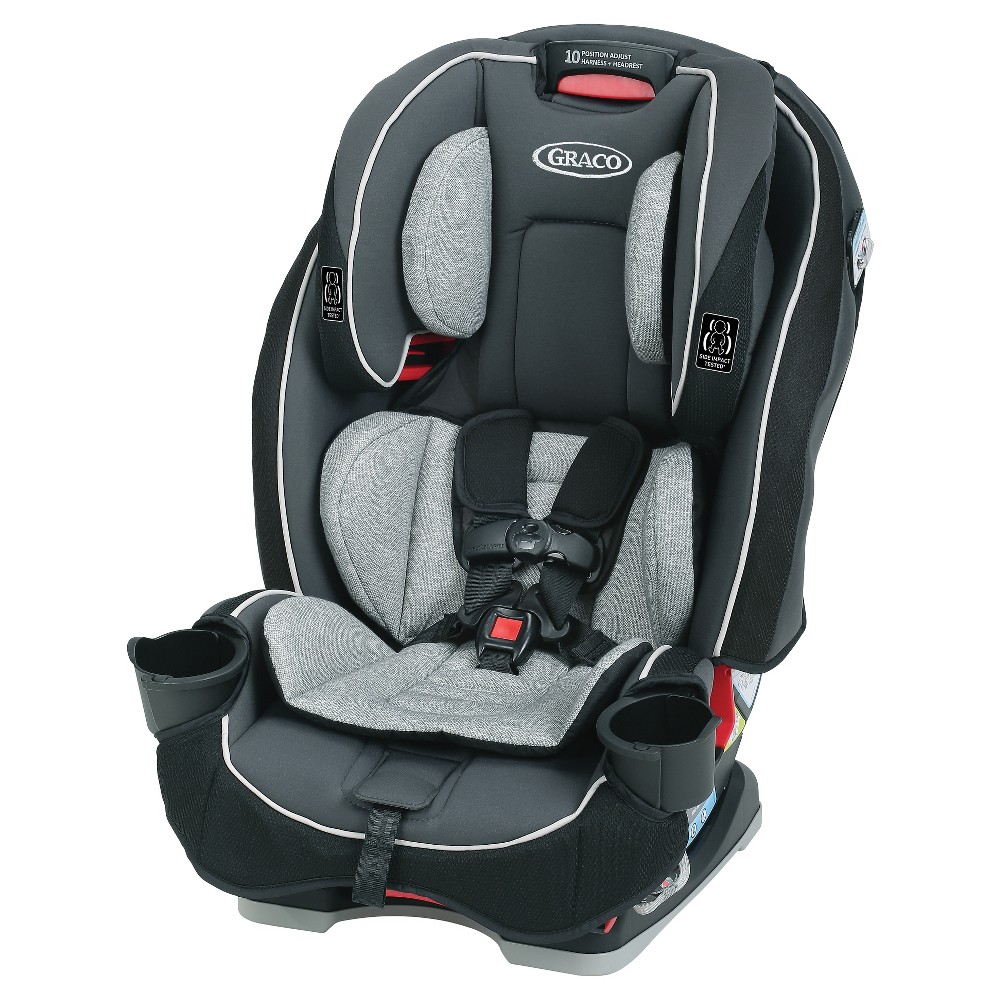 Target.com
$208.99
$219.99
in stock
1 new from $208.99
as of November 27, 2023 12:38 pm
Amazon.com
Free shipping
Quick Overview of Graco Slim Fit
This Graco Slim Fit flaunts a narrower, more compact design than most standard infant car seats. It's an ideal choice when space is your ultimate concern. It's best to opt for the Graco Slim Fit when you typically deal with smaller vehicles or when you need to install multiple car seats side by side.
Here are some reasons why you may love the Graco Slim Fit:
⚙️ Compact design: This infant car seat takes up much less space in your backseat than average. Its narrow width allows easier installation and frees up space for other passengers or infant seats. 
⚙️ Weight and height limits: Despite their slim design, this infant car seat still provides the necessary safety and protection that's mandatory for your infant. It has a weight and height limit similar to standard infant car seats, accommodating newborns and infants to a specific size.
⚙️ Rear-facing position: Like other infant car seats, this Graco Slim-Fit 3 in 1 car seat is a small model with a rear-facing structure to ensure maximum safety for the baby's head, neck, and spine in a collision.
⚙️ Features and functionality: The seat has better features than standard models. For instance, it features a 5-point harness system, an adjustable canopy, and removable inserts.
⚙️ Ease of use: The Graco Slim Fit enhances ease of use as it has a lightweight design, easy installation systems, and a simple harness adjustment mechanism. These features make it even more convenient for first-time parents or caregivers.
Graco Slim Fit Specifications
Here are some of the primary specs of the Graco Slim Fit: 
| | |
| --- | --- |
| Color  | Cunningham |
| Product width | 16.7 in |
| Product height | 24.5 in |
| Product depth | 20.7 in |
| Product weight | 19.2 lb |
Graco Slim Fit Features 
Here are some of the Graco Slim Fit's primary features: 
⚙️ Breathable mesh airflow channels provide improved ventilation to keep your youngster cool and cozy.
⚙️ Easy forward-facing seat belt installation with integrated belt lock-off.
⚙️ Push-button for securing installation, InRight LATCH offers a quick, one-second attachment with an audible click.
⚙️ Easy installation with the 4-position reclining.
⚙️ The cover may be removed in 60 seconds without removing the seat or the harness.
⚙️ Easy-to-use harness storage compartments keep the harness out of the way for simple putting on and taking off.
⚙️ When in belt-positioning booster mode, the harness storage box keeps the harness securely stored.
⚙️ Your baby will feel cradled and secure with the help of removable, soft head and body inserts.
Who is the Graco Slim Fit for?
This Graco Slim Fit is an ideal fit for newborns. It's the best choice for:
✅ Caretakers who need to straddle the rear seat with three car seats.
✅ Parents seeking a 3-in-1 car seat to accommodate their youngster from 5 to 100 pounds.
✅ Parents of children riding in various modalities and at varying ages.
However, to use it in the best way possible, ensure the following: 
✅ The head should be at least 1 inch below the handle when using a rear-facing harness for 5-40 lb; Harness for the forward motion: 22–65 lb, up to 49″; 40-100 lb, 43-57″ highback booster, at least four years old.
✅ Ten years from the date of manufacture, STOP using this kid restraint and discard it. 
✅ Your infant should ride rear-facing for as long as feasible or until they reach the maximum rear-facing height or weight limit for the car seat, as it is safer. 
✅ When your kid reaches the maximum forward-facing weight or height for their car seat, they should continue to ride forward-facing while using the integrated harness system for as long as possible. 
Graco Slim Fit Installation
Graco SlimFit 3 in 1 Convertible Car Seat | Infant to Toddler Car Seat, Saves Space in your Back Seat, Darcie
1 new from $208.99
Free shipping
Buy Now
Amazon.com
as of November 27, 2023 12:38 pm
While installing it, do it as mentioned below: 
1️⃣ Choose a suitable seating position: Select a rear seating position in your vehicle that allows for properly installing the car seat. Refer to your vehicle's manual for guidance on the recommended seating positions for car seat installation.
2️⃣ Positioning the car seat: Place the Graco Slim Fit car seat in the rear-facing position, as this is the appropriate orientation for infants and young children. Ensure that the car seat is securely positioned and aligned with the vehicle seat.
3️⃣ Seat belt installation: If you are not using the LATCH system or your vehicle does not have LATCH anchors, you can install the car seat using the vehicle's seat belt. Thread the seat belt via the right belt path indicated on the car seat and buckle it securely.
4️⃣ Tighten and secure: Once the car seat is installed using the LATCH system or seat belt, ensure it is tightly secured. Press down on the car seat, then pull the straps or seat belt tight to minimize movement or slack. Double-check that the car seat does not move more than an inch in any direction.
5️⃣ Check the recline angle: The Graco Slim Fit car seat may have multiple recline positions. Adjust the recline angle according to the manufacturer's instructions and your child's specific. Ensure the car seat is reclined at the proper angle to provide optimal comfort and safety for your child.
6️⃣ Verify proper installation: Double-check that the car seat is securely installed by giving it a firm tug and ensuring no excessive movement. Check that the car seat is level and that all harness straps are properly adjusted and secure.
Why Choose the Graco Slim Fit Over The Standard Slim Infant Car Seat 
Here are some reasons you should choose the Graco Slim Fit over the standard slim infant car seat: 
✅ Convertibility: The Graco Slim Fit car seat can be used in both rear-facing and forward-facing modes. It offers extended use from infancy to toddlerhood, accommodating children from 5 to 100 pounds (2.3 to 45 kilograms) in weight. In contrast, a standard slim infant car seat is usually designed solely for rear-facing use and has weight and height limits specific to infants.
✅ Size and width: The Graco Slim Fit car seat is designed to be space-saving, featuring a narrower width compared to some other convertible car seats. However, it may still have a wider profile than a dedicated slim infant car seat designed exclusively for rear-facing use. Slim infant car seats are specifically engineered to be narrower to allow for multiple car seat installations side by side or to fit in smaller vehicles with limited space.
✅ Weight and height limits: The Graco Slim Fit car seat offers a wide weight and height range to accommodate infants, toddlers, and older children. On the other hand, a standard slim infant car seat usually has weight and height limits explicitly tailored to infants, typically accommodating newborns up to around 30 pounds (13.6 kilograms) or so.
✅ Features: The Graco Slim Fit car seat typically has various features such as a 4-position recline, adjustable headrest, multiple harness height positions, and cup holders. Standard slim infant car seats may have similar features but focus more on providing essential safety and comfort for infants rather than the extended features for older children.
✅ Installation: The Graco Slim Fit car seat installation process involves using either the LATCH system or the vehicle's seat belt. Standard slim infant car seats often provide installation options such as a base for convenience and a more straightforward installation process.
What to Look For When Making A Car Seat Purchase
When selecting a child car seat, it's essential to prioritize safety, comfort, and suitability for your child's age and size. Here are some crucial factors to consider before making a purchase.
Age, Weight, and Height Requirements
Child car seats are designed to accommodate specific age ranges, weight limits, and height restrictions. Ensure the seat you choose is suitable and provides adequate protection. Say YES to car seats made from high-quality materials built to last. A well-constructed seat will withstand regular use and offer durability and longevity. 
Safety Standards and Ratings
Look for car seats that have been rigorously tested and meet or exceed safety standards. Check for certifications. Assessing the durability and quality of a car seat is crucial to determine its longevity.
Consider additional features that may enhance convenience. The Graco Slim Fit is well-built and sturdy, capable of withstanding regular use and wear. 
Adjustability and Comfort
A comfortable car seat is essential for a child's long journeys. Padded and supportive cushions can enhance comfort during long rides. Some car seats may not fit or be compatible with specific vehicle models.
The Graco Slim Fit car seat has a range of safety features. It also has side-impact protection to provide additional safety in a collision. It also has plush padding and adjustable headrest positions to provide optimal support. 
Installation Ease
Consider the ease of installation. Look for car seats with clear instructions and features like LATCH systems or seat belt attachments that ensure your vehicle's secure and proper fit. Look for a car seat that offers simple and secure installation.
The Graco Slim Fit 3 in 1 features the InRight™ LATCH system, making installation a breeze and ensuring a snug fit in your vehicle. It can be converted from a rear-facing seat to a forward-facing seat and later to a high-back booster, providing flexibility and longevity.
Reviews and Recommendations
Review customer reviews and seek recommendations from trusted sources to gather insights into car seat models' performance, durability, and user experiences. 
Conclusion
The Graco Slim Fit 3-in-1 car seat is a popular convertible car seat with a slim design while providing safety and comfort for your child. It typically accommodates infants in the rear-facing mode from 5 – 40 pounds (2.3 to 18.1 kilograms) and forward-facing mode from 22 to 65 pounds (10 to 29.5 kilograms).
The high-back booster mode can accommodate children from 30 to 100 pounds (13.6 to 45.4 kilograms). This is a seat I would recommend for a family seeking a mid-priced seat that will last for a long time. 
If the Graco Slim Fit 3- in- 1 is not the product for you, you can check our other car seat reviews. I am confident that you can find a seat that suits your needs.