I love 3-in-1 car seats. They're great for growing families and budget-conscious parents. I was asked to test the Graco Nautilus 3-in-1 and can't say that I was disappointed. 
So, I have to say first that I did enjoy testing this car seat. My child seemed to like it too. Once I easily installed the car seat, I had to adjust the harness as my child was a little bigger than what the harness was set at.
The harness system allowed me to adjust the headrest and harness together in one motion with one hand. Additionally, I didn't need to rethread the straps either.
One of my favorite features of this car seat is the comfort level it provided to my child. The armrests are contoured and allowed my child to comfortably rest their tiny arms. There are also harness covers and buckle padding to make the ride more comfy. I found the cup holder and storage pockets convenient for my child as well as myself. 
The only thing I didn't like about this car seat is that the head support seemed to be lacking. When my child fell asleep, they seemed uncomfortable. 
However, I can honestly say that I enjoyed this car seat. Other than the lack of head support, everything else was perfect.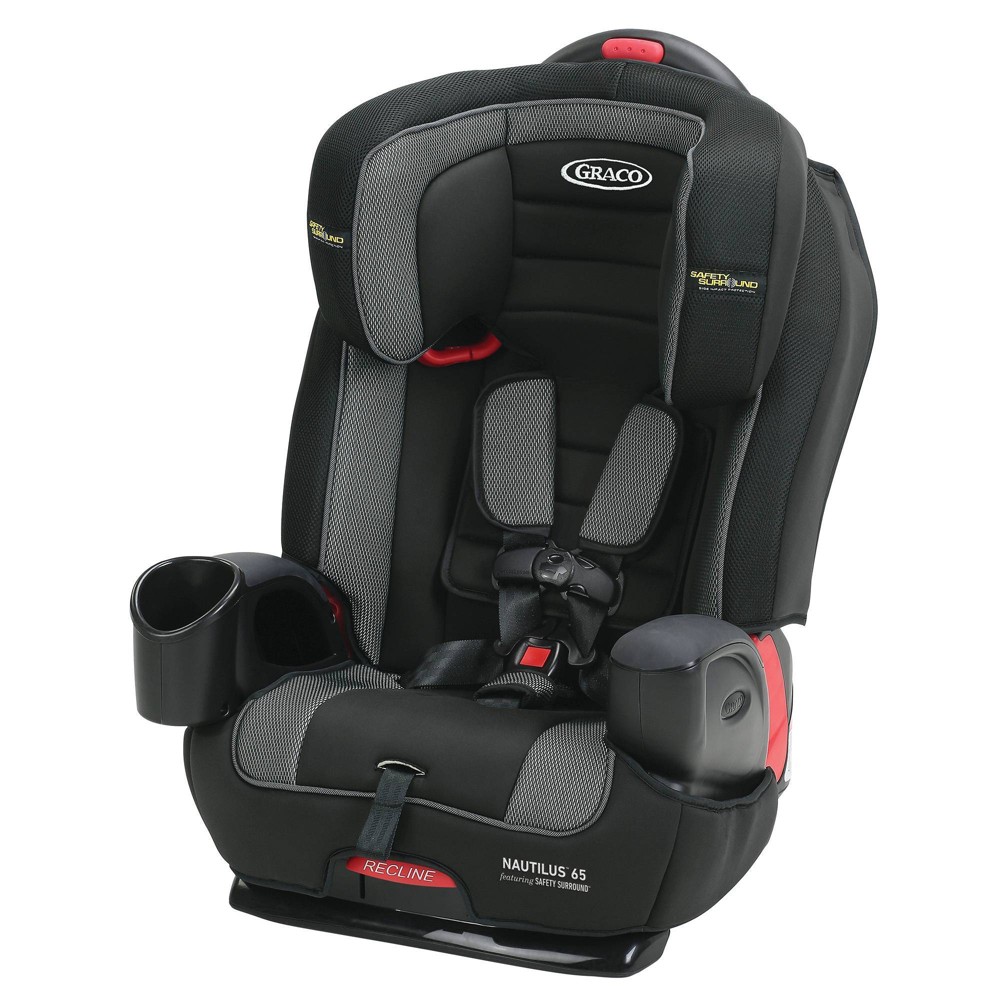 Target.com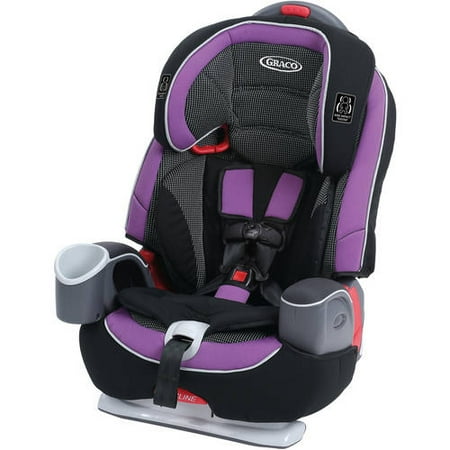 Walmart.com
out of stock
as of March 28, 2023 4:18 am
Amazon.com
The Graco Nautilus 65 3-in-1 Harness Booster Car Seat is a superior combination booster that features quick and easy one-hand adjustments for busy moms, and comfort features for your child that make their ride more pleasant.
This combination seat will last you and your child for years to come as it converts from a harnessed seat to a belt-positioning booster, to a backless booster. 
Weight and Height Limitations
In 5-point harness booster mode, the Graco Nautilus 65 is safe for children from 22 to 65 pounds, or a maximum of 49 inches tall. 
When the time comes, the seat converts to a belt-positioning booster and is suitable for children from 30 to 100 pounds and up to 57 inches tall.  Lastly, in backless booster mode, the acceptable weight range is from 40 to 100 pounds, and 57 inches tall as well.  
Overall, this seat lasts your child from 22 to 100 pounds or 57 inches tall.  The Graco Nautilus 65 is a safe and durable forward-facing seat for your child when it is time for them to transition from their rear-facing infant seat.
It will keep your child in the safest position possible for the years where they need extra protection while riding in the car. 
Graco Nautilus 65 LX 3 in 1 Harness Booster Car Seat, Featuring TrueShield Side Impact Technology
out of stock
Buy Now
Amazon.com
as of March 28, 2023 4:18 am
Top Features
3-in-1 Convertible Seat
The Graco Nautilus 65 has more modes and will last your child longer than the popular Cosco or Kids Embrace convertible seats. As the name of the car seat states, this convertible seat has three different user modes.  
The first is the forward-facing harness booster, which is the starting mode for older babies 22 pounds or more.  A five-point harness keeps your child snug and safe until they are large enough to transfer to a belt-positioning booster.  
To convert to the belt-positioning booster mode, the five-point harness is removed.  This high-back booster then keeps your growing child safe by keeping your vehicle's seat belt in the safest location possible.  It also retains the added protection from the seat's back and sides.
Once your child is older, the back of the Graco Nautilus 65 can be removed to convert into a backless booster.  This mode continues to position the vehicle belt perfectly on your child's body until they reach the maximum height or weight limit.
This seat lasts your child from 22 pounds until they are about ten years old.  
Simply Safe Adjust Harness
Many convertible seats, like the Diono Radian 3RX, require headrest and harness adjustments to be done separately, taking up more time in your day. The Simply Safe Adjust Harness allows you to adjust both the headrest and the harness together with one hand. 
If you find yourself in the situation where you are holding your child or bags, you are still able to adjust this seat to fit the needs of your child quickly and easily without any rethreading of straps. With all the different positions offered for both the headrest and the harness, your child will always be comfortable and safe.
Safety First
When purchasing a product from a well-established company such as Graco, you know you are getting something that is high quality.  The Graco Nautilus 65 is equipped with multiple different safety features to keep your mind at ease while on the road.
A steel-reinforced frame gives this seat a foundation of strength in high impact situations. The Graco Nautilus 65 is also equipped with Safety Surround. 
This is a system of EPS, energy-absorbing foam that surrounds the metal frame of the seat in order to manage the forces from side impacts.  Additionally, the five-point harness system keeps your baby safe and secure in their seat.
What We Like
Rigorous Crash Testing
While other car seats from prominent and popular companies are well crash-tested, many do not go above and beyond the testing that the law requires.  In addition to the safety features detailed above, the Graco Nautilus 65 3-in-1 Harness Booster Car Seat is put through more crash testing than is required by law.
Not only does it meet or exceed the safety standards for the United States, but it also has additional side-impact testing.   This testing is done in the harnessed booster mode only but gives anxious parents one less thing to worry about.
Long Straps for Extended Use in Harness Mode
For safety reasons, it is highly recommended that your child remains in a harnessed seat as long as possible.  Typically, this means they should ride with a harness until they reach the maximum height or weight limit. 
While car seats and convertible seats are designed for this, there are many times the seat does not comfortably accommodate a child at or near these maximums.  The Graco Nautilus 65 has nice, long harness straps that provide ample space for children to ride comfortably until they reach the maximum height or weight limit. This keeps your child in the safest mode of the seat for the longest amount of time possible.
Comfort Features with Your Child in Mind
This seat offers additional features that keep the comfort of your child in mind.  The armrests of the Graco Nautilus 65 are contoured to fit the natural resting place of your child's arms in a seated position.
This ensures that your child is comfortable for both the five-minute trip to the store and the five-hour road trip to see friends. Harness covers and buckle padding also make this seat more enjoyable for your child
As an added convenience for your child, the seat also offers a cup holder and storage pockets for all the things they need.  The storage pockets are easy to access while safely buckled in the seat, so there will be no struggling to reach the necessary books or toys. 
What We Don't Like
Conversions Between Modes Take Time
Converting between the three modes of the Graco Nautilus 65 is not necessarily a quick process.  While these conversions are not extremely difficult, they take a little bit of time to do correctly. 
Once these conversions are done once or twice, moms get the hang of it, however, and it doesn't seem to take as long.  This is not the ideal situation for a family that needs to convert between modes frequently for use with multiple children.
Uncomfortable Head Support
While the head support is safe and great for everyday use, many mothers complain that it is not comfortable when their child falls asleep.  There is too much space for children on the smaller end of the weight limitations, which allows their head to uncomfortably loll to one side or another.
Bottom Buckle Adjustment
The Graco Nautilus 65 is just one of the many car seats on the market today that struggles with the easy adjustment of the bottom buckle.  Since the padding surrounding the buckle adjustment needs to be snug in order to be safe, it is difficult to move when your child grows.  Users explain that it takes quite a bit of muscle and wiggling.  One mother even describes needing to use a hammer.
Graco Nautilus 65 vs Graco Nautilus 65 LX
The maximum weight limit for the backless booster mode for the LX model is 20 pounds higher, so it allows your child to use the seat until they reach 120 pounds. 
With the higher weight limit comes a slightly higher price for the LX model as well.  The Graco Nautilus 65 also has a few more color and pattern options than the 65 LX model.  
Price Comparison
out of stock
as of March 28, 2023 4:18 am
Frequently Asked Questions
How do you use the Graco Nautilus 3 in 1 car seat? 
This car seat can be used as a 5 point harness car seat, a high back booster, or a backless booster. 
How long does a Graco Nautilus last?
10 years from the manufacture date. This is not always the same as the purchase date, so check for a label on the car seat.
Can the Graco Nautilus be rear-facing? 
No, Graco Nautilus can't be rear-facing. This car seat is for kids from 20-100 pounds, in three forward-facing modes.
Bottom Line
The Graco Nautilus 65 3-in-1 Harness Booster Car Seat is a great option for families who want one seat to grow with their child. 
Once your child outgrows their infant seat and is large enough for a harnessed booster, this seat will last them until they are about ten years old, making you feel like you've gotten your money's worth.