As its name implies, the Graco Nautilus 3-in-1 car seat is one car seat designed to serve three purposes. The car seat is made to be a 5-point harness, a high back booster seat, and a backless booster, respectively. The top-rated car seat has been tested thoroughly for safety. On top of this, it has a sleek design and was carefully crafted to be ultra-comfy.
Price Comparison
$189.99
$199.99
in stock
1 new from $189.99
as of July 12, 2020 4:18 pm
The Specs
The Graco Nautilus 3-in-1 Car Seat has a weight of 20 pounds, a height of 20 inches, an outside width of 20 inches, and a depth of 18 inches. The seat comes in a few color options, featuring Ayla, Matrix, Pierce, and Conley. Ayla has pink, whereas Matrix, Pierce, and Conley are predominantly black or gray.
No products found.
Pierce has some fun geometric patterns. You might also find Sully, Fern, or Sylvia (the latter is another pink one). This is the same great car seat, whatever the style.Now, for how the 3-in-1 aspect of this car seat works! First off, the car seat functions as a 5 point harness for the 20-65 pound weight range.
The seat then adapts to the growth of your child. When they reach 30-100 pounds, the seat can become a high back booster. Once your kiddo is 40-100 pounds, they are backless booster-ready -the next modality. 
Safety Ratings
This car seat has been impact-tested for occupant retention. This includes rigorous crash tests to meet or exceed safety standards in the US. The car seat also has a steel-reinforced frame for strength and durability. EPS foam lines the car seat, and lends to impact management capability.
Recalls
In 2007, the Graco Nautilus 3-in-1 Car Seat became a part of a massive recall. Roughly 3.7 million car seats were taken back in. This was due to an unfortunate issue with the buckles. In some cases, the buckles became difficult to remove. This was clearly not ideal, especially in the case of an emergency.
Details suggest that the harness buckles would buildup with food and get sticky and that this was to blame. Fortunately, this problem is long-resolved today.
Installation and Removal
This car seat is unique in that it can be installed through two methods, rather than one. You cannot use both at the same time, of course. The options are either the seatbelt, with a classic threading technique, or a patented Latch System. To suit your preferences, this offers flexibility. The Latch System takes just a second and comes with an audio cue to make it even more user-friendly
Cleaning
The cushy body support cushion is removable and can be put in the washing machine. The metal and plastic parts require mild soap and cool water to be cleaned properly. For the buckle, use a damp cloth. The harness straps may also be spot cleaned as necessary. The fact that the cushion is machine washable is a nice touch. Washing cushions by hand can be a time-consuming alternative.
Airplane Use
This car seat has a red sticker that indicates it can indeed be used on an airplane. The car seat can be used in the 5 point harness specifically. The Nautilus is all about versatility -on the ground or in the sky.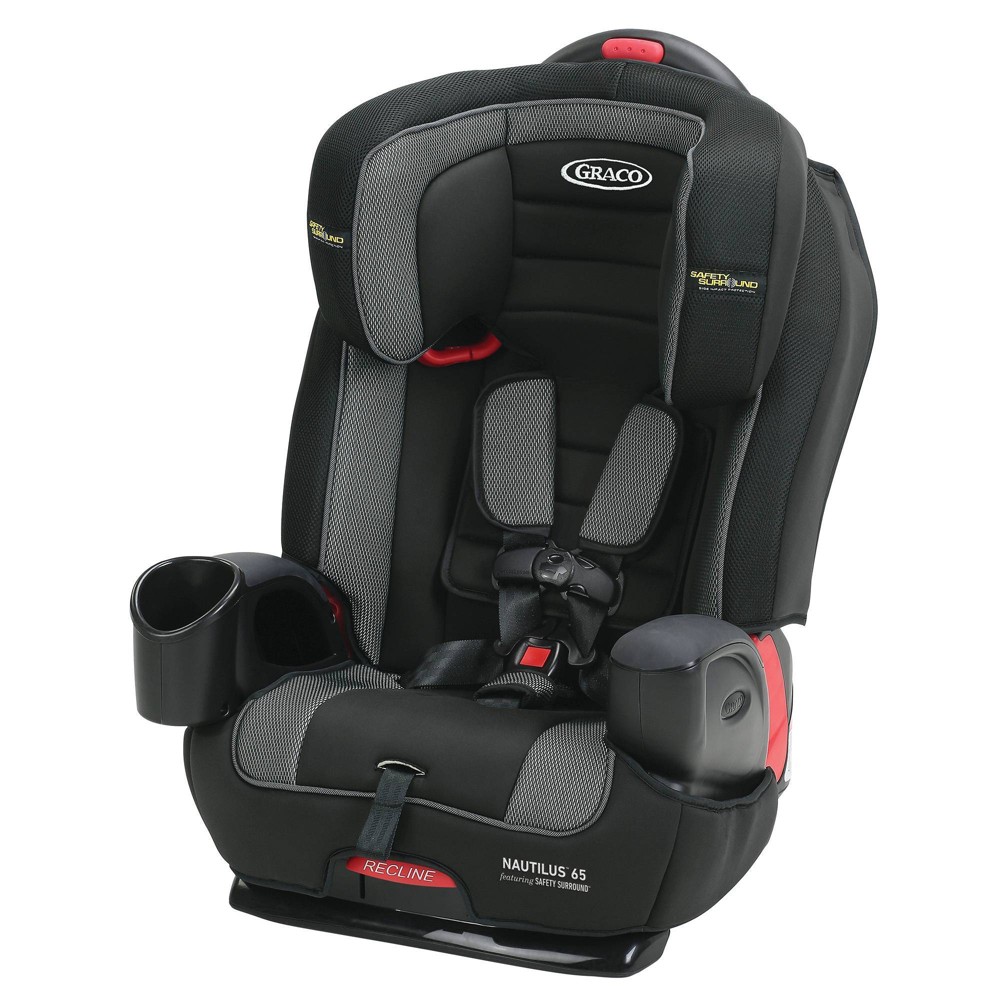 Target.com
$189.99
$199.99
in stock
1 new from $189.99
as of July 12, 2020 4:18 pm
Amazon.com
Free shipping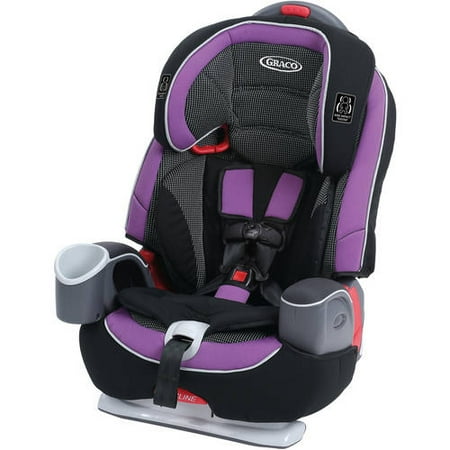 Walmart.com
Expiration 
The Nautilus expires 10 years after the date of manufacture. You should stop using the car seat after this. With an out-of-date model, safety ratings and the like will no longer apply. 10 years is a long time for a car seat to last a kid, though. So this is impressive.
Warranty
Contact the website or call to see about replacement parts and limited warranty.
Customer Reviews
Customer reviews for the Graco Nautilus 3-in-1-Carseat have been very positive. This is one of the top-rated car seats online, and an Amazon choice item. The praise for the car seat does not seem to be undeserved! Parents and kids alike claim that the cushions are ultra-comfy. The fact that they are machine washable is considered a definite plus. Parents appreciate the flexibility; kids appreciate the lounge recline. 
The only negative commentary seems to be that the Nautilus is hard to install initially. Specifically, removing the bottom seat buckle from the position, it was shipped in. The buckle threading space does not appear to leave a lot of room to maneuver. This can make the first install tricky. After that, the Latch system simplifies things nicely. Finally, the 3 recline options are nice but ineffective. There is not a ton of recline.
Machine washable cushions

The cushions are super comfortable

This car seat is very versatile with its 3-in-1 feature

Safe and secure

3 recline options. Helps the kid feel like they have some control
Initial install can be a bit tricky

Mediocre recline
Unique Features
The Simply Safe Adjust Harness System. This is feature is super user-friendly. You may adjust both the car seat headrest and the harness at once, easily.

3-in-1. Three distinct functions in one car seat, for maximum flexibility.

In-Latch attachment with audio-cue. 
Other Great Features
Storage for harnesses. This thoughtful addition takes away the hassle of trying to keep the loose harness out of the way. This adds to the clean, neat design, and helps with keeping the car interior uncluttered and tidy.

Dual-function armrests. Along with working as armrests, these contain storage pockets and cup holders as well. These details are a nice touch. Kids like to use them, and parents like being able to have nooks to put things away.

Plush cushions. These cushions are so comfortable that one reviewer joked that the car seat was more comfortable than their seat, doubtlessly. The cushions are thick and form-hugging, to help your kid feel cozy and at home.
Comparison To Other Car Seats 
Chicco MyFit Harness + Booster Car Seat
This is a cushioned, flexible car seat model similar to the Graco Nautilus 3-in-1. The Graco you can find for as low as $179.99, whereas the Chicco is roughly $200 ($199.99).
The Chicco only beats out the Nautilus with regards to recline. Not worth $20 more, arguably. The Nautilus is the best bang for your buck.
Diono Radian 3R Convertible Car Seat
While this car seat is indeed convertible, the foam block necessary for this is sold separately. The Diono Radian is a decent quality seat and costs about the same (at $169.99), but it lacks a few key features.
Another of these is the Latch system. The Diono Radian must be tugged into place each time – not as convenient. Once again, the Nautilus wins out here.
Frequently Asked Questions
How do you use the Graco Nautilus 3 in 1 car seat? 
That depends on what you require!  This car seat can serve as a 5 point harness, a high back booster, or a low back booster, accordingly. Just use the adjuster as described above.
How long does a Graco Nautilus last?
10 years from the manufacture date. This is not always the same as the purchase date, so check for a label if there is one.
Can the Graco Nautilus be rear-facing? 
No. This car seat is for kids of 20-100 pounds, in three forward-facing modalities.
In Conclusion
The Graco Nautilus 3-in-1 Car Seat is nice, as you can see. When it comes to long drives, security is key, but comfort is also necessary. This car seat assures safety without sacrificing luxury. Armrests, recline options, and ultra-plush cushions will help your kid ride in style. Pick out a cover design that best suits their personality (Pierce is a favorite).
Last update on 2020-07-13 / Affiliate links / Images from Amazon Product Advertising API