Travel systems are meant for convenience, which is why I love them so much. I was given the Graco Modes Travel System to test out and I can certainly say it was a pleasure.
I'm going to be a negative Nancy right off the bat, but the second I lifted the stroller I thought that it was a little on the heavy side. However, folding and unfolding was a breeze. The car seat, on the other hand, is lightweight and was easy to carry around while my child was in it.
As far as installation goes, the base was easy to secure with the LATCH system. It also has the level indicator on it to ensure the base is level and secure. There are six recline positions on the car seat, so I was able to easily adjust as I saw fit. Unfortunately, the harness height has to be manually adjusted.
The stroller has two cup holders, a parent tray, and a large storage basket under it. It was large enough for my hefty diaper bag. Additionally, the stroller can convert into three different options and has 10 riding positions. It also seemed comfortable.
I recommend this travel system not only because it's affordable, but because it seems very safe and comfortable.
The Graco Modes Click Connect travel system is likely one of Graco's most popular systems. It has an extremely convertible stroller packed with features. The car seat and base are comfortable and safe. The Graco Modes certainly has a lot to offer.
Price Comparison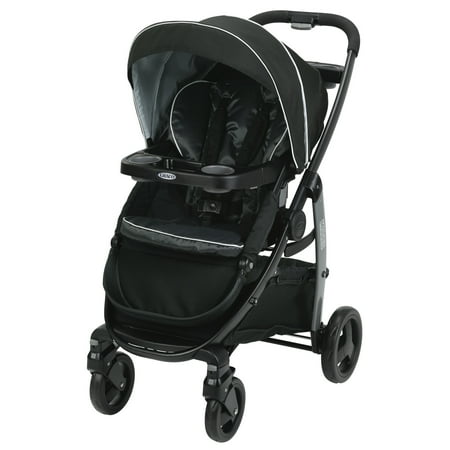 Walmart.com
$331.79
$429.99
in stock
1 new from $331.79
as of January 26, 2023 11:47 pm
Amazon.com
Free shipping
The Stroller, Car Seat & SnugRide Base
The most prized component of this system is perhaps the Modes stroller. This stroller is a convertible stroller and has three unique options. It can convert from a car seat carrier to an infant stroller, to a child stroller.
In addition to these options, the Modes also has ten different riding positions. Of course, it features click-connect technology, which makes attaching the infant carrier effortless. This is the first "mode." If you don't want to lug along the infant carrier, you can convert the stroller to the infant position.
Weight & Height Limit
Car Seat: 4-35lbs and 32" or less

Stroller: can accommodate infants and children weighing up to 50lbs
Reclines Almost To Flat Position
The forward-facing child seat can be reclined to nearly flat to create an infant carriage. The leg rest lifts up to become a pseudo bassinet. Your little one will be kept safe and snug in the five-point harness. As the seat can become rear-facing, your baby will never be out of view.
How To Use It
To use the child stroller option, simply turn the seat around and lower the leg rest. The five-point harness can transition to a three-point harness when your little one is old enough. This extremely versatile seat can accommodate up to fifty pounds.
Parents will appreciate the parent tray with two cup holders. The large storage basket underneath can hold plenty of necessities. When transitioning from the stroller to the car, folding is quick and straightforward. The child tray with dual cup holders is removable so you can easily access your child.
The one-handed fold allows parents to quickly store and go. The Graco Modes travel system also includes the SnugRide Click Connect 35 Car Seat and SnugRide Base. The 35 indicates the seats extended rear-facing weight limit.
EPS energy-absorbing foam and an upfront adjustable 5 point harness lend to the SnugRides safety. This seat has been thoroughly crash-tested to meet or exceed all standards. Little ones will be kept cool and comfortable thanks to the newborn head support pillow and rotating sun canopy.
Lightweight and Easy To Carry
The SnugRide 35 is lightweight for easy carrying when you are without your stroller. The SnugRide base features six recline positions so you can achieve a perfect fit every time. The level indicator will take the guesswork out of installation.
The base can be installed using either the LATCH connectors or your vehicle's seat belt. Though the infant carrier and base are quite comfortable and safe, the Modes stroller is the star of the show. This versatile stroller is sure to be loved by occupants and adults alike for many years.
To Recap
The modes stroller can convert into three different stroller options and has ten riding positions

The stroller is equipped with plenty of comfort and convenience features for both parents and children

The SnugRide 35 car seat is lightweight and offers an extended weight limit

The SnugRide base is effortless to install and features six available reclines
Unique Features
Available in "Downton" (grey) or "Diana" (pink and grey)
Car Seat
Machine-washable seat cushion

Six recline base

Removable infant head support
Stroller
Ten different riding positions

Leg rest adjusts to three different positions

Plush cushion insert

Covered storage included in parent tray

Front wheels can swivel or lock

Peek-a-boo window in the canopy
Specifications
Car Seat
Seat weight: 7.5lbs (without base) 16.1lbs (with base)

Seat height: 15.59"

Seat depth: 30.67"

Listed seat width: 18.66"
Stroller
Depth: 27.15

Width: 21.14"

Height: 41"

Weight: 21.05lbs
What We Like
The stroller is easy to maneuver and extremely versatile

The car seat is simple, yet safe

The infant base recline can be adjusted to fit any vehicle
Graco Modes Nest Travel System | Includes Baby Stroller with Height Adjustable Reversible Seat, Bassinet Mode, Lightweight Aluminum Frame and SnugRide 35 Lite Elite Infant Car Seat, Sullivan
1 new from $331.79
Free shipping
Buy Now
Amazon.com
as of January 26, 2023 11:47 pm
What We Don't Like
The stroller is a four-wheel design

The stroller is a bit on the heavy side

The car seat harness height has to be manually adjusted
Expiration & Warranty
The Graco SnugRide 35 car seat and base have an expiration date of seven years after their date of manufacture. This date can be found on your specific product's information label.
Recalls
Many Graco SnugRide infant car seat models were a part of a large scale buckle recall. The affected seats were manufactured from 3/1/11 to 5/31/13 and include SnugRide, SnugRide Classic Connect ( both 30 and 35), SnugRide 30, SnugRide 35, and SnugRide Click Connect.
The buckle harness could sometimes be challenging to release, posing a safety concern if you had to get your child out of the seat urgently. If this recall applies to your product, Graco asks that you contact them for a replacement buckle free of charge.
The Graco Modes Travel System vs. Graco Modes LX Travel System
The Graco Modes and Graco Modes LX travel systems are very comparable. They both have nearly identical strollers. The LX has only a few minor upgrades. The car seats have the same weight limits and offerings.
However, the LX travel system includes the SnugLock base with SnugLock and InRight LATCH technology, two items that further simplify the install. The price difference is considerable and may be too great for only a few upgrades.
Similarities
Parent and child tray and cup holders

3 stroller conversions and ten riding positions

Both strollers and car seats have identical weight requirements

Both strollers and car seats feature canopies
Differences
The LX Modes stroller has an adjustable handlebar

The Modes LX system features the SnugRide SnugLock 35 seat and base (the base includes SnugLock technology)

The Modes LX stroller has wheel suspension

LX base has InRight LATCH technology

The Modes LX child seat has a plusher and wider cushion
Graco ModesTravel System vs. UPPAbaby Cruz Travel System
Though their design may look similar, the UPPAbaby Cruz is a few steps above the Graco Modes travel system. This is made apparent by their price tags.
Though the Cruz stroller is lacking a few features seen on the Modes (like trays), it is considered a stylish luxury system. Both the stroller and seat offer fine details like high-performance fabrics and real leather. Due to the significant difference in price, it would be unfair to compare these strollers "apples to apples."
Similarities
One-handed fold offered on strollers

Both strollers have child seats that can be reversed and have multiple reclines

Both systems have a click and go technology

Both strollers and car seats have identical height and weight limits

Both strollers have large storage baskets
Differences
Cruz has a UPF 50+ canopy with extendable visor

Cruz stroller handlebar features real leather

The Mesa car seat has a no-rethread harness, buckle pockets, and an adjustable headrest

The Mesa seat also has a tightness indicator, auto-retracting LATCH, and is covered in performance fabrics

The Cruz stroller does not have a parent or child tray but does have a bumper bar for occupants

The Cruz stroller seat doesn't recline completely flat, UPPAbaby recommends using their infant bassinet

Compatibility
The Graco Modes stroller can attach to any car seat that includes Graco Click-Connect technology. There are quite a few car seats equipped with Click-Connect. The SnugRide 35 can only be used with the SnugRide base. Similarly, the SnugRide base is only compatible with SnugRide car seats.
Customer Reviews
Parents praise the Graco Modes travel system predominantly for its stroller. The fact that it has so many conversion and riding options means that it can be used comfortably for a long time. However, it is not a streamlined sport model. Therefore, some individuals cite the stroller's lack of maneuverability and ease of use.
The SnugRide 35 car seat receives decent remarks. It is a safe seat, and parents don't have difficulty installing the base. However, some find that when they put their newborn in the car seat there is a lack of head and neck support even with the infant pillow. Additionally, removing the seat from the base or stroller can be difficult.
Frequently Asked Questions
How do you use Graco Stroller Modes?
The modes stroller has a one-handed folding option and an automatic locking feature. To fold, you must slide the button on the handle and then push downwards. The child seat can be removed or reversed by compressing both buttons on either side under the armrests. The child seat or infant carrier then "clicks" onto the stroller receptacles for attachment.
How do you clean Graco Modes Stroller?
The stroller components are not machine washable. Instead, the frame and fabrics can be spot cleaned with warm water and mild soap. If the wheels squeak a light oil may be applied.
What car seats are compatible with Graco Click Connect Stroller?
The Graco Modes Click-Connect stroller accepts all Graco Click-Connect infant car seats. This includes the Graco SnugRide 30, 35, SnugRide LX, and SnugRide DLX.
How do you fold a Graco travel system stroller?
To fold the stroller you must slide and compress the button on the handlebar. Then while holding the button push downwards. The stroller can be folded with one hand and will automatically lock to stay in the folded position. Before folding, make sure that the child seat is not reclined and that the canopy is retracted.
$331.79
$429.99
in stock
1 new from $331.79
as of January 26, 2023 11:47 pm
One of the Most Versatile on the Market
The Graco Modes Click-Connect travel system is a great all-around system. It grows with your child, thanks to a plethora of conversion features.
It also offers many comforts and conveniences like a parent tray and adjustable child leg rest. The included seat and base are adequate but are not exceptional when compared with other seats on the market.
Still, they are safe and simple to use. The Modes stroller is truly the shining star of this travel system.