Convertible car seats are a handy tool for growing children. It eliminates the need for multiple car seats. I was given the Graco Extend2Fit to test and wasn't disappointed. 
Installation wasn't simple in the least, but once it was finished, the seat stayed snugly in place.
I was able to ensure the seat was properly installed thanks to the easy-read bubble level. One of my favorite features of this car seat was that the harness and headrest adjust together with the SimplySafe Adjust Harness system. 
One of the most unique features of this car seat was the leg rest. It gave my child 5-inches of additional space.
I think it made the car ride more comfortable for them. Even though they were comfortable, they still got a little motion sick and I ended up needing to remove the seat covers to wash them, which wasn't an easy task. They're difficult to remove. 
I was happy with everything else. I loved how comfortable my child was, but I don't think an infant would fare well. There seemed to be a lot of wiggle room for an infant. 
Overall, I'd recommend this convertible car seat. I think there will be installation issues with most car seats, so you shouldn't let it bother you.
In this detailed review, we will look into the construction of the seat, safety features, pros, cons, and much more.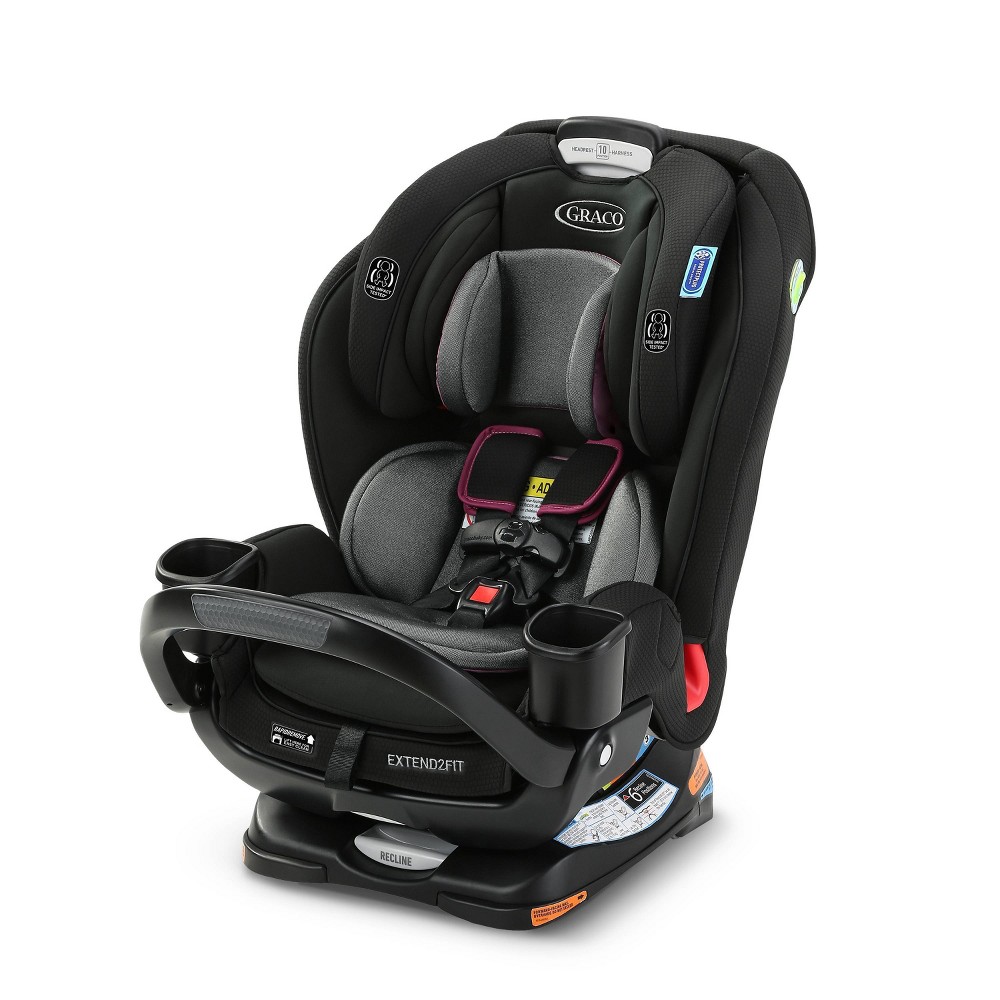 Target.com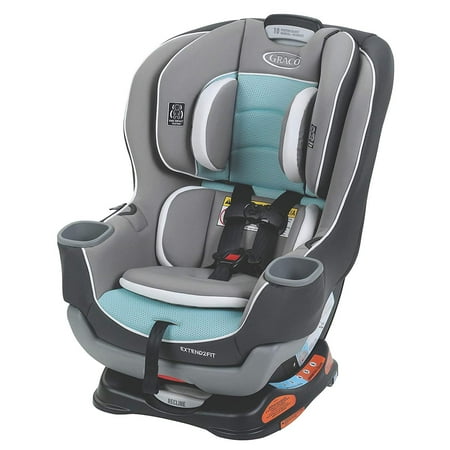 Walmart.com
out of stock
as of November 27, 2023 11:25 am
Amazon.com
What Type of Car Seat is Extend2Fit?
The Graco Extend2fit is a convertible car seat that includes four sub-models in addition to the base model. The Extend2fit sub-models include the Graco Extend2fit 3-in-1, the Graco 4Ever Extend2Fit 4-in-1, the Graco 4Ever Extend2Fit Platinum 4-in-1, and the Graco Extend2fit Platinum.
The weight range for this mode is between 22 and 65 pounds and can be used for kids up to 49 inches tall.  Remember, any child under 22 pounds has to ride in a rear-facing position.
All the Extend2fit models are convertible car seats, meaning that they can adjust to suit multiple age groups. All of these seats can change between rear-facing for infants and front-facing for toddlers. Obviously, this is great for extending the seat's life and use as your baby grows up!
Size
These seats have similar dimensions. Also, even though lugging your toddler's seat into the car is always a pain, you won't notice much difference between these seats. Their weight and dimensions are listed below.
Category
Graco Extend2Fit
Graco Extend2fit Platinum
Graco Extend2Fit 3-in-1
Graco 4Ever Extend2Fit 4-in-1
Graco 4Ever Extend2Fit Platinum 4-in-1

Dimensions 

22.1 x 19.2 x 25.2 inches

22.1 x 19.2 x 25.2 inches

19.25 x 22.52 x 25.16 inches

21 x 19 x 23

inches

20 x 21.5 x 24

Inches

Weight 

19 lb

22.8 lbs

21.56 lb

24 lbs

26.5 lbs
Capacity
Both the Graco Extend2Fit and the Graco Extend2fit Platinum can be used in the rear-facing position until the child is 50 lbs, which is a higher weight limit than for many similar seats. The seat can be used in the forward-facing position for toddlers from 22 to 65 lbs. Nobody wants to buy more child safety seats than they must, so this is a blessing. 
The Graco Extend2fit 3-in-1, the Graco 4Ever Extend2Fit 4-in-1, and the Graco 4Ever Extend2Fit Platinum 4-in-1 can all be used in the same weight ranges and positions as the Graco Extend2Fit. However, they can also be used as a highback booster seat for children up to 100 pounds. 
Also, Graco 4Ever Extend2Fit 4-in-1 and the Graco 4Ever Extend2Fit Platinum 4-in-1 can be used as a backless belt-positioning booster for children up to 120 lbs. More functionality and more options are always a win for me.
Graco Extend2Fit 3 in 1 Car Seat, Ride Rear Facing Longer, Garner, 21.56 pounds
out of stock
Buy Now
Amazon.com
as of November 27, 2023 11:25 am
Construction 
The steel-reinforced frame of the Graco Extend2Fit® and EPS Energy-Absorbing Foam will help protect your child best in case of a crash. Parents have also reported that Extend2Fit® models have performed well in some pretty horrific real-life situations.
Graco® has also made LATCH installation even easier with a simple click and their patented InRight™ system. Also, remember that LATCH restrictions prevent any child over 45 pounds from being secured with LATCH in the Extend2Fit® car seats.
Durability 
All of the models of Extend2fit also have the same cloth covers, durable plastic, and removable cupholders. Neither will give out quickly, and the only part I can see wearing down is the little nibs holding the cupholders in place if you take them out a lot. This means even a tornado-force tantrum shouldn't damage the seat.
Every model of Graco Extend2Fit has a steel-reinforced frame intended to last for 10 years. Graco provides a warranty for repair or replacement due to manufacturing defects for one year after purchase. So, if your baby does find a weakness during his or her tantrum, you're still good.
Multiple Recline Position
The seat comes with six recline positions with an easy-read bubble level to help kids be more comfortable and give parents a more seamless installation process. There are two buckle positions and a ten-position adjustable headrest to accommodate kids of all shapes and sizes, and the five-point harness can adjust without rethreading.
Furthermore, adjust the harness and the headrest together using Graco's SimplySafe Adjust™ Harness System.
Another neat feature allows you to keep utilizing the LATCH system in booster mode if you have lower anchors available in your car. You will still need to secure children with a seat belt, but attaching the lower anchors can prevent the seat from becoming a projectile when not in use.
Easy Latch Systems 
Graco Extend2Fit® car seats are equipped with an easy LATCH connection system – InRight™ or EZ Tight™.  The main difference between the two lies in how the straps are tightened – either manually or with a ratchet.
Remember, if your child weighs more than 45 pounds, you MUST install the car seat using a seat belt, DO NOT use lower anchors to secure.  Make sure to read your car seat manual for more detailed installation instructions.
Advantages 
The Extend2Fit car seats have several advantages. The most significant advantage these car seats have is safety. Graco manufactures some of the safest seats on the market, and safety tests confirm this. Since safety is the number one priority, you can save yourself a lot of paranoia and baby worry by picking a truly safe seat.
I believe the most unique feature on the Extend2Fit car seats is the leg rest, which gives your child five inches of additional legroom. This can make car rides much more comfortable for your child. A comfortable child equals way less of a headache for the parents driving.
Another advantage is its flexibility. These car seats can both be used as forward-facing and rear-facing. These car seats also tend to have higher weight limits when rear-facing than many car seats. 
Additionally, the 3-in-1, 4Ever Extend2Fit 4-in-1, and the 4Ever Extend2Fit Platinum 4-in-1 are suitable for bigger children, so you don't need to buy a separate booster seat. This is way easier than getting new car seats as your child grows. Less time spent car seat shopping and more quality time with your little one is a win-win.
Disadvantages 
I found the Graco Extend2Fit car seats have some disadvantages, though not enough that I think they outweigh the benefits. One problem with these seats, other than for the Graco Extend2fit Platinum model, is the difficulty in removing the seat covers to wash them.
For babies on the smaller side of the spectrum get lost in the seat, even when it's fully reclined with the infant insert.
Installing the seat can also be a bit difficult for the non platinum models. It's a little tough to get the seat belt tight enough to hold the car seat in place adequately. 
Finally, one limitation of these products and all convertible car seats is the lack of stroller compatibility. This makes switching from car to stroller, an already trying process, a tiny bit harder.
Different Versions

There are several different versions beyond the 'basic' Graco Extend2Fit® for parents to choose from.  All versions come with the same standard set of safety and comfort features noted above, but each of the four models has a little something different to offer.
Extend2Fit 3-in-1
Graco Extend2Fit with TrueShield Technology
Extend2Fit with RapidRemove™
Graco Extend2Fit with Safety Surround™
Extend2Fit Platinum
The Graco Extend2fit 3-in-1, the Graco 4Ever Extend2Fit 4-in-1, and the Graco 4Ever Extend2Fit Platinum 4-in-1 can adjust the same for infants and toddlers and act as a booster seat for small children. These seats are near identical when being used for infants and toddlers. 
The Extend2fit is named for the ability to extend the time your child can sit rear-facing. More time rear-facing can mean moms don't have to worry as much if it's time to flip the seat around.
Comparing It To Other Convertible Seats 
Extend2FIt Recalls
In early 2016, Graco® issued a voluntary recall on some of the Extend2Fit® models.  Affected models manufactured between November 27, 2015, and January 20, 2016, may have the recline labels placed incorrectly.  The error can confuse parents making installation difficult and increase the risk of injury in a crash.
To remedy the situation, Graco® notified all affected owners and sent out new labels with instructions on how to attach the new label correctly.  Owners who did not register their Extend2Fit® convertible car seats can also contact Graco® directly.
As with any safety seat purchase, it's always good practice to send in the registration card included in the package as soon as you can.  Registering your car seat not only protects your warranty, but it also ensures that the company will notify you in case of a recall such as this one.
Warranty 
All of the models are covered by a one-year limited warranty that covers the manufacturer's defects in materials and workmanship. It does not cover other issues such as misuse, accidents, and normal wear and tear.
Installation 
 Installing the Graco Extend2Fit, Graco Extend2Fit 3-in-1, and Graco 4Ever Extend2Fit 4-in-1 car seats are relatively easy if you can use the latch installation. This means loading up the kids for a quick shopping run isn't so hard. However, if your car does not have latch anchors, it could be rather tricky to install.
You'll need to use your car's seatbelt. This method is especially difficult when placing the car seat in the rear-facing position. It can be hard to see what you're doing while trying to install it. 
Installing the car seat in the forward-facing position is a bit easier (and while you're trying to keep a little one calm enough for a car ride, easy is crucial). The car seat is also easier to keep stable in the forward-facing position. 
Many cars require using the seatbelts to fasten child safety seats, and unfortunately, this is hard to get tightened on the non platinum model seats. It will take a little work, but it's functional.
The Graco Extend2Fit Platinum and the Graco 4Ever Extend2Fit Platinum both have the EZ tight latch which makes installation an easy 3 step process for these models.
 Graco 4Ever Vs Extend2Fit
The main difference between the Graco 4Ever® and the Extend2Fit® lies in the booster mode.  Use the 4Ever® 4-in-1 convertible car seat as a high-back booster AND a backless booster.  This is something that Extend2Fit® cannot do.
Sure, you can use the car seat as a high-back booster (supporting kids up to 100 pounds), but the 4Ever® model takes things a step further by converting into a backless booster (supporting kids up to 120 pounds).
Additionally, the Graco 4Ever® has a rear-facing weight limit of 40 pounds, whereas the Extend2Fit® has a rear-facing weight limit of 50 pounds.  The Extend2Fit™ also includes an expandable tray the will give kids five more inches of legroom.
out of stock
as of November 27, 2023 11:25 am
Cleaning 
The Graco Extend2fit and all its variants can be machine washed, a blessing to moms everywhere too busy to handwash anything. The cloth cover is removable and machine washable on both seats, but it needs to be line dried. Also, it is a bit tough to remove on all the seats except for the Extend2Fit platinum model which has the RapidRemove Cover.
While the cover is off, the plastic underneath is smooth and easily wiped down with paper towels and a mild cleaner. This option is important for fixing all those goldfish cracker and peanut butter disasters that pop up (or worse yet, car sickness situations).
Frequently Asked Questions
1. Does the Graco Extend2Fit® turn into a booster?
That depends.  You cannot use the basic Extend2Fit® version as a booster seat.  If you want a booster option, you will need to choose from the Extend2Fit models or the Graco 4Ever® Extend2Fit 4-in-1 models.
2. How do you loosen the straps on a Graco Extend2Fit® car seat?
The harness release lever is located above the harness adjustment strap and under the seat pad on the front of your Extend2Fit® car seat.  To loosen the straps, lift on the lever while pulling the straps out at the chest clip.
3. How long is a Graco Extend2Fit® good for?
Graco Extend2Fit® car seats expire ten years after the date of manufacture.  Manufacturer information is found on the backside of the car seat, and the model number and date of manufacture are stamped on the sticker. For detailed car seat expiration info.
4. Does the Graco Extend2Fit® have a base?
The Graco Extend2Fit® has a base built into it and doesn't need a removable base.  Pay special attention to how you position the base on your vehicle's seat.  Only 20% of front to back overhang is allowed.
What does that mean?  Graco® includes handy little labels located on the side of the Extend2Fit® base (one for rear-facing, one for forward-facing) to ensure you're installing the car seat correctly.
5. Can Graco Extend2Fit® touch the front seat?
To ensure proper installation of your Extend2Fit® car seat, it cannot touch the front seat of the car.  This can be tricky in rear-facing mode, especially when using the foot extender.  The Extend2Fit® models may not be the right choice for anyone with a compact car.
6. Are Extend2Fit® convertible car seats easy to clean?
Overall, yes.  All Extend2Fit® fabric covers are removable and machine washable.  Models equipped with RapidRelease™, however, are easier to remove without having to uninstall the car seat.
All of the metal and plastic parts can be cleaned with mild soap and water, use a damp cloth on the buckle, and spot clean the harness straps.
So What's The Verdict?
The Graco Extend2Fit and its sub models are excellent car seats made to last a long time, being useful for infants, toddlers, and children. The various models are also made to be comfortable with an adjustable headrest, several reclining positions, and plenty of legroom. 
The seat cover is a little difficult to remove on all of the seats except the Graco Extend2fit Platinum. Also, the Extend2Fit car seats can be challenging to install in some cases. However, the advantages outweigh the disadvantages. 
This seat does the most important thing a car seat needs to do, along with its other advantages. It is very well rated for safety, so it keeps your child safe while you're driving. 
Buying a car seat may not be as fun as designing the nursery or picking out onesies, but it is just as necessary. I found choosing the right car seats made a big difference in my peace of mind while I was driving my children around. Picking a good, safe, comfortable car seat is one little step to helping you raise a happy, healthy child.