I appreciate a convertible car seat and it's a piece of baby equipment every parent should own. I was very excited to test out the Graco Contender 65 to see if it lived up to the hype. 
To begin, the LATCH system made it very easy to install, but removing it was a terrible experience.
The straps are much too difficult to release once tightened. I think this is a complaint from many people regarding the LATCH system. The easy-to-read level indicator helped me perfectly align the seat as well. 
I did notice that the seat is slim enough to allow multiple seats in the back. I fit three across with no problem. Additionally, I loved how I could remove the seat pad for machine washing.
I can't stand car seats that require me to spot clean them. The cup holders were perfect for my child to hold their drinks and snacks as well. There are plenty of great features that come with this affordable car seat. 
I do recommend this car seat to those looking for a decent convertible car seat at an affordable price. It only accommodates children up to 65-pounds, but it does what it needs to do and I felt my child was safe in it.
The car seat itself is generally really easy to install. There's a latch and an easy-to-read level indicator to ensure the car seat is properly installed.
However, when it comes time to take the car seat out of the car, whether to transport it to another vehicle or to clean it, it's almost impossible to release the strap.
This is the number one complaint that this car seat receives, which isn't very surprising. Over the many years of being a parent, I have encountered this very same issue.  
If you can get past the fact that the base is difficult to release once installed, it's definitely a decent car seat to invest in if you don't mind needing a new one down the road.
Price Comparison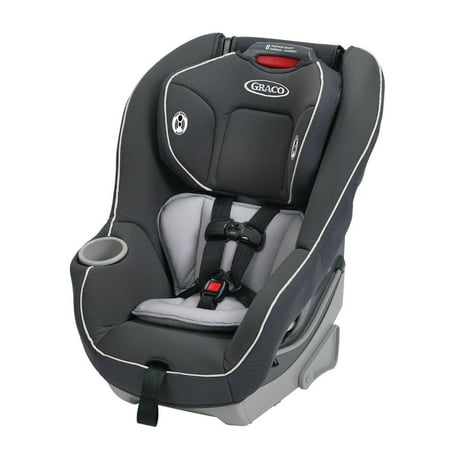 Walmart.com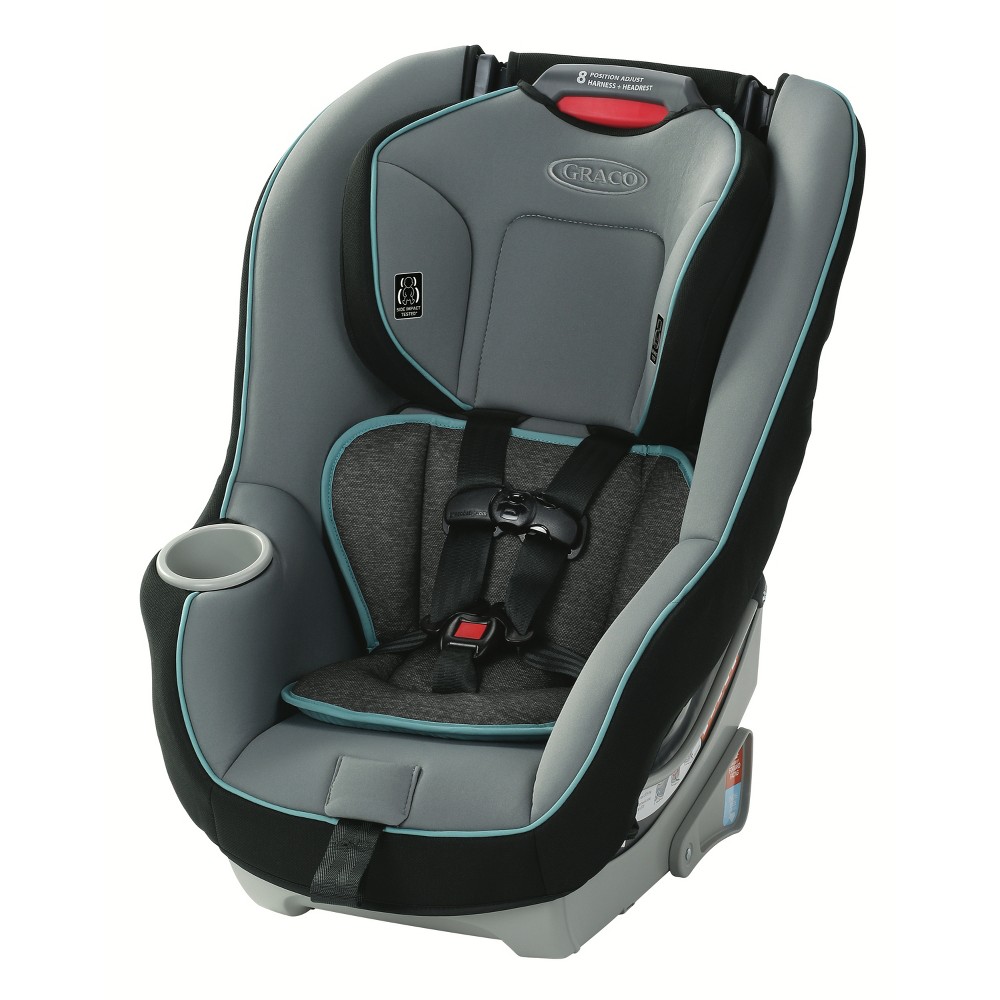 Target.com
$169.99
in stock
1 new from $169.99
as of March 27, 2023 3:48 am
Amazon.com
Free shipping
The Unique Features
Level indicator for installation

Side-impact tested for occupant retention

Simply Safe Adjust harness system

LATCH system

Front adjustment strap
The Latch System 
This seat can be installed via the LATCH system or belt path depending on your personal preference. If you do plan to use the LATCH method, keep in mind that you shouldn't use this system if the combined weight of your child and their seat exceeds 65 pounds.
To make installation even easier, this seat comes with an easy-to-read level indicator to make sure your seat is reclined in the correct position. The head and body support pads are removable and the seat pad is machine-washable to make for easy cleanup.
We like this car seat a lot because it comes in three different sleek color designs: Glacier, Black Carbon, and Smythe. The Contender 65 also comes with a convenient cup holder to hold your child's drink or snack as well. On top of this, it's certainly one of the most budget-friendly car seats offered by Graco.
The Graco Brand 
When shopping around for baby gear, chances are high that you'll come across a Graco product. Whether it be car seats or baby swings, Graco has been a leader in the baby business for decades. They place major importance on the durability and safety of their products, which is why parents seem to gravitate toward them.
Graco baby products started with the invention of the Swyngomatic, an idea designed by Rex Thomas and David Saint. These two Graco Metal Products engineers were both dads seeking to find a way to make parenting easier.
It wasn't too long after this that Graco started pushing out new ideas like their travel systems and pack n plays.  As amazing as Graco's line of baby products is, I want to focus on car seats right now, with one seat in particular, Graco Contender 65.
Customer Reviews
It seems the biggest selling point with parents for this seat is its commitment to safety and lightweight feel. Because this seat has undergone extra testing, parents have felt more inclined to buy it for their little ones. Below are the biggest pros and cons of the Graco Contender 65.
What We Like
Easy to install –

Many parents rave about how easy it was for them to install the seat in their car. This is definitely nice because you aren't going to want to spend a ton of time trying to finagle the seat in place.

Convertible seat –

Because this seat is convertible, your child can use it from infancy to preschool-hood.

More affordable than other convertible seats –

A lot of parents have also expressed their positive opinion about the price. While some car seats similar to this one can be upwards of $300, this one is a fraction of that price.

Has undergone additional safety testing –

Along with the required federal safety tests, this seat has also gone through temperature testing as well as extra side-impact protection testing.

Lightweight car seat –

You'll find that a lot of convertible seats weigh roughly 20-25 lbs. This one, on the other hand, weighs in at around 15 lbs.
What We Dislike
Difficult to transfer between vehicles –

Despite being easy to install, there have been complaints about trying to transfer between vehicles when using the seat's LATCH system.

The seat doesn't recline –

This can prove to be an issue when you can't get your child to fit comfortably.

Difficult to adjust –

Parents have also expressed concern about the adjustment strap. It seems that after a few months, the strap becomes extremely difficult to adjust.
Specifications
Dimensions of 27 x 20.8 x 26 in.

Weight with base is 15.22 lbs.

Expires 7 years after date manufactured
Expiration and Warranty Information
It's recommended to stop using this car seat after seven years from the date it was manufactured.  You can easily find the manufacture date by looking on the side of or underneath the car seat. Graco conveniently places all manufacturer information on their seats.
All Graco products come with a limited warranty. This means the company will replace your product, but won't issue a monetary refund.
Any time you have an issue with your car seat, it's recommended to reach out to the company for assistance. More often than not, Graco especially, these manufacturers will give you the answers you need or connect you with the right replacement parts.
If you choose to go with the Grace Contender 65, the limited warranty will be valid for one year beyond the date of purchase. Keep in mind, you'll need to present your receipt as proof of purchase.
How To Remove For Cleaning
To clean this seat properly, there are a few steps to follow. First, remove the seat cushion. The cushion can be run through the washing machine while you clean the rest of the seat. All metal and plastic parts of this car seat can be cleaned with mild soap and water. You can clean the buckle with a damp washcloth and the harness straps can be spot cleaned.
There isn't any information on whether or not you can put the seat cushion through the dryer. To be on the safe side, let it air dry before putting it back into the seat.
How to Install the Graco Contender 65
You can find detailed instructions on how to install this car seat in your owner's manual. Because this seat can be installed in more than one way, it's important to know the correct way to do each method.
If you're on the fence about the Contender and the Extend2Fit, let me highlight the main differences for you. For starters, the Contender is going to be the least expensive of these two options.
The Extend2Fit, however, allows for you to rear-face longer than the Contender does. The two seats are similar in that they use the same harness adjust system and they go through the same types of tests. Both seat pads are machine-washable and both are also LATCH-equipped seats.
Another comparable seat, the Graco Milestone, has similarities and differences to the Graco Contender 65.
The Milestone is one of Graco's more high-end car seats in terms of budget. It is also considered an all-in-one seat with the maximum weight capping at 100 lbs.
The Milestone also comes with two cupholders rather than one and the two cupholders are also removable.
Unlike the Contender, the Milestone is made of a steel-reinforced frame and has an easier LATCH system.
Despite these differences, here's why we prefer the Contender 65 over the Milestone
Less expensive

Cupholder doesn't stick out

Super comfortable
Accessories for Graco Contender 65
Sometimes just a car seat is not enough. There is a range of accessories that could help make baby's ride more comfortable.
It's a great addition to add to the Graco Contender 65. This additional support not only adds comfort but provides additional safety for baby. It has belt slots that work with the harness system and has snaps that keep baby securely in place. It is made of comfortable soft fabric and is easily removed for cleaning.
These Nuby Strap Covers provide additional comfort, and add style to boot! Nuby car seat covers are reversible so you get two styles in one. They provide added cushion to the straps so baby does not get irritated. Nuby strap covers go on and off easy with simple velcro closures and can even be removed to put on other baby items such as a stroller. They are super soft so baby will love them!
Another accessory that may be quite helpful is a car seat sun shade from OxGord. The OxGord Car Seat Sunshade Covers will help keep the car seat cool in the summer months, reducing the chance of the baby getting scalded by hot buckles.
It slips right on, so it is easy to install and easy to remove. Storage is easy as it folds into a small bundle and can be thrown in the back pocket of the seat for easy access in the future.
It's a great accessory for rear-facing babies.It can give both parent and baby an opportunity for a quick check-in for added peace of mind.
Baby and Mom's wide-angle convex mirror provides a full view of your baby and the surroundings. It is made of shatterproof glass and has 360-degree adjustability.
Frequently Asked Questions
Does Graco Contender recline?
There are 2 base recline positions, but the seat itself does not recline.
When should I replace my Graco car seat?
Safety rating changes regularly as new data is revealed. You should not use the Graco Contender 65, or any car seat, for more than 7 years.
How much does the Graco Contender 65 weigh?
The car seat weighs 15.2 pounds.
How wide is the Graco Contender 65 Convertible Seat?
The Contender 65 seat holds an infant in a rear-facing mode from 5-40 lbs. and a toddler in a forward facing mode in a 5-point harness from 22-65 lbs.
Can a Graco car seat fit in any Graco stroller?
The Graco Contender 65 cannot fit in a stroller. However, the car seat is paired with the Graco Click Connect Travel system. However, you would need to purchase the Click Connect infant seat for compatibility.
Do Graco car seats need to be replaced after an accident?
Yes. Car seats should be replaced after any crash.
Is the Graco Contender 65 suitable for small cars?
The car seat is perfect for a small car. However, some parents claim that they need to install in the middle seat. Some others say that it does not leave much room for driver or passenger seat adjustment.
Can the car seat cover be removed to wash?
The Graco Contender 65's car seat is easy to remove and wash. Spot cleaning is also effective.
Does this car seat stay in the car, or is it used to carry infant around?
This Graco Contender 65 is not an infant carrier. It is meant to stay stationary in the car. The child is placed in and removed each time he or she travels.
Can you use this seat on airplanes?
The Graco Contender 65 is certified to be used in aircraft. It is always a good idea to contact the airline to be sure that the seat meets their size and weight requirements.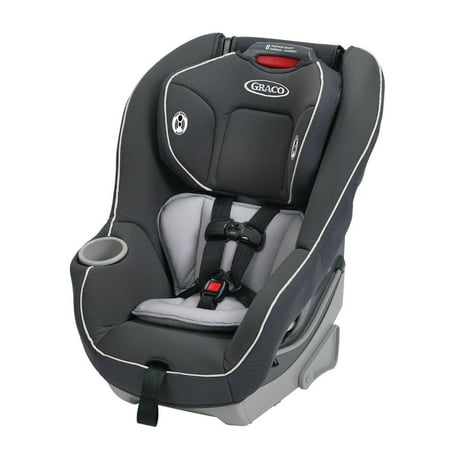 Walmart.com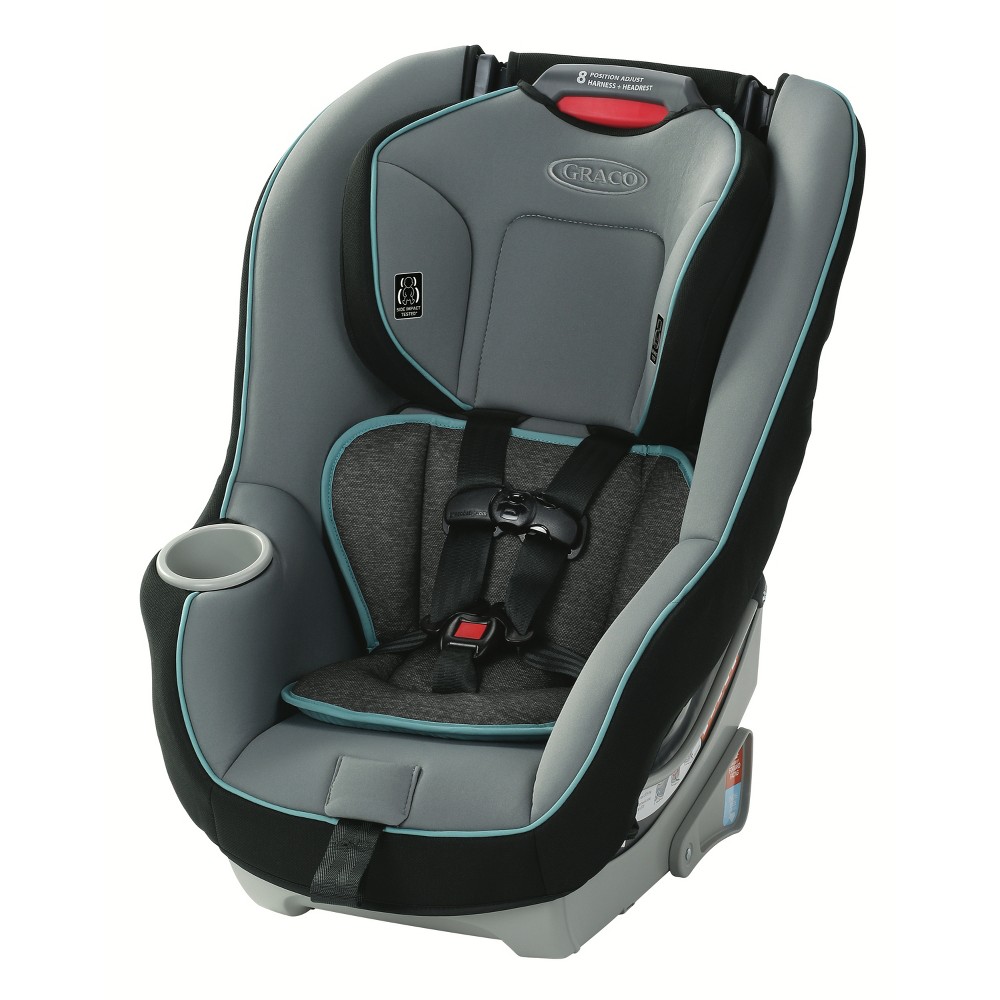 Target.com
$169.99
in stock
1 new from $169.99
as of March 27, 2023 3:48 am
Amazon.com
Free shipping
Here's what to do when installing a rear-facing position using the seatbelt
Make sure the LATCH belt is securely stored in its storage spot.

This is usually right under the seat or behind.
Place the seat rear-facing in your desired spot.
Thread the vehicle's seatbelt through the rear-facing belt path.

Again, this path is labeled in blue. You'll find the rear-facing belt path underneath the seat pad.
Make sure the belt is threaded between the harness buckle slots.
Press down firmly on the seat while tightening the seat belt.

It's important to do this because it will ensure there isn't any slack in the seatbelt.

Check your work.

Make sure the seat doesn't move more than 1 in. in any direction. The level indicator should be completely in the blue zone as well.
To install forward-facing with the seatbelt, follow these instructions
Store the LATCH belt in its designated spot.

Make sure the recline flip foot is in the forward-facing position.

Unhook the tether from its storage spot.
Place the seat, front-facing, in your desired area.
Thread the vehicle's seatbelt through the forward-facing belt path.

Again, this belt path is labeled in orange.

Press down firmly while tightening the seatbelt.

Make sure the seatbelt is locked and then check to see if the seat moves.

The seat should not move more than 1 in. in any direction.
Attach your tether to the designated area.

The tether hook is typically located behind the headrest of your backseat.
Installing via the LATCH Method
Here's how to install the Contender 65 via the LATCH Method: Depending on whether you're installing this seat in rear-facing or forward-facing mode, there is a specific way to do it.
To install in rear-facing mode, here is what to do
Make sure the recline flip foot is in the rear-facing position.

This helps make sure the seat is in the correct recline position for babies and young toddlers.

Feed the LATCH belt through the rear-facing belt path.

The rear-facing belt path is labeled in blue.

Place the seat in the desired location.
Extend the LATCH belt to maximum length.

This will help you make sure you can get it as tightly secured as possible.

Attach hooks to the lower anchors in your back seat.

Check that the belt is laying flat and isn't twisted. Pull the hook connectors to make sure they're securely attached.

Press firmly on the seat as you tighten the LATCH belt.

This will keep the seat in one spot, ensuring the most secure fit.

Do a final check.

The seat shouldn't move more than 1 in. in any direction. The level indicator should be in the blue area to ensure it's sitting flat.

The tether part of the LATCH system should never be used in rear-facing mode.
To install the seat in forward-facing mode using the LATCH system, here's what you need to do
Make sure the recline flip foot is in the forward-facing position.
Feed the LATCH belt through the forward-facing belt path.

The forward-facing belt path is labeled in orange.

Unhook the tether from its storage area.

You're going to need to use this in forward-facing mode to keep the seat in place.

Place seat in the desired area.
Extend the LATCH belt to maximum length.

Again, this will help you get the most secure fit.

Attach the LATCH connector hooks to the anchors on your car's seat.

Make sure the belt is flat and has no twists. Pull the connector hooks to make sure they're secure.

Firmly press down on the seat while tightening the LATCH belt.

This ensures the seat stays secure in place. 

Make sure the lower belt stays tight. 
Attach the tether.

The spot for the tether is typically located right behind the headrest in the backseat.
Installing via the Seatbelt Path
If you don't want to deal with LATCH or your child has exceeded the weight limit for that system, you can still install the seat via seatbelt. Just like with the LATCH system, the instructions differ slightly from rear-facing to forward-facing.
Parting Thoughts
It's no question that Graco places a major focus on the safety and durability of their products. After all, they've been in business for literal decades! Their Contender 65 car seat is no exception to their promise of safety and durability.
With their occupant retention side-impact testing and EPS energy-absorbing foam, your child is sure to be safe while riding in it. Not to mention they'll be super comfortable too!
Have you tried this car seat? Let us know your comments in the section below!