Most Graco strollers feature a "Click Connect" capability.  This feature means that the simple attachment method of Graco Click Connect car seats to compatible strollers.There are a variety of Graco strollers.
In this Graco click connect stroller review, we will look at strollers with the click connect feature. Click Connect uses an adapter built into the car seat to securely lock into an accepting stroller. 
1. Graco Modes Click Connect Stroller
Perhaps the most popular of the Click Connect stroller line is the Graco Modes. This stroller is the most adaptable in that it grows with your little one from the infant stage to the toddler stage.
It is extremely versatile offering three stroller modes and ten different riding positions for occupants. The three available "modes" are an infant carrier attachment, an infant stroller, and a toddler stroller. The Click Connect functionality allows your Graco car seat to attach in one easy step.
The Seat Attachment 
As an infant stroller, it uses a carriage seat attachment that can be rear-facing and recline flat. In this position, the five-point harness will help to keep your little one secure.  The forward-facing toddler seat has various reclines and leg rest positions. The five-point harness can transition to a three-point harness if you so choose.  
There are many other features to love about the Graco Modes. A tray for parents includes covered storage and two cup holders. The child's tray, also replete with cup holders, pivots for easy access to your little one. The lower basket will fit any additional items.
Extendable Canopy 
The stroller also offers an extendable canopy and locking front swivel wheels for enhanced maneuverability. When you are done strolling, the Modes can be folded with only one hand and features an automatic lock. With a weight range spanning from infants to fifty pounds, this stroller can be used for quite a few years.  
Specifications
Weight: 23.36lbs

Height: 41"

Width: 23.5"

Length: 27.5"
Recommended Use
Maximum weight of 50 pounds
What We Like 
Extremely versatile, various reclines, leg rest positions, and riding options

Harness height straps adjust and can be used as a three-point or five-point harness 

Accepts all Graco Click Connect car seats

Lightweight 
What We Don't Like 
Plastic wheels may not be durable over time

Some assembly and disassembly required when transitioning between modes and for cleaning
Unique Features
Three stroller modes

4 recline positions

10 riding positions

3 leg rest positions

Plenty of storage

Locking front wheels
Customer Reviews
Customers generally love this lifestyle stroller that grows with your child, all while keeping them safe and comfortable. In addition to catering to stroller occupants with a tray and cup holders, it appeals to parents. Moms, dads, and caregivers delight in the parent's tray, basket storage, and easy folding. 
However, some stroller owners did not like that the wheels were made of plastic. They can occasionally squeak and may not hold up over a prolonged period. Additionally, the four-wheel setup instead of three wheels can be difficult to steer with only one hand. 
Likes
Versatility 

Easy to collapse and transport

Lots of storage 
Dislikes
Wheels made of plastic 

4 wheels hard to maneuver with one hand
Compatibility
The Graco Modes stroller easily connects to any click connect car seat. Additionally, the infant seat and toddler seat also easily lock into place. The Graco Modes stroller is not compatible with any other manufacturers' car seats and there does not appear to be any off-brand adapters available. 
Available As a Travel System
If you are searching for a great bundle of baby products, consider the Modes travel system. The package includes the Modes stroller, Graco's SnugRide 35 Click Connect infant car seat, and it's a compatible base.
You won't have to worry about adapters or changing products on the go as the SnugRide 35 easily transitions from the base to the stroller with Click Connect. 
Why is the Graco Modes a Great Stroller?
The Graco Modes is a great lifestyle stroller, especially when compared to other brands. It offers the versatility of having three unique strollers in one for each stage of your little one's development.
Click Connect equipped Graco car seats seamlessly and securely attach to the Modes stroller. After the car seat stage, your child will be safe, secure, and comfortable first in the infant seat and then in the toddler seat. 
2. Graco Click Connect DuoGlider Double Stroller
Another popular stroller among parents with more than one child is the Graco DuoGlider Stroller. Possessing many of the same qualities as the Modes, it is equipped with Click Connect.
This narrow dual stroller features front to back "stadium-style" seats instead of side by side. Each seat is equipped with Click Connect to effortlessly lock in any Graco Click Connect car seat. 
Once your little one can use the stroller without their car seat, the two child seats can be attached. They each recline and have their own canopy and footrest. Both seats will accommodate children weighing up to forty pounds. If your children are of different ages, the rear seat reclines completely flat to function as an infant bassinet. 
The DuoGlider offers all of the wonderful features found on the Modes stroller. This includes child trays with cup holders, a parent tray with cup holders, a big storage basket, front swivel wheels with locking capability. When you are done with your walk, the stroller easily folds down and can be latched closed for transport or storage. 
Specifications
Weight: 29.5lbs

Height: 41"

Width: 20.5"

Length: 36"
What We Like 
Stadium style seating is narrower than side-by-side seating

Each seat can accept a Click Connect car seat or child seat

Has all of the great features of the Graco Modes 
What We Don't Like 
Large even when folded

When a car seat is connected to the rear position, the storage basket is difficult to access

Child seats do not both recline to the same degree
Unique features
Both child seats have a footrest, canopy, and tray with cup holders

The rear child seat lays flat for infant use

When a car seat is attached both the car seat canopy and stroller canopy can be used together to provide full coverage
Customer Reviews
Owners of the DuoGlider like the fact that this stroller can accommodate two children and still offer many of the characteristics of the Modes stroller. The ability of the rear seat to lay flat for a younger child while the front seat remains upright is appreciated. 
Customers did not like the fact that the positions of both seats cannot be modified. Both seats must remain facing forward and cannot be moved to rear-facing or to face each other. Additionally, as with the modes, parents disliked the quality of the plastic wheels.  
Likes
Stadium style seating

The versatility of rear seat to fold to infant bassinet
Dislikes
Lack of facing options for each seat

Plastic wheels

Inability to reach the basket when a carrier is attached
Compatibility
The DuoGlider accepts two Graco infant Click Connect car seats. It also has two child seats that can be removed or attached. No other car seats can be securely attached and Graco does not make an adapter.
It may be possible to find a third party bar adapter to accommodate a car seat manufactured by a company other than Graco. However, this may void your Graco product warranty.  
How Does it Compare to Other Dual Strollers?
Reviews on the Graco DuoGlider were relatively mixed. Parents liked how easy it was to connect their infant car seats and that a combination of a car seat and a child seat could be used. They also appreciated Graco's inclusion of many comfort and storage features.  
However, most owners felt that the seats did not provide enough versatility.  The direction of the seats cannot be changed. Furthermore, they only provide one recline position (and to different degrees) and the footrests do not adjust. Finally, parents questioned the quality of the wheels and found it difficult to maneuver over rough terrain.  
3. Graco Pace, FastAction Jogger, and the LiteRider
Other Graco Click Connect strollers worth mentioning are the Pace, the FastAction Fold Jogger, and the LiteRider.  The Graco Pace Click Connect stroller is a paired down version of the Graco Modes. It accepts a Graco SnugRide Click Connect infant car seat or can be used with the reclining toddler seat. Unlike the Modes, it has a sporty three-wheel design with a locking front wheel. A canopy, child's tray, parents tray, and storage basket are included. The stroller can be used with children weighing up to fifty pounds. 
The Fast Action 
The Graco FastAction Fold Jogger Click Connect stroller is the sport version of the Pace. It has all of the features of the Pace, including the three-wheel setup. However, the FastAction stroller's wheels are large rubber bicycle-style wheels. They provide increased suspension and are ideal for jogging as well as walking.
Two-position Recline 
The Graco LiteRider LX stroller can be considered a fancy umbrella stroller. It accepts any Graco Click Connect infant car seat or you can use the two-position recline toddler seat for a child up to fifty pounds. The stroller does not skimp on any features and includes a child's tray, parent's tray, canopy, storage basket, and convertible harness. Unlike the previous two models, its wheel system resembles the Modes in that there are four and the front two can swivel or lock. 
Similarities
Click Connect equipped

Reclining toddler seat

Childs tray and parents tray

Canopy

Storage basket
Differences
The LiteRider is considered an umbrella stroller and has a four-wheel setup

The Pace and FastAction Fold Jogger have a three-wheel setup

The FastAction Fold Jogger has rubber bicycle wheels with suspension 
Price Comparison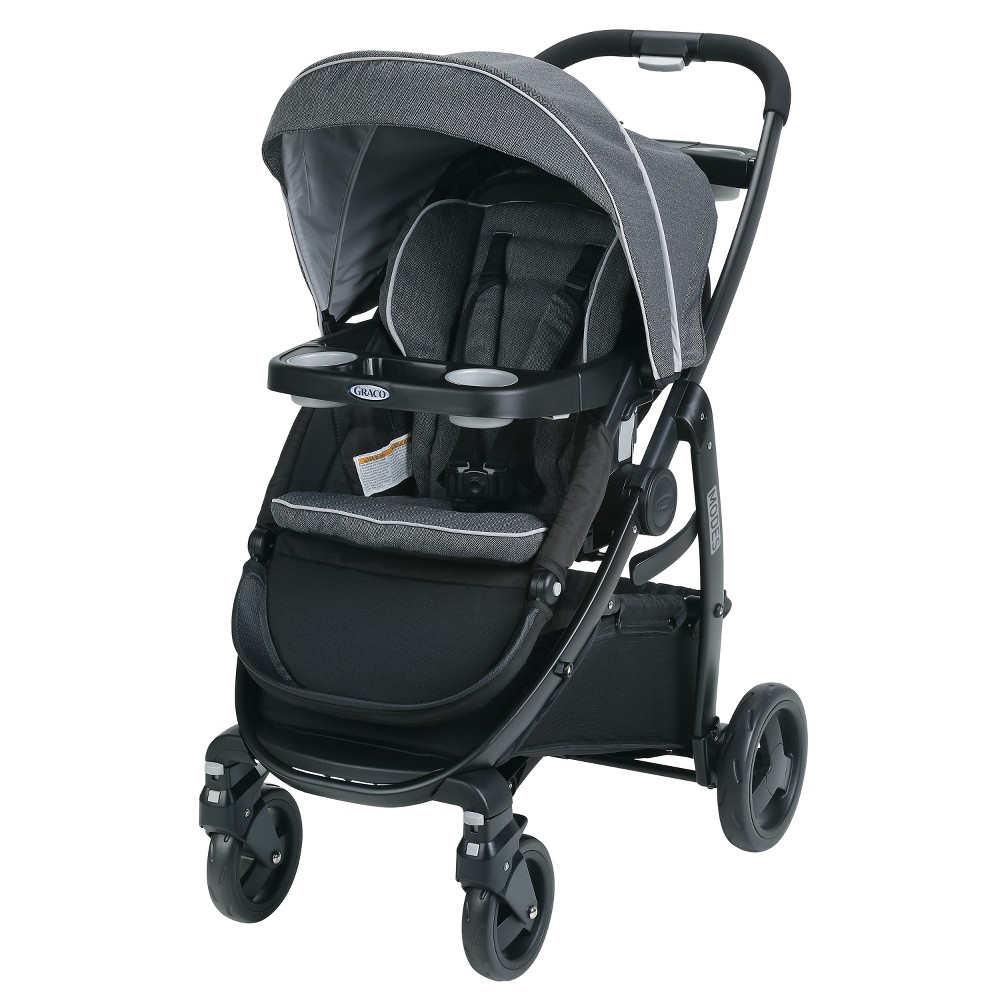 Target.com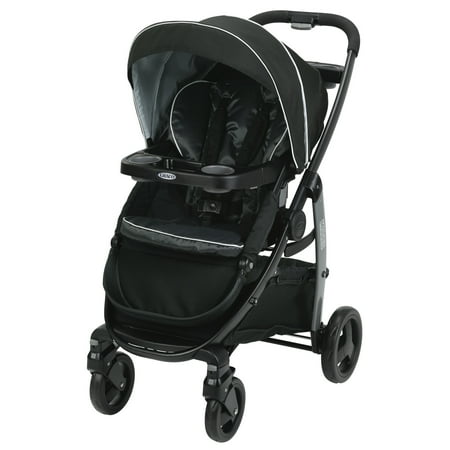 Walmart.com
Recalls
One recall was found for the Graco LiteRider. On November 20, 2014, Graco recalled this stroller model due to the folding mechanism. The folding hinge was found to pose a hazard to children's fingers resulting in cuts or amputation. Products affected: Strollers produced between August 1, 2000, and September 25, 2014
Solution
Customers should contact Graco for a repair kit free of charge. Until the kit is received owners should be exceedingly cautious when using the stroller; making sure the hinge is locked and fingers are kept clear. 
Expiration Dates
Unlike car seats, strollers don't expire and you won't find a manufacturer's expiration sticker on the product. However, after prolonged use, they may break or fall into disrepair. Only use your stroller if it is functioning properly and safe to do so. 
Warranty
Graco provides a limited warranty on their products, providing your state allows limited warranties. Therefore, depending on where you live all exclusions may not apply to you. In general, Graco's warranty extends up to one year after the date of purchase. If a problem arises during the warranty period, Graco advises that you contact them so that they may replace or repair the part. 
Cleaning
The frame of the stroller, including all plastic and metal pieces, and the seat pad can be spot cleaned. To do this you should use a cloth, warm water, and mild soap. Bleach should never be used on the stroller. If you encounter squeaky wheels, light oil may be applied. 
Frequently Asked Questions 
What strollers are compatible with Graco Click Connect?
The following Graco strollers accept Graco Click Connect car seats. However, the specific car seat may vary by the stroller model. 
Modes

FastAction

DuoGlider

Pace

LiteRider

Trax Jogger

Comfy Cruiser

Ready2Grow

Verb

RoomFor2

Relay

Breeze
Are all Graco strollers Click Connect?
No, not all Graco strollers are equipped to accept Click Connect car seats. 
How do you use the Graco Click Connect stroller?
Here is how to connect your car seat using Click Connect. If the toddler seat is not removable, be sure to take off the tray and fully recline the seat.
Next, line up the car seat properly with the Click Connect receptacle on the stroller. Push down firmly until you hear an audible click.
Do all Graco car seats fit in strollers?
Not all Graco car seats fit in strollers. Graco strollers that accept Click Connect Graco car seats may fit a specific car seat model or more than one car seat model.
Some Graco strollers do not accept any car seat. Not all Graco car seats can be used with a stroller.
Large Variety 
Graco Click Connect is a wonderful addition to their car seats and strollers. They offer this feature on a variety of strollers, but parents particularly like the Graco Modes stroller.
Parents of more than one child will appreciate the Graco DuoGlider.
However, Graco doesn't disappoint with any of the Click Connect strollers mentioned above, as they all have a plethora of comfort and safety features.