Graco is another brand that is loved by parents all over the world. We got our hands on their Air3 Click Connect Travel System and tested it out. We found it to be a great option for families who travel frequently and need a travel system to keep up with their busy lifestyle. 
The stroller itself can accommodate children up to 50 pounds and smaller infants and children can use the reclining seat for optimal comfort. We loved how much space there was in the storage basket and the extra-large canopy with a zippered sun visor. It came in handy while going on walks outside in the sun. 
In terms of safety, the five-point harness was easy for us to adjust. There is also a removable pillow that gives your little one body and head support in the car seat. It is made with EPS foam and has been side-impact tested to meet all safety standards. Not only that, but it's very easy to latch to the stroller base. 
We loved this stroller and carseat combination and is well worth the price. We appreciated the swivel wheels, cup holders, safety features, and ease of use. The only issues we found were that the car seat harness has to be manually adjusted and the stroller can be difficult to maneuver on rough surfaces. 
Price Comparison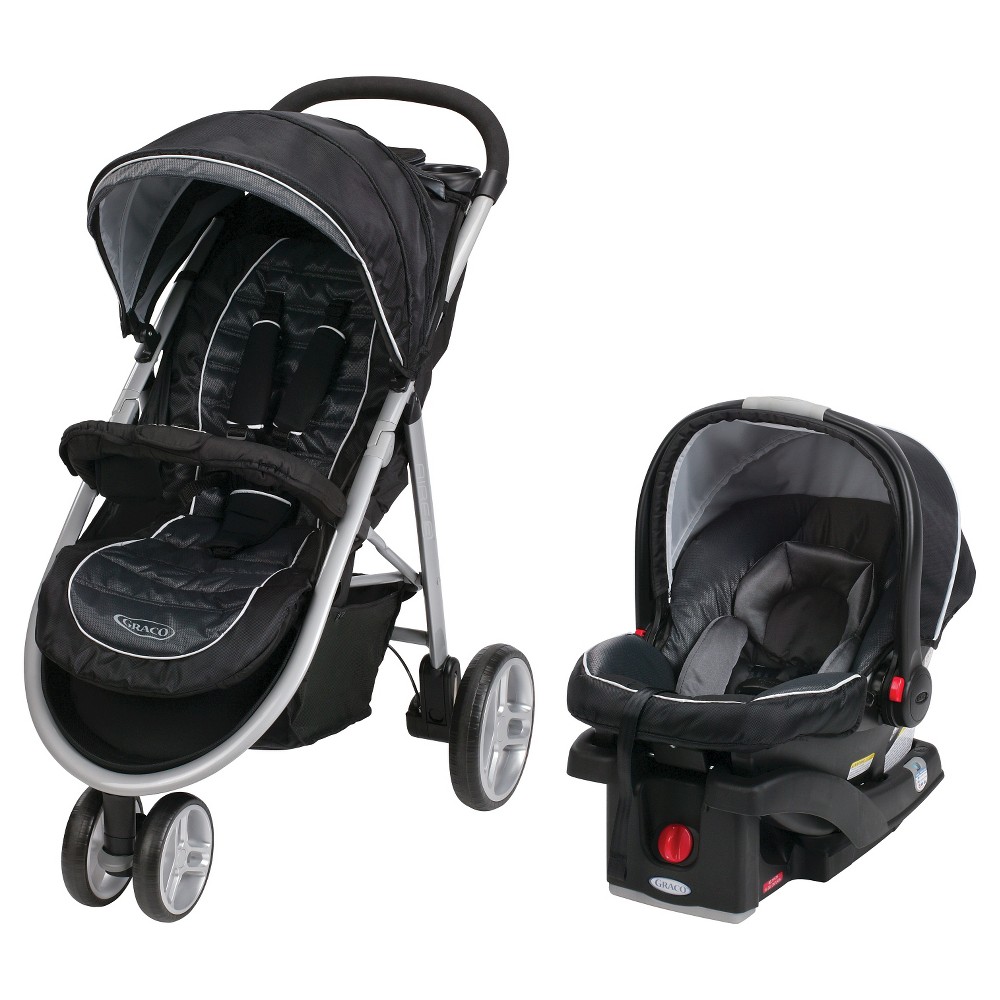 Target.com
out of stock
as of November 21, 2023 2:19 am
Amazon.com
The Graco Aire3 Combo
The Graco Aire3 travel system includes the Aire3 stroller, SnugRide SnugLock 30 infant seat, and the SnugLock base. The Aire3 is a relatively lightweight stroller designed for optimum maneuverability.
Its three-wheel setup is perfect for navigating tight spaces with your little one. Transport and storage never have to be a concern. It is outfitted with a one-hand, one-second fold system.
When folded it auto-locks to stay folded and is free-standing. It also includes a strap for simple carrying. The stroller is equipped with many comfort features.
Parents receive a tray with storage and two cup holders. This is in addition to a spacious basket underneath. Stroller occupants will love the extra-large canopy with zippered sun visor and reclining seat. The removable armrest bar even includes a child cup holder.
Multipurpose Stroller
This stroller can accommodate riders weighing up to 50lbs. Smaller children and infants can use the child seat that reclines completely flat. Alternatively, the click-connect feature allows it to attach to any Graco SnugRide infant seat.
The convertible three- or five-point harness will keep any occupant safe and secure. The Aire3 travel system is specifically bundled with the Graco SnugRide SnugLock 30 infant car seat.
This seat was designed for simple and secure protection.
The five-point harness can be easily adjusted from the front. A removable pillow provides head and body support for little ones. The seat shell is complete with energy absorbing EPS foam. Additionally, it has been side-impact tested and crash-tested to meet all safety standards. Tests prove it can even withstand extreme temperatures. 
Effortless Installation
The base is tailored to make every aspect of installation effortless and accurate. Like most bases, it includes a level indicator and click-connect attachment. However, it also has four recline positions and SnugLock Technology. SnugLock is an included lock-off system.
To install the base, adjust the recline, and use the LATCH system or your vehicle's seat belt to secure it. Then tighten the belt or straps. Finally, lower the SnugLock arm until it clicks. This very tightly locks the base into place, allowing for minimal movement.  
All three components offer safety, comfort, and convenience while not being too bulky or flashy. This simple system is ideal for active families who enjoy travel.  
Recommended Use
Car Seat: accommodates infants weighing 4-30lbs and up to 30"

Stroller: can accommodate children weighing up to 50lbs
Graco Aire3 Travel System | Includes The Lightweight Aire3 Stroller and SnugRide SnugLock 30 Infant Car Seat, Gotham
out of stock
Buy Now
Amazon.com
as of November 21, 2023 2:19 am
Features
Includes the Snug Ride Snug Lock 30 Infant Car Seat, rear facing for infants 4-35 pounds.
Stroller folds easily in one second & with one hand and features a convenient carrying strap for extra portability
Stroller automatically locks and is self-standing, so it's easy to transport & store
Ultra-light stroller weighs less than 21 pounds. so it's easy to lift & carry anywhere
Multi-position, flat-reclining seat creates an infant carriage for your baby's comfort
Unique Features
Car Seat
Rotating sun canopy

Removable head and body pillow

The base features a storage compartment for the manual and LATCH connectors

The base has SnugLock technology

Machine-washable seat pad

7-year lifespan from date of manufacture
Stroller
Carrying strap

Locking front swivel wheel

Child seat reclines flat to become an infant carriage

Canopy includes mesh peek-a-boo window

Single action brakes
Specifications
Car Seat
Seat weight: 7lbs

Seat height: 16.02"

Seat depth: 27.35" 

Listed seat width: 17.75"
Stroller
Depth: 17"

Length: 36.9" 

Width: 34.5"

Height: 40"

Weight: 21.85lbs
What We Like 
The stroller is very portable

Installing the base is secure and easy every time

The car seat is safe and simple 

All components have click-connect technology for enhanced compatibility
What We Don't Like 
The stroller can be difficult to maneuver over rough terrain

The click-connect feature can be challenging when connecting the stroller to the car seat

Car seat harness is not "no-rethread" and has to be manually adjusted
Expiration & Warranty
Graco provides a limited one year warranty from the date of purchase. In the event that your car seat, base, or stroller aren't functioning properly or have damaged parts, contact Graco. If you are within the warranty period the parts or product may be replaced for free. 
Graco Aire3 Travel System vs. Chicco Bravo 
The Chicco Bravo LE travel system is an upgraded and more expensive system than the Aire3. It has quite a few additional features in terms of both the car seat and stroller.
Stroller offerings include an adjustable handlebar, an extra seat cushion with luxury fabrics, and optional conversion to a frame stroller. The car seats are comparable. The Chicco KeyFit 30 Zip has a weight limit of 30 pounds. The bases have similar lock-off technology. However, the Chicco model includes a stabilizing foot. 
Comparing It To Chicco Bravo Trio Travel System
The Chicco Bravo Trio is not as fancy as the Bravo LE. It is more like Aire3 Travel System. The stroller is of a four-wheel design but closely resembles the Aire3 in comfort offerings. One notable difference is the Bravo LE optional conversion to a frame stroller. 
The included Chicco car seat, the KeyFit 30, is nearly identical to the SnugRide SnugLock 30. The bases are also very similar with exception to the Chicco leveling foot.   
Compatibility
The Aire3 stroller is compatible with any Graco SnugRide car seat. The SnugLock base is compatible with most SnugRide car seats. Additionally, the SnugRide SnugLock 30 car seat is compatible with most SnugLock bases.  
Honest Customer Reviews
The Graco Aire3 travel system receives decent reviews. Parents find that the stroller handles well and provides just enough comfort features. The simple fold and free-standing mechanisms are well-liked.
The car seat base installation offerings are greatly appreciated for being user-friendly and safe. Though parents like the SnugLock technology for safety, it does have a drawback.
It makes the base very difficult to detach from the car. Additionally, parents love the "snug" aspects of the seat though some find it too narrow and shallow. In the end, some included features have strong advantages, but these also pose problems. 
What Parents Like
The car seat is very light and compact

The stroller is lightweight, and many tasks can be completed with one hand

SnugLock technology makes installation very safe and super simple
What Parents Don't Like
The stroller storage basket is hard to access due to child seat

The car seat canopy often falls back during travel

Ease of use of the system

The stroller is not recommended for rough terrain
out of stock
as of November 21, 2023 2:19 am
Simple System For On-the-Go
The Graco Aire3 Click Connect travel system is a great combination of three well-designed products. Each is produced with parent convenience and child safety in mind. Although the system may lack some popular upgraded features, it is still comfortable.
 The ease of installation and simple transition aspects make this a perfect travel system for busy families.  You may also be interested in the Graco FastAction Travel System Review.