We all know how well Evenflo does at cranking out baby products that most parents love. I had the opportunity to test their Elite Travel System and I can't say I was impressed. 
Most travel systems are the same. A car seat attaches to the stroller and that's about it. one would think that having the attachable infant car seat would be convenient, but while it may seem practical, I found it rather difficult to attach to the stroller.
It took me some practice before getting it right.  Even though I did find that the stay-in-car base was convenient, it just wasn't enough for me. 
I do have to admit that even though the stoller was slim when folded, it was a pain in the neck to fold in the first place. It does require two hands, which may make it difficult if you have a baby on your hip. Also, the canopy that comes attached to the stroller was flimsy and did not provide enough protection from the sun. 
I can say with 100% honesty that I don't recommend this travel system, even at such a low price. There are other Evenflo travel systems that you would benefit from that may cost just a little more, but may be worth it.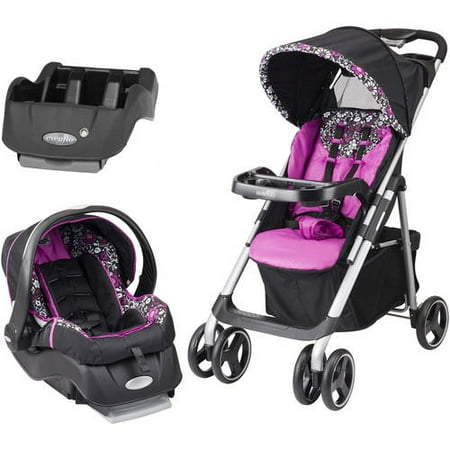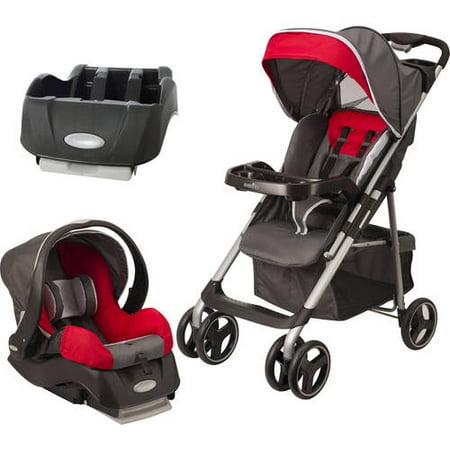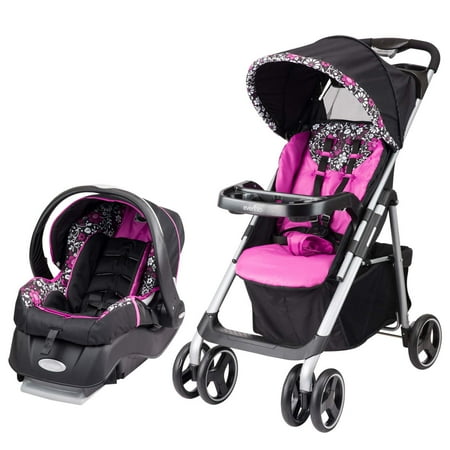 What Makes It Unique?
What makes the Evenflo Vive travel system with Embrace infant car seat a winner? A few special features make this system stand out. 
Stroller is roomy, but it offers a slim and compact fold

Includes a stay-in-car base that makes transporting baby a breeze 

A large storage pouch on the back of the stroller
Pros and Cons
The Vive Elite travel system is a great option for parents on the go. The large basket on the bottom of the stroller can fit a 17" diaper bag. If you've ever struggled to shove a large bag into a stroller basket, you can appreciate this accommodation!
Still, if you have smaller items or simply ones you need to keep close, this stroller has a handy pouch behind the child's seat.
While on the go, the size of a stroller folded can be a deal-breaker. After all, you need room for groceries and other items in your car's trunk besides your stroller.
The Evenflo Vive stroller has an Ultra Slim fold (16"), making it easy to transport. You won't be struggling for space.
Still, you may not like having to fold the stroller. While some strollers feature a one-hand fold, this Evenflo stroller does not. It does require two hands to collapse the stroller. It isn't a total deal-breaker, but it is worth noting.
With travel systems, parents tend to transport the infant car seat with them. When going into a store, for example, a mother can choose to carry her newborn in the car seat.
If you should, however, prefer to not lug around a car seat, you might need to reconsider this travel system. The Vive's stroller does not have a newborn insert. The product is intended to be used in conjunction with the car seat for infants under six months old.
Pros
Affordable

Easy to install

Ultra-slim fold

Storage pouch on back of stroller
Cons
Need two hands to fold stroller

Stroller does not have newborn insert
Safety Ratings
The Evenflo company promises that their products go and beyond the standard safety regulations. You can trust the Embrace car seat included the Evenflo Vive Sport travel system.
The car seat has a full list of safety accommodations. This list includes being designed and tested for structural integrity at energy levels approximately two times the federal crash test standard.
It has also been tested for product integrity in extreme temperatures. For travelers, rest assured – this seat and its five-point harness meet FAA requirements for plane travel.
Expiration
Per the manufacturer's website, most Evenflo cat seats expire six years from their date of manufacture. The Embrace car seat featured in the Vive travel system falls under that six-year coverage.
To be sure of your car seat's expiration, be sure to check the label on the back or bottom of the seat. Evenflo labels include both the manufacture and expiration date.
Recalls
The Evenflo brand has faced several recalls. In 2010, one of its cribs was recalled due to fall and suffocation hazards. In 2014, the brand recalled its convertible car seats due to an issue with the harness buckle.
Evenflo recalled its Transitions and Evolve car seats in 2016. Despite that list of recalls, the Vive travel system has not been subject to any recalls since it was released. With this in mind, try not to be intimidated by the other product recalls.
Evenflo tends to be proactive. All the previous recalls were voluntary and preemptive. No injuries were reported before the recalls. Rest assured, Evenflo is looking out for you and your little one. 
Warranty
Evenflo has a "peace of mind" policy. This includes a warranty and a return policy. If you decide the Vive travel system is not for you, you have thirty days to return the unused product. 
The warranty lasts 90 days and covers any defects. This does not include normal wear and tear. Customers should be sure to register their Evenflo product with the manufacturer. 
Dimensions
The car seat's dimensions are 27 x 22.5 x 19 inches. The stroller's dimensions, when unfolded, are 35.8 x 41.7 x 20.9 inches.
When folded, the stroller's dimensions are 35.4 x 16.1 x 20.9 inches. The stroller itself weighs 29.8 pounds. The car seat and base weigh approximately 13 pounds.
Colors
The Vive travel system can currently be purchased in two different colors. There is Spearmint Spree. The stroller and car seat are primarily gray with accents of teal. It also has a chevron pattern.
For a more feminine look, choose the Daphne version of the system. Daphne has a base of black with hot pink accents. It also includes a black, white, and pink floral pattern.
Customer Reviews
The Evenflo Vive system has its fair share of fans. Parents love the smooth ride it offers on all terrains, thanks to the stroller's large wheels and powerful front suspension system. Once the car seat is outgrown, placing a child in the stroller is a breeze.
The child tray, which includes cup holders, is removable, making it easy for children to be placed in the stroller. Older children can even climb in themselves. There's a load off a parent's arms!
Not everyone is a fan though. A significant number of parents complained about the car seat connecting to the base. Many parents struggle with getting the car seat to properly connect.
The same problem occurs with snapping the car seat into the stroller. One customer says it takes "practice" to get it right. According to customers, the canopy on the stroller is less than satisfactory. Several reviews remark on the size of it, claiming the canopy is too small to block out any real sunlight. 
What Customers Like
All-terrain wheels and front suspension

Removable child's tray
What Customers Don't Like
Hard to connect the seat to the base

Flimsy and small canopy
Similar Travel Systems
Urbini Omni Plus 3-in-1 Travel System
The Urbini Omni Plus 3-in-1 is a travel system in the same price range as the Evenflo Vive. The systems are similar both in price and function.
Specifically, they both feature an infant car seat, a base, and a stroller. Both strollers fold compactly and find well in most car trunks. Lastly, both strollers have reclining seats for a comfortable ride.
They have their differences, though. For one, the Urbini stroller's seat can be rear-facing or forward-facing.
In the bright sunshine, the Urbini provides more than adequate shade, thanks to its extra-large canopy. Unfortunately, in that sunshine, the child won't have direct access to a sippy cup, because the Urbini stroller has no child tray at all.
Similarities
Both fold compactly

Both strollers have reclining seats
Differences
Urbini's stroller can rear-face

Urbini has an extra-large canopy

Urbini has no child tray
Baby Trend EZ Ride 35 Travel System
The Baby Trend EZ Ride travel system is also similar to the Vive. Of course, both systems include the seat, base, and stroller.
Both brands went above and beyond to provide advanced side impact protection on their infant car seats. Do you have a large bulky diaper bag?
No problem – both the Vive and EZ Ride have big bottom baskets. As your child ages, both strollers will offer a swing-away (EZ Ride) or detachable (Vive) child tray for easy entry.
Why might one choose the Baby Trend EZ Ride over the Evenflo Vive? As mentioned, the Vive cannot be folded with one hand.
Meanwhile, the Baby Trend EZ Ride stroller can. Parents often have a lack of hands, after all, so this is a big deal. Also, taller parents may prefer the adjustable handlebar of the Baby Trend stroller.
Similarities
Both car seats have advanced side impact protection

Both strollers have large baskets

Both strollers have movable child trays
Differences
Baby Trend stroller has a one-hand fold

Baby Trend has an adjustable handlebar

Baby Trend has a three-wheel structure
Graco FastAction SE Travel System
Graco is a familiar name in the parenting industry. Their FastAction SE Travel System is the closest offering to the Evenflo Vive. Both are the same price range. Both feature a compact fold.
As for trays, both strollers have double cup holders for parent and child. As you know, some customers find it difficult to connect the Evenflo seat to its base.
The Graco seat comes with its patented Quick Click Connect, which promises a quick and easy connection. Moreover, the Evenflo stroller requires two hands to fold. The Graco, though, boasts a one-second, one-hand fold.
Similarities
Both fold compactly

Both have large bottom baskets

Both have parent and child trays
Differences
Graco features Quick Click Connect

Graco stroller has a one-hand fold
Deciding on the Evenflo Vive Travel System
The Evenflo Vive travel system might be right for you if you're on the search for a budget-friendly and travel-friendly system. After all, it's lightweight and portable. It meets air travel regulations. The car seat exceeds safety expectations.
The stroller can navigate any terrain. All this comes for a super affordable price. It's important to consider the disadvantages of this system too. Is a two-hand fold fine for you? Do you not foresee the need for a large stroller canopy? Before deciding on your travel system, consider all the angles. You may also be interested in a review of Evenflo Advanced EPIC 3-in-1 Travel System