The Evenflo Sonus 65 Convertible Car Seat is a steal for parents looking for a no-frills car seat with top-notch safety features. It can hold kids from 5 to 65 pounds and 19 to 50 inches – meaning your little one can stay rear-facing for longer, which is awesome!
This car seat has passed all the FAA tests and meets all side-impact standards, so you know your kiddo will be safe and secure. The affordable price tag is just the cherry on top.
Comfort features like built-in ventilation, two cup holders and multiple recline positions make long car rides a breeze. The removable cover is machine washable, a lifesaver for busy parents. And the 5-point harness adjusts in a snap to fit your growing child.
You can even fit three Sonus car seats across the backseat of most vehicles – perfect for big families!
Now, no car seat is perfect and the Sonus has some limitations. But I think you'd be hard-pressed to find a better value for the price. In this review, we'll break down the pros, cons and specs so you can decide if the Evenflo Sonus is the right fit for your little road warrior.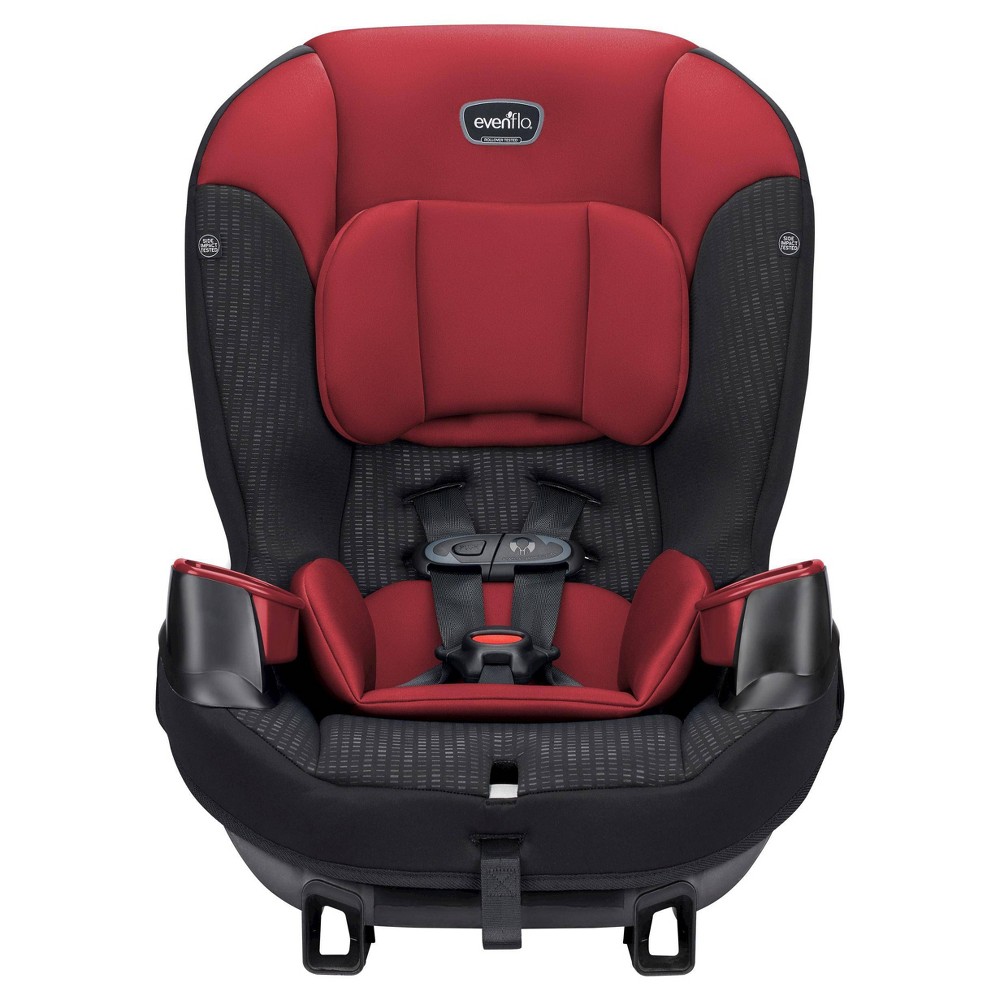 Target.com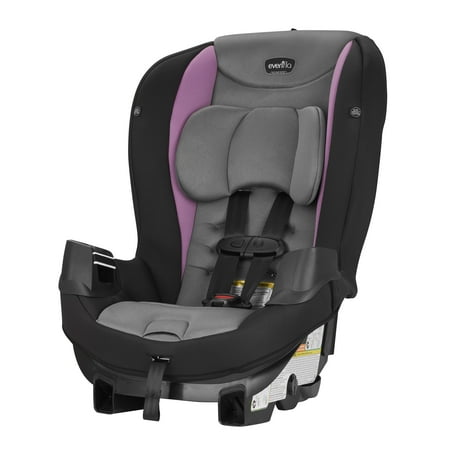 Walmart.com
out of stock
as of June 7, 2023 9:00 am
Amazon.com
Evenflo Sonus Features Detailed
The main reason I recommend the Evenflo Sonus 65 Convertible Car Seat to anyone who cares to listen is that for its price, it has impressive features.
Here are some of the leading ones: 
Evenflo Sonus Structurally Sound
This car seat is safe and designed to go above and beyond regarding side-impact protection and rollover safety. It meets or even exceeds all those important Federal Motor Vehicle Safety Standards (FMVSS 213) for side-impact testing, and it's been put through the wringer with simulated frontal impacts too.
Plus, the Evenflo Sonus is FAA certified for airplane use. With its rock-solid steel frame, adjustable headrest and harness, and integrated belt lock-off system, you can be sure your little one is getting top-notch protection.
Evenflo Sonus Comfort
The Evenflo Sonus is about keeping your kiddo comfy and safe during car rides. It's got two cup holders, a built-in ventilation system, and a five-position harness. That innovative airflow ventilation system is a game-changer for keeping your child cool on those hot days.
The Evenflo Sonus Has An Adjustable Headrest
The Evenflo Sonus has a super handy adjustable headrest to give your child that extra comfort and support they need. With four positions and easy one-hand adjustment, you can customize the fit for your child's size and shape. It helps keep their head secure and reduces neck strain, and the ergonomic design prevents slouching for a comfier ride.
So, if you're after a convertible car seat that's got it all without costing a fortune, the Evenflo Sonus 65 is worth a look. Your child will be safe, comfy, and you'll be one happy parent!
The Evenflo Sonus is Easy To Install
Installing the Evenflo Sonus car seat is a breeze. With a simple three-step process, you can quickly get your little one securely fastened in their seat.
✔️ First, secure the vehicle belt across the back of the car seat. 
✔️ Then, adjust the belt and anchor it to the vehicle's LATCH system or lower anchors.
✔️ Lastly, use the five-point harness to secure your child in the car seat. 
✔️ This easy installation ensures your child is safely buckled into their seat.
Machine-Washable Fabric
The Evenflo Sonus car seat is made from machine-washable fabric, making it an easy and convenient choice for parents. This fabric is designed to be extra durable, helping to ensure that your car seat remains looking like new even after numerous washes. Furthermore, the fabric also keeps your child comfortable, providing optimal breathability and a soft feel.
Other Evenflo Sonus Features at a Glance
✔️ Structural Integrity: The car seat is designed to exceed federal safety standards.
✔️ Fits 3-across: Three Evenflo Sonus seats can fit across the back seat in many vehicles and offers an adjustable base for easy installation. It also easily converts from rear-facing to forward-facing.
✔️ Adjustable straps: The five shoulder strap positions give you a customizable fit for your growing child.
✔️ Wider seat base: With a broader seat base, the Evenflo Sonus provides more comfort for your child.
✔️ Airflow ventilation system: The ventilation system helps keep your child cool and comfortable.
✔️ Double cup holders: Two cup holders can store drinks or snacks nearby. 
✔️ Machine washable cover: The Evenflo Sonus seat pad is machine washable and tumble-dried. 
✔️ Free video support: With free video support, the Evenflo Sonus gives you expert help with installation (see the video below from the YouTube channel Car Seat Clubs). 
Evenflo Sonus Specifications
| | |
| --- | --- |
| Feature | Specs |
| Rear-facing weight range | 5-40 lbs |
| Rear-facing height range 19-50 in. | 19-50 in. |
| Top harness slots | 2 |
| Forward-facing weight range | 22-65 lbs |
| Forward-facing age | Minimum 2 years |
| Forward-facing height range | 28-50 in. |
| Highest harness slot | 17 in. |
| Lowest harness slot | 6 in. |
| Weight | 10.8 lbs |
| Width at widest point | 18 in. |
| Seat depth | 12 in. |
What We Like about the Evenflo Sonus
✅The Evenflo Sonus car seat has been rollover and impact tested.
✅It is also constructed with durable materials that offer excellent protection. 
✅The airflow vent allows your child to stay cool and comfortable. 
✅The narrow width of the car seat means that you can fit three seats across the back seat of many vehicles, maximizing space. 
✅The harness is adjustable from the front, so you can ensure it fits your child perfectly without rereading it through the back of the seat. 
✅This car seat has free video support to help you install it correctly. 
✅The FAA has approved Evenflo Sonus for airplane travel
What We Don't Like about the Evenflo Sonus
❌The Evenflo Sonus only has one recline angle in rear-facing installations, making it challenging to find the right fit for your vehicle.
❌This car seat takes up a lot of passenger legroom in rear-facing installations, making it uncomfortable for other passengers.
❌It does not come with an infant insert pillow, which can be a downside for some parents.
❌The cupholders cannot be used in rear-facing installations, so you won't be able to keep your child's favorite drink within reach.
Evenflo Sonus vs. Evenflo Stratos 65
| | |
| --- | --- |
| Similarities | Differences |
| Both car seats are suitable for infants weighing 5-40 lbs in a rear-facing mode and kids up to 65 pounds in a forward-facing mode. | The Evenflo Stratos 65 offers added protection with its E3 Side Impact Protection technology, which helps keep your little one safe and sound while on the go.  |
| They have both been tested to Federal Crash Test Standards and standard rollover tests.  | Though the Stratos 65 is regarded as a higher version of the Sonus 65, the value range differs by only a few dollars. Therefore, if you're looking for an economical convertible car seat for your child, these Evenflo models could be a great option. |
Evenflo has two great models: Evenflo Sonus and Evenflo Stratos 65.
The Evenflo Sonus and Evenflo Stratos 65 are affordable convertible car seats from Evenflo. They share a lot more in common than differences.
They can both function in rear-facing and forward-facing modes for infants 5-40 lbs. They both can bear kids that weigh up to 65 pounds.
Also, both Evenflo Stratos 65 and Evenflo Sonus have been tested by Federal Crash Test and rollover standard test. These verified the car seats are entirely secure for your kids. As a plus, Evenflo Stratos 65 is sealed with E3 Side impact protection. This would help your kids in the event of a side collision. 
Furthermore, the two seats are temperature monitored and have multiple shoulder strap positions. But, the Stratos 65 has an addition of a 5-position adjustable headrest. That allows you to propel the headrest to the height of your kids. 
We have seen how similar they are, but how are they different? The Stratos 65 is regarded as a higher version of the Sonus 65. Their value range differs by a few dollars. So, if you are on shrunken funds, you could work with the Evenflo Stratos 65.
However, let's check out their distinctive specifications in the table below.
| | | |
| --- | --- | --- |
| Spec | Stratos 65 | Sonus 65 |
| Rear-Facing Weight | 5-40 lbs | 5-40 lbs |
| Forward-Facing Weight | 22-65 lbs | 22-65 lbs |
| Side Impact Tested | Yes | Yes |
| Federal Crash Tested | Yes | Yes |
| Rollover Tested | Yes | Yes |
| E3 Side Impact Protection | Yes | No |
| Safe Installation | Yes | No |
| Air Flow Ventilation System | Yes | Yes |
| Adjustable Headrest | 5 Positions | No |
| Shoulder Positions | 6 | 5 |
| Up-Front Adjust | Yes | Yes |
| Cup Holders | Dual | Dual |
| Machine Washable Pads | Yes | Yes |
Evenflo Sonus vs. Cosco Scenera
The Cosco Scenera is a notably lightweight seat compared to the Sonus 65. The Cosco Scenera weighs about 7 pounds, while the Sonus 65 is close to 11 pounds. With this kind of weight, it would be no bother to carry the Scenera in your car seat backpack. 
Also, the Evenflo Sonus has a weight limit stretching up to 65 pounds, while the Scenera stops at 40 pounds. So, your kids can use this seat until they are two years old, but you don't get that with the scenera. The scenera would require a booster to fit, or you might have to get a new seat for your child.
The Scenera is installed using a latch installment system, like the Sonus 65. This might seem like a good choice, but what happens when your car doesn't come with a latch? It means you can only use these seats with cars that have a latch lock. Notwithstanding, the latch installment system is still safer for your kids. 
The Evenflo Sonus 65 promises your kids to comfort as it is properly padded with a headrest. Well, if you get yourself a Scenera, you wouldn't have these options. Some kids find it stiff for use in long distances.
Evenflo Sonus  Vs Graco Contender
The Graco contender is a convertible seat just like your Evenflo Sonus 65. However, while the Sonus 65 is designed with a feature that protects you from a side collision, the Graco gives you something else.
They are built with energy-absorbing foam to help your kids in the event of a crash.
The Evenflo Sonus and the Graco Contender can be used in a rear-facing position for kids weighing 5 to 40 pounds. But then, in a forward-facing position, it can take babies that weigh up to 65 pounds.  
You can opt for the Graco contender if you want a bit more height for your little one. It has a harness slot of 18 inches, but the Sonus is measured at 17 inches. The Graco, however, doesn't have an adjustable headrest, but the Sonus 65 can be adjusted up to 28 inches.
Finally, regarding pricing, the Graco is way more expensive than the Evenflo Sonus. Evenflo gives you great quality at a friendly price. But in all, they all guarantee your comfort. 
Evenflo Sonus Vs Britax Marathon G4
The Britax Marathon G4 convertible seat is all good, but the Evenflo Sonus has a critical tipping edge. The Sonus has a built-in airflow vent that keeps your kids comfortable during your ride.  
They also have varying measurements. The harness slot of the Britax Marathon G4 is measured at 16 inches, while the Sonus 65 is at 17 inches. Here, with the Evenflo Sonus, you get more flexibility in terms of height.
There are other highlights that the Marathon G4 has that aren't available in the Sonus 65. One of which is the premium lower anchor connectors. This would help connect the seat to your vehicle without requiring a seat belt. This often ensures your child is securely settled for the ride.
Ultimately, the Britax Marathon G4 has an anti-rebound feature that helps guard against a crash's tension. Additionally, checks any forward movements. This lets your kids stay seated even in the event of a collision. The Evenflo Sonus 65 and the Britax Marathon G4 are both exceptional seats. Yet, what matters is what design you think you should align with.  
Final Verdict
The Evenflo Sonus is that convertible seat that provides for your little one till they rise to weigh 65 pounds. It was designed to keep your child safe still when you are involved in a collision. The seat braces your child and checks for any unnecessary forward movement. 
The Sonus is that seat I'll prescribe for you if you require something to keep your child comfortable. The ventilation features constantly get the kids cool enough during the ride. You don't have to fret about summer heat with this seat. You may be interested in the Evenflo EveryFit 4-in-1 Review