I have never had an issue with an Evenflo product, which is why I was so excited to be able to test the Evenflo EveryStage DLX. I certainly wasn't disappointed. 
As a person who's always looking for a bargain, I couldn't help but to be impressed by this bargain car seat. The Evenflo EveryStage DLX can handle 10 years of use or until your child is 120-pounds whereas a Graco convertible car seat typically only has 6. 
I also noticed that this car seat has a ratchet system for installing the car seat, something I didn't see on comparable seats. It eased my nerves because it made it certain that it was installed correctly. At first I was concerned that I would have to redo it when it came time to adjust the straps, but it's a no rethread design so I didn't have to remove the car seat to do so. 
I was a huge fan of the machine washable fabric and dishwasher-safe removable cup holders. It certainly makes maintenance easy and time-saving. Most car seats do have removable padding, but not all of them have removable cup holder inserts.
I highly recommend this car seat not only because it's safe, but it's affordable given all of the features that come along with it. I enjoyed testing it and found it to be both practical and versatile.
Price Comparison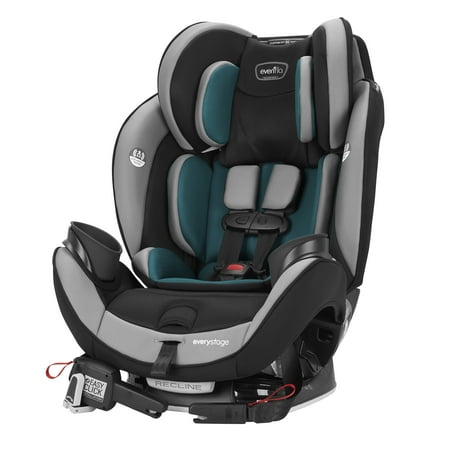 Walmart.com
out of stock
as of December 3, 2023 3:27 pm
Amazon.com
Some of the unique additions include
EasyClick LATCH system

Wiggle free placement

10 different positions

Accurate fit

Minimizes head slumping

Longer rear-facing design

Machine washable padding

Washable dual cup holders

Real-time chat and live installation support
Due to the creative design, this seat is ideal until the child reaches 120 pounds. Additionally, multiple positions allow children up to 40 pounds to remain rear-facing for extra protection.
Exceeding industry standards for the front, side-impact, and rollover tests, this is one of the top car seats around. A simple, one-handed adjustment allows for this car seat to be altered without removing it. The positions change to fit nearly any vehicle. Additionally, the padding can be removed for fit.
Installation
Evenflo EveryStage can be secured in seconds, adjusted with one hand, and comes with ParentLink online chat experts. To further put the mind at peace, Evenflo EveryStage's rollover tests assure safety beyond industry standards.
Rear-Facing with Harness
Rear-facing child seats are for children 22 pounds or less but can be used for those up to 50 pounds. To get started, use the directions below:
Remove the lower anchor connectors and make sure the seat is reclined for comfort.

Make sure the car seat sits flat.

Check the leveling ball to make sure it is in the green.

Lift lower padding to attach the lower anchor.

Tighten the strap and fold handle after tightening.
Forward Facing with Harness
Move the lower anchor connectors to the front-facing position.

Lift on the recline to adjust the seat. Use only positions 4 or 5 in this configuration.

Unhook the tether strap from the back and place it over the back of the seat.

Make sure the leveling ball is in the blue section.

Tighten the strap by moving the handle back and forth until tight.
Booster Seat
Use the anti-rebound bar in this modality.

Pass the shoulder belt through the guide even with the shoulder.
Always make sure a child is in the appropriate height and weight in each position. This will make proper use and safety much more likely.
Safety Rating and Warranty
Evenflo EveryStage DLX All in One has a limited warranty of 90 days. This is from the original purchase date and for the original purchaser. This ensures repair or replacement of any defects in the material or workmanship. Proof of purchase is required to enact a warranty. Warranty service can be contacted at www.evenflo.com. 
Safety-wise, Evenflo EveryStage exceeds industry standards for collisions that involve rollover, side and front damage. This is for all stages of the unit. This is only true if weight and height recommendations and limits are followed. Children should have a minimum of one inch of the headrest in the car seat.
Weight recommendations have also been explained with the seat perfect for between 4 and 120 pounds. 
Evenflo EveryStage DLX All-in-One Car Seat, Reclining Car Seat,Infant Convertible & Booster Seat,Grows with Child Up to 120 pounds, Angled for Comfort & Safety, 3-Times-Tighter Installation, Reef Blue
out of stock
Buy Now
Amazon.com
as of December 3, 2023 3:27 pm
Recalls
Evenflo DLX All in One does have a single recall on models between August of 2011 and March 2014. This is for a replacement buckle that can be difficult to unlatch during an emergency. This is only on certain model numbers.
Competitor Comparison
Two top competitors in the car seat industry are Evenflo and Graco. The Evenflo EveryStage and the Graco 4ever are both great car seats. However, in a head to head comparison will help people decide which is the best option for their lives.
Similarities
Transitional from infant to toddler seat and booster

Ten-year expiration date

Good padding

Cup holders

Functional from 4 to 120 pounds

LATCH system

Exceeds safety standards
Differences
Graco has 6 positions, while Evenflo offers 10.

Evenflo weighs 22 pounds, Graco weighs 22.8 pounds.

Evenflo offers an accurate fit for growing children.

Evenflo is slightly less expensive at 200 plus dollars with Graco in the 300 dollar range.
When comparing the Evenflo EveryStage to the Symphony car seat also created by EvenFlo, there are a few notable differences. While the Evenflo brand is highly preferred by many, the individual types can offer a variety of different options. These are listed below.
Similarities
Transitional from infant car seat to forward-facing seat and booster

LATCH system

Cup holders

One hand headrest adjustment

Removable head and body pillows

Machine washable fabric

Live installation support

Front harness adjustments
Differences
Evenflo EveryStage is rated for 4 to 120 pounds; Symphony is rated for 5 to 100 pounds.

Symphony is lighter at 19.6 pounds
Accessories
Evenflo EveryStage comes with removable, washable padding. This padding keeps baby secure and at the right angle to make sure airways remain clear.
The Cupholders 
It also comes with two washable cup holders. A separate accessory kit can also be purchased. This is a four-piece set that makes a great car seat, even better. The first product is a kick mat to protect the vehicle's seat from scuffs and stains.
Next is an under mat seat protector to keep seats from normal wear and tear of a car seat. This is approved for all Evenflo car seats. A window cling shades and protects a child from UV rays while riding around. Finally, a caddy organizer with an open basket and side pockets keep necessities within reach.
You may also wish to purchase a mirror that attaches to the back seat and reflects your baby in the rearview mirror.
Driver's View 
This allows the driver to see what is going on with the child and remain focused on the road. This is highly useful with the Evenflo EveryStage that allows the baby to remain rear-facing longer. Parents gain peace of mind, and children can still be monitored.
Once the child is forward-facing or in the booster-style seat, an amazing accessory is the kids' travel tray. This is actually connected to the back of the driver or passenger seat. This tray offers pockets, a work area, and in some versions, an iPad holder. Perfect for road trips or days full of errands.
out of stock
as of December 3, 2023 3:27 pm
Frequently Asked Questions
What is the DLX car seat?
A DLX car seat is one that is convertible for each stage of childhood in which a car seat or booster may be required.
How do you tilt an Evenflo car seat?
To adjust an Evenflo car seat simply lift the recline handle and pull. The car seat does not need to be removed from the car. Choose a position safe for car seat positioning.
Are Evenflo car seats safe?
Evenflo car seats have had limited recalls. However, they exceed industry safety standards.
Parent Reviews
Pros
Easy to install and tighten, even with limited dexterity

Ratcheting system is simple and effective

Highly rated for safety

The high weight limit for rear-facing (50 pounds)

High-quality overall

Offers more than most all in one car seats
Cons
Flimsy fabric

Height strap seems short

Harness connectors are hard to get to for daily use

Does not lean back enough in the rear-facing position

Cup holders break easily

Seems larger than comparable models
Grow With Your Child Car Seat
Moving from an infant seat to a convertible seat, and finally a booster seat, Evenflo offers only the best. Perfect for the smallest 4-pound babies up to the 120-pound youngster. Not only are children comfortable and protected, so are parents.
Evenflo EveryStage offers a car seat that will last for up to ten years as your child grows.
Though it may be a bit more expensive than some models, it adjusts to and with your child. Best of all is the ParentLink that chat and live demonstration will help through each adjustment.