Diono Cambria 2 is a carefully engineered booster seat with a spacious design and 6-position adjustable head support, which offers your child comfort and safety all through a car ride. Cambria 2 is built to hold children weighing between 18-54 kg (40 – 120 lbs) and with the height ranging between 38 – 63 inches tall (97 – 160 cm).
I was excited to test the Diono Cambria to see if it's worth the fuss.
The Cambria 2 is a more economical version of another model from the same company, but this doesn't mean it performs any differently. The first thing I noticed was how easy the LATCH system made it to install. Once installed, it stayed in place quite well.
There are two modes that can be used which include backless and high-back mode. I used the high-back mode and found that there was plenty of space for my child to grow. I loved how the cup holders were retractable. It definitely helped save some space when needed.
The only issues I found with the Cambria was that it was a little on the bulkier side and the padding was a little on the light side, but I think that the affordability made up for what it's lacking. It offers great head support and reclines to match my child's comfort level.
I would recommend this booster if you're looking for something more economical. It does what it's supposed to do and I was impressed by its features and how well it performed.
This booster seat comes as a 2-in-1 flat-pack which can be easily switched from a high back booster to a backless booster, this means the parts can also be disassembled to store for later use.
The booster seat comes in assortments of colors which the parent can choose from to suit their child's preference or style.
Weighing only 5.4 kg, the lightweight design makes it portable for easy transport or storage between vehicles and places. The spacious design allows total comfort and enough room for growth for the child's shoulders, hips, and legs.
The seat comes with contours that always aim to keep the child in the correct position.It comes with a machine-washable fabric cover that's easily removable for easy and effortless care support by parents.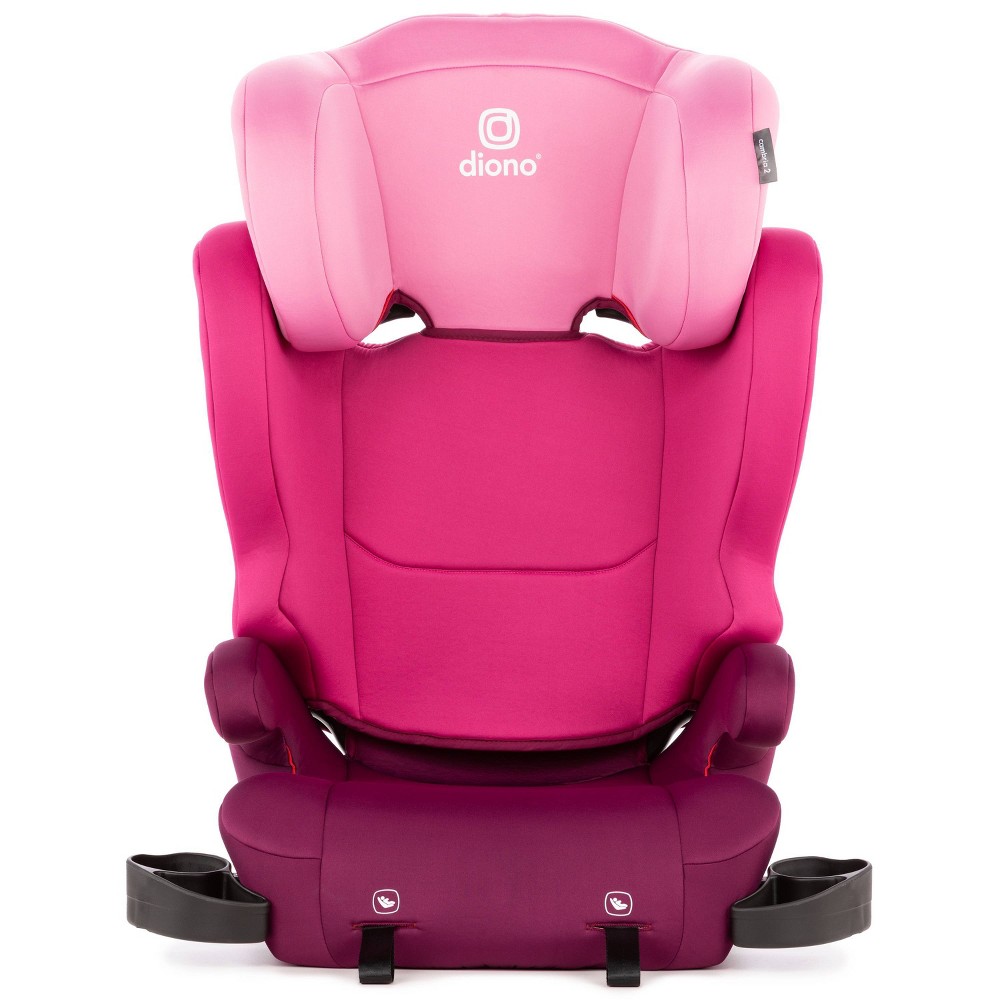 Target.com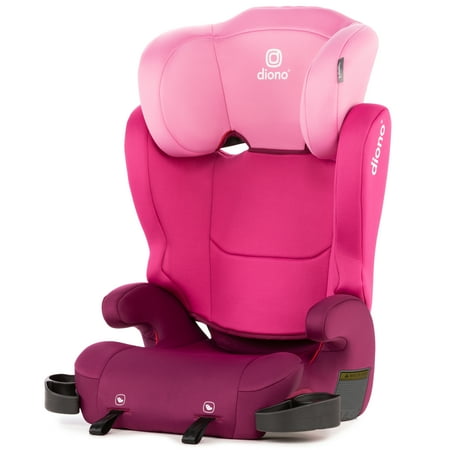 Walmart.com
out of stock
as of June 29, 2022 12:49 am
Amazon.com
Specifications
Product Weight: 12.1 lbs

Product Dimensions (L x W x H): 15.80 x 19.30 x 29.30 inches

Manufacturer Part Number: 31201

Gender: Unisex

Orientation: Forward facing
Unique Features
Retractable cup holders and snack trays.

It has extra length for leg support.

Offer two modes of use, high back and backless.

Recline settings.
Why Buy Diono Cambria 2?
Several makes and models of booster seats that are available for children only last for use till they exceed its height limit of about 144 – 145cm. Diono Cambria 2 happens to be one of the limited options of booster seats that can get a child up and beyond the recommended height of 148cm before surpassing the need for a booster seat.
The booster seat comes with extra-deep sidewalls and shock-absorbing Expanded-Polyethylene (EPE) foam, which effectively assures the child's safety in the case of an impact collision.
The overall design of the booster seat makes it an excellent choice for a concerned parent, as it provides comfort and convenience to the child without compromising safety. The Cambria 2 also comes with two swivel cup-holders for the child to keep drinks and snacks within reach.
Diono Cambria 2 High Back and Backless Booster Seat, (40 - 120 lbs), Black
out of stock
Buy Now
Amazon.com
as of June 29, 2022 12:49 am
Diono Cambria 2 Vs. Diono Monterey XT
There are a lot of similarities and key differences between the Diono Cambria 2 and Diono Monterey XT. Both models are high-end booster car seats made for children, with the Diono Monterey XT released as the successor to the Diono Monterey and the Diono Cambria 2 as the successor to the Diono Cambria.
Differences
The material used for Diono Monterey XT's energy-absorbing foam is the Expanded Polystyrene (EPS) which offers more durability than the Expanded Polyethylene (EPE) used in Diono Cambria 2.

There are more height options available on the Diono Monterey XT. This is because the number of adjustable headrest positions of the two models differs, with the Diono Monterey XT coming in 11 headrest positions which is more than the six positions that come with the Diono Cambria 2.

The Diono Monterey XT comes with adjustable width, which makes the back of the seat expandable to support dimensions of shoulders up to about 20 inches.
Similarities
Both booster seats can hold a child's weight between 40 – 120 lbs, comes with a LATCH system and a side impact protection feature.

Both come with a machine washable cover and retractable cup holders as well as snack trays.
Diono Cambria 2 Installation
This booster seat comes with an instruction manual on how to interconnect the several parts which come when purchased. The parts necessary for the assembly and installation are included in the package.
To attach the Backrest, simply follow the steps just as shown in the instruction manual. In order to increase the safety and performance of a child, the booster seat comes with a lower anchorage system which allows secure fitting to a vehicle's lower anchor locations.
To install this part of the seat, simply refer to the instruction manual as well. The lower anchor can be disengaged by following the steps provided in reverse order. The head support can be adjusted to fit the child's height and to secure proper placement of the Vehicle Shoulder Belt.
This can be done by squeezing the head support adjustment lever on the back of the booster seat whilst adjusting the height to fit the child's needs.
Previous Diono Cambria Model was Discontinued
This model is still available for purchase on many platforms online at an affordable price. This model is prior to the Diono Cambria 2 and is still in production by the manufacturing company, Diono.
What We Like
It provides superior comfort and safety features.

Offer two cup holders for convenience.

Super lightweight and portable for use.

Easy to clean.

Spacious design with easy installation.
What We Don't Like
Quite large in size.

An economical version of Diono Monterey XT
Warranty
This booster seat comes with a 1-year limited manufacturer's warranty.
Expiry Date
The Diono Cambria 2 is manufactured to serve its purpose from the date of purchase until 8 years from the date of purchase.
Recalls
This booster seat model from Diono has not been recalled so far, which means the quality of this piece is assured with no faults.
Safety Ratings
The safety ratings are high, with the product serving its purpose at all times. The booster seat has a 5.0-star rating for its safety features. The safety features include:
Contoured outline to keep children seated correctly at all times.

Recline settings.

Complete side impacts protection.

Belt-guides for the shoulder and lap of the child.

LATCH connectors for secure installation.
Customer Reviews
What parents like about the Diono Cambria 2:
Ability to recline

Easy instructions for assembly and installation.

Effective belt path.

Good head support.

High durability and ease-of-use.
What parents dislike about the Diono Cambria 2:
Quite bulky to move around.

The size of the base is quite wide.

Cheap plastic components.

Light padding on the cover of the seat.
out of stock
as of June 29, 2022 12:49 am
Final Verdict
Children grow at a fast rate, a booster seat that aims at accommodating such changes with comfort whilst protecting them on rides is needed. The booster seat has many utilities at its disposal for superior comfort and protection.
The Diono Cambria 2 is a great option to go for, with all the safety features required to guarantee the safety of your child. For a parent looking to cut back a little cash but also wants a high-end piece of equipment for the child, this is one of the best options around.