I've tested my fair share of convertible car seats, but some of them just didn't work with my child. When I got my hands on the Cosco Easy Elite 3-in-1 Convertible Car Seat, I was instantly impressed.
In terms of weight, it's not much different from other convertible car seats. It accommodates children from 5-80 pounds and works from infancy until your child is ready for a belt-positioning booster.
I installed the car seat quickly and securely. It was one of the easiest installations I have ever done and it was solid against the seat with no movement. The only problem with this is that you need to rethread the harness straps as your child grows, so you need to remove the car seat each time, which is easier said than done. The same goes for the crotch strap.
As far as other features go, they're really no different from other car seats. The only feature we thought stood out was the removable cup holder. You can choose to use it or not to use it and if you remove it, it creates more space for another car seat if you have multiple children.
I recommend this car seat if you're on a budget and can't get your hands on anything else. It doesn't really stand out from the rest, but it's a quick fix that'll keep your child safe and comfortable.
Price Comparison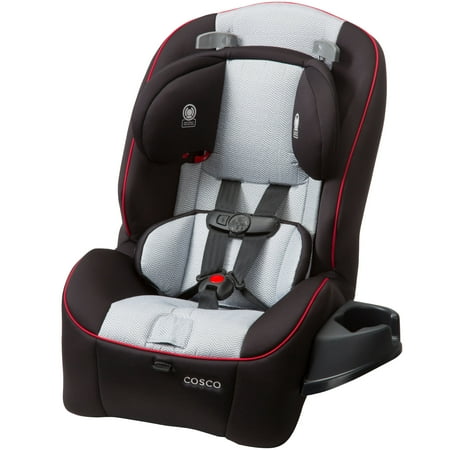 Walmart.com
out of stock
as of January 25, 2023 8:34 am
Amazon.com
Cosco Easy Elite 3-in-1 Review
This is perfect for families with multiple children who still need car seats or boosters at the same time.
Top Features
The rear-facing car seat can hold children within a 5 to 40-pound weight range.

The forward-facing car seat can hold children weighing between 22 and 50 pounds.

The 5 point harness is available for both rear and forward-facing use.

Belt-positioning is available for weights 40-80 pounds.

The easy-to-adjust headrest and harness can be easily adjusted with a single simple movement.

An included body pillow keeps small babies safe and comfortable.

The seat padding is machine washable for easy care

Car seat reclining is adjustable for better car fit.

A removable cup holder makes keeping a sippy handy much easier.
This car seat has it all and does it all for years to keep your little ones safe. With a convenient price point, around $100, this is an excellent self-purchase or registry gift when preparing for your little one.
Installation
Installation depends on your child's size and height, as well as doctor recommendations. To prepare the car seat make sure it is properly secured in the right position and fully loosen the harness straps and buckle.
Place your child in the car seat with the back and bottom flat against the back. For rear-facing car seats, start with the buckle in the first position and move outward as your child grows.
The harness should rest just below the shoulder. The same is true of forward-facing positioning. To change the position of the buckle, unlatch the harness and turn the car seat over for adjustments. The harness and headrest height can be adjusted with the seat in place.
When rear-facing, the bottom must be parallel with the ground. To change the position, rotate the recline stand out, and move in the direction needed.
Cosco Easy Elite 3-in-1 Convertible Car Seat, Bijou
out of stock
Buy Now
Amazon.com
as of January 25, 2023 8:34 am
Safety Rating and Warranty
Safety is obviously the most important when it comes to young children. The safety ratings for the Cosco Easy Elite exceed all safety standards.
The manufacturer recommends children remain rear-facing for the entire first year and this adjustable, reclining seat makes that possible while keeping your little one comfortable.
Since the American Academy of Pediatrics recommends rear-facing until age two, the extended weight limit of up to 40 pounds in the rear-facing situation is ideal.
For smaller children, the weight range overlap for the rear and forward-facing options is perfect. Height may also come into play, but the Cosco easy Elite 3-in-1 covers this as well. With a height range of 19 to 52 inches, moving up according to how the car seat or booster is used, this car seat will keep your little one safe and secure in the case of an accident.
Given that the Cosco Easy Elite 3-in-1 safety rating exceeds all standards, this is a car seat that can be used for years. In fact, it has a ten-year expiration date from the time of manufacturing. With proper installation of the car seat or booster, this will keep your child safe and secure as you go about your daily life.
If a problem does arise, the product is warranted against defects upon purchase and up to a year from the original purchase if a receipt is available. The product may be repaired or replaced depending on the issue. The warranty does not cover damages from using the car seat incorrectly.
Recalls
Though some versions of car seats by Costco have had limited recalls, the Easy Elite 3-in-1 has no current recalls on record that can be found. If the car seat and boost version are correctly installed and the child falls within the correct height and weight range, this car seat is a totally safe option.
Competitor Comparison
Since families spend a great deal of time in cars in today's busy world, it is best to choose a convertible car seat that is comfortable and that grows with your family.
A good parent will review the options and choose what best fits their needs, price range, and children. Below is a comparison of the Cosco Easy Elite to comparable other brands of convertible car seats.
| Car Seat Model | Weight | Best Feature |
| --- | --- | --- |
| Cosco Easy Elite | 4-80 pounds through transitions | Cup holder, headrest, body pillow, washable, reclining |
| Graco 4ever All-in-One | 4- 120 pounds through transitions | Reclining, adjustable headrest, washable, steel frame, 2 cup holders, air travel approved |
| Safety 1st Grow and Go 3-in-1 | 5 – 100 pounds through transitions | 3 reclining positions, washable headrest, and padding, 2 cup holders, extra padding |
| Britax Marathon ClickTight | 5-65 pounds through transitions | Steel frame, smooth, non-skid base, 7 recline positions, 14 harness strap positions |
Reviews
While companies will share how a car seat or convertible seat is designed and intended to be used, parents share the real-life experience with the product. Below are the pros and cons according to parents who use the Cosco Easy Elite 3-in-1 Convertible Car Seat.
Pros
Easy to use in the front-facing car seat and booster options

Excellent price point

Compact/ can fit three across a standard bench seat

Extra pillow for comfort

Machine washable and dryable padding

Bilingual instructions with photos and tips

Extended use so can be passed down to younger children

Adjustable without removing from the car

Soft padding for comfort
Cons
Difficult to use and adjust in the rear-facing car seat option

Does not sit level in the rear-facing position

Moves around in the rear-facing option

Not enough padding on the headrest

Not as durable as advertised
As with any car seat, there are pros and cons according to parents. One parent commented that the hospital would not allow the 7-pound baby to leave in this car seat, though it is recommended for weights 5 pounds and up. This may vary based on your state requirements. Overall, the positive reviews far outweigh the negative comments.
Frequently Asked Questions
How do you put a Cosco car seat in a vehicle?
When installing a Cosco car seat place children in the back, center seat whenever possible. Thread the lower anchor belt through the forward-facing belt path, attach the hooks and pull the belt to tighten. You may use the vehicle seat belt if anchors are not available on older vehicles.
How do you adjust a Cosco convertible car seat?
To raise or lower the seat into a new position using the Cosco convertible car seat, pull the bar in the back out and adjust to the desire positioned, and then push it back in.
Is the Cosco car seat safe?
The Cosco car seat is safe based on national standards, However, as with any car seat, check with your doctor to make sure it is appropriate for your child's height and weight. Car seats should also be correctly positioned as explained above.
out of stock
as of January 25, 2023 8:34 am
Final Verdict
The Costco Easy Elite 3-in-1 Convertible Car Seat is a well-priced option that can grow with your child. The best part is, the extended expiration date means this should last your child throughout the years in which a car seat or booster seat is required.
Though reviews are mixed, this is common for car seats based on what parents believe a car seat should include. The easy-to-wash padding and cup holder means your child can be comfortable and enjoy a snack while traveling and then any spills can be washed away quickly. All in all, the Costco Easy Elite is a great, safe product for a highly reasonable price.