Cosco is an American Company that has been producing baby gear for 70 years. Their goal is to provide smarter, accessible products to keep families moving. 
Cosco knows that families need to be budget-conscious, as well as wanting the best in safety for their children. Their car seats are as safe as, and even out-performs more expensive models while still being affordable. Cosco is also heavily involved in charitable giving, working with hospitals and first responders to provide car seats to families in need.
Cosco's seats are made to fit 3 across in the back seat of a car which is great for families with multiple children. The car seat covers are machine washable for easy care. 
The convertible car seats have 5 harness heights that can be adjusted from the front without having to remove the seat. All the seats meet or exceed National Highway Traffic Safety Association standards with their secure LATCH systems and side-impact protection.
If your family travels, then these car seats are a great choice. They are lightweight and TSA friendly. Cosco offers infant seats, convertible seats, all-in-one seats, and booster seats. You will be able to find whichever seat you need for the stage of life your child has reached.
Based on our extensive research, the best Cosco seat is the Easy Elite 3-in-one car seat. An affordable choice at only around $100, this seat accommodates children from 5 to 80 pounds. It includes an adjustable pillow to fit infants and convenient upfront harness adjustments for growing children.
This seat cover is machine washable. Families with multiple children will appreciate that this model fits 3 across in most cars. The seat reclines to fit better into your car. Your child will ride in safety with side impact protection, and the seat overall exceeds federal safety standards.
We have sifted through the ratings and compared the features and brought you the best choices from Cosco's lineup of car seats. Keep reading for details about Cosco's other seat models like infant seats and booster seats.
Best Cosco Car Seats
| Name | Weight Limit | Height Limit | Mode |
| --- | --- | --- | --- |
| Cosco Simple Fold Travel System | 4-22 lbs. | 29" | Rear-Facing |
| Cosco Lift & Stroll Travel System | 4-22 lbs. | 29" | Rear-Facing |
| Cosco Light N Comfy DX Car Seat | 4-22 lbs. | 29" | Rear-Facing |
| Cosco Mighty Fit 65 DX Convertible Seat | 5-65 lbs. | 40" | Both Rear-Facing/Forward-Facing |
| Cosco Easy Elite Convertible Seat | 5-80 lbs. | 52" | Both Rear-Facing/Forward-Facing |
| Cosco Apt 50 Convertible Seat | 5-50 lbs. | 43" | Both Rear-Facing/Forward-Facing |
| Cosco Finale DX Combination Booster | 30-100 lbs | 52" | Highback Booster |
| Cosco Topside Booster | 40-100 lbs. | 57" | Backless Booster |
Travel systems are really convenient for getting everything on a one-and-done shopping trip. While they may seem a bit pricey, it actually saves you money. Instead of buying a seat, base, and stroller individually, the travel system comes with everything you need.
The car seat in this system can accommodate your rear-facing baby up until they reach 35 pounds. It's super lightweight and easy to carry and also comes with an infant insert to keep your small babe snug until they grow into it.
The seat uses a five-point harness and has an adjustment strap on the front for easy securing. It comes with side impact protection as well for extra safety. The stroller in this system has an easy one-fold system where you simply lift with one hand and it folds itself in half.
It's really lightweight and can stand when folded which is great for storage and convenience. It also comes equipped with two cup holders, a tray for your keys and a large storage area underneath for your diaper bag and other necessities.
Pros
Comes with all the necessary pieces

Holds up to 35 pounds

The stroller is easy to fold

Easy click technology
Cons
Sometimes hard to release from the base
Another good option if you're on the market for a travel system is the Lift & Stroll. This travel system comes with everything you need to easily transition your baby from the car to the stroller no matter where you are.
The car seat included here can accommodate babies between 4 and 22 pounds and comes equipped with side impact protection for optimal safety during car rides. While this is a travel system and the infant seat will easily lock into the stroller, you also have the option of sitting baby right in the stroller seat using its three-point harness.
Both the stroller harness and the five-point car seat harness are easily adjustable. The stroller also comes with easy one-hand pull-up technology to fold it in half for easy storage. It also comes with two cupholders by the handlebar and one cupholder plus a tray for all of your baby's snacking needs.
Pros
Easy to fold for storage

Comes with everything you need

Inexpensive compared to other systems

Easy to assemble
Cons
Not heavy duty

Folding takes getting used to

Buckle may be tricky after a few uses
If an infant seat is what you're looking for, this is the only infant carrier that Cosco carries. It's designed to be lightweight and easy to carry and can accommodate your infant from 4 pounds up to 22 pounds.
This car seat comes with a removable infant insert to help your newborn feel more snug and comfy while in the car and comes equipped with a retractable canopy to shield baby from the sun. This is a really safe option for your infant because it uses the LATCH system.
Has a five-point harness and the harness-adjusting strap is located conveniently on the front of the carrier. This seat meets or exceeds federal and ASTM safety standards. The car seat pad is removable, machine-washable, and is safe for the dryer too.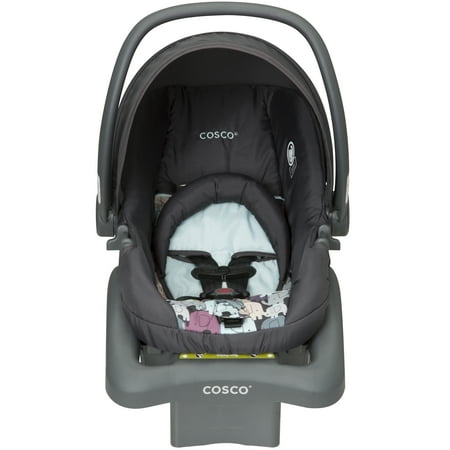 Pros
Side impact protection

Meets or exceeds several safety standards

Inexpensive compared to other brands
Cons
The handle may be hard to raise and lower

Bulkier than other infant carriers
If you're a family with more than one kid in need of a car seat, this is a good one to consider.  This Cosco seat is super compact, lightweight, and able to fit three across in the back seat.
It's also air travel approved and its compact, lightweight design makes going through security a lot less painstaking than it could be. Another great thing about this seat is the color options available to choose from. Not every kid is going to like grey.
Maybe you have a little princess who loves pink. The Mighty Fit 65 DX is available in both grey and pink. This seat uses the LATCH system and buckles your child with a five-point harness. There are five harness heights and three buckle locations that allow the seat to grow with your child until up to 65 pounds.
It also comes made with side impact protection. The car seat comes with deluxe padding to ensure your child's comfort and the fabric is removable and machine washable and dryable.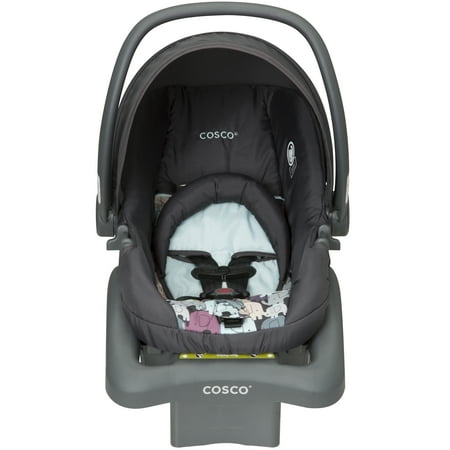 Pros
Fits three across in most cars

Additional padding for added comfort

Lasts a long time
Cons
Buckle may pinch

Need to uninstall seat to adjust the headrest
This is a great option if you want something to last the entirety of your child's car seat riding days. Because it's a 3-in-1, it will accommodate your child until they reach 80 pounds. This is nice because you won't have to worry about purchasing another seat.
Because of its more slim design, it's able to fit three across in the back seat of most cars which is nice if you have more than one child.
You can rear-face your baby in this seat from infancy until they hit 40 pounds and it comes with a removable infant pillow to give your new baby the head support they need.
You can forward face your child up to 50 pounds in this seat and then remove the harness when your child is ready for the belt-positioning booster. All three stages offer side-impact protection to ensure the safety of your child throughout the use of the car seat.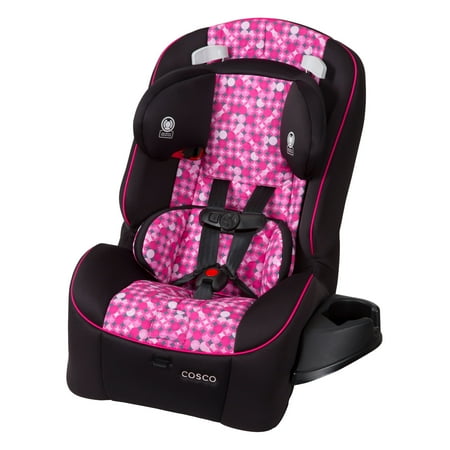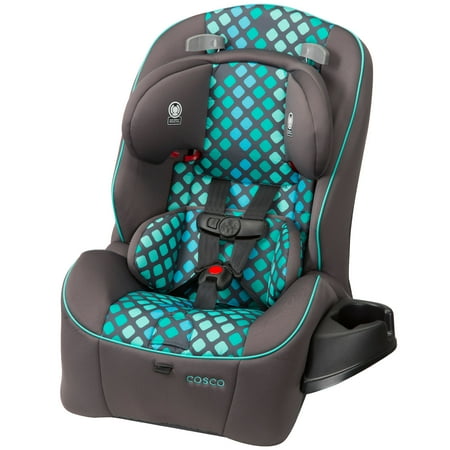 Pros
Machine-washable and dryer-safe

Grows with your child

Removable cupholders

Reclinable for added comfort
Cons
Tightening strap may be difficult to tighten

Material isn't breathable

Bigger seat takes more space
The Apt 50 can be used as a rear-facing car seat for up to 40 pounds and forward-facing for up 50 pounds. It comes with six different harness heights and three different buckle locations. It's also super lightweight, compact, and approved for air travel.
This seat is super convenient because it comes with two cupholders for all your child's snack time needs. This seat is LATCH equipped and comes built with side impact protection. It uses a five-point harness to further ensure the safety of your child during car rides too.
If you're worried about toddler messes, this seat's cover is removable and machine-washable so you can put your fears to rest. We also like this seat because it comes in four different color options to choose from: black, pink, blue, and red.
Pros
Several color options are available

Easy to clean

Air travel approved

Lightweight

Compact
Cons
Not much extra cushioning for comfort

Buckle may be difficult to undo after a few uses
When your child has outgrown their Cosco convertible car seat, finding a good booster seat that will last can be difficult.
This Cosco combination booster seat is one worth checking out in this case. It uses the five-point safety harness for up to 65 pounds and can be converted to a belt-positioning booster up until your child reaches 100 pounds.
These seats are super lightweight and can fit three across in most vehicles, a major convenience for parents of multiples.
Like other Cosco seats, the seat pad is machine washable, so cleaning is a breeze. They also come in three different color schemes: black/grey, blue/grey, and pink/grey. For a More Detailed review of Cosco Finale. 
out of stock
as of January 25, 2023 5:54 am
Amazon.com
Pros
High back booster for added support

Lasts with your child throughout the early years

Comes in several color options
Cons
Fabric may tear

Plastic may tear off
If your child is done with car seats and has graduated to a booster, this is a really nice, lightweight option to consider.
It will accommodate your child from 40 pounds up to 100 pounds and can easily be transplanted from car to car. This Cosco booster seat will ensure your child is at a good height where the seatbelt will correctly fall across their chest and lap.
It's also really convenient because it's designed to not leave those annoying indentations other car seats leave when they're removed from the car.
$22.99
$26.99
in stock
1 new from $22.99
as of January 25, 2023 5:54 am
Amazon.com
Free shipping
Pros
Inexpensive

Several colors to choose from

Smooth Design

Super lightweight
Cons
Not much cushion for comfort

Narrower than others
The Brand: Cosco Car Seats Review
Before we move on to our top picks, we want to take a minute to highlight the main reasons we like Cosco car seats so much.
Pricepoint
First and foremost, Cosco's car seats offer the same protection as other high-end seats but at a fraction of the cost.  Not everybody can afford to spend $200 plus on a car seat no matter how safe they want their child to be. Having inexpensive, but still good quality brands like Cosco to choose from really helps families on a budget.
Ease of Cleaning
Another reason we love Cosco car seats is for their easy-to-clean qualities. Cosco car seat covers are removable and safe for the washing machine and dryer. This is super convenient for families who don't have a lot of time to take extra care while washing.
Lightweight Designs
And lastly, the lightweight designs of the different Cosco seats on the market really make it easy for parents who need to switch seats between cars regularly. It also really helps if you choose a travel system because you'll be regularly lifting your infant carrier out of the car.
Stroller Compatability
If you're on the market for a Cosco infant car seat, be on the lookout for seats that are stroller compatible. In most cases they are. However, you may or may not need to purchase extra attachments to secure it to the stroller.
Take note of what the car seat comes with in terms of stroller attachments and then you'll be able to tell if it's worth spending more money on the other parts (usually sold separately). In some cases, you may be able to find full travel systems that come with the seat, base, and stroller.
These are ideal if you're a first-time parent and you need the essential baby gear. Travel systems will save you money in the long run by buying everything together.
Buyer's Guide: What To Look For
Before hitting "add to cart," there are some things you need to keep in mind when considering a car seat for your child. A seats safety features, installation methods, and comfort for your child are some of the most important among other things.
Safety Features
First and foremost, always make sure to note a particular seat's safety features. Is it a five-point harness Does it come with extra padding? The more safety features a car seat boasts, the better it is. Depending on your child's height and weight, you'll want to make sure you're choosing a seat that has both rear and forward-facing capabilities.
It's recommended that children remain rear-facing until up to at least 40 pounds (source). Your child will be able to front face up to 65 pounds, and then they should switch to a belt-positioning booster seat.
Weight/Durability
You should also consider a car seat's weight and durability. This ties back into the safety features discussed above. A heavier, more durable car seat is going to ensure that your child is safe in the event of a car accident.
Accidents aren't something we want to imagine as parents, but making sure the car seat you choose will stay in one piece if that were to happen is important.
Convenience
A car seat's convenience factor will make or break the decision for you. You can have the "best" car seat on the market but if it has complicated installation instructions, you're not going to want to deal with that. Car seats come with an owner's manual, but sometimes you can even find quick instructions stickered right on the car seat.
Comfort
Comfort, of course, is another important factor. No kid wants to spend a bunch of time on a hard plastic seat. Take note of any comfort features like memory foam cushions or extendable footrests.
While this isn't as essential as say, safety features, it's still something to keep in mind. If your child doesn't like the car seat, then you're going to be dealing with unwelcome tantrums and fights every time you get in the car. Unbiased Cosco Car Seat Reviews
It is hard to tell if the reviews online are unbiased. For example, the consumer affairs' Cosco car seat review page takes out the star ratings for most reviews. At times, companies are able to pay to remove star ratings.
Cosco Car Seat Roundup
If you're looking for a safe car seat that won't break the bank, Cosco is definitely a brand to consider. They offer essentially the same amenities that other brands offer with their car seats, but at a fraction of the price.
They're also worth considering because there is a variety of seats ranging from infant seats to boosters, so you're bound to find the right car seat for your child's needs. Which of these seats is your favorite? Have you had any experience with any of these, good or bad? We want to hear it all!