Clek isn't a well-known brand, but they're certainly starting to make their mark when it comes to safety. We tested the Clek Fllo and found it to be impressive, but it comes with a high price tag.
The Clek Fllo can accommodate children up to 50 pounds, but in order to use it for an infant, you have to purchase the newborn insert. If you don't plan to purchase this add-on, then you have to wait until your child can sit up unassisted before using it. We didn't really like that. 
Furthermore, the safety ratings are the only good aspect of this car seat. It is designed to mimic an adult car seat with a steel-reinforced frame and energy-absorbing crumple zones. These are meant to absorb the impact of a car accident. It also has the highest rear-facing weight limit in North America. 
We found out that there are multiple models that have different advantages. This particular model is standard and the cover does not come off. You have to wash it by hand. If you choose the model with the Crypton Super Fabric, it's practically indestructible and GREENGUARD Select Certified. Unfortunately, it costs more. 
In all honesty, we don't recommend this car seat. Not only is it pricey, but there's nothing special about it other than the fancy safety ratings. You have to purchase add-ons if you want to use it for an infant and by the time they are able to sit up on their own, you only have another couple of years until you need a new seat. To us, it's just useless.
Price Comparison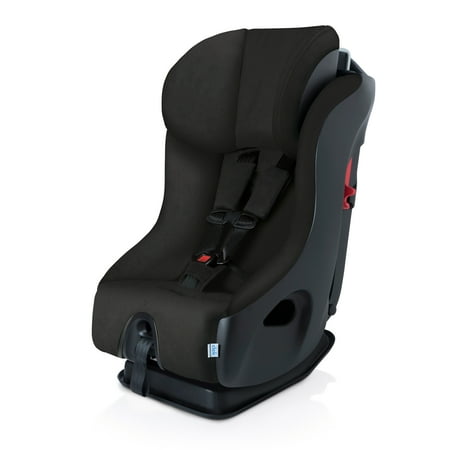 Walmart.com
$404.99
$449.99
in stock
7 new from $404.99
as of November 22, 2023 9:55 pm
Amazon.com
Unique Features
Certain features make this car seat unique from others on the market. This car seat is narrow.
Why is This Important?
The founder of the company initially wanted three children, so it was vital they were able to fit three car seats across in a standard vehicle. Keeping a car seat clean is a difficult task. The Clek Fllo makes it a little easier. If you choose a Fllo in a Crypton Super Fabric, you get to enjoy the benefits of a GREENGUARD Select Certified fabric.
What exactly does this mean? It means the fabric is practically indestructible. It repels stains and moisture. It prevents the build-up of odor-causing bacteria. You'll never have to fear spilled milk again. Keep in mind: this extraordinary fabric can only be hand washed. 
Pros and Cons
We all know how important it is to have a car seat rear-facing. Federal guidelines keep extending the age limit for it. This is great – and the Clek Fllo is the right car seat for the job.
The Fllo can accommodate children up to 50 pounds rear-facing.If you have or are planning on a big family, you're going to want to check the Fllo out. Thanks to its narrow frame, it's one of the only car seats that can fit three across in a backseat.
You don't need a huge SUV with the Clek Fllo!
This car seat does have a long lifetime, but the beginning of it is a little complicated. The seat on its own can't be used until the child can sit up unassisted. For use before that, you have to buy an additional accessory, playfully named the "infant-thingy."
You probably know it as a newborn insert. While the fabric is stain-resistant, don't plan on throwing the cover in the washing machine. The cover cannot be removed and can only be hand-washed. One accident can turn this car seat into a messy nightmare.
Pros
Extended rear-facing capabilities

Fits 3 across in a car

Several colors and fabric styles
Cons
Requires infant insert for newborn use

Not machine washable
Clek Fllo Convertible Car Seat, Thunder (Crypton C-Zero Performance Fabric)
Buy Now
Amazon.com
as of November 22, 2023 9:55 pm
Safety Ratings
Clek does safety right. The company ensured it had the latest safety innovations in their car seats. In fact, the car seats' design mimics an adult car seat, with a steel-reinforced frame and energy-absorbing crumple zones. Like in a car, these zones deform in the event of a crash to absorb the impact. Clek car seats have the highest rear-facing weight limit in North America.
The company's founders were inspired by Sweden's car seat regulations. There, children rear face until they turn four. The Clek Fllo allows a child to rear-face longer than other car seats on the market. 
The Clek Fllo seat comes with an anti-rebound bar. Not a lot of car seats have this feature, but it's a good one to have. The bar is found at the bottom of the car seat while in the rear-facing position. It prevents the force of the car seat rebounding toward the back of the vehicle in a crash.
Expiration
Like all car seats, the Fllo's expiration date can be found on the seat itself. On the bottom of the seat, you'll find a sticker with the expiration date. Clek Fllo car seats expire 9 years from the date of manufacture. 
Recalls
It can feel like we hear a new recall every day. It can be disheartening. Don't despair though. If you are looking for something trustworthy, you need a Clek car seat. According to carseat.org, no Clek car seat has been subject to any recalls, replacement part issues, or warnings as of this publication date. Currently, there are No safety recalls.
Warranty
Clek offers a limited warranty. The warranty covers any defects in material and workmanship for one year from the date of original purchase. The Fllo car seat is eligible for an extended limited warranty.
To be eligible, the car seat must be purchased from an authorized Clek retailer and be fully registered online at clek.com within 3 months of the date of purchase. This extended warranty lasts for an additional two years. An original receipt will be needed to validate the warranty. Normal wear and tear will not be covered under this agreement.
Dimensions
While rear-facing and reclined, the Fllo measures 32.5 inches from the anti-rebound bar to the back of the seat. Its height is 27 inches. When forward-facing, it's 31 inches tall. The seat is 16.9 inches, while the base is 13 inches. The car seat weighs 25 pounds. 
Colors and Styles
The Clek Fllo comes in eight different colors: Noire, Flamingo, Capri, Slate, Mammoth, Shadow, and Thunder.
It is also available in a fun print from Tokidoki called Reef Rider. The print was released in November 2019. It features whimsical characters in a seascape of an underwater adventure.  Clek has offered limited-edition Tokidoki prints for 6 years.
Honest Customer Reviews
Customers absolutely love the size of the Clek Fllo. This seat's frame is narrow and is a major space saver.
It fits in even the tightest of back seats.
With two or more car seats, space is vital. Customers also like how sleek and modern these seats look. Clek designed these seats to have a distinctive look, and customers love it.
The more negative reviews are quick to mention the car seat's weight. At 25 pounds, it's certainly not lightweight. This, along with its complicated installation, makes it hard to move from car to car or car to airplane. 
What Customers Like
Comfortable

Modern look

Narrow size 
What Customers Don't Like
Heavy

Difficult to install and adjust
Similar Car Seats to Clek Fllo
Clek Foonf Car Seat
The Clek Foonf seat is the original Clek car seat. The Fllo is actually the compact version of the Foonf. Both feature the same safety features Clek is known for, including advanced side impact protection. Both are the same sleek and modern design. The biggest difference between the two Clek car seats is size.
The Foonf is significantly larger than the Fllo. In fact, it's about 10 pounds heavier than the Fllo. Since it's bigger and has a large detachable base, the Foonf also can't fit three across in a backseat. For families with multiple little ones, the Foonf just isn't an option.
Similarities
Both have steel anti-rebound bar

Both have advanced side impact protection

Both feature the GREENGUARD Crypton fabrics
Differences
Foonf is larger and cannot fit 3-across

Foonf has large removable wedge base

Foonf has 2 recline positions
Diono Radian 3RXT Car Seat
If you need a car seat that can fit 3-across, the Diono Radian 3RXT is able to as well. The Radian 3RXT and the Clek Fllo both feature extended rear-facing limits. The Fllo can accommodate up to 50 pounds, while the Radian 3RXT tops out at 45 pounds.
Both seats also come in fun colors. 
The Diono 3RXT may be the better choice for your family if you do a lot of traveling. The Radian 3RXT conveniently folds up to make it easy to transport for airplane travel. Likewise, your car seat cover may get dirty in your travels. Luckily, the Radian does have a machine-washable cover. 
Similarities
Both accommodate extended rear-facing

Both can fit 3-across
Differences
Diono can fold up for easy airplane travel

Diono is machine washable
Clek Fllo Vs Graco Extend2Fit Convertible Car Seat
The Graco Extend2Fit convertible car seat is comparable to the Clek Fllo. Both are have extended rear-facing capabilities, as both allow children up to 50 pounds to rear face. In terms of bulk, these car seats both weigh the same. The car seats have some small differences as well. The Fllo has one recline position while the seat is rear-facing.
Meanwhile, the Graco car seat has 6 recline positions for the most comfortable fit. Likewise, the Graco seat has an included cup holder, while the Clek cup holder has to be purchased separately. In terms of safety, the Graco loses it out, as it's missing the anti-rebound bar.
Similarities
Both have extended rear-facing capabilities

Same weight
Differences
Fllo has an anti-rebound bar

Graco has 6 recline positions

Graco has an included cup holder
Maxi-Cosi Pria Max 3-in-1 Convertible Car Seat
The Maxi-Cosi convertible offering is another alternative. Like the Fllo, it has advanced side impact protection that keeps your child safe in an accident. Similarly, both convertible car seats come in several colors, so you're sure to find your favorite shade.
If a machine-washable cover is important to you, you may need to consider the Maxi-Cosi over the Clek Fllo. As mentioned before, the Fllo is handwash only. The Maxi-Cosi's cover can be removed and thrown in a washing machine. 
Similarities
Both feature extra side impact protection

Both come in several colors
Differences
Maxi Cosi is more expensive

Maxi Cosi can only rear face up to 40 pounds

Maxi Cosi's cover is machine washable
Frequently Asked Questions
Does CLEK FLLO recline?
Yes. When installed in the rear-facing position, the CLEK FLLO is reclined.
How long is a CLEK FLLO good for?
In terms of weight, your child can use this car seat until they are 50 pounds. Safety-wise, each CLEK FLLO car seat is good for 9 years from the manufacture date.
Is the CLEK FLLO comfortable?
Definitely! This car seat is covered in a plush and dense fabric that feels high quality. The sides of the seat are padded with energy-absorbing foam. 
It's Narrow to Fit Three Across
There are many factors that go into the big car seat decision. A convertible car seat is best for those looking for longevity. The Clek Fllo convertible car seat has a lot of benefits that make it attractive to new parents. The advanced safety features of the Fllo are a major selling point.
Likewise, parents love the high-quality fabric that is 100% water- and stain-repellant. Lastly, it's narrow enough to fit three across. Is the Clek Fllo the right car seat for your child? You may be interested in our Foonf Vs. Fllo Car Seat Comparison. You may also be interested in Clek Ozzi Review.