If you've been thinking about the Chicco Cortina CX travel system, we have all the information you need to make a decision.
The Cortina CX system features the much-loved KeyFit infant car seat, a KeyFit base, and a versatile folding stroller. It is a budget-friendly, safe, durable, and easy to use option.Chicco is a trusted brand in the baby industry.
Since 1958, parents have depended on the brand's strollers, car seats, high chairs, and more. The Cortina CX is a newer model from Chicco. It can be purchased in a single or double stroller style. In this review, we'll be discussing the single child style. It's recommended for use from birth to toddlerhood, with a maximum weight of 50 pounds.
Price Comparison
$490.00
in stock
3 new from $490.00
as of September 25, 2021 8:39 pm
Unique Features
The KeyFit car seat is a big hit with parents. This patented system is so easy to click together. It's easy to transfer the car seat from the car base to the stroller and back again. The audible "click" is an assurance that it's secure.
Large Storage Basket 
Reviews often mention the large storage basket.  At the bottom of the stroller, there is a sizeable basket with access in the back.  It's large enough for most diaper bags. Parents also love the attached parent tray.  So many strollers on the market today don't actually include this feature!
Advantages & Disadvantages 
Overall, you can't go wrong with the Chicco Cortina CX travel system. It has plenty of advantages that make it a great purchase. The stroller can be folded using one hand, which is a lifesaver when the other hand is holding an infant.
Short or tall, this stroller can work for you, thanks to the 3 heights of the adjustable handlebar. As mentioned before, the 8 reclining positions and memory recline feature means your little one will always be comfy.
Chicco Cortina CX Travel System, Iron
Key Fit car seat clicks easily and securely into Cortina CX stroller
Fully-reclining seat with 8 positions and Memory Recline.Front Wheel Diameter: 6.75 inches. Rear...
One-hand fold and parent tray with cup holder and storage and compartment
Last update on 2021-09-26 / Affiliate links / Images from Amazon Product Advertising API
Very Well Padded 
It's downright cushy! Your baby will be living the good life as you stroll. The cons are minimal. This is more of a city stroller than an all-terrain one.  With the stroller's plastic wheels, sidewalks, and smooth surfaces are your friends.
Great Stroller For Babies Who like To Nap
The Cortina CX system features eight reclining positions so your little one is guaranteed a comfy place to doze. The Cortina CX boasts a special little feature. The memory recline function "remembers" which of the 8 recline positions you used last.  This can come in handy when you open your stroller and need it on a frequently used incline!
Not Ideal For Jogging
This stroller is not a jogging stroller. Furthermore, the bottom basket is open on the front under the child's feet, meaning a fast trip down a hill could leave everything spilling out. On the cosmetic side, the seat is not reversible.  This means the car seat will be parent facing, while the toddler seat will be front-facing. 
Some travel systems do offer a reversible seat, but it isn't a necessity.  Your personal needs dictate how vital that is. Most parents find the traditional stroller setup works just fine.
Long Walks Might Be An Issue 
It's not a stroller you'll be toting around long distances. This stroller also isn't meant for all terrains. You can expect a smooth ride on sidewalks and asphalt, but it's rough sailing on gravel or dirt. 
Bulky Stroller
For starters, it's a bulky stroller.  The stroller alone is 23 pounds, so its not ideal for parents that take the stroller in and out of the car. 
What We Like 
Easy one-hand fold

Adjustable handlebar

Memory recline feature

8 reclining positions
What We Don't Like 
No reversible seat

Basket open in front

Not suitable for all terrains
Customer Reviews
The Chicco Cortina CX travel system is a parent favorite. It's easily hundreds of dollars cheaper than the "high-end" travel systems. Even so, it doesn't sacrifice quality.  Many customers rave about the longevity of this product.  Parents have used this system for years, through multiple kids. 
What Customers Like
Affordable

Durable

Car seat clicks in securely

Large storage

Included parent tray
What Customers Don't Like
Heavy

Plastic wheels unsuitable for rougher terrain

Takes a long time to assemble

Car seat cover difficult to remove and clean
Safety Ratings
How safe is this travel system? 
One customer credits the Cortina car seat with saving her child's life from a terrible car accident. Anecdotes aside, if you are shopping and purchasing your travel system in the United States, rest assured.
Every single car seat on the U.S. market "meet[s] Federal Safety Standards and strict crash performance standards," according to the NHTSA's website. 
Exceeds Safety Standards
The Chicco Cortina CX KeyFit car seat exceeds these standards.In crash tests, Chicco KeyFit car seats rated in the top 5 against all major brands.In tests for head injuries, the KeyFit car seat exceeds federal standards as well.
Chicco also performs voluntary side-impact tests on their all car seats.  You can trust a Chicco car seat. The brand puts its steel-reinforced frame and interior padding through intensive testing. In fact, thanks to the Chicco newborn insert, NICU nurses and car seat technicians often recommend Chicco car seats. All Chicco car seats are certified for use on airplanes, according to FAA guidelines! 
The soft cushioning keeps even the smallest of babies safe and secure. 
Expiration
The Chicco KeyFit infant car seat is included in this travel system. They KeyFit car seats have a lifespan of 6 years. For more information, consult the labels found on your car seat and the base for a specific expiration date.
Recalls
No parents want to fool around with safety when it comes to their infant's car seat. Recall information is important to know because it can solidify a customer's trust in a seat. So has the Chicco Cortina travel system been recalled in the past?
In 2008, Chicco KeyFit car seat bases faced a recall.  The bases were found to have a defect that prevented the base from securing.  In the event of a car accident, this defect could increase the risk of injury. All customers who responded to the recall received a free replacement base.
Warranty
Most Chicco products, including car seats, have a limited one-year warranty. Customers do compliment Chicco's customer service in terms of returns and replacements.
Dimensions
When assembled and unfolded, the Cortina stroller measures 34.25″ x 20.75″ x 44″. While folded, it measures 42″ x 21″ x 20″. It weighs 23 pounds.The Chicco KeyFit car seat's dimensions are 22″ x 17″ x 24″ without the base. It weighs 9.6 pounds.The base by itself measures 20″ x 15″ x 8″. It weighs 7 pounds.
Models and Colors
Currently, the Cortina CX system comes in one color. Officially, it is named Iron. The stroller and car seat are a striking combination of jet black and charcoal gray.It's a great gender-neutral option. If you like the look and feel of the Cortina system but it doesn't fit your needs, you can check out another model.
The Cortina model also comes in a double stroller. The double stroller comes in two colors: Minerale and Meridian. 
Comparing It  To Other Travel Systems 
The Chicco Bravo line of travel systems is similar to the Cortina CX. Both systems feature the important basics: the KeyFit car seat, the KeyFit base, and a stroller.  Both can be used all through toddlerhood. Chicco's innovative one-hand folding system is standard on both systems.
For discerning modern parents, neither system will be found in bright pinks or blues. Both Chicco systems come in handsome neutrals. Parents, rejoice – the parent and children trays are featured in both travel systems!
Everyone gets his or her own cup holder!
The similarities do end there, though. There are some major differences between these two systems. The best choice comes down to your own unique needs. For example, if you are pregnant and want a system you can use right away, you need the Cortina system.  The Bravo trio is actually not intended for use until the baby is 6 months old.
If portability is important to you, the Bravo stroller is for you. It weighs less than the Cortina. The Bravo stroller also converts to an even lighter frame stroller. In the end, the price may be your determining factor. The Cortina CX system is nearly $100 less than the Bravo system.
Similarities
Both include the Chicco KeyFit car seat

Both can be used through toddlerhood

Both easy one-hand folding

Both come in gender-neutral colors
Differences
Bravo is not suitable for newborns 

Bravo weighs less

Bravo converts to a frame stroller

Bravo models are more expensive

Bravo has more choices in terms of colors and design
Chicco Bravo Trio Travel System, Orion
The Chicco Bravo Trio System Includes Bravo Stroller, Key Fit 30 Infant Car Seat and Base
Stroller features a removable seat for easy transformation into a stylish frame carrier for the Key...
Stroller features 1-hand fold, auto-positioning wheels and a self-standing compact folded...
Last update on 2021-09-26 / Affiliate links / Images from Amazon Product Advertising API
To step away from the Chicco name, we can look at an EvenFlo offering.Both travel systems offer the basics: the car seat, the base, and the stroller. They can both be purchased for a similar price, making them both affordable options. 
The Evenflo, being a modular system, does offer a wider range of seating options though. The Evenflo system can be used as a carriage, a frame stroller, or a toddler stroller. All three of these modes are reversible to either direction as well. 
Evenflo Pivot Modular Travel System With SafeMax Car Seat
FLEXIBLE INFANT TRAVEL SYSTEM: The Evenflo Pivot Modular Travel System is a car seat and stroller...
VERSATILE & LIGHTWEIGHT: This car seat and stroller combo features a modular frame with 6 modes. The...
EASY INFANT CAR SEAT TRANSFER: This car seat and stroller combo has been designed with a stay-in-car...
Last update on 2021-09-26 / Affiliate links / Images from Amazon Product Advertising API
With that in mind, the Evenflo seems like a better option.
However, don't add it to your Amazon cart just yet. Customers love the three different modes, but that love didn't cover up how hard it is to actually use this system. So many customer reviews complain of how difficult it is to attach the car seat to the stroller.
Even more, reviews express how hard the stroller is to push and maneuver. Customers have found they have to grease up the stroller wheels just to use the product.
Similarities
Same price range

Neutral color offerings

Same weight
Differences
The Evenflo system has three reversible modes

Evenflo system is difficult to maneuver

Evenflo car seat is hard to connect

Evenflo system does not include a parent tray
Frequently Asked Questions
How do you assemble a Chicco Cortina CX stroller?
The Chicco Cortina CX stroller will come folded and in pieces in a box. After opening the box, remove the large folded component of the stroller. 
Straighten out the handlebar and pull out the basket frame. 

Now, set the stroller upright so you can work with it that way. 

Unhook the parent's tray and push it into place. 

Once that is completed, unfold the stroller. You will now install the canopy. 

After that, set up the bottom basket. 

With everything else completed, it's time to attach the wheels. The front wheels will click into place. The rear wheels will require washers and locking pins (found in the box).
For any further questions, please consult the owner's manual.
Which Chicco stroller is the best?
This is, of course, a matter of need. If you need an easy-to-use system, the Cortina CX is the best option. If you prefer extended seating options, the Chicco Bravo is for you. Are you active and plan on jogging with your baby? You need the Activ3 Air jogging stroller. For those who want something simple and lightweight, check out the Liteway stroller from Chicco.
How much does the Chicco Cortina stroller weight?
The Cortina CX stroller alone weighs 23 pounds.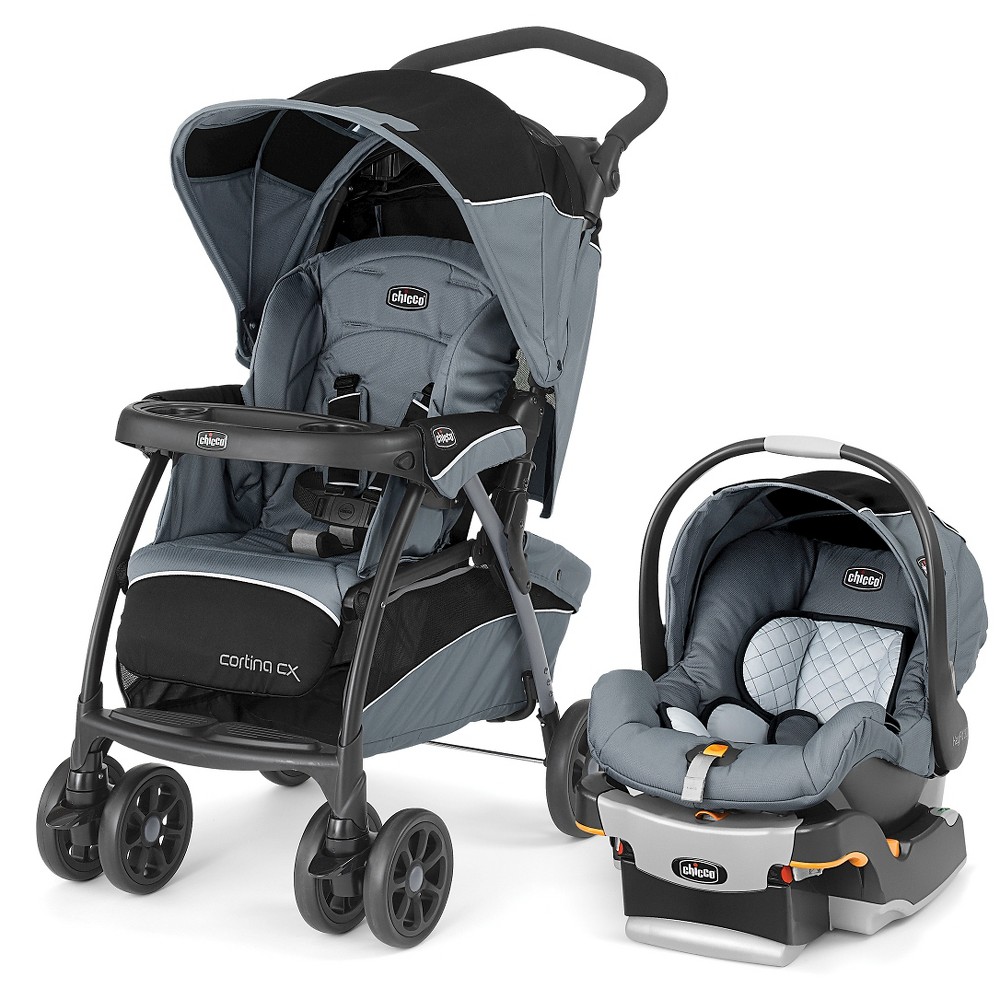 Target.com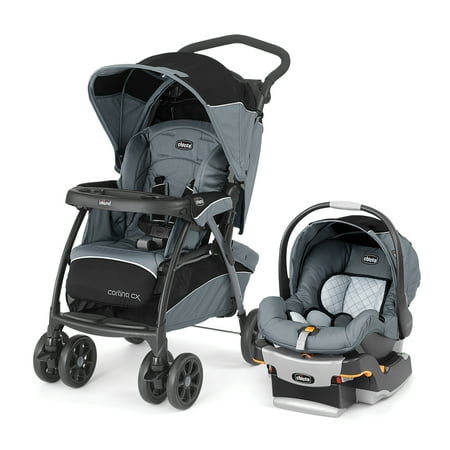 Walmart.com
$490.00
in stock
3 new from $490.00
as of September 25, 2021 8:39 pm
Amazon.com
Video Review 
Budget-Friendly Option
While shopping for a travel system, you may be overwhelmed. Narrow down your needs and wants to make the decision easier.  Specifically, what's your budget?
The Chicco Cortina CX tends to be a budget-friendly option.  What about a car seat? Do you need one? You can't go wrong with a Chicco KeyFit infant car seat. Are you tall and need an adjustable handlebar? Do you want a parent tray?
How big of a storage basket do you need? These are all questions that will help you decide on whether the Chicco Cortina CX is for you.