I'll admit, the back seat of my car often hordes a collection of empty coffee cups, wrappers, and receipts. But, if I'm being honest, the closest my car would get to a "trash can" was a worn-out grocery bag, at least from cleaning the car ceiling until I discovered just how helpful an actual trash can in my car is! 
But it turns out there are a ton of car trash cans on the market. You can buy them; you can make them; you can find them in cup holder size, bags, or actual bins!
So I've taken the liberty of pulling together a list featuring popular styles to suit your needs. Keeping the car clean and organized is a breeze with the help of any one of these functional, car-sized trash bins. 
Car Trash Can Ideas 
These car trash can options come in several shapes and sizes to suit your needs, and they'll arrive ready to use right away!
1.Double Opening Trash Can
The worst part about trash left in the car is the smell! Accidentally leave a coffee or banana peel in the car, and you're stuck with the scent for weeks!
This trash can from Walmart helps seal away unseemly odors thanks to its sturdy dual-opening lids, and the strong closure is hard for curious toddler hands to open. Plus, you can mount the trash can on the back of the front seats to keep leg room open in the rear seats. 
2.Elegant Trash Bag
Just because the trash bag holds trash doesn't mean it can't look nice doing it! This fabulous handmade trash bin comes tailored to your color scheme and tastes.
The fabric itself is sturdy and resilient against heavyweights and repeated use. The elastic loop allows the bag to hang from any style of headrest, too.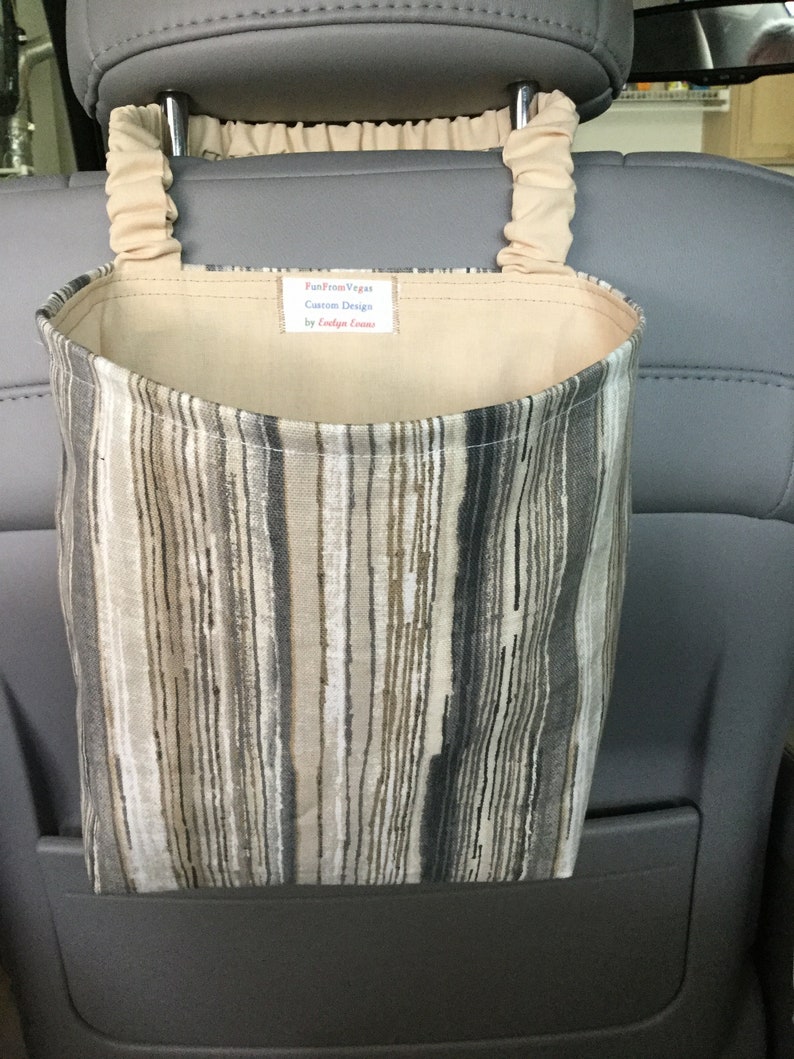 3.Mini Vent Trash Bin
When you're busy driving, you can't always reach around for the trash bin. This hanging trash bin is the perfect size for clipping onto your outlet or vent for those small pieces of trash like gum wrappers and receipts. This Walmart exclusive can also work as a cell phone holder or glasses holder!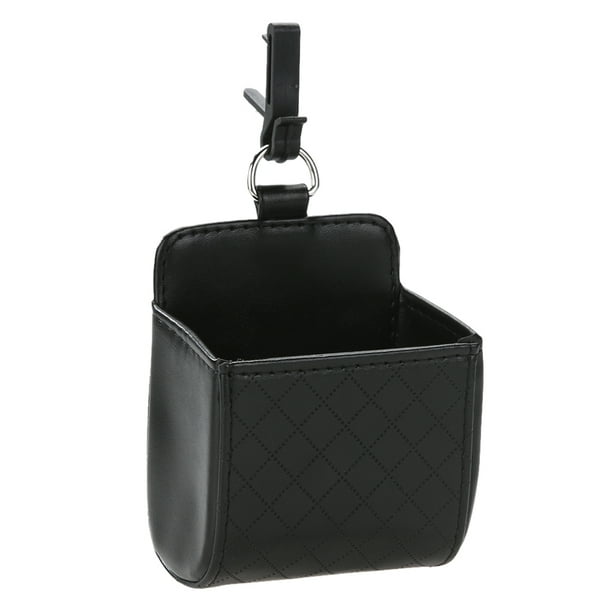 4.Pastel Mini-Trash Bins
Colorful and classy, these Walmart cup-holder-styled trash bins are great for use in the front and rear seats. Just pop them into the cup holder or door and let them go to work. You'll love the cute pastel color selection they come in.
These mini-trash cans are great to keep in the car during busy road trips with the whole family – grandparents, and kids –  because everyone can have their own can without taking up a ton of space!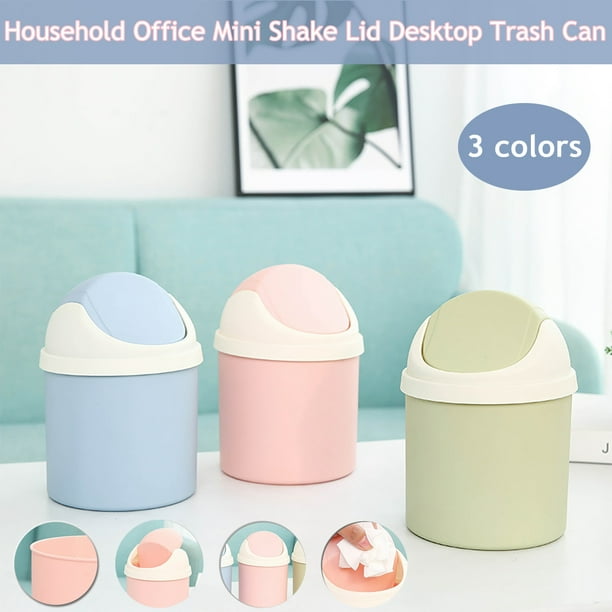 5.Trash Can Plus Pockets
Between toys, snacks, diaper bags, and trash, it can seem like you never have room in the car. This trash can option from Amazon includes extra exterior pockets to store items like baby wipes, umbrellas, and tissues to give your car extra storage. Plus, the bin itself is waterproof, so you don't need to worry about cups leaking into the car. 
6. Floral Trash and Cleaning Center
Add fun color and function to your car with this Amazon floral trash can option. You can hang the trash can on a seat, place it on the floor, or rest it along with the front console, depending on your needs. Extra pockets can hold your child's toys, while a dedicated wipe pocket helps with quick clean-ups.
Not all cup holder trash cans are created equal. This option comes with brightly colored lids that push open for trash. More importantly, they come in twice the height of most cup holder trash cans, so you can fit more wrappers and receipts in there before having to empty it out!
Trash cans are a great help in the car, but they can take up so much leg space when not in use! This Amazon variation offers the functionality of a hanging console strap, with the versatility of a folding and collapsible storage design. The supported bottom can hold up to quite a lot of trash, too!
Sometimes, kids look at a trash can and think, "Let's explore!" This handmade trash bag comes not only fully lined and waterproof but includes a handy drawstring closure to prevent curious toddlers from getting too close to the trash.
The bag is small enough to hang on the center console without stealing legroom from your passengers up front, too. And the sunflower fabric is just too cute!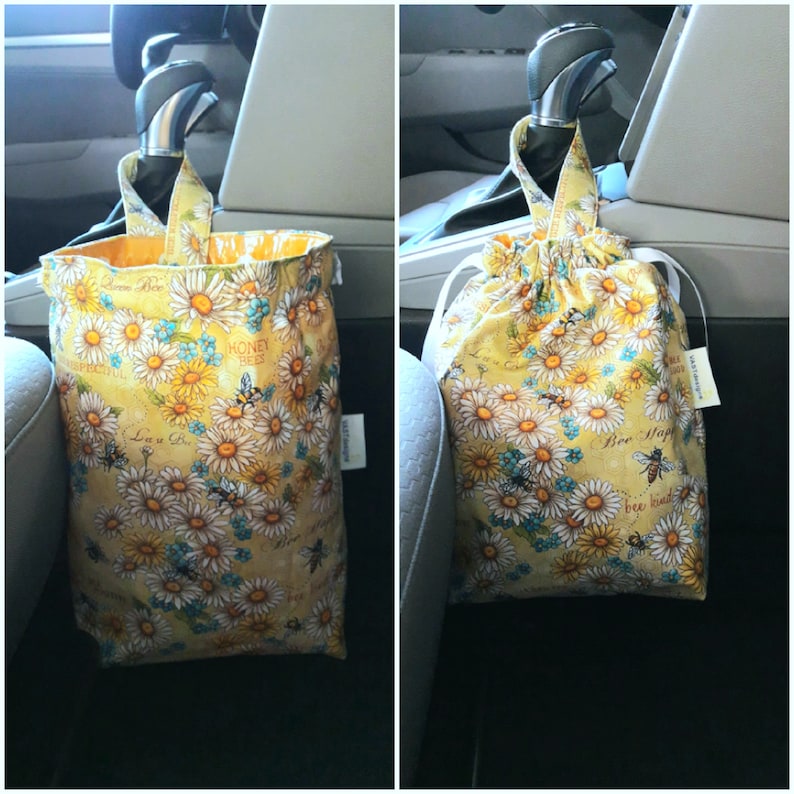 10.  Embroidered Trash Bin
Why not use your car's trash can to add style to the vehicle? This handmade option comes embroidered with your personalized monogram in delicate cursive print. The bag itself features a user-friendly rim for lining the bag with mini-trash bags (or grocery bags!) 
For a practical trash bin resistant to stains and water, check out this Amazon exclusive! The bag itself comes with an elastic opening to allow larger trash items to slide in and prevent other pieces from falling out of the bin.
Two side handles make emptying the container without spilling easy. This bag comes with mesh pockets for added storage, too. 
If you want a basic black trash can for your car, this Walmart find is it! The can is slim enough to fit in the car's door or rest between seats but large enough to hold plenty of random pieces of trash. A sturdy locking mechanism stops the lid from spilling if the can falls over. The push lid is kid-friendly, too. 
Keeping trash cans out of the way of prying fingers or a pet's nose can be a hassle. Thankfully, this Walmart option comes with a built-in hook to attach it to the back of a seat, keeping it well out of the kids' reach and your dog's mouth.
In addition, the leather-styled material is waterproof, and a built-in magnet closure keeps the bin shut when not in use.
This soft silicone trash cup set is perfect for minimalists and parents everywhere! The silicone material is dishwasher safe, so you won't have to worry about strange smells sticking in the cup. An easy-push lid makes throwing away trash simple while driving. Your kids can have their own cups in the backseat since this set comes with two trash cups.
Who doesn't want a little extra sparkle in their life? This handmade hook-type trash can comes bedazzled in the vibrant color of your choosing – green, purple, white, and more!
Your kids will love watching the light bounce off the sparkling rhinestones as you drive. The material is waterproof, and the bin comes with a secure closure to prevent the can from flying open while driving.
It's annoying and time-consuming to clean up after a trash can that's spilled while driving. Avoid the hassle with this spill-proof trash bin from Walmart.
This floor model is larger than most car trash cans and comes with no-tip technology, including weight straps and fasteners, to keep your trash in the can no matter if you hit a pothole or speed bump! You can even use normal trash bags in this model.
Having a trash bag, you can use anywhere in the car is super helpful for busy parents. This handmade option comes with an adjustable strap that allows the trash bin to hang from the console, headrest, or side door.
Of course, you can throw this bag in the washing machine when it needs some cleaning, too. Best yet? The bag comes in an adorable grey arrow pattern that hides stains well. 
Fans of sparkles will love this bedazzled mini-trash can. This handmade cup-styled trash can mount to the car dash or vent for easy access by the driver. The material is waterproof, soft, and durable. This compact option is excellent for smaller vehicles!
This mini trash can is tiny but mighty! Nylon straps allow for easy attachment to the car headrest. The pop-up design enables this option to store in narrow spaces when not in use. It comes in a fun, bright floral pattern, perfect for a cheerful ride in the car. 
Does your car seem to collect a ton of trash? Then this trash can is for you! The material is waterproof, tear-proof, and comes with a detachable lid to seal away smells. This can also double as an organizer thanks to exterior pockets. The high-capacity bin can hold up to 3 gallons worth of trash.
DIY Car Trash Cans
These DIY Car Trash Can designs allow you to customize your trash can and express your own individual style!
If you have a dishwasher at home, you probably have an empty dishpod box somewhere. Put that box to good use by creating your own car trash can! This pattern requires minimal work and DIY skills since the box's lid is already set up like most trash bins. Just line it with a plastic bag, and you are good to go!
Sewing-skilled drivers can create their own car trash can with an embroidery hook, fabric, and thread. This pattern is easy enough for beginner-level sewers to take on. Choose a rugged fabric-like canvas for a long-lasting DIY trash can. You can line the finished product with a grocery bag to protect the material. 
Sewing-savvy moms can create their own version of a hook-style trash can with this economic pattern. With two fat quarters of fabric, interfacing, and a single button, you'll be well on your way to a cleaner car. Plus, the final product is machine-washable, depending on your chosen fabric.
Get extra bang for your buck and more trash storage for your car with this expandable trash can pattern. The design includes extra storage pockets and a backstrap for securing the bin. You can fit this bag between seats or hook it to a headrest. 
Reuse those old plastic toy containers to create a car trash can! All you need to make this option is a plastic container with a removable lid.
Cut a hole in the top, add some cute paper or sticky decals to the exterior, and line it with a grocery bag, and you'll be all set for your next road trip!
Quilt-lovers will conquer this DIY mini-trash can pattern. The easy-to-follow pattern creates a compact, cylindrical trash can to attach to your car console. The design takes only a few hours to follow before your trash can is ready for use. More experienced sewers can add a water-proof material lining to the can for added longevity.
Not a fan of sewing? That's not a problem with this cereal container-based design. All you need to do is find a plastic reusable cereal container.
This DIY hack requires only a grocery bag to line the cereal container, but you can decorate the container with duct tape, stickers, peel and stick wallpaper, or paint for added style.
Basic sewers and experts alike can take on this car trash bin pattern. All you need is a reusable grocery bag from your favorite store!
The hanging design loops around a car's headrest for backseat trash storage. You can add stick-on velcro to the opening for a secure closure, too.
Sewers can create their own mini-car trash can with this fast and easy pattern. The resulting product is compact, soft, and designed to loop around the car's console. Exterior pockets add extra storage space for your car's odds and end. You'll need scissors, sewing needles, thread, and material to complete this project. Beginner crocheters can complete this pattern, too. 
Before You Go…
As you start shopping for the perfect car trash can, remember to consider your needs before buying. If you can make the trash can yourself through DIY methods, you can save more money such as professional car buffing services or upgrades.
But, if you're looking for a waterproof, smell-proof, or extra-sturdy option, you'll want to consider buying a model instead.
If your car is too old for a long trip, it's even more crucial to have a car trash can to keep your vehicle clean and clutter-free during shorter trips.
Don't be afraid to shop around and try a couple of different styles for your car; you may find a specific type of trash can in the front seat and a different one for your kids in the backseat. Happy shopping!