Are you searching for the best car seat for a 5 year old?
If so, this CarSeatsMom.com guide has you covered.
When your child turns 5, it's a great time for them to transition into a bigger car seat or booster. Each child is different, so some may not be ready for that transition while others are tall for their age and need to move onto a larger seat.
It's important to pay attention to their height and weight because each car seat has its own specific guidelines. 
After thorough testing, the best car seat for kids five and older is the Britax Grow With You ClickTight Plus Harness-2-Booster. Not only did using this seat from 25-120 pounds save me money in the long run, but the safety, design, and functionality excelled in day-to-day life. With this seat, I didn't feel that the move to a booster meant compromising on safety and peace of mind.
I use Britax Grow With You Plus for my two oldest children who find it very comfortable and practical. They can independently buckle themselves and are able to use both of their cupholders on long family trips.
One of the best features that I numerously tested is how easy and quick I can install and move this seat from one car to another. Furthermore, the ClickTight feature works every time providing a secure installation and peace of mind for us parents.
Top Car Seats For 5 Year Old Children
| Name | Weight Limit | Height Limit | Shop |
| --- | --- | --- | --- |
| TOP PICK: Britax Grow With You ClickTight Plus Harness-2-Booster | 25-120 lbs. | 62" | VIEW ON AMAZON |
| Diono Monterey 4DXT 2-in-1 High Back Booster | 40-120 lbs. | 63" | VIEW ON AMAZON |
| Chicco KidFit 2-In-1 Belt Positioning Booster | 30-100 lbs. | 57" | VIEW ON AMAZON |
| Graco Turbobooster Stretch | 40-100 lbs. | 57" | VIEW ON AMAZON |
| Evenflo Big Kid Booster | 40-100 lbs. | 57" | VIEW ON AMAZON |
| Clek Oobr High Back Booster | 33-100 lbs. | 57" | VIEW ON AMAZON |
An upgrade from the Pinnacle, this seat can be used as a 5-point harness (25-65 lbs) and a belt-positioning high back booster (65-120 lbs). It accommodates an extra inch and 20 pounds more than most boosters on the market, which means your child stays safer for longer. 
As with all Britax seats, you're getting exceptional safety features, starting with the three layers of side-impact protection and a V-shaped tether to keep the seat fully restrained. The SafeCell crumples beneath the seat absorb crash impact, and the steel frame keeps the seat stable under any circumstances. 
With a 9-position headrest, this seat is a great option for tall kids, and the armrests, cupholders, and soft fabric make for a comfortable ride. Bonus: you can remove the machine-washable cover without uninstalling the seat OR rethreading the harness!
ClickTight Installation
One of the best features of Britax car seats is the ClickTight installation, which makes installing the 5-point harness both stress-free and budge-free. Simply pinch to open the ClickTight panel, thread the seat belt through the belt guide, and buckle.
Price Comparison
$299.99
$399.99
in stock
2 new from $299.99
as of January 25, 2023 2:07 am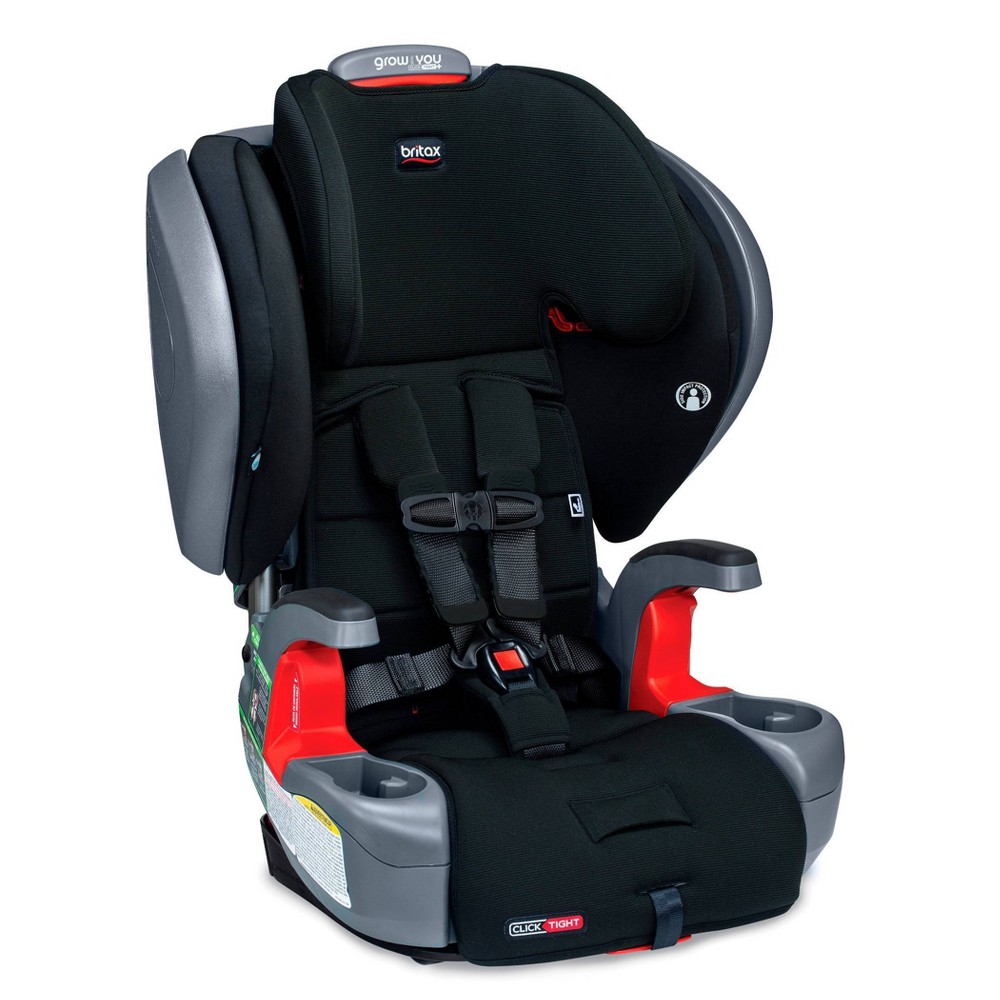 Close the ClickTight and secure the tether in the back. When your child is ready for the booster, the color-coded belt guide makes it simple for them to use.
Pros
Color-coded belt guide

SafeWash fabric that's easily removed

5-point and high back booster

Good for tall and heavy kids

Easy installation

Steel frame

SafeCell crumples
Cons
Heavy

Straps can be hard to adjust
If you're on the hunt for an expandable booster seat that fits wider and taller children, the newest update to the Diono Monterey is worth checking out. Featuring 15 innovative improvements since the original Monterey, this seat is designed for children ages 4-12, 40-120 pounds, and 38-63 inches.
While some booster seats feel shaky and lightweight, the Monterey has the heavy-duty, ultra-safe construction of a convertible car seat. Other features we love include the breathable side panels, four layers of side-impact protection, and bright color options like blue, plum, red, and yellow.
The armrests and retractable cup holders are a plus, and it can be converted to a backless booster if needed. Installation is also made simple with LATCH connectors and front adjustment straps. As always, Diono exceeds safety requirements and gives parents peace of mind while traveling.
Price Comparison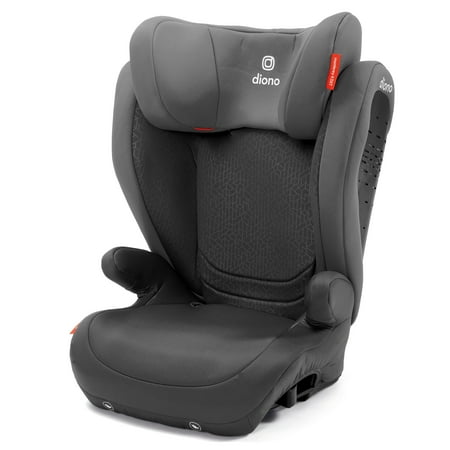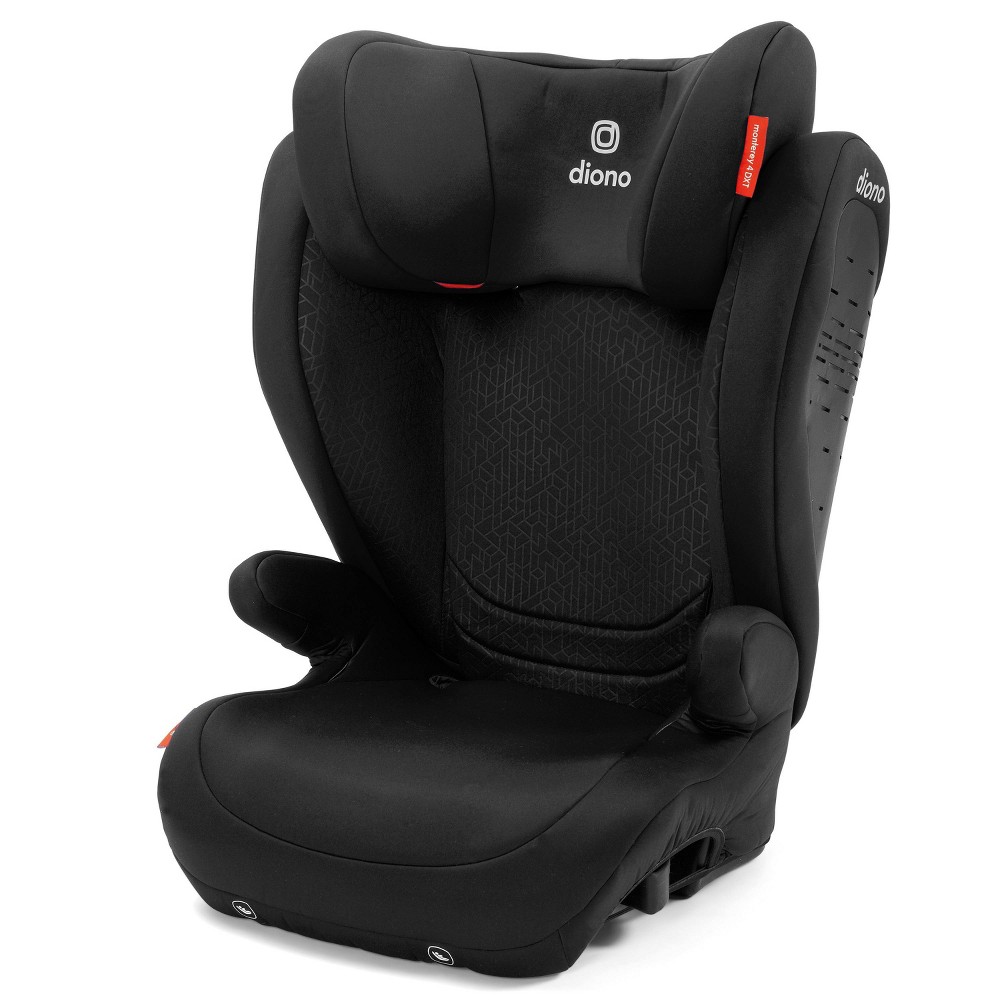 out of stock
as of January 25, 2023 2:07 am
Designed to Fit Kids Longer
The longer you can keep your kids in a high back booster, the safer they'll be. However, that can be challenging for big kids who struggle to get comfortable. The Diono Monterey 4DXT features a wide, contoured seat, and an 11-position headrest, and expandable sidewalls that both result in a 69% increase in space. 
Kids of all sizes found this seat comfortable enough to sleep in on long car rides, which is a win in our book! Keep in mind that the high back of this seat is large and works best with no other car seats next to it.
Pros
Easy installation

Height and weight are adjustable

Can be used high back or backless

Solid and sturdy

Breathable side panels

Armrests and two cup holders that pull out
Cons 
Large size

Line dry is recommended for the seat cover
The Chicco KidFit 2-in-1 Belt-Positioning Booster is an efficient and stylish booster perfect for 5-year-olds and above. Safety and comfort are Chicco's chief focus, and because they are an Italian company based near Milan, they don't ignore fashion trends. It comes in four colors and is not as expensive as some.
It can convert to a backless booster seat, and it has head and shoulder protection and ten height positions. The ErgoBoost double padding with a contoured seat offers it more comfort and support.
It is one of the easiest to install and easy for children to buckle on their own. It has a SuperCinch tightener to use with the LATCH system. The manufacturer recommends using both the LATCH system and the seatbelt system for extra safety. Both the armrest and seat pad covers can be removed and are machine washable. There are two removable, flexible, and collapsible cup holders that are dishwasher safe. 
Price Comparison
$109.99
in stock
1 new from $109.99
as of January 25, 2023 2:07 am
Amazon.com
Free shipping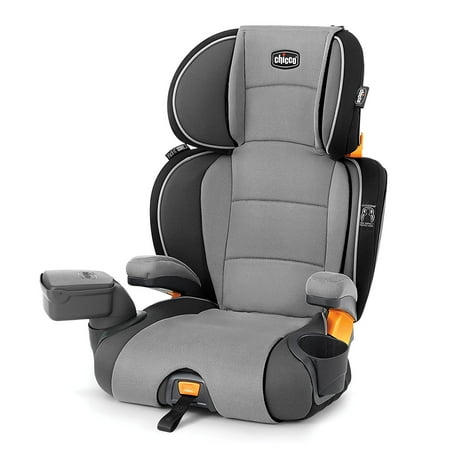 Chicco KidFit Safety Rating
The Chicco KidFit was rated the KidFit as a Best Bet choice in 2015 by the IIHS (Insurance Institute for Highway Safety). It passed all the fit tests of the Hybrid III 6-year-old child crash dummy. It also does not have any product recalls on the NHTSA and ranked higher on crash test results than most of the other boosters. 
Pros
Easy Installation and Easy for Kids to Buckle

Adjustable Height Backs 

LATCH System

Lightweight 

Converts to a Backless Booster

Machine Washable Seat Pad and Arm Rests

Cupholders are Collapsible and Dishwasher Safe

Best Buy in 2015 – IIHS
Cons
LATCH System does not Work well in Some Cars

A Bit More Expensive 

Wide, Taking up More Room 
The Graco TurboBooster can easily be converted from high back booster to backless and is intended for kids 40-110 pounds.
The 9-position adjustable headrest is comfortably padded, as are the side wings, and the open loop belt guides, cup holder, and retractable storage compartment are all convenient for parents of older kids.
The TurboBooster has been crash-tested to meet or exceed U.S. safety standards. It also features the innovative LATCH system that has a tether in the back connected to an easy-to-use front adjustment strap. A latched booster seat is significantly safer than one where your child is simply buckled in. Even better, it's very easy to unlatch for switching between vehicles.
Price Comparison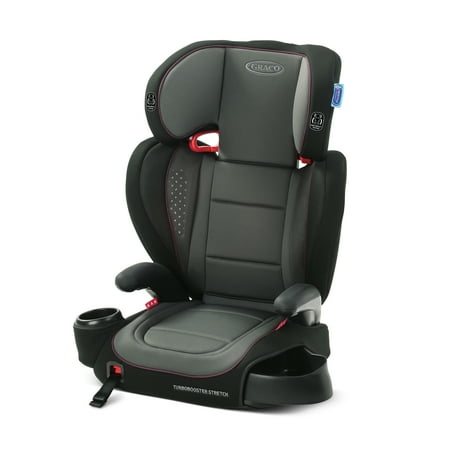 $139.98
in stock
1 new from $139.98
as of January 25, 2023 2:07 am
out of stock
as of January 25, 2023 2:07 am
TurboBooster vs. Affix
If you're trying to decide between the Graco TurboBooster and the Graco Affix, rest assured that they both have all the same safety features and the upgraded LATCH system. You can get both seats for around the same price right now, and the TurboBooster has an additional 3 positions on the headrest and a higher weight limit by 10 pounds. It's also a slightly more compact seat, which makes it better for smaller cars and fitting three across the back seat. 
Pros
9-position padded headrest

Can fit three across

Cup holder and a snack/toy compartment

Belt guides

Comfortable and lightweight seat

LATCH system for easy install

Great price
Cons
Sometimes the headrest doesn't lock properly

Only one cup holder
Evenflo has long been associated with quality children's products, and the Evenflo Big Kid Booster does not disappoint. It is loved by many parents and one of the top-rated for the price point. 
This one also is a 2-in-one convertible seat that has a removable back for a simple transition to a backless booster. Hard to find at this price point. Additionally, it has six headrest height positions so it can grow along with your child. 
It is light, weighing in at less than ten pounds, making it perfect for those who have to switch vehicles often or travel. It's also easy to assemble and install. 
It's available in seven different colors and patterns combinations, and the seating pad is easy to detach and throw into your washing machine. The parts of the seat are easy to clean with a damp cloth. It also has two elastic cup holders, perfect for drinks and snacks. 
The Evenflo Big Kid AMP has been side-impact tested and has had several federal crash tests ensuring it meets and surpasses all safety requirements. It has an energy-absorbing foam line made out of good quality foam, and there is a seatbelt adjuster which will help to obtain the safest fit for your little one.
Price Comparison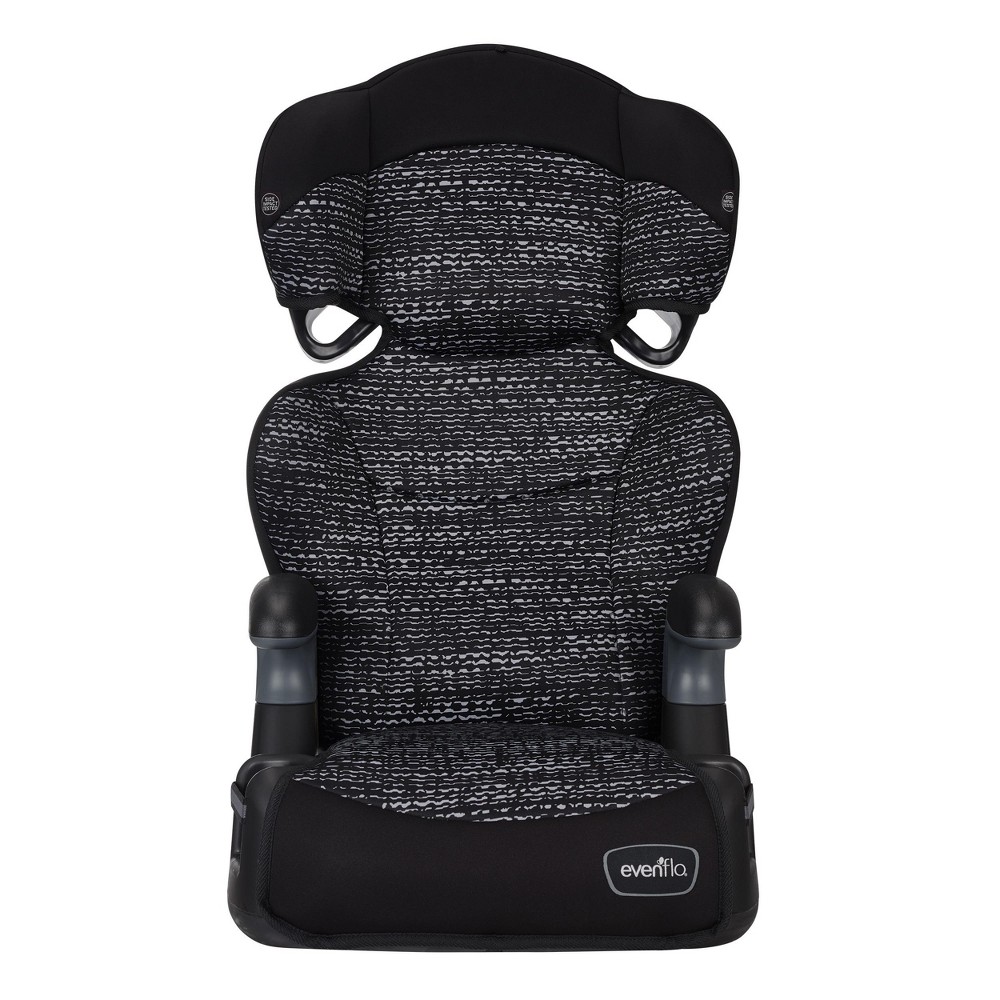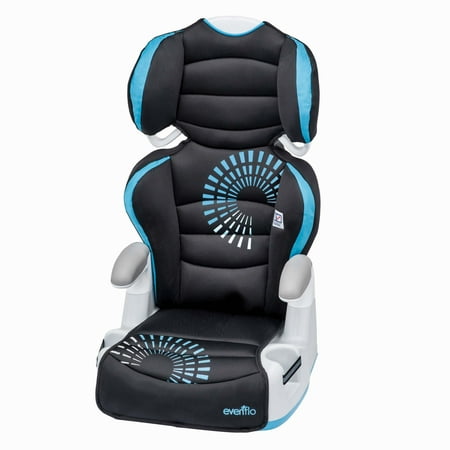 out of stock
as of January 25, 2023 2:07 am
Pros
One of the Least expensive 2-in-1

Easy to Install

Lightweight

Machine Washable

Cupholders

6 Headrest Height Positions

Shock-Absorbent Seat Liners

Detachable Back
Cons
No Padding when the Seat is Raised for Taller Kids
6.Clek Oobr High Back Booster with Recline and Rigid Latch – Top-Notch Design and Safety Features
When Clek set out to design a car seat, they really put a lot of thought into what parents are looking for. Just by looking at it, you can the Clek Oobr High Back Booster Car Seat is different from its competitors. 
It easily converts to a backless booster and is available in various colors and patterns. Clek has created its own safety system to protect your child from the front, rear, and side.
This system includes a structural headrest, a rigid latch, energy-absorbing foam, a magnesium back frame, and belt guides.
The fabrics are stain-resistant and spill-resistant, with the exception of the luxury automotive fabric used on the Oobr Drift. They resist moisture and odor-causing bacteria and contain no flame-retardant chemicals. 
When it comes to cleaning, you can remove the cover on the seat cushion and wash it by hand. The fabric on the high back, side wings, and headrest cannot be removed but can be easily spot cleaned.
Price Comparison
$369.99
in stock
1 new from $369.99
as of January 25, 2023 2:07 am
$399.99
in stock
1 new from $399.99
as of January 25, 2023 2:07 am
$419.99
in stock
2 new from $419.99
as of January 25, 2023 2:07 am
Oobr Booster Easy Installation
The Oobr is easy to install thanks to its quick-release method and can be installed using either the LATCH or seat belt system. However, the rigid latch only works when the LATCH system is in place.  Clek also offers add-on accessories such as a drink-thingy cup holder, a mat-thingy, and a Weelee travel bag. 
Pros
Easy to Install

Durable 

Rigid-Latch System

Easy to Clean Removable Seat Cushion and Cover

Suitable for Cars without Head Restraints

Great Test Results

High Quality

Smaller and Compact – Ideal for Smaller Vehicles
Cons
Pricier than Most

Heavy

May be too Wide for Some Cars

Armrest Makes it Difficult to Remove the Child

Recline Feature Can Only be Used with the Rigid-LATCH System
Types of 5 Year Old Car Seats
Booster seats help your 5-year-old feel more grown-up. They are less restraining and look more like an adult seat. When choosing a booster seat, you will have two choices: high-back and backless.
High-back
High-back booster seats are comparable to a car seat. They are small with a back and a bottom and are placed on your rear passenger seat. They have back and head supports.
These provide extra support to the head and neck, making them especially beneficial for children who still fall asleep when traveling in the car or for long road trips.
The high-back has a guide to thread the shoulder belt, and on some, the backrest can be adjusted for height. Most high-backs come with padded headrests. Some high-backs are available as a 3-in-1 combination that can convert from rear-facing to forward-facing to booster seat. Some high-backs have a removable back – converting it to a backless. 
Backless 
Backless booster seats are the final stage before your child is ready to go without a safety seat. They only have the seat element, giving the booster extra height so that it can be safely strapped in.  They don't offer any neck or head support.
This type of booster has seatbelt guides that position the seatbelt over the correct place on the child's body. They are compact and lightweight and typically less expensive. They are easy to transport for long and short trips. This is especially pleasing if you travel. 
When Do You Need a Booster Seat for your 5-year-old?
You shouldn't necessarily go by age when thinking about switching over to a booster seat. Kids grow at different rates. It basically boils down to the height and weight of your little one. 
If your little one exceeds or is close to exceeding the height and weight limits of their current seat, it is definitely time to consider moving up to a booster seat. Here are some questions to consider:
What is the right age, height, and weight for a booster seat?
The child should be between four and eight years old and at least 35-inches tall. They should weigh between 40 and 80 pounds and be less than 4 feet 9 inches tall.
Are they Riding Comfortably?
Your child should be riding comfortably in his/her seat without having to slump over or pull their knees up. 
Will they still safe in a booster seat?
Yes. Like child car seats, booster seats have to meet the specified requirements established by the National Highway Traffic Safety Association (NHTSA). If you fall into either of the first two questions, it's time to look into choosing a car booster seat for your child. 
The great thing about investing in a booster seat is it will last until your little one is between 8 and 12 years old, depending on their rate of growth. This is usually up to 4 feet 9 inches tall and 120 pounds. 
Buyer's Guide
Is it Easy to Install?
Car seats are typically installed using either the LATCH system or the seatbelt system. The LATCH system is almost always easier to install thanks to the built-in anchors and tethers.
Choosing a car seat that has both the LATCH system and the seatbelt system is best for those who move the seat from car to car or travel.
How Safe is it?
Safety comes first! That's the primary reason we purchase car seats for our children. To ensure their safety. When choosing a seat for your five-year-old, consider how easy it is to install. Does it have side impact protection?  Is it easy to hook and unhook? 
Does it have various installation systems in case you are traveling or moving from car to car? How well did it do in crash tests? Does it have other safety features?
Is it Durable? 
If you intend to keep your car seat for quite some time, durability is a must. Look for booster seats that have a heavy-duty frame.
Is it Easy to Clean?
For the booster seat cover, choose a fabric that is durable, easily washable, and waterproof. Most seat covers are easily wiped down or machine washable. Almost all are water-resistant. 
Booster Seat Safety for Young Children
When your little one reaches the age of five, they are probably getting too big for their original child car seat. Depending on the make and the model, most forward-facing car seats accommodate children who weigh between 40 and 65 pounds with a height up to 44 to 49 inches. Be sure to refer to the owner's manual to verify weight and height limits. Other safety considerations:
5-Point Safety Harness
The National Highway Traffic Safety Administration (NHTSA) recommends children between the ages of four and seven use a forward-facing child car seat with a 5-point safety harness until they reach the weight and height limit permitted by the seat. 
It increases safety in the occurrence of an automobile collision. The 5-point safety harness is actually a mandate in NASCAR race car competitions.
LATCH System
LATCH stands for Lower Anchors and Tethers for Children. It consists of built-in hooks and straps on the booster seat that anchor to the hardware inside your car. The LATCH system can be used in place of seatbelts. In most cases, LATCH is not used or needed for booster seats.
Height on Backless Booster Seats
For the backless booster seat, be sure your child's ears do not go above the top of your car's seat. This will ensure proper head protection and prevent whiplash. If your child's ears do go above your car's seat, consider choosing a high-back booster seat.
Vehicle's Seatbelt
Your car's seatbelt should always make contact with your child's chest and shoulders, coming across the top of their thighs and without touching the stomach area. 
Frequently Asked Questions
What is the difference between Chicco kidfit 2 in 1 and Britax?
Chicco kidfit 2 in 1 weighs significantly less then Britax booster car seats. Furthermore, Chicco 2 in 1 converts to a backless booster as none of Britax combination car seats do.
What is the difference between Graco affix and turbobooster?
It is much easier to adjust Graco affix booster for your growing kids then the turbobooster. The affix already comes with lower anchor connectors, which makes it secure even when the child is not in the booster as turbobooster doesn't. Moreover, it is much easier to move Graco affix booster from one car to another and installation is a breeze.
What is the difference between Evenflo big kid booster and Graco turbobooster?
Graco turbobooster is much better for taller children, and it has more padding then Evenflo big kid booster. The turbobooster is considered a safer option then Evenflo big kid amp. However, if you need a very light spare booster, then Evenflo should be your choice. It all depends on your personal preferences.
Which Booster Car Seat for 5 Year Old to Choose?
There is a lot to take into consideration when choosing a booster seat for your growing 5-year-old. After safety, deciding what's right for you and your little one boils down to personal preference and meeting the needs of your family. 
Do you need something lightweight for travel and switching from car to car? Is the LATCH system important to you? Do you need armrests? Do you want a headrest if your child sleeps in the car or on long trips? What safety features are important to you?
These are the things you want to take into consideration while choosing the best booster for you and your growing 5-year-old. In the end, you won't regret choosing our top pick, the Britax Grow With You ClickTight Plus Harness-2-Booster.
Which car seat for 5 year old did you like? Let us know in the comments sections below!