Are you trying to find the best car seat for a 2 year old?
You are in the right spot!
Children from birth to 2 years old are supposed to be in a rear-facing car seat. Once they turn two, they are going to switch to a front-facing car seat as long as they meet the minimum height and weight requirements specified on the car seat.
At this age, it is suggested that your child uses a convertible or combination seat. Combination or convertible seats will allow your child to be elevated enough to have the 5-point harness wrapped around the necessary parts of their body.
These are also great investments since they can be used until the child is ready for a regular booster seat. However, if you're just looking for a car seat specifically for that age for whatever reason it may be, here's what we suggest.
According to our thorough research and testing of numerous car seats, the best car seat for 2 years old is the Graco 4Ever 4-in-1 because it's budget-friendly and can accommodate your child's weight from 22-100 pounds. It's a forward-facing car seat with the ability to convert into a high-back booster seat when your child is ready.
Furthermore, this car seat has dual cup holders for a sippy cup, a Simply Safe Adjust Harness System that adjusts the harness and headrest in one easy motion, and the 5 positions adjustable headrest adapts to your child's growth. It's not overly heavy, weighing just 18 pounds. It can be easily transported and transferred from vehicle to vehicle.
Best Car Seats For 2 Year Olds Children
The Graco 4Ever 4in1 will last you many years due to its four modes of use. Rear-facing, forward-facing, high back booster, and backless booster are all the arrangements you'll need.
This seat will last until your child is big enough to ride without a car seat. Rear-facing it can hold 4-40lbs, and forward-facing it can hold 22-65lbs.
As a high back booster, it will occupy children from 30 to 100lbs, and 40 to 120lbs as a backless booster.
There are ten adjustable headrest positions and six recline settings. Installation is a breeze with the 1 second InRight LATCH system and the Simply Safe Adjust Harness.
Very Easy To Install
The ease of installation was highly rated for the Graco 4ever. You can effortlessly move between cars, which makes life a bit easier. It also comes with a removable infant insert for extra padding.
This seat has been crash-tested, and side-impact tested, ensuring the full safety of your child when in a moving car by exceeding all the US safety standards. Safety features were rated 4.8/5 by numerous customers.
It has been insured by Graco ProtectPlus engineering and passed the New Car Assessment Program with flying colors. The EPS energy-absorbing foam and steel reinforced frame both add to the safety and durability of this car seat.
Material quality was given 4.8/5 star ratings. Its ten-year lifespan will save you from spending a chunk of money on car seats, as your child requires different modes as they grow. Expiration date: 10 Years after the manufacture date
6 Position Recline – Super Comfortable for Your Growing Child
Customer Reviews
Many customers say it can be heavy to travel with but appreciate the durability. Parents who were victims of car accidents with this seat have reported little to no injuries on their child when in this seat. It was also notable for parents that it lasts as long as ten years compared to other seats.
$329.97
in stock
2 new from $329.97
as of June 29, 2022 11:13 am
What We Like
Machine washable
2 Cupholders
10 Year lifespan
What We Don't Like
Bulky, heavy
Sweaty material
A harness can over tighten easily
The Graco Extend2Fit can hold children from 4-50lbs when rear-facing, and 22-65lbs when forward-facing. Remember, you will want to keep them rear-facing for as long as possible, and this seat allows for up to 50lbs when rear-facing at least until their feet can reach the front of the seat.
With its six recline adjustments and ten headrest positions, your child will always be comfortable while sleeping between long rides.
Material quality was rated 4.7/5 for the Extend2Fit. There is also a 4-position leg extension. The amount of legroom was rated 4.8/5. With the Simply SafeAdjust Harness System, the harness and headrest can easily conform to different heights.
The Graco Extend2Fit uses the InRight LATCH system that will hook onto your car within one second. The Fuss Free Harness Storage will keep the harness stored away from distracting you from your baby. The installation has been rated 4.7/5.
The cupholders are removable if more space is needed. This seat has exceeded the US safety standards for crash-testing and side-impact testing.
The Graco ProtectPlus engineering supports additional tests that validate safety for your child. The safety features for the Extend2Fit is rated 4.8/5. Although the seatbelt installation can be a bit difficult at first, this seat has buckle pockets, so the seat stays in its place, as well as your child.
Up to 5″ of Additional Legroom – Longer Rear-Facing
Customer Reviews
Customers have complained the warning labels can heat up excessively, making children's backs very sweaty. But the seat itself is very comfortable for children. The extra legroom was also appreciated by toddlers rear-facing.
$249.99
in stock
2 new from $249.99
as of June 29, 2022 11:13 am
Pros
2 Cupholders
Machine washable
5″ more legroom
Cons
Bulky
Not ideal for preemies
Challenging seatbelt installation
The Evenflo Evolve is a forward-facing seat, a highback booster, and a no-back booster seat. It has a 5-point harness that acts as a seatbelt for your child. This seat can handle children weighing from 22-120lbs.
After your child turns two, it is recommended to transition them over to a convertible or a combination seat. A combination seat will elevate your child enough to have the 5-point harness wrap around the designated parts of their body. The Evolve has passed all crash tests with superior numbers, as well as the Evenflo's Comprehensive Side Impact and Rollover test standards.
The buckle may loosen over time, although this can be replaced with a seatbelt. The Suresafe installation connectors made installing the seat very easy, and of course, the seat belt can be tucked into the buckle pockets. The ease of installation has been rated 4.9/5.
With energy-absorbing material and a more significant area of protection, the Evolve has proven to be a very safe and sturdy car seat for 2-year-old.
Customer Reviews
Some parents have reported the head wings can appear to be bulky around children's heads. Children have complimented the extra cushiony material that is on the bottom of the car seat for their 2-year old. Expiration date: 8 Years after the manufacture date
Comfort has been highly rated for this car seat. Many toddlers have been able to sleep soundly with the temperature-regulating material.
$203.50
in stock
2 new from $203.50
as of June 29, 2022 11:13 am
Amazon.com
Pros
Fits 3 Across
8 year lifespan
Easy installation
2 Cupholders
Soft material
Cons
Need to tighten straps
Headrest not removable
Big head wings
This double foam booster seat has helped moms through many tough times. There is more padding in this seat than any other Chicco car seats!
Many booster seats can be bulky and heavy, forcing parents to lug around a 20lb car seat with a 20lb baby. However, parents have reported this seat was lightweight and easy to carry around. Ease of use has been rated 4.9/5 for this car seat.
There are nine different levels to place the headrest that can be determined by if your baby is in the mood to sleep or stay awake.
There are also four recline positions and a five-point harness. Comfort has been rated 4.9/5 stars. This seat is for children weighing between 22-65lbs in a high back booster, and 40-100lbs when a backless booster. Expiration date: 8 Years after the manufacture date
The covers are also easy to wash in a machine as they are removable from the seat itself. There are two layers of side impact protection for the head and torso. The Lock Sure and SuperCinch systems guarantee your seat will stay in place when combined with the LATCH system.
Installation carried 4.9/5 stars. There are also storage compartments for the harness and LATCH straps. The harness straps can be a little challenging to tighten. Some moms have agreed that this model does not have durable straps, but apart from that, it was still worth the buy.
Improved Child Comfort and Better Vehicle Fit
Customer Reviews
Parents love the sleek appearance of this car seat for their 2-year old. They also like how it lasts until their child grows out of a car seat. The straps have been straightforward to adjust, as opposed to other models of Chicco. Some moms have agreed that this model does not have durable straps, but apart from that, it was still worth the buy.
$219.99
in stock
3 new from $219.99
as of June 29, 2022 11:13 am
Pros
2 Removable Cupholders
3 Colors to choose from
Removable covers
Locksure System
Cons
Difficult to tighten straps
Narrow around the headrest
Not for changing cars frequently
This car seat was rated Best Bet by IIHS! It will carry children weighing between 22-110 lbs. That is a broader range, compared to other front-facing booster seats. This seat only weighs 9lbs, making it easy to carry around from car to car.
It also does not take up too much space in the car, allowing three car seats to fit comfortably across the backseat. The seat cover is also triple-layered, giving it a cushion-like feel for a substantially lower price. The material quality has been rated 4.5/5.
The cupholders are elastic, so if you have unusual-shaped baby bottles, they will come in handy. It has passed various crash testing for side impact protection and passed US safety standards by 2x. The safety features were rated 4.5/5. Installation was comfortable with the LATCH system, and readjusting was simple through up-front tightening and loosening of the harness.
The 5-point harness will support a child's body safely. The ease of installation was given 4.5/5 stars. It comes with an optional head pillow that moms use for added comfort. Expiration date: 6 Years after the manufacture date
Customer Reviews
Parents that have gotten in a car accident with this car seat have said their children were fully protected. This has led them to repurchase it as it has been the best seat they've bought.
The amount of padding makes long rides comfortable for toddlers. Overall, this car seat for 2 year olds has been given a stellar safety and durability rating.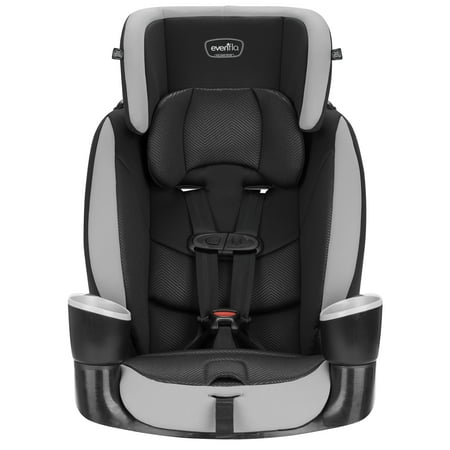 Walmart.com
Pros
Machine washable
2 Elastic cupholders
Triple-layered cover
Lightweight – 9lbs
Cons
Assembly required
Difficult to tighten latch straps
Headrest not adjustable
Buyers Guide
Pricing
A common misconception is more expensive car seats will function better and last longer. This is a myth. Cheap car seats can be just as durable as expensive ones. Although the expensive ones have their advantages.
Safety
Safety is imperative here. The whole point of a car seat is to minimize injuries during car accidents. So if the harness quickly loosens or the LATCH doesn't tighten all the way, the car seat is not performing at its maximum capacity. Review safety precautions that are written in the manual to make use of 100% of the safety features.
Durability
Checking the date of expiration will tell you how long you can utilize the car seat. Some parents prefer to save money by buying one that lasts up to 12 years. All car seats range from 4-12 years of usage.
Ease of Cleaning
A machine-washable seat can significantly reduce the time needed to keep the covers clean. Hand-washing can be a hassle to parents who are used to doing laundry with a washing machine.
Moms everywhere have experienced how difficult it can be to choose a car seat for your 2-year-old. At two years, your child will begin transitioning to a combination or convertible seat.
The best car seat for 2-year-old is a convertible car seat. A convertible seat will usually start off serving as a rear-facing seat, then a forward-facing seat, and lastly a booster seat.
In certain cases, such as preemies, it may be needed to keep using an infant car seat for 2 year old children that do not meet weight and height requirements. The American Academy of Pediatrics recommends parents keep their child rear-facing for as long as possible. Keeping them rear-facing is vital.
In this guide, we reviewed the best convertible car seats for 2-year-olds based on durability, ease of cleaning, and of course cost.
Frequently Asked Questions
When should you transition from infant seat to front-facing seat?
The infant seat should always be rear-facing. Once the top of your child's head and the top of the seat are longer than one inch apart, a new seat must be purchased.
This seat will no longer protect your child up to its full potential and can be dangerous if usage continues. The transition from infant to front-facing would be more dependent on the height of your child than their age.
What is the proper age, height, and weight requirements for a front-facing seat?
For a front-facing car seat, the minimum age requirement is two years old, and can typically carry toddlers from 22-110lbs. A multi-functional booster that can transform from highback to backless will usually last until your child no longer needs a car seat.
How can I guarantee comfort for my child?
Make sure to get a car seat that emphasizes the materials they use. The plusher or foamier, the better! Some car seats have a lot of energy-absorbing foam that makes long rides bearable and safe.
How can I guarantee safety for my child?
Installing your seat precisely as directed in the manual, is one of the main ways to guarantee your car seat will protect your child. Buckling the 5-point harness securely, or utilizing the seatbelt will also provide optimal safety. The LATCH system has changed the revolution of installing a car seat. LATCH is easy to secure and can be completed within minutes.
What type of car seat does a 2-year-old need?
Some many factors and decisions go into a good car seat. Start by making sure the seat is suitable for your child's age, height, and weight. All manufacturers are required to put this information in the manual.
The rest is your preference, but it's good to have a list of things that you would not be able to settle with. Do you want cupholders? Something compatible with the LATCH system? Is there a budget you're trying to stick with? Questions like these will guide you on the right path.
When Should You Switch Out The Infant Seat For A Toddler Seat?
Your child will require more legroom at this point. The rear-facing seat will get too small for your child as they grow. Forward-facing combination seats are the best kind for a child at 2 years old. However, make the transition only after your child no longer fits in their infant seat, as rear-facing is the safest mode for them.
Which Car Seat is Best For Toddlers?
The best car seat will be dependent on the preferences of the parent. But a high back booster seat that can later transition to a backless booster will get the job done until your child officially grows out of a car seat.
Can A 2-year-old Use a Booster Seat?
Yes, it is ideal to purchase a booster seat after the infant seat gets too small so it can last until your child is 13. Keep in mind; the seat must be a high back booster when using it for a 2-year-old.
Safety Above All
It can be vital to have a car seat with the LATCH system, breathable material, and excellent crash-test results. By recognizing these elements, you can significantly narrow your search for a car seat that is highly compatible with your child.
The one thing that matters most above all is your child's safety. Knowing that your child is safe in the backseat is the only thing a mother needs when taking them places in a car.
Taking all of these factors together, we firmly believe the best pick you can make for your 2-year-old is the Graco 4Ever 4-in-1.
Which car seat for 2 year old have you tried? Let us know in the comments below!