The Britax One4Life All-In-One Car Seat is exactly as it sounds-one car seat to last your child through their car seat-using years.
This convertible car seat grows with your child from 5-120 pounds until they no longer need a protective seat while riding in the car. This convenient convertible seat becomes three seats.
$399.99
in stock
5 new from $399.99
as of January 27, 2023 10:19 am
Amazon.com
Free shipping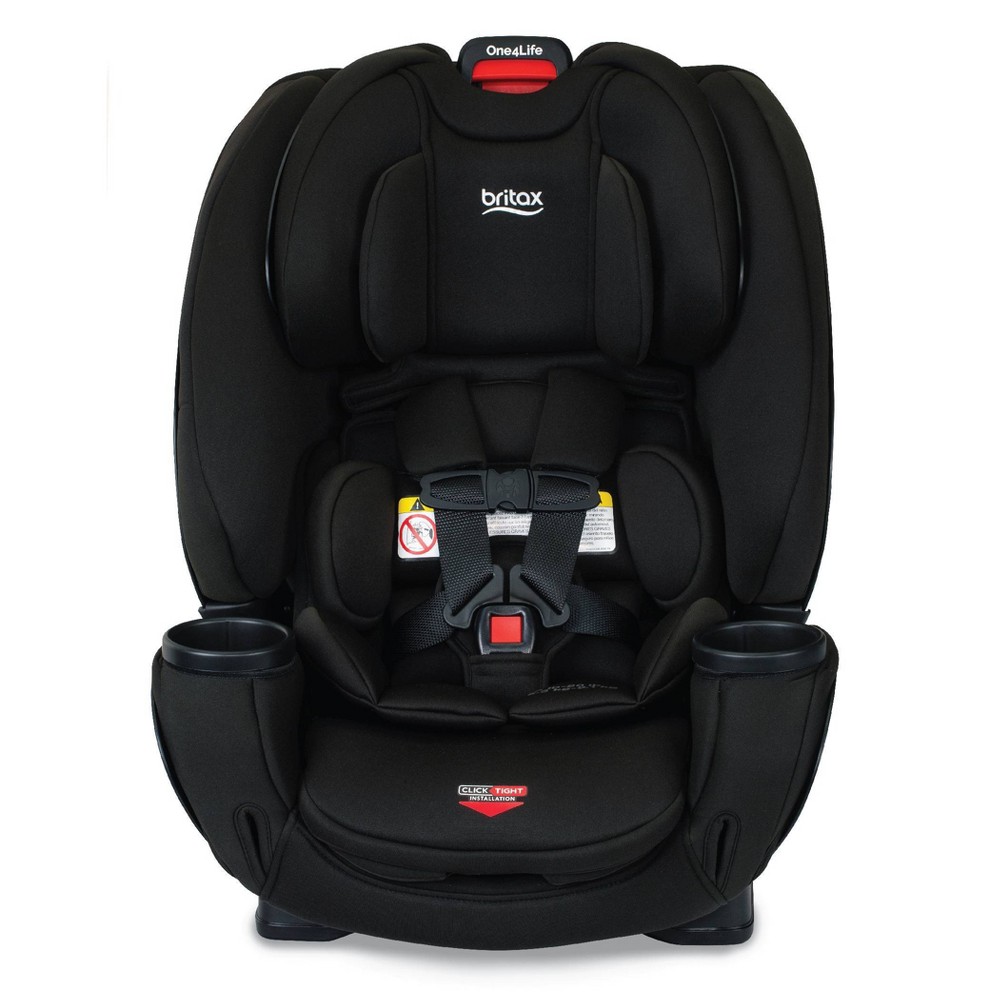 Target.com
Main Advantages
First, the chair is a rear-facing infant car seat. Use it to bring your new baby home from the hospital up until they are 50 pounds.
Once your child outgrows the car seat, the chair transitions to a forward-facing 5-point harness seat. Finally, your older child can use the chair as a high-back belt-positioning booster seat until they are 120 pounds.
Drawback: No Backless Booster
This convertible seat does not `have an option for a backless booster seat. These features claim to give you ten years out of one seat, as the average child does not reach 120 pounds until they are around ten-years-old.
In order to fit a quickly growing child, the Britax One4Life has a 15-position, quick-adjust headrest, and harness, as well as a quick-push, 9-position recline.
These features combined allow your child to be safe and comfortable, no matter their height or weight combination. Even though this Britax Car Seat has numerous features and contraptions, it is still designed with comfort in mind for your little one.
The seat has built-in cooling channels and ventilated mesh to improve airflow and keep your child cool and comfortable. Dishwasher-safe cup holders keep drinks and snacks within an arm's reach, and a removable head pillow is an added comfort to the ride.
Pros
Users rave about how soft and comfortable the padding is

Installation is quick and easy

Easy to clean

Easy-to-follow instruction manual

Cup holders allow for drinks and snacks for your child and are dishwasher safe

The base is solid and flat, so does not leave any indentations in the seats of your car

Infant insert prevents infant head from drooping to sides during the ride

Easy to convert between children of different ages and sizes

The harness can be fastened and unfastened with one hand
Cons
The seat is very large and takes up a lot of space

May not be ideal for smaller cars or families that need multiple car seats.

Straps can be difficult to tighten, and chest clip seems to dig into baby's chest

Heavy and difficult to carry.
Key Features
Convertible: from rear-facing infant seat to forward-facing harness seat to high-back booster seat

Built-in cooling channels and ventilated mesh: improve airflow for comfort

5-Point safety harness: with diamond-weave webbing

Dishwasher-safe cupholders: easily removable for hassle-free cleaning

15-Position, quick-adjust headrest, and harness: grows with your child for optimum comfort and safety

Removable cover: for easy cleaning

Aircraft use: certified for aircraft use in harness mode only
Specifications
Product Weight: 30 lbs

Product Dimensions: 20.5" (L) x 19.5" (W) x 25" (H)

Rear-Facing Harnessed Weight: 5-50 lbs.

Rear-Facing Harnessed Height: Less than 49"

Forward-facing Harnessed Weight: 22-65 lbs.

Forward-facing Harnessed Height: Less than 49"

Belt-Positioning Booster Weight: 40-120 lbs.

Belt-Positioning Booster Height: 44-63"
Safety Ratings
The Britax One4Life ClickTight Convertible Car Seat meets or exceeds all of the NHTSA Federal Safety Standards. In addition to the requirements, this seat also has the following additional safety features:
ClickTight Installation: three easy steps to help you install perfectly every time.

Pinch to open

Thread and buckle

Click to close

High Strength Steel Frame: reinforces the structure of the seat and helps keep your child secure and stabilized in the event of a crash.

SafeCell Technology: acts as a crumple zone that keeps crash energy away from your child in the event of a collision.

Two layers of Side Impact Protection: energy-absorbing shell and foam lining protect your child's head, neck, and torso.

V-Shaped Tether: releases slowly to reduce forward movement during a crash.
Warranty
The Britax One4Life ClickTight All-in-One Car Seat has a one-year warranty against defective materials or workmanship with proof of purchase. Defective parts will be adequately replaced or repaired.
Expiration
The Britax One4Life Car Seat has an expiration of ten years from the date of manufacture. The manufacture date will be clearly posted by the serial number on a label on the base of the car seat.
Honest Customer Reviews
It's no surprise that the Britax One4Life ranks highly among customers. Reviewers typically have nothing but positive things to say about this seat.
Comparing Britax One4Life to Similar Car Seats
Graco 4Ever 4-in-1 Convertible Car Seat
These two seats are similar in many ways. The first is that they both last for ten years, and grow with your child up to 120 pounds. Both car seats have similar weight conversions and are easily adjustable to fit your child. Graco 4Ever 4-in-1, in addition to being slightly less expensive, is also lighter by almost 8 pounds.
Similarities
Multiple seat options that adjust for up to ten years of use for your child

Covers can be removed easily for cleaning and are machine washable

Dual cup holders
Differences
Graco's frame is steel-reinforced, while Britax's frame is made entirely of steel

Graco 4Ever is about 8 pounds lighter than the Britax One4Life

Britax One4Life offers more adjustment positions on both the headrest and recline

Britax is more expensive, but also offers more safety features

Graco 4Ever can convert to one more type of seat-the backless booster
Chicco MyFit Harness Booster Car Seat
The Chicco KidFit Harness Booster Car Seat is a convertible car seat that offers some of the features of the Britax One4Life but does not have as many convertible options or last for a full ten years.
The Chicco MyFit grows with your child from 25-100 pounds. It does not serve as an infant car seat but serves your toddler and big kid for many years. The Chicco MyFit is a great convertible seat choice for a family that already has a car seat.
Similarities
Both seats have soft padding to keep your child comfortable and safe

Easy installation using seatbelt or LATCH technology

Detachable, dishwasher-safe double cup holders

5-point, easy-adjust harness

Bubble Level Indicators

Both chairs have armrests to enhance the comfort of your child's ride
Differences
Britax One4Life starts as an infant car seat and lasts for up to 120 pounds, while the Chicco MyFit starts as a toddler seat and lasts for up to 100 pounds.

The Chicco MyFit is about five pounds lighter than the Britax One4Life.

Cup holders in the Chicco MyFit are foldable for when they are not being used.

Chicco MyFit's frame is steel-reinforced, while Britax's frame is made entirely of steel.

Chicco MyFit is considerably cheaper; however, it does not serve your child for as long.
Diono Radian 3RXT Convertible Car Seat
Both the Britax One4Life and the Diono Radian Car Seats are top-of-the-line convertible car seats. They both offer many additional safety features that go above and beyond the basic safety requirements for infant and child car seats. Both seats are approved for use for children from 5-120 pounds so that they will last your child for a decade.
Similarities
Removable, machine-washable covers.

Soft fabric with extra padding for comfort and safety.

Easy installation with LATCH system or seat belt.

Both seats have a full steel frame.

Multiple adjustments for both the headrest and recline position to accommodate your child.
Differences
The Diono Radian has expandable leg rests and a memory foam seat for added comfort.

The Diono Radian does not offer cup holders.

The Britax One4Life is only slightly heavier, by about two pounds.

The Diono Radian is a more narrow fit in your car so that you can fit multiple in your backseat. Users complain of the Britax One4Life's size and that it does not easily fit multiples in your car.
$399.99
in stock
5 new from $399.99
as of January 27, 2023 10:19 am
Car Seat for Life
Customers provide numerous positive reviews that rave about how pleased they are with their purchase because of the ease of use and safety of this seat. Although it is somewhat large and heavy for a car seat, it has a solid steel frame for the utmost safety.
The soft fabric, ample padding, and dual cup holders make this seat a comfortable choice for your child, no matter how long the ride. The Britax One4Life ClickTight All-In-One Car Seat is a fantastic option for families who want one chair to last from infant to big kid.