Britax Midpoint Review [Best Booster Car Seat]
Purchasing a Britax Midpoint Booster Car Seat with Dual Comfort, a two-in-one combo might be your choice. It would more than likely save you multiple shopping trips. Imagine your child growing out of his/her rear-facing seat! You're pondering about your decision to either purchase a convertible seat or a harness-to-booster model.
When transitioning from a harness car seat, this stylish booster seat serves the purpose for moms and dads alike. No assembling is required. The support strap between the child's legs functions to prevent sliding into the seat and for comfortable seating. The removable cover cleans up easily. Whether doing manual or machine wash, this unique feature adds to the distinction of Midpoint Booster car seats.
A steel frame is put into place at the point where the seat meets your vehicle. This exclusive patented tether harnesses the seat into place much more efficiently than average models on the market.
Price Comparison
Britax Midpoint Review 
This idea for impact protection is innovative and ground-breaking. An impact-absorbing base decreases the force that typically accompanies a crash. It directs energy impact away from your child. The combination of comfort and durability is a boost to the enjoyment of your child. It also boasts color-coded vehicle belt guides and patented Secure Guard clip.
Britax Midpoint Belt-Positioning Booster Seat - 2 Layer Impact...
Dual comfort breathable and moisture wicking fabrics provide your child the comfort they deserve by...
Spacious design with deep side walls for full head, torso, and pelvic side impact protection
2 layers of side impact protection, formed by a deep foam lined shell and quick adjust head...
The state-of-the-art invention makes positioning of the lap belt effortless. The 10-position, quick-adjust head restraint gradually moves to adjust to your child's growth. There is no need to remove the harness to use the seat in booster mode. Red accent pieces are expressly designed to prevent the lap part of the seat belt from becoming constricted and uncomfortable.
Breathtaking features include the following
10-position, fast adjust head restraint and armrests
Durable wicking, breathable fabrics reduce dampness and ensure comfort by absorbing moisture by 25 percent quicker. Whether the climate is warm or cold the seat remains consistently cool and cozy.
Two layers of side-impact protection are well cushioned by a deep foam-lined shell for quickly adjusting head protection. They safeguard your child from crash forces.
Roomy with deep framed enclosures for head, torso, and pelvic side
Accommodates 40 – 120 pounds
It has two sturdy, dishwasher safe, easily removable cup holders that can be used for drinks or snacks. The cup holders can also be removed from the third row seating area to accommodate three sitting across.
The "Submarine belt" latch allows kids to independently engage, and it rivals that of other booster seats. Kids love it!
Product Dimensions
Weight of item is 12 pounds
Minimum Product Dimensions: 27.5" H x 20.5" W 16" D
Maximum Product Dimensions:   35" H x 20.5" W 16" D
Seating Compartment Height: 25.5 – 32.5" (with backrest)
Seat Area Depth/Width: 12.5"/ 12"
Shoulder Width: 15"
It's amazingly practical, enabling parents to avoid hassles
Conversion to a forward-facing seat is effortless
Most fascinating – seat belt holder invented by a mastermind.
After use belts are neatly tucked away in small compartments
No batteries are required for this product.
When vacant, the Isoflex latch Connection System is used
All Britax products are manufactured in the U.S and sold globally
When the seat is vacant anchors keep it in place
Designed to keep the child in an upright position
There have been no recalls to date.
Backs are non-removable
Minimum weight recommendation is 40 pounds
Forward-facing minimum child weight is 40 pounds
Maximum safe height for a child is 38 – 63"
Forward-facing maximum child weight is 120 pounds
Britax earned a higher rating by the NHTA Ease of Use Rating, as compared to Chicco KidFit. Installation aspects and generous canopy coverage was included in the rating. Despite many similarities, each has the following in common:
10-position quick-adjust headrest
Similar weight limit
Deep foam-lined shell with Quick Adjust head protection
SecureGuard belt-positioning clip with color-coded belt guides
Soft-breathable knit fabrics
Removable seat pad, and dual, removable cup holders
Britax Midpoint and Highpoint differ in price, Midpoint being of greater value
Safety First
Customers have concurred that the value is great when one considers the "safety first" features exhibited while using this seat. Enthusiastic buyers with two cars frequently purchase more than one. When you've had an exceptionally demanding day, having a Britax Midpoint Booster car seat handy will put your mind at ease.  You will notice that your ride will be stress-free.
It is notable that Britax "left no stone unturned" in designing and producing this product. The company's sole intent is to protect children from road crashes as well as to make their ride as enjoyable as possible.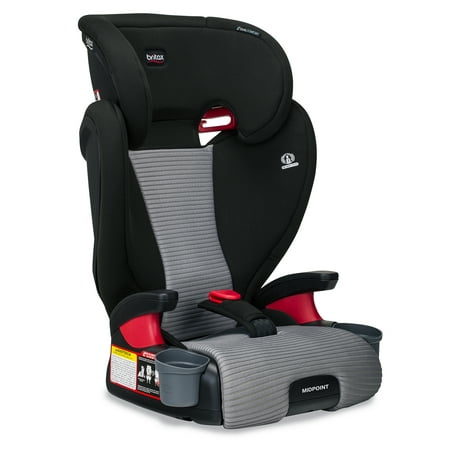 Walmart.com
Manufacturer's Warranty
A one-year limited warranty granted to customers. This car seat meets or exceeds all CPSC, Federal Government Agency, ASTM and JPMA standards for certification of juvenile product manufacturers. Airlines do not have shoulder straps so it is not FAA approved.
Expiration Dates
Manufacturers assign expiration dates, although standards can change or differ periodically based on numerous factors. To check for expiration dates you can go to the website and see the model number and year it was manufactured. It can also be viewed in the manual, or under and back of the seat. Brexit Midpoint has a 10-year expiration date.
Getting Rid of Old Used Seats
Place in a strong black trash bag and dispose of it, or take it to a recycling center. It's possible if seen someone might entertain the thought of reusing it, and this will pose a risk to the safety of a child.
Pleasing Gift
Delight a friend with this gift at a baby shower, or any other event. The booster seat is an exceedingly well-rated item for safety, comfort, versatility, convenience, and durability. She will be thanking you for a long time.
Ultimate Choice
This seat was designed specifically with the care and safety of children in mind. The Britax Midpoint Booster Car Seat satisfies the overwhelming needs of moms by lightening the load of an eventful life.
Furthermore, t is the ultimate choice for moms who crave the safety of her children above everything else. Based on its top-quality, state-of-the-art features and popularity, Britax is the benchmark for booster seats!
Last update on 2020-08-05 / Affiliate links / Images from Amazon Product Advertising API