I was given the Britax Highpoint Booster Seat to review and can say with 100% confidence that you'll enjoy it as much as I did. 
Most booster seats are alike in many ways. They all serve the same purpose, but may range in price. I loved the Britax Highpoint Booster Seat for many reasons. First, it seemed very comfortable for my child. They are usually very squirmy, but it seemed to ease when they were in this seat. It has a 10-year lifespan and a 40 to 120-pound weight rating. 
When I took it out of the box, I thought for sure it was going to take up a ton of space in my car, but it didn't. It was slim enough to fit easily in my seat without invading the space of the middle seats. It only measures 19.5 inches wide, so this was helpful. 
In comparison to the newer mode, the Britax Highpoint 2-Stage Booster, I found that it doesn't convert to a backless like the Highpoint 2 does. This was a little discouraging, but the original still performs quite well since it can be adjusted to 10 different positions. 
Given the extended lifespan and adjustable headrest, I do recommend this booster. It's not over-priced and it provides you with years of use and outstanding safety ratings.
Let's Get Into the details.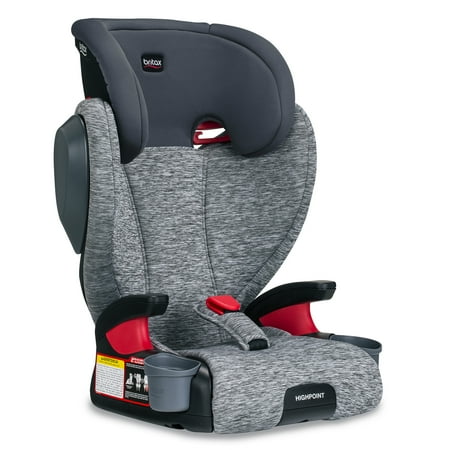 Walmart.com
out of stock
as of November 29, 2023 7:50 pm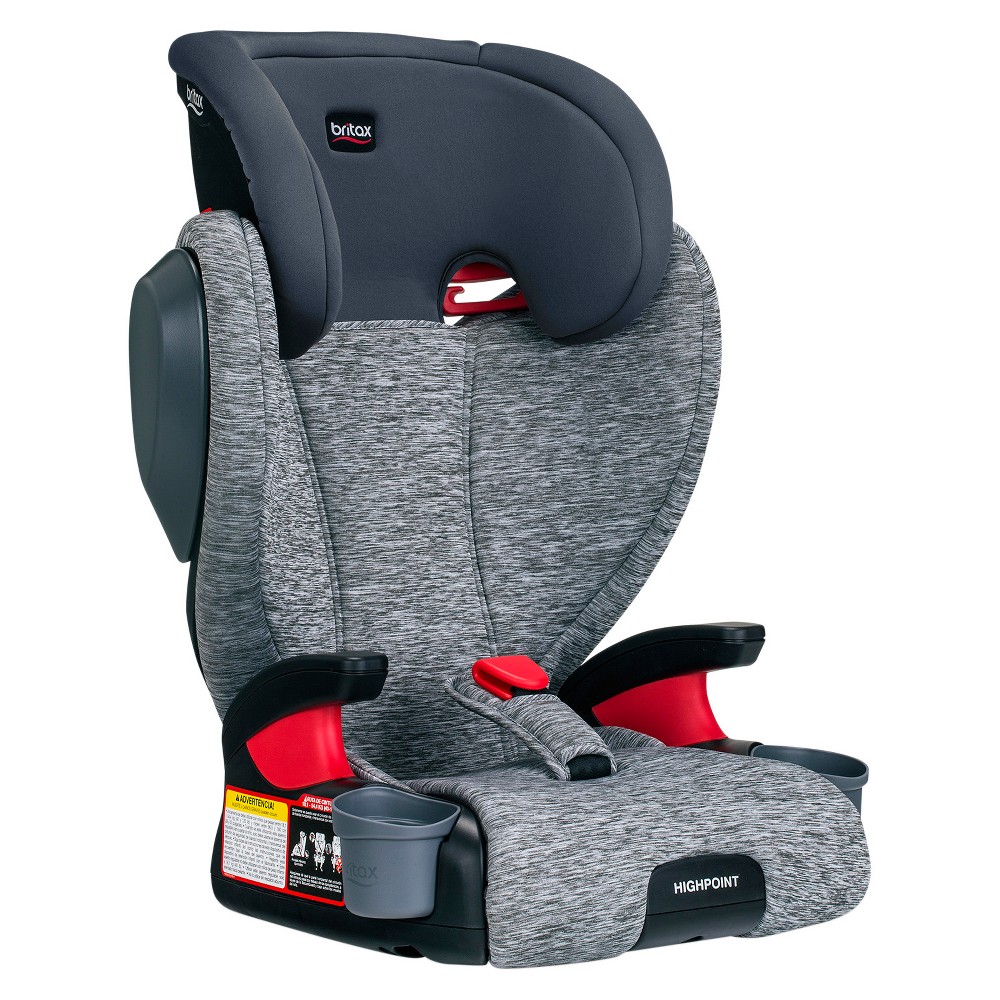 Target.com
Capacity
The Britax Highpoint works for children from 40 to 120 pounds. Using a booster seat is essential because as children grow, they need a boost to position the seatbelt. The 10-year life span of the car seat means it should serve children well until they can safely use a regular seatbelt.
Size
The Britax Highpoint is convenient to use as well. It weighs 12 pounds and doesn't take up too much room in the backseat. So, you can still easily make use of your backseat.
Also, it is only 35 inches tall and 19.5 inches wide at its largest extent. This can leave you with a middle seat even with two of these installed.
Britax Highpoint Belt-Positioning Booster Seat, Asher [Discontinued]
out of stock
as of November 29, 2023 7:50 pm
Safety Features
For safety reasons, you should not use this car seat until you move your child from the rear-facing to the forward-facing position. However, the Britax Highpoint is very safe when the time comes to move your child to a booster seat.
The Britax Highpoint is a transitional booster seat that will provide a high safety level for your child. This makes it a great seat to use for your child when he or she is first ready to leave their car seat. You may worry about your child's safety, but this seat will help you feel confident that your child is safe because of its many safety features.
This booster seat has SafeCell Technology, which helps absorb crash energy to keep your child safe. The seat also has a sturdy high strength steel frame and a foam-lined headrest. In addition to this, it has a deep protective shell to absorb more energy from a crash.
Another excellent safety feature is the side impact protection. The Britax Highpoint Booster Seat has 3-layer side impact protection. This protection includes deep walls for the head, torso, and side to keep your little one safe and secure. It also has external cushions that compress to absorb some of the force from a crash to help keep your child safe.
Finally, with the color-coded belts, you can properly position the car seat with the SecureGuard clip. All of these safety features ensure your child is as safe as possible while riding in the car.
Additional Features
Although safety features are always the most important things to look for in a car booster seat. This booster seat has other great features that parents appreciate. I know comfort and convenience in a car seat make car trips more pleasant and are practically essential for long trips.
This booster seat has a number of nice conveniences. It has two cup holders, so your child can have one for a drink and one for a snack. This makes long car trips more pleasant.
Another nice convenience this seat possesses is an easily removable seat cover. This allows you to more thoroughly clean the cover which is handy since spot cleaning stops working well after a few too many juice spills.
This easy-to-use car seat can be secured to the seat when not in use and offers a 10-position quick-adjusting headrest and two armrests for comfort. Many parents and children alike recommend this car seat that transitions into a booster for comfort and safety.
Britax Highpoint 2-Stage Booster
The Britax Highpoint 2-Stage Booster is a newer version of the Britax Highpoint. This seat is virtually identical to the original Britax Highpoint, but with the addition of a new feature. The newer model allows you to remove the backrest and convert your high back booster into a backless model.
The backless booster can take over to guarantee this is the last booster your child will need until they are ready for an adult seat. Other than this, it is still the Britax Highpoint parents and children have loved for years.
Britax Highpoint Vs. Midpoint Review
The Britax Highpoint and the Britax Midpoint are both excellent booster seats with a number of similarities. Both car seats are front-facing with a 10-year expiration and a limited one-year warranty. They both are considered adjustable booster seats. Both also have armrests, allow for middle seating, and have optional cup holders.
However, the Britax Highpoint has a knit fabric to keep your child cool. In contrast, the Britax Midpoint has a cover made from moisture-wicking fabric. Parents recommend both, but the Highpoint offers higher overall ratings. The Highpoint also offers 3 layers of side impact protection, with the Midpoint only offering two.
Britax Highpoint 2 vs. Britax Skyline 2 Review
Britax makes impressive products, and many are similar. Two products by Britax are the Highpoint 2-Stage Booster Seat and Skyline 2-Stage Booster Seat. These two are alike in several ways.
Both car seats are front-facing adjustable booster seats. They also have armrests and two cup holders as well. Both booster seats include side impact protection. However, the Britax Highpoint 2-Stage Booster Seat has 3-layer protection. Whereas, the Skyline 2-Stage Booster Seat only offers two-layer protection.
The car seats are similar in size, but the Britax Highpoint 2-Stage Booster is wider and bulkier in dimension. The Skyline 2 is just slightly smaller overall and weighs a pound less.
Britax Highpoint Booster Vs. Nanotex
Britax has outdone themselves with the Britax Highpoint Nanotex Booster Car Seat. This booster seat is perfect for your growing child. Boasting the same general size, weight limits, and height limits, this booster car seat is very similar to the Highpoint.
This seat is perfect for older children who may not enjoy a car seat. Armrests, washable cup holders, and stain-resistant fabrics mean a road trip or trip through the drive-thru is no match for this booster car seat.
Coolflow Collection
Keep your little one safe, secure, and cool from birth to adolescence with the Coolflow Britax collection.  The gorgeous look and feel of the Coolflow Collection make sure your child is riding in style from car seat to booster with a stroller in between.
The entire Coolflow Collection has been designed for mobility and safety. The blue open weave material means your child will not get overheated on long drives, so they can comfortably rest. Consistently receiving between 4 and 5 stars for the overall collection, the Coolflow Collection grows with your child.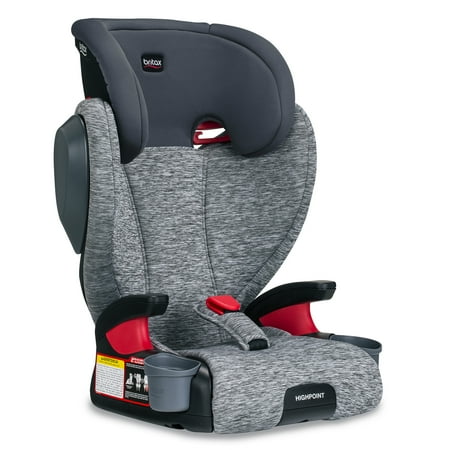 Walmart.com
out of stock
as of November 29, 2023 7:50 pm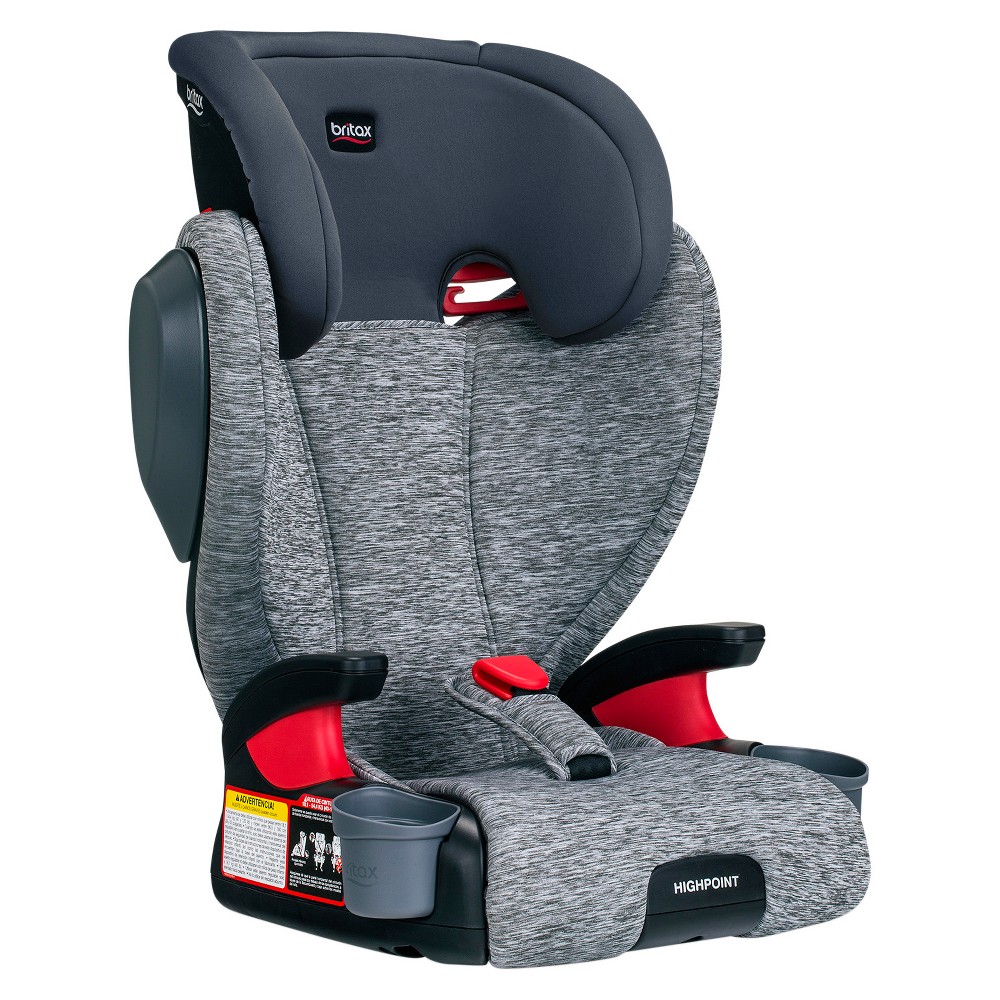 Target.com
Ratings
Now we know all about the Britax Highpoint, so where does it stand? Let's see.
Ease-of-Use: 3/5
Features: 5/5
Safety: 5/5
Value for Money: 4/5
Final Verdict
Overall, the Britax Highpoint receives high reviews from parents and children. Parents like the easy installation process with a belt guide that helps assure the seatbelt is positioned correctly. Though some complaints about this guide's tightness have been made, it has not stopped the praise.
Previous concerns about the headrest and non-removable cup holders have been addressed. Cup holders can now be removed and washed, and a 10- position headrest has been put into place.
It can be tough to know what is needed with all the available car seat options, so we have made it easier to compare. The Britax brand has numerous options to fit the needs of both you and your child(ren). Now, the Highpoint series offers a convertible 2-stage option so, you do not need to be worried about when your child outgrows the high back.
Britax is making this possible with booster car seats that grow with your child until the point they are safe in a typical safety belt. Every child deserves the best and the Britax Highpoint is one of the best that is still affordable.
If you're considering the Britax Highpoint, be sure to also check out our review of the Evenflo Maestro for another great option with detailed safety ratings and recall information.