This Britax car seat is a unique twist on the 2-in-1 concept. It can be used as a front-facing harness seat as well as a belt-positioning booster. Its front-facing mode can be used when your child reaches 25 pounds up to 90 pounds and the belt-positioning booster maxes out at 120 pounds.3
In this review, we will look at the top features, pros, cons, price comparison, and compare it to other seats in its category.
Expiration and Warranty Information
The Britax Frontier Clicktight comes with a one-year limited warranty and has an expiration date of 9 years. It's important to keep in mind that the expiration date does not mean from the time you bought the seat.
The expiration date is always from the date a seat is manufactured. You'll be able to find the date of manufacture either in the car seat's manual or printed on the serial label on the car seat. The serial label is usually found either on the side of the base or on the bottom of your child's car seat or booster.
Britax Frontier Recalls
As of September 17, 2019, there are no current recalls on the Britax Frontier booster seats.
Top Features 
Clicktight technology

Safecell technology

Two integrated cup holders

Two different recline positions

Nine headrest positions

Highest maximum harness height of all USA manufactured car seats
Specifications
Weight restrictions for forward-facing harness: 2 years and 25 lbs. up to 90 lbs.

Weight restrictions for belt-positioning booster: 40 lbs. up to 120 lbs.

Height restrictions for forward-facing harness: 30 in. up to 58 in.

Height restrictions for belt-positioning booster: 45 in. up to 62 in.

Product weight: 25 lbs.

Expires 9 years after the date of manufacture
The weight restrictions on this seat are optimal for safety, especially since harness seats are recommended until at least the age of 5.
The fact that the Frontier can accommodate up to 120 pounds is nice too because it means your child will be safe until the seat belt properly lays across their body without help.

The Britax Frontier comes in nine different colors/patterns as well, so you're guaranteed to find one to fit your family's style.
While this one is certainly a higher-end car seat in terms of budget, it provides bar none safety for your child. It's equipped with Britax's click tight installation technique as well as an integrated steel frame and EPS foam impact-absorbing base.
The Frontier is also equipped with two layers of side-impact protection to ensure your child's safety in the event of an accident.
Customer Reviews
While researching this seat, it seems that parents are most impressed with how safe this seat keeps their children. This makes sense considering Britax has been an industry leader when it comes to safety features.
Parents have also expressed pleasure in how narrow the seat is. This means it should fit in just about any car and will likely fit three across in most vehicles. Also, since Britax updated the seat to include Coolflow options, parents love that they don't have to deal with a sweaty kid after a long car ride.
However, the Britax Frontier Clicktight among other seats, reportedly failed rigorous crash tests done by Consumer Reports. Consumer Reports car seat tests are typically much more intense than other required tests. Despite this claim, parents across the board rave about this seat's stellar safety features.
Britax Frontier ClickTight Harness-2-Booster Car Seat - 2 Layer...
Toddler to Big Kid: Easily transition from harness to belt-positioning booster as your child grows
Easy installation: Patented ClickTight makes car seat installation as simple as buckling a seat belt
No rethreading, ever: Quick-adjust 9-position harness with headrest for a comfortable, secure fit
Last update on 2021-10-18 / Affiliate links / Images from Amazon Product Advertising API
Advantage
One of the safest seats on the market –

With the seat's Clicktight technology along with its Safecell features, it's no wonder parents are impressed with the safety standard of this seat.

Unique 2-in-1 seat –

Parents also like that this seat grows with their child. It can accommodate up to 120 pounds which is nice because your child will be able to use the seat for a long time.

Easy to adjust headrest –

Because the headrest is simple to adjust, this makes it much easier and more comfortable for your child as they grow.

Narrow enough to fit in a compact car –

The Frontier is also considered a "more narrow" car seat. Its widest point is 20 inches and many websites confirm this seat works well for fitting three across.

Easy to install – The Clicktight technology on this seat not only make it safer, but it also makes your job easier when installing the seat. This also comes in handy if you're constantly swapping between vehicles.
Disadvantage
Harness is difficult to tighten –

This is due to the child's weight pressing down on the harness underneath the seat. There isn't anything there to separate the harness from your child unless you add it yourself. Many parents get a small piece of plastic from their closest hardware store and fix the problem themselves.

Not much bottom padding –

Parents have also said that sometimes their children complain of a sore bottom after long car rides. This is likely due to insufficient padding on the seat area.

Didn't pass the Consumer Reports test –

This seat was put through intense crash testing by the people at Consumer Reports. While the website found that this seat didn't hold up, countless parents have raved about how this seat kept their child virtually unharmed during an accident.
Price Comparison
out of stock
as of October 17, 2021 10:21 pm
The seat can be installed via belt path or via the Clicktight technology.
The seat includes color-coded belt path to make seat belt installation easier and uses easy on/off lower anchors to secure the car seat in place with Clicktight. As part of Britax's Safecell technology, this seat comes with a unique v-shaped tether similar to a tether you'd see on any other car seat.
However, the tether's "V" shape helps minimize shock during an accident and keeps the seat in place better than other seats. It comes with two different recline positions for comfort and the headrest has nine different adjustable positions to grow with your child.
The headrest adjuster is super convenient because it automatically repositions the harness as well. This means you don't need to worry about rethreading the harness when you adjust the headrest. All Britax car seats are designed and tested in the United States and are made to be easily transition-able from the harness to the booster.
The seat also comes with two integrated cup holders to fulfill all of your child's snacking needs.To wash this seat, all you have to do is remove the cover and run it through your washing machine. There isn't any information on whether or not it's dryer-safe, so we suggest hang-drying it to be on the safe side.
Britax has also updated this model to include a "Coolflow" option. The Britax Frontier Coolflow is made with mesh fabric to promote better air flow, which helps keep your little one cool. Frontier booster seats with Coolflow technology come in either grey or teal.
Britax Frontier vs. Britax Pinnacle
The Frontier and Britax's Pinnacle booster seat are both extremely similar to each other. They come with all of the same features, but the Pinnacle has an extra Safecell feature that the Frontier doesn't.
However, we prefer the Frontier because it's less costly and still comes with some stellar safety features. The Frontier is also slimmer than the Pinnacle, which makes it a better option for compact cars. Here's a breakdown of why we prefer the Frontier over the Pinnacle: 
Less expensive

Slimmer design

Slightly less heavy
Britax Frontier vs. Britax Pioneer
Both the Britax Frontier and the Pioneer are booster seats that come with a harness and can also upgrade to a belt-positioning booster. However, we prefer the Frontier for a few reasons. For starters, it comes with Clicktight technology while the Pioneer doesn't.
Also, despite being a bit more costly than the Pioneer, the Frontier also accommodates a higher weight class which means it'll last longer. Here's a breakdown of why we prefer the Frontier to the Pioneer:
Has Clicktight technology

Lasts longer

Slimmer design
Britax Accessories
Along with this seat, Britax also makes a few different accessories that make helpful add-ons for your car. Here are three really convenient accessories to consider.
The purpose of this seat protector is exactly as it sounds. It's meant to protect your vehicle's seats from getting unsightly indents and other damage from your child's car seat.
It also helps keep your vehicle clean by catch crumbs and spills on its waterproof rubber surface. It's made with a non-slip grip and has been crash tested and approved for use with LATCH technology.
This belly pad is meant for harnessed seats. It's been tested and approved for use with all Britax seats that include a harness and helps keep your child more comfortable while in the seat. The fabric is also washable and easy to clean too.
These kick mats are nice for protecting the back of your seat. It doesn't matter how many times you tell your littles to keep their feet off the back of the seat. They still do it. The kick mats ensure that your seat back won't get any shoe marks or dirt on it.
Britax Frontier Clicktight Q & A
Q: How do you recline a Britax Frontier car seat?
A: To recline the Britax Frontier, simply pull on the recline adjuster handle. The handle is located on the front of the seat at the bottom.
How long is the Britax Frontier 90 good for?
The Britax Frontier 90 is good to use for 9 years after the date it was manufactured.
How long is the Britax Frontier 85 good for?
The Britax Frontier 85 is good to use for 9 years after the date it was manufactured.
Can you use the Britax Frontier 85 in rear-facing mode?
None of the Britax Frontier seats can be used in rear-facing mode. They're combination seats, meaning they can be used as a forward-facing harness seat or a belt-positioning booster.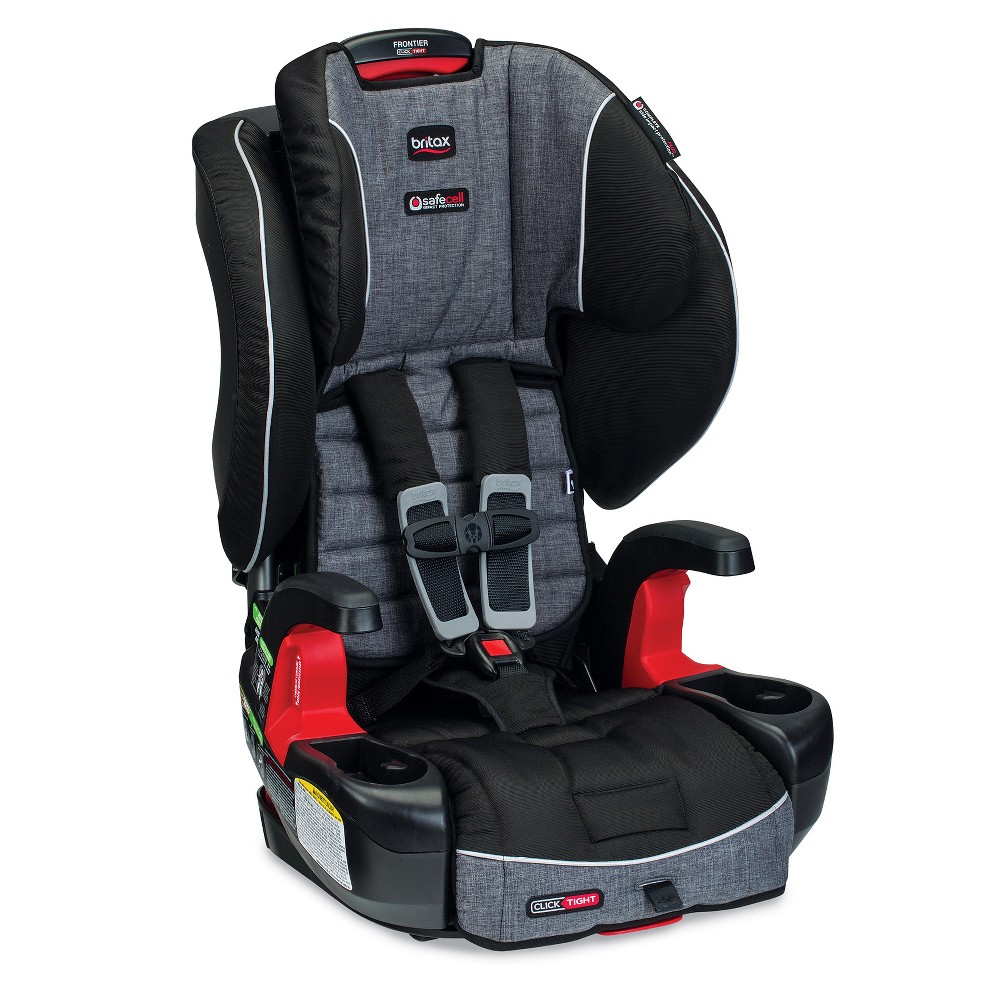 Target.com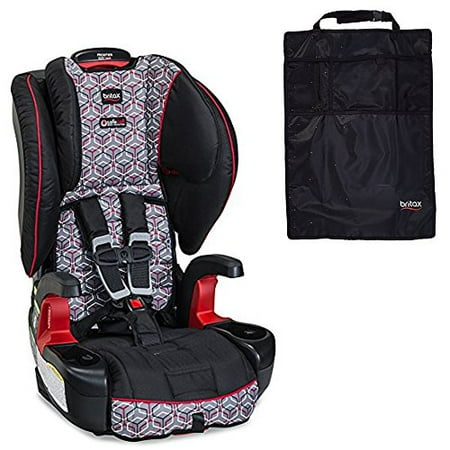 Walmart.com
out of stock
as of October 17, 2021 10:21 pm
Amazon.com
Parting Thoughts
We love how prominent of a concept safety is to the Britax brand. It's no question that they really care about the products they market to parents and we see that through their innovative safety technology they incorporate in their seats.
The Clicktight technology for easy installation and Safecell side-impact protection make this seat a top contender for keeping little ones safe. Have you tried this car seat? Let us know in the comments below!