Britax Emblem is a car seat that offers premium safety features at an affordable price. Every mom will particularly love the fact that this amazing car seat is easy to use and install. Even though every car seat undergoes through similar testing, some are safer than others. And the safety of a car seat is determined by its ease of use. In other words, the more comfortable you can use a car seat, the safer it is for your kids. This is the reason why Britax Emblem is popular among parents with kids…
Price Comparison
Last Amazon price update was: July 12, 2020 3:52 pm
Britax Emblem Review
The Emblem gives maximum comfort to your kids when they sit on it. But it's not as stylish as the Allegiance. The seat is sold separately with a cupholder. So, you will have to get a clip-on cupholder accessory from Britax. Some users criticize the fact that the seat and the cupholder are sold separately.
Specifications
Height 49 inches or less
Seat weight 18 lbs
Base width 15 inches
Overall width 18 inches
Shell height 28 inches
Total height 32 inches
Britax Emblem Convertible Car Seat, Fusion
Easy installation: Push button LATCH connectors and built in lock offs make car seat installation a...
No rethreading, ever: Quick adjust 10 position harness (8.5 to 17.5 inches) with headrest grows...
Easy cleanup: Remove the car seat cover without removing the harness
Safety Features
The Britax emblem is very secure and gives your child maximum protection while sitting on it.
It features sturdy steel that makes it stable.
The car seat has an extra layer that helps to protect your child from impact.
It's very supportive and cozy for your baby.
It comes with a patented safe cell technology with a V-shaped tether and impacts absorbing based.
The Latch System
Interestingly, this car seat features an easy on and easy off latch system. With this system, you can install and remove your car seat effortlessly. All you have to do is to click the lower anchors into place and use the push of a button to release them.
Harness Position Adjuster
One of the challenges parents face when using a car seat is the stress of unthreading and rethreading every time you want to adjust it. If you have had this experience, you will agree with me that it's very frustrating. Interestingly, the Britax Emblem solves this problem.
It features a 10-position harness adjuster that enables you to adjust the harness without rethreading it. This feature is a trending feature that most parents want to see in the car seat they are buying for their little ones.
Ease of Removal
According to the britax manual, I'm glad to inform you that Emblem is not as complicated as other car seats. It doesn't only keep your child safe; it's also easy to remove the seat from your car. You don't need to go through the tiresome process of rethreading the harness or putting the seat back together.
Ease of Installation
Ease of installation is an essential feature for every car seat. Nobody wants a car seat he or she will spend time trying to install. And Emblem is very easy to install. You don't need to be looking for someone to help you install it as you can do it yourself. Sounds great, right?
Ease of Cleaning
The emblem is easy to clean. The car seat design is user-friendly as it enables you to remove the seat cover for surface wash and easy maintenance. Let me remind you that the seat is not machine wash, but it's easy to clean irrespective of how messy it looks.
Britax Emblem Vs. Allegiance 
Most people think there's no difference between Britax Emblem and Allegiance. But if you pay attention to both of them, you will notice some little difference. We will discuss the differences and similarities between these two car seats in this section.
Similarities between Britax Emblem and Allegiance
Both Emblem and Allegiance are for children within the range of 5 to 65 pounds.
They both feature steel-reinforced frames which help to keep your baby safe and secure.
The two car seats both have foamed-lined shells.
Lastly, they are both designed to keep your baby comfortable, happy and safe.
Major Differences between Britax Emblem and Allegiance
The Allegiance is a bit more expensive than emblem.
While both car seats feature a steel-reinforced frame, emblem has a headrest that you can adjust easily as your child grows.
The allegiance has more padding on the side and headrest than emblem.
Lastly, emblem features a built-in lock-offs which allegiance doesn't have.
Britax Emblem Vs. Boulevard
Britax Emblem and Boulevard have a lot of features in common. But here are some few differences and similarities about both car seats you should know.
Differences between Britax Emblem and Boulevard
The Boulevard model is heavier than emblem
Also, Britax emblem is not as high and deep as Boulevard.
In terms of dimension, Boulevard is bigger and more suitable for grown-up children than emblem.
They have different headrest adjustment levels. While the emblem allows you to set the headrest up to 10 different positions, you can adjust Boulevard to 14 positions.
Similarities between Britax Emblem and Boulevard
They are both designed to give better protection to your kids.
The Britax emblem and Boulevard both feature side impact protection feature that protects your baby when another vehicle collides with yours.
Both car seats allow you to use the harness to adjust the headrest without rethreading it.
In terms of installation, both car seats are easy to install. You can install them with either latch or seat belt. 
Britax Emblem Vs. Marathon
The Marathon ClickTight is a fantastic convertible car seat from Britax. It's a middle price range option that features a ClickTight technology.
Differences between Britax Emblem and Marathon
In terms of safety, the Britax emblem is preferred to Marathon because it has two layers of impact side protection while Marathon has only one.
Marathon convertible car seat features a ClickTight installation system which emblem doesn't have.
Similarities between Britax Emblem and Marathon 
They both have impact-absorbing base.
Both Emblem and marathon features a quick-adjust harness
They both have V-shaped tether and auto-indication.
Unique Features of Britax Emblem
Child Weight Range: This convertible car seat is suitable for babies with weight ranging from 5 to 40 pounds in a rear-facing position. In a forward-facing position, it's ideal for babies ranging from 20 – 65 pounds.
Safety Features: As we mentioned earlier, the car seat features two layers of side impact protection that protect your baby if a car collides with yours. Some of its safety features are; a stabilizing steel frame that absorbs crash impact and provides stability to the seat, a V-shaped tether that helps to reduce the slow forward movement and rotation of the seat.
Car Seat Size: The emblem's size is 18.5 X 26 X 21 Inches.
Infant Insert: This convertible car seat is designed for children of all ages, including infants. It features an infant insert, which ensures that your baby has a good and safe fit irrespective of their age.
Removable Cover: The removable cover makes it easy to clean the seat without stress. But you can't wash it with a machine.
Warranty 
The Britax Emblem has a one year warranty and 7 years expiration.
Emblem is easy to install
It features multiple safety reinforcement
Recline can be adjusted into three positions.
The headrest has 10 different positions
The weight limit is from 5 – 65 pounds
The seat is always install in the car
Clip buckles are sometimes complicated
Sometimes, the seat can only recline to one position
Customer Reviews
Parents who have used this car seat gave their objective reviews about it which we summarized below.
What Parents Like About Britax Emblem 
The car seat is safe
It's economical
It's comfortable to use
You get great value for money spent
Easy to clean seat
No rethreading straps
Easy to install 
What Parents don't like about it 
It's not good for rear-facing toddlers.
$199.99
in stock
2 new from $199.99
2 used from $183.99
as of July 12, 2020 3:52 pm
Amazon.com
Free shipping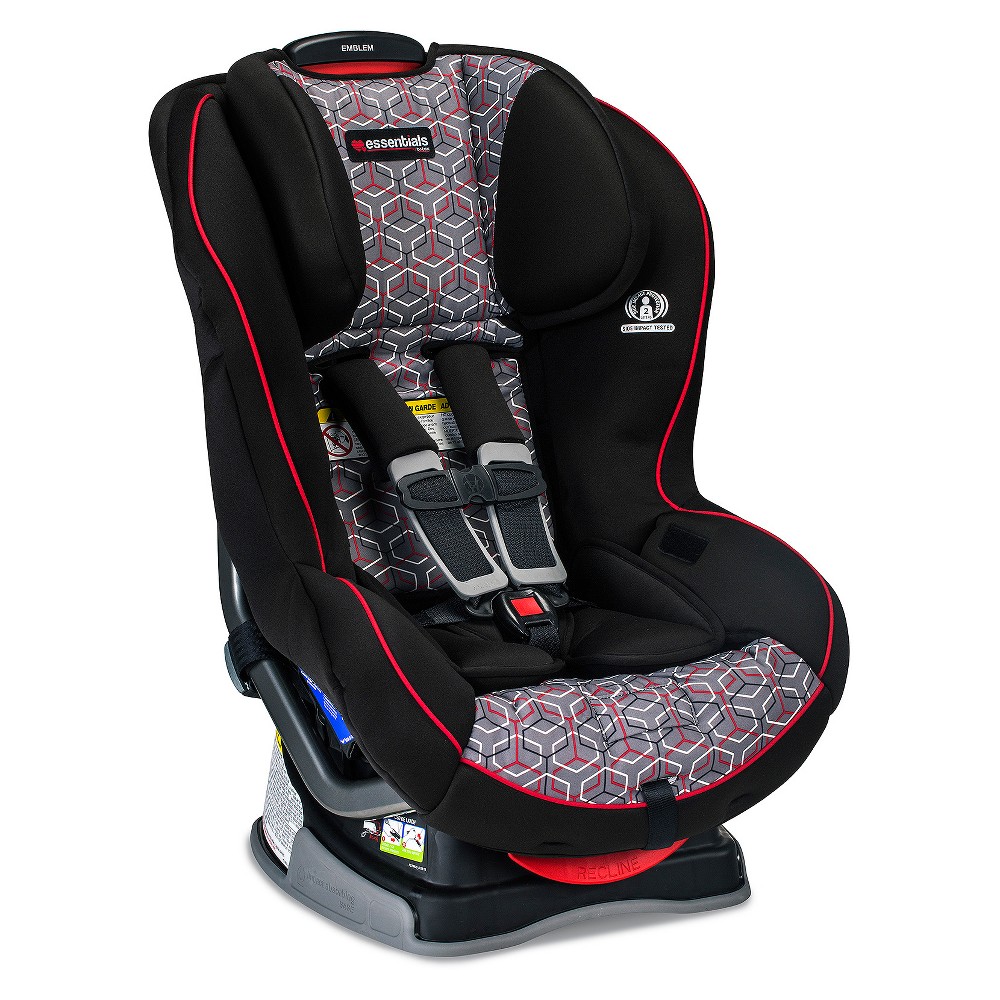 Target.com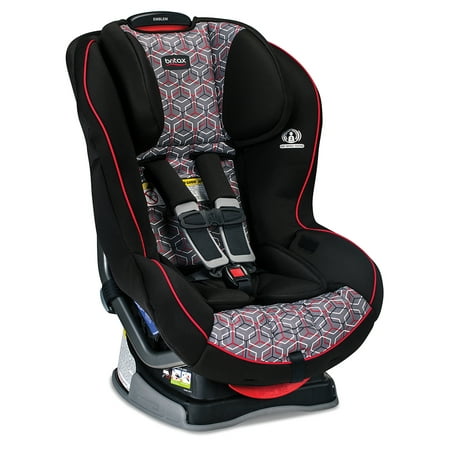 Walmart.com
Conclusion                                                                   
The Britax Emblem convertible car seat is a fantastic product that worth every dollar you invested in it. It's designed to give your give your kids' security at a more affordable price.
As you can see above, the convertible car seat has great features and it's very easy to wash. You can install the seat effortlessly and it's perfect for any child. Trust me; if you like moving car seats a lot when driving, this is a great option for you.
Last update on 2020-07-13 / Affiliate links / Images from Amazon Product Advertising API