If you plan to go on a road trip this year with the family, it might be a good idea to plan and invest in an iPad car mount for your little ones. Although we moms don't typically like to have our children on the screen excessively, a road trip could be the exception if we want to keep our sanity (I often wonder how our parents did it!)
As much as we would love our littles to enjoy the scenery as much as we do or play a nice, quiet game with their siblings on the road, it's not always realistic. However, iPads will provide some longer-term entertainment such as movies or games that might be the ticket to some peace on the road, and iPad holders provide an excellent, hands-free option for your child that won't leave them straining their neck during the long drive.
However, it can be challenging to choose a reliable iPad holder with so many on the market. For example, how do you know it's durable? Or if it will fit on your seat?
Our number one pick is the Zohzo Car Back Seat Organizer with Tablet Holder. We like this organizer because it accommodates tablets up to 10.5″ and has tons of storage, including four mesh pockets to hold crayons, water bottles, and snacks.
One of the best parts about this organizer is that it's waterproof. The mesh material and plastic screen cover protect your device and seat from spills and muddy feet. In addition, its clear touch screen viewer window allows your little ones to control their entertainment and movie selection by themselves.
Luckily, we've done the hard work for you, and after extensive testing and research, we've compiled a list of the top nine best iPad holders.
Best iPad Car Seat Holders
All iPad holders on this list are universal for almost all iPads and are durable to hold up to kicking feet, spills, or messes.
So, if the thought of one more "are we there yet" is enough to drive you up the wall, read on to find an iPad car seat holder that's perfect for your family's next road trip.
[table "57" not found /]
This kick matt back seat organizer offers full-coverage protection from little (and dirty) feet. Spills? Not a problem – this organizer is completely waterproof!
Kids have a lot of stuff beyond just tablets. Thankfully, Zohzo's organizer has several pockets that can hold everything and anything.
out of stock
as of January 25, 2023 11:12 am
Amazon.com
What We Like
Full coverage protection kick mats

Plenty of storage

Can accommodate several sizes and types of tablet
What We Dislike
May not fit all car seats
Only have one iPad but multiple children in the vehicle? There are different ways you could solve the problem such as making them share, which we all know doesn't work out very well, or you could invest in the Macally Car Headrest Mount Holder.
This iPad holder attaches to one headrest but rotates 360 degrees and extends so it can go between two seats rather than just one. It is capable of accommodating iPads and smartphones from 4.5 inches to 10 inches wide.
It has a secure and stable design that keeps the tablet from bouncing while the car is in motion. The aluminum shaft keeps the tablet or smartphone in place and it's quick and easy to install. All you have to do is twist the knob to attach or detach the mount. It can attach to even the bulkiest headrest.
$29.99
in stock
1 new from $29.99
1 used from $20.59
as of January 25, 2023 11:12 am
Walmart.com
What We Liked
Adjustable

Can rotate 360 degrees

Strong aluminum shaft

Accommodates iPads and smartphones alike
What We Didn't like
iPad attachment piece breaks easily
Kids have sippy cups and snacks that should be kept cold. Carrying around a cooler would be impractical, so this car seat back organizer saves the day with an insulated cooler pocket.
Outside of the cooler, this car seat back organizer features two mesh pockets for additional beverages or toys. There are adjustable straps at the top and bottom to attach to a car seat. This organizer stays put!
$19.97
$24.99
in stock
1 new from $19.97
2 used from $17.07
as of January 25, 2023 11:12 am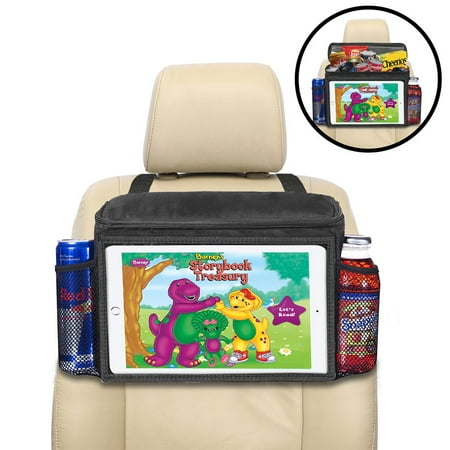 Walmart.com
What We Like
Insulated cooler

Can fit larger iPad

Adjustable straps for a secure fit
What We Dislike
Low on storage and pockets

May not fit all car seats
Tablet holders that attach with velcro tend to be flimsy or the velcro detaches and the tablet falls to the ground. Fortunately, there's another option. The Squish Car Headrest Mount Holder is a unique device.
This iPad holder is universal to fit most tables from 4.7 inches to 11 inches with their width being 4.4 inches to 8.3 inches.
It can accommodate Kindles, iPads, smartphones, and other tablets. It attaches to the headrest poles via a screw tension bar and nut. This is a much more viable option than velcro because there's no room for wiggling or bouncing.
This tablet holder can adjust 360 degrees to allow for the best viewing range. It can fit most headrests, but the distance between the two has to be 5.1 inches to 5.9 inches. There are also three holes on the side for charging the device while in the vehicle.
$14.89
$19.99
in stock
2 new from $14.89
2 used from $12.68
as of January 25, 2023 11:12 am
What We Liked
It's adjustable 360 degrees

It attaches to headrest poles rather than around the headrest via velcro

Easy to install

Comes with a 1-year warranty

Accommodates various table and smartphone sizes

Has convenient charging portholes
What We Didn't Like
It May not accommodate a tablet with a case on it

Not ideal for devices with buttons on either end as they will get stuck down
No one likes a glare on a screen. Do without it, thanks to the adjustable angle of this WANPOOL car headrest mount.
This mount will work with iPads with or without protective cases. Customers love the secure fit this mount holder offers. No longer how many hours the trip lasts, the iPad will stay.
$23.50
in stock
3 new from $23.50
as of January 25, 2023 11:12 am
What We Like
Adjustable to watch from any angle

Works with protective cases
What We Dislike
No additional storage

May not fit all car seats
For a rear-facing baby, a mirror is a necessity. With a baby mirror and iPad holder combination, this product is a 2-for-1 special! No need to worry about a baby near a mirror.
The shatterproof acrylic material guarantees it won't break in the event of a crash. For those who like some guarantee, this product comes with a lifetime warranty!
$19.98
in stock
2 new from $19.98
1 used from $13.65
as of January 25, 2023 11:12 am
What We Like
Includes baby mirror

Easy installation

Lifetime guarantee
What We Dislike
Pricey

Not needed for front-facing car seats
A travel activity tray is a must-have for long car trips. This tray has a fun alphabet design on the flat surface and mesh pockets for small toys.
This tray is completely waterproof and can survive any spill. It's BPA-free as well! Most activity trays sag, but this one is sturdy! The strong and safe construction of this product keeps all toys and snacks right where they should be.
$23.97
in stock
1 new from $23.97
as of January 25, 2023 11:12 am
What We Like
Includes full activity tray

Waterproof

Portable

Comes in two colors
What We Dislike
Bulky

Requires toddler car seat
When traveling, it's best to have your navigation system easy to see and close by. The 13" gooseneck arm of this mount offers mobility and convenience that keeps the iPad where it's needed.

This mount swivels a full 360-degrees to offer the best in hands-free use. The APPS2Car iPad holder isn't just for iPads. It is compatible with so many models of tablets and smartphones!
$19.99
in stock
1 new from $19.99
as of January 25, 2023 11:12 am
Pros
Flexible long arm for mobility

Can hold other tablets or even smartphones

360-degree rotation
Cons
Relies on suction to stick
This tablet holder grips to your dashboard using six powerful magnets. If you need a strong iPad mount, this one is for you.
It's made of durable materials like steel and POM plastic. Safety is important. With your tablet on your dashboard, it won't block your view while driving.
$10.39
$15.99
in stock
3 new from $10.39
13 used from $9.72
as of January 25, 2023 11:12 am
Pros
Attaches with magnets

360-degree rotation
Cons
Cannot be attached to a leather interior
Types of iPad Car Seat Holders
When you have multiple children, it's tough to keep them all happy while traveling, especially when you only have one device. With just one device, children may be likely to want it more than the other, which causes some arguing.
Nobody wants to hear children argue on a road trip. Luckily there are a ton of options for you to choose from to make your adventures easier.
Inbetween Mounts
If you have just one device, an iPad or tablet mount that can be placed between the seats would be a great option, especially one that adjusts. You can choose to have the iPad behind a single headrest or you can extend it to fit between the two seats allowing everybody to view it. The only issue with this type of mount is that they tend to be flimsy if overused.
Headrest Mounts
On the other hand, if you have just one child, a headrest mount is a great choice. These straps directly to the back of the headrest. You can find them with velcro, which tends to now hold up well on bumpy rides, or sturdier mounts that attach to the poles of the headrest.
The only issue with those kinds is that they are limited on how far they stretch to fit between the poles. You have to ensure you measure the distance between the poles before making the purchase.
Protective Mounts
How about for children who are in the kicking stage? Yes, there's a mount for that too! These attach to the headrest and the iPad or tablet goes into a durable plastic pouch that keeps the device protected from dirty feet. They are safely cradled in the pouch so if the child does kick, it won't go anywhere.
Buyer's Guide
Pricing
Price is a huge determining factor in a purchase, if not the primary factor. A low price doesn't always mean low quality. This list features high-quality products at varying prices. You are sure to find one for your budget.
Mobility
Whether a tablet is used for navigation or entertainment, it needs to be viewed comfortably. Mobility includes whether the tablet can be angled, rotated, or swiveled. Whether the mount allows the iPad to be portable after driving is important too.
Additional Features
Some tablet mounts do one thing and one thing only: mount a tablet. No-frills can be the way to go. Other iPad mounts offer great additional features, such as an activity tray or storage pockets. If these help you out, go with it!
Which iPad Car Seat Holder Would You Choose?
Travel is made so much better with smart devices. iPads mean entertainment for the passenger and navigational assistance in the front seat. Make the most of your iPad with a great iPad car seat holder.
How do you mount your tablet in the car? Are you thinking of switching to one from our list? Let us know your thoughts in the comments! Check our car seat organizers.