Are you tired of that uncomfortable, sweaty feeling of riding in a hot car seat?
If so, this CarSeatsMom.com guide on cooling car seat covers has exactly what you need.
Cooling car seat covers are great for those who don't enjoy riding in a car with hot, sticky seats or for those who spend long hours in the car or truck.
They work by utilizing a cooling technology such as cooling gel, ventilation with air fans and massage, or wood beads. Electric cooling seats even allow you to change settings and customize the cushion as you see fit.
When searching for a cooling car seat cover, it's important to weigh the options. Do you want a cushion that only gives you 20-minutes of cooling before it's back to square one? Do you want a massager with cooling abilities for pain relief? How about fans?
The best cooling car seat cover is the SNAILAX Cooling Car Seat Cushion with Massage because not only does it provide you with cooling relief, but doubles as a massager on-the-go. It features two powerful vibration massage motors and can be operated with or without the cooling feature turned on.
Additionally, this cooling car seat cushion has a timer for safe use and has breathable soft mesh for ultimate comfort. Cool air flows from the cushion and absorbs your body heat while relieving perspiration. There are 24 air outlets and a dual adjustable strap to keep the chair in place. It can be used with a 12V or 24V plug and can be used at home.
So let's review our top picks.
Best Cooling Car Seat Covers
| Product | Heat | Voltage | Vibration | Auto Shutoff  |
| --- | --- | --- | --- | --- |
| Snailax Cooling Seat Cushion | No | 12 & 24 Volts | Yes | 30-minutes |
| SEG Direct 3-in-1 Car Smart Seat Cushion | Yes | 12 Volts | Yes | 40-minutes |
| Zone Tech Cooling Car Seat Cushion 2-Pack | No | 12 & 110 Volts | No | No |
| COMFIER Cooling Seat | No | 12 & 24 Volts | Yes | 30-minutes |
| Doingart Cooling Seat Cushion | No | 12 Volts | No | No |
Keep yourself cool while traveling or at home with the Snailax Cooling Seat Cushion. We chose this one as the best because it can not only keep you cool, but it massages your whole upper body and can be used in a multitude of places as well.
The cool airflow from the cushion will absorb your heat and reduce sweating. You can choose from two speeds of airflow that emerges from the 24 air outlets. The fan at the bottom of the cushion sucks in the air from your vehicle and distributes it throughout the seat cover. There are a 12V car plug and a 24V truck, office, and home plug for your convenience as well as a 30-minute auto-shutoff
Additionally, If your body is feeling tired after driving for a while, simply turn on the vibrating massage function. You may also want to check our car seat massagers.
There are two motors in the lower back area of the cushion to help relieve your achy muscles and reduce stress. You can operate it simultaneously or independently from the cooling function.
$59.99
in stock
1 new from $59.99
as of August 14, 2022 7:48 pm
We chose this as our most versatile because not only does it keep you cool in the summer, but it keeps you warm in the winter as well. Not only that, but it has a vibration function for ideal comfort after a long day at the office.
The cooling function on the SEG direct seat cushion has 8 fans and 5 levels of cooling to ensure you're comfortable and cool. It disperses extra body heat and reduces sweat greatly, no matter what the temperature is.
Furthermore, there is a heat function. There are 2 heating pads and 5 levels of heat. It heats up within 3-minutes and gets up to 134 degrees Fahrenheit. Pair this with the vibration mode and enjoy relaxing relief from sore muscles, tension, and stress.
You can use this in any vehicle that has a 12V plug insert. Additionally, there is a 40-minute auto-shutoff for your safety and convenience.
$19.99
$22.99
in stock
1 new from $19.99
as of August 14, 2022 7:48 pm
This is our best value pick because you get two cooling seat covers instead of just one at a super affordable price! The Zone Tech Cooling Car Seat Cushion has a smart design that allows air to circulate throughout hundreds of small spaces. The microfiber and mesh fabric makes the cover extremely breathable and soft.
What's more, these cushions have their own temperature control for your personal preference. You can adjust it with a dial that allows the cool airflow to be high, medium, or low. The fan at the bottom of the cushion brings air and disperses through the holes for maximum comfort.
The covers can be used in any vehicle that has a 12V adapter and can fit any car, truck, SUV, or even RV seat. Not only that, but you can use it at home or at the office as well with the additional 110V plug.
$99.99
in stock
4 new from $99.99
as of August 14, 2022 7:48 pm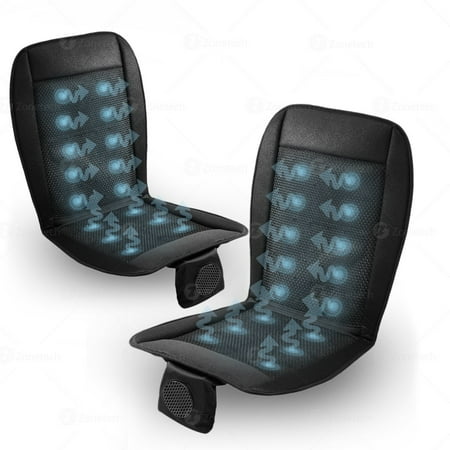 Walmart.com
We ranked this as our most affordable because it is one of the least expensive out of the other cooling seat cushions you can find on the market.
The Comfier Cooling Seat Cushion features ventilated 3D mesh material. This provides you with unbelievable support and ventilation between your body and the vehicle's seat, no matter if it's leather or vinyl.
The cool airflow comes from the air fan at the bottom of the seat. It sucks in the air from the surrounding environment and disperses it throughout the seat cover. Additionally, there's a lower back massage function that utilizes two vibration motors. This is perfect for lower back tension and pain relief.
For your convenience, you can use a 12V or 24V plug in a car, truck, boat, RV, etc. Additionally, there is a home adapter. You can also set the 30-minute timer for your safety.
$59.99
$73.99
in stock
1 new from $59.99
as of August 14, 2022 7:48 pm
We ranked this as the most durable due to its sturdy leather fabric and mesh material. The Doingart Cooling Seat Cushion will keep your body cool and relaxed in the hot summer weather.
Not only that, but it's ideal for keeping your car seat protected from cracks and fading. It features hundreds of minuscule spaces within the leather and mesh material that helps the air circulate.
There are 3 fans that provide you with 3 power levels to choose from. Simply press the button to adjust the level of air that is blown. The fan is located at the bottom of the seat and sucks the surrounding air in to disperse it through the small holes.
The seat cushion has an anti-slip back with elastic straps to keep the seat safely and comfortably in place. You can use it in a car, SUV, bus, or any other vehicle that has the 12V plug.
$89.89
$95.89
in stock
2 new from $89.89
1 used from $86.29
as of August 14, 2022 7:48 pm
Benefits of Cooling Seat Cushions
You may not realize it, but cooling seat cushions offer more than just a cooled off bottom and back. Here are some other benefits of cooling seat cushions:
Comfort
We all know that being hot and sweaty can become uncomfortable and quite annoying, especially if you're stuck in a car. The cooling seat cushions help relieve this discomfort whether you're driving or riding.
Reduces Fatigue
Being in a hot car can make you tired and irritated. If you're fatigued at the wheel, it could be quite dangerous for you and your passengers. These seat cushions keep you cool and alert for as long as you are in the vehicle.
Pain Relief
If you drive for a living or you have a long commute to and from work, then you know how much pain you could be in at the end of the day, or even while driving.
The cooling air from the cushions paired with vibration in some cushions can bring you pain relief. It can work similarly to a heated seat cover. However, heated seats don't work well with covers.
Hypoallergenic
Your car seat can collect various allergens. They get stuck in there and it can lead to sneezing and itching, especially if you're prone to allergic reactions. The car seat cover can provide the proper ventilation you need to keep allergic reactions at bay.
Cleaner
As you sweat in your seat, the moisture can soak into your seats, especially if they're made from cloth fabric. This can lead to smelly, stained seats that are uncomfortable to smell and unattractive. The cooling car seat cushion stops the sweating in its tracks and keeps moisture away from your seats.
Buyers Guide: What Makes a Good Cooling Car Seat Cushion?
There are a few options you can look for in a good cooling car seat cushion:
Breathability
A good cooling car seat cushion is either breathable or ventilated and made from a porous material, such as mesh, for ideal airflow. Furthermore, this kind of material helps your body breathe better and reduces the amount of sweat that can come from the heat and humidity in your vehicle.
Fan
One of the more expensive options for a cooling car seat cover is the fan feature. These cushions will have a fan built-in to the bottom of it. You can turn it on using a button and it will pull the air in from the vehicle. Likewise, it will help keep the moisture away from your body and it can have pain-relieving benefits.
Cooling Gel
If you can, look for a cooling gel material for your car seat cushion. Pair it with memory foam or another type of air foam for optimal comfort. The cooling gel will keep your body heat from building up inside of the cushion by using conduction. It will transfer heat from your body to the cooling gel and instantly give you cooling relief.
Vibration
This isn't a necessity, but it can make you feel more comfortable and it offers great pain relief. The vibration acts as a massage and it can relieve tension, stress, fatigue, and make you feel more alert and relaxed. Paired with the cooling, you may surely enjoy your car ride even more.
Final Thoughts
There's no doubt that cooling car seat covers can have extraordinary benefits. This is especially true if you pair it with other functions that can aid in pain relief, sweat reduction, and overall comfort.
We really like the Snailax Cooling Seat Cushion because it can be used both at home and in the car, truck, or SUV. It's versatile, has the functions needed for cooling relief, and it's affordable.