Did you know that the average commute time for Americans is almost 30 minutes? That means that most Americans spend at least an hour in the car each day travelling to and from work. This doesn't even include road trips on the weekends or quick drives to the grocery store. That is a lot of driving!
With all of this driving, it's important to make sure that you are comfortable and if you're like 65 million Americans who deal with back pain at one point or another in life, it might be a little more difficult to ride comfortably.
One very common issue that can lead to back issues and discomfort while riding and driving in a car is Sciatica. It affects about 10 to 40 percent of the population.
Those driving with Sciatica (whether it's a simple commute or a cross country road trip) need to find ways to be comfortable and alleviate some of their pain. There are several things people can do, but getting a car seat cushion is a great start. It's affordable and the relief is pretty much immediate!
Overall, the best car seat cushion for Sciatica is the ComfiLife Cushion. It has upwards of 68,000 reviews, most of which highly regarding it as incredibly helpful with back pain and help with Sciatica discomfort.
We'll explain these in more detail below, but before we do, let's explore what exactly Sciatica is and why it can impact your driving.
What is Sciatica?
Sciatica is a pain that radiates down the sciatic nerve, travelling from your lower back to your buttocks and into your legs. More often than not, it will only travel one side of your body and can cause inflammation, numbness, and discomfort in your lower back and legs.
As stated above 1-4 of every ten people will experience Sciatica or struggle with it at one point or another. It can vary in intensity and discomfort. You might have one person who only feels slight pain while another may experience intense shock-like jolts from the nerve.
If you have Sciatica and notice that driving irritates or worsens your symptoms, then you may want to talk to a doctor about getting a car seat cushion to help. Here are the 3 best car seat cushions for Sciatic that we were able to find…
Top Car Seat Cushions for Sciatica
These are the top 3 car seat cushions for Sciatica. The first, ComfiLife, that was mentioned above is the best all around while the second on our list is the top wedge shaped cushion and the third is the best inflatable cushion. All of these have great things to offer depending on your personal preference and symptoms.
Made out of orthopedic gel and memory, this seat cushion has received over 68,000 reviews so far on Amazon! And with this many reviewers, it holds a rating at 4.5 out of 5 stars, which is pretty incredible.
Many of the top reviews boast of how it helped them with long car rides and how well it is made.
Some of the key features include that it is easily transportable with a built-in handle, it has a non-slip bottom so it won't wiggle around in your car seat, and the memory foam gel is cooling.
$45.95

$59.95

in stock

3 new from $45.95

as of August 14, 2022 8:40 am
This car seat cushion may not have as many reviews, but it still has glowing recommendations and received a rating of 4.5 out of 5 stars as well. This car seat cushion made it on our list because it is one of the top rated wedge pillows that we could find.
It's affordable, has 2.9 inches of foam support, non-slip bottom and backing, and has an exterior mesh material that is designed to be easily cleanable and "dust-free".
$33.98
in stock
1 new from $33.98
as of August 14, 2022 8:40 am
Our final recommendation of the best car seat cushions for Sciatica is the ROHO Mosaic Inflatable Cushion. It has almost 1,000 reviews on Amazon and has also received 4.5 out of 5 stars with many favorable comments by customers.
Like the others on our list, it has a non-slip bottom to ensure your safety while driving. It comes in different sizes and a cover that can easily be thrown in the wash if it needs to be cleaned. Because it is inflatable, it is also important to note that it is easy to store and transport.
While this may be the priciest option on our list, it does have some really cool and custom features that may warrant the price depending on what you are looking for in a car seat cushion.
$75.94
in stock
10 new from $75.94
as of August 14, 2022 8:40 am
Cushions For Sciatica
If you suffer from sciatica, chances are driving for more than a few minutes at a time can get pretty uncomfortable. Finding a good seat cushion to help promote blood flow will really help in this case. Here are our top three cushions for alleviating sciatica pain.
Sciatica isn't a fun experience, especially when you're driving. This car seat cushion really helps with that because it helps support your lower spine and tailbone to help blood flow. It's made with a firm, non-flattening design and a foam core to contour to your body.
The cover is made of breathable mesh. It's also removable, but should only be hand-washed. It should be noted that this product does arrive folded, but it will unfold to it's intended design once the package is opened. This cushion provides great lumbar support as the back is raised just slightly higher than the front end. To keep it in place, it comes with an adjustable strap with a buckle that wraps around your car's seat.
$13.29
$13.99
in stock
1 new from $13.29
as of August 14, 2022 8:40 am
Pros
Comes With a Portable Carrying Bag

Good for Lumbar Support

Non-Flattening Design

Breathable Mesh Cover

Comes With an Adjustable Strap
Con
Can't Be Run Through the Washing Machine
[usrlist Comfort:4.8 "Ease of Cleaning:4.1″ Durability:4.9 Pricing:4.5 avg="true"]
This particular cushion is cool because of its innovative design. You can sit in just about any position and it will contour to your body correctly. This is great for people with sciatica because you can sit comfortably in any position with it.
It's designed to provide perfect support for your back and spine without putting pressure on your hips. The unique design also allows optimal air flow so you don't need to worry about sweat discomfort. The cushion is made of a hyper-elastic polymer Smart-Comfort grid and the cover is machine-washable on a cold cycle with like colors. It should, however, be air-dried rather than being run through the dryer.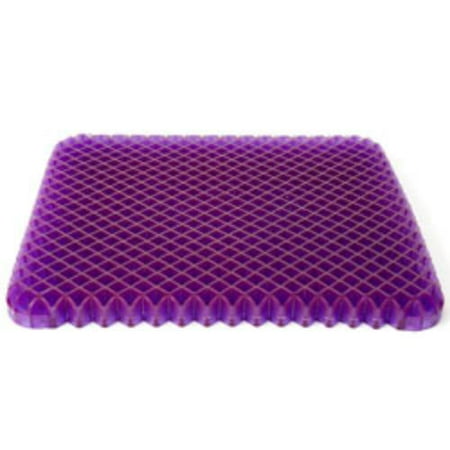 Walmart.com
Pros
Innovative Design

Made of a Hyper-Elastic Polymer Smart-Comfort Grid

Machine-Washable Cover

Has Good Airflow

Contours to Your Body Correctly

Provides Perfect Support for Your Back & Spine
Con
Can't be run through the dryer
This particular cushion is designed specifically for hip pain and sciatica. It's made of premium memory foam to contour to your body and has a non-slip bottom to keep the seat from sliding around. It comes with an adjustable strap as well for added security.
The 3D mesh cover is removable and machine washable too. We like this seat because it can be used just about anywhere and also comes with a 100 percent satisfaction guarantee. If you aren't satisfied with it, you can return the product no questions asked.
$29.99
$43.49
in stock
1 new from $29.99
as of August 14, 2022 8:40 am
Pros
Satisfaction Guarantee

3D Breathable Mesh Cover

Made of Premium Memory Foam

Easy to Wash

Stays Secure in Place
Con
Super Firm During Winter Months
Buyer's Guide
As you can see, Sciatica can complicate a lot of things that happen in your everyday life. One of the main triggers for Sciatica in your day-to-day life is driving. There are a lot of reasons for this, but the accelerating, decelerating, and the frequent stops play a huge role.
All of these sudden movements and stops add more pressure and discomfort to the spine and lower back, which is definitely less than ideal considering most Americans drive cars everyday.
While this is definitely less than ideal, there are things that you can do to help alleviate the discomfort. One of the biggest things you can do is buy the right seat cushion to support your back. We may have already shared our top picks for the best car seat cushions for Sciatica, we also wanted to share some tips on how to pick out your own cushion!
Every person is different. They have different levels of comfort, preferences, and even budgets. So, if you are wanting to dive into finding a car seat cushion, here are some things you should definitely think about…
Determine your Budget
Before you start looking for a car seat cushion for Sciatica, you need to set your budget. Most available are relatively affordable (below $50), but if you want something more custom with nicer material or something more high-tech, then you can pay much more than that.
So, as you go into the process of searching for the seat cushion that is just right for you and your Sciatica issues, have a set idea about what you want to spend.
Consider the Style
Car seat cushions come in all kinds of styles. Some address different issues and some may be better for Sciatica than others, but here are some of the most popular styles that you'll need to consider…
Memory Foam
Like the name suggests, these cushions offer support through "memorizing" or conforming to fit your body's shape perfectly. Some memory foam cushions are strictly made out of foam while others have a gel material.
Inflatable
If you don't have much space or you find yourself ridesharing a great deal, inflatable cushions could be a good fit for you. The main advantage of having an inflatable cushion is its ability to inflate and then deflate. Because of this, you can easily pack it up and move it with you wherever you go.
Wedge
It's called a "wedge" cushion because of its shape. It almost looks like a triangle with one side thinner than the other where you can "wedge" it into the seat. This distinct shape is supposed to help you even further with your posture while driving and some enjoy this style and how it feels.
Heated
For some, applying heat can significantly help their back discomfort. While there are many cars that come with heated seats as a feature, you can also buy heated car seat cushions that will not only help your back by improving your seating position, but also providing warmth.
So, if your car doesn't come with heated seats or you simply enjoy some extra warmth, this could be another great option for you.
Consider Material
This may not be the top tip if you're going for comfort and relief, but it's also important that you buy a seat cushion that is a material to your liking.
Cushions come in all kinds of different materials on both the inside and the outside. On the inside, you may prefer memory foam cushions or an inflatable one. Those decisions do deal with comfort.
On the outside, however, has less to do with comfort and more to do with personal preference. Some people prefer a material that is easy to clean while others want something softer.
Determine the Size
By the time that you've set your budget and picked a seat based on your preferences of style and material, you can't forget to double check the size!
Not all car seats are the same size, so it's important that you take the time to measure your car and see if the one that you picked will work with your car.
Read Reviews
Lastly, and most importantly, double check your selection by reading the reviews of others who have already purchased the seat cushion. You can even search the reviews in most places for keywords, such as "Sciatica", to see if people dealing with the same thing had positive experiences with your selection.
You may not be able to base your entire choice on the reviews of others, but it can be a really helpful insight!
Other Tips for Driving with Sciatica
Getting a car seat cushion could work wonders for lessening your symptoms of Sciatica while you're driving or riding in a car, but there are other things you can do as well. Here are some other tips you might want to consider…
Adjust your posture
It has been found that good posture can play a role in lessening your pain with Sciatica. While some car seat cushions, like the wedge cushion, are specifically designed to help you with this, you can also ensure good posture by making sure that your shoulders are rolled back, you are sitting squarely on your tailbone, and you are trying to keep your back straight.
As you drive, being aware of your posture and making a conscientious effort to correct it can really make a difference!
Avoid extended drives
This may seem self-explanatory, but the longer you drive, the more pain you are likely to face. So, if you do not have a long commute or a job that requires you to be on the road for extended periods of time, try to limit your drive time.
If you're planning to go on a vacation, see if you can fly. Try to find alternatives or fun things closer. If your Sciatica is getting out of hand when you are driving, it just makes sense to avoid extended drives to help your situation.
Stretch regularly
Lastly, stretching can really help! At the end of a long day at the office or after a car ride, take some time to do some stretches that will help your back. There are all kinds of resources out there that will outline various stretches specifically created for people with Sciatica.
Here are just two of the many stretches that you could give a try…
Knee to Shoulder
Lying on your back, have your feet flexed and your body relaxed. Pull your left knee into your hands and move it up and over towards your right shoulder. Hold this for 15-30 seconds before switching to the other side.
Spinal Stretch
Sit with your legs straight out in front of you. Bend your right knee and plant your right foot flat on the ground next to your left knee. Bring your right elbow to the outside of your right knee with your left arm touching the ground behind your back on the right side.
This should create a spinal twist to alleviate some of your pain. Hold this pose for 15-30 seconds before moving to the other side.
Talk to your doctor
Before making any decisions when it comes to your health, it's incredibly important to consult with your doctor beforehand. Whether that may be trying some stretches listed here or on other websites, purchasing a car seat cushion, or any other decision, it's important to discuss with a professional.
Additionally, if you are experiencing severe symptoms from Sciatica, you should always talk to your doctor about what you can do to improve your condition. They have the best understanding of your specific situation and can offer the right support that you need.