Wooden beaded car seat covers offer multiple benefits that you may not have considered.
Consider the heat of summer. A beaded car seat cover offers instant ventilation because it keeps you off the car seat in the hottest part of the year. With a beaded seat cover, you won't be sweating through your clothes on the way to work and spending the rest of the day feeling damp.
The other major benefit of a beaded seat cover is comfort. Cab drivers and long-haul truckers say that the wooden beads add comfort to the car seat and offer a kind of comfort and massage to aching backs and legs when you have to sit for long periods.
You may find that the bead seat is so comfortable, that you want to move it into your office chair if you spend a lot of time seated at a computer.
Based on our extensive research, we found that the best wood bead car seat cover is the Zento Deals Wood Beaded Comfort Seat Cushion. This covers 49 x 15 inches of seat space. It will fit most cars and many office chairs. The natural wood beads are attractive and finished in a natural tone and a mahogany stripe. Beads are double strung on a heavy line so they wont unravel.
Adding a beaded car seat cushion to your car seat or your office chair can help keep you cool and add some massage-like pressure to your back and legs. Keep reading for a breakdown of the top four beaded seat covers to make your decision easy.
Top 4 Beaded Car Seat Covers
The Zento Deals Wood Beaded Comfort Seat Cover gets the title of the best overall beaded seat cover for cars. The mix of affordability and usability makes the Zento hard to beat. The Zento goes over the headrest and features both large and small beads.
To install, lay the cover over your seat and headrest. Then, tie the cover with the provided nylon cord. This gives extra massage power to the back of your head and neck to reduce referred pain in your arms and wrists. The cover can also be attached by taking off the headrest.
The beads are ideally spaced to give you ventilation to avoid a sweaty day. Not to mention they're all-natural and won't break under the heavier weight. The connecting wire is interlaced and durable so you can move freely around without fear of unraveling.
Dimensions: 15 inches wide and 49 inches long Weight: 1 pound
$22.06
in stock
2 new from $22.06
as of May 15, 2022 9:47 pm
What We Like
Allows you to shift your weight comfortably

Reduces sciatica pain

Beads do not damage leather seats

Approved for use over heating/cooling seats
What We Don't Like
Nylon cord is slick, and many users have replaced it with shoelaces or zip ties

Tying the bottom part down causes tension and breaks the cover over time
2. Zone Tech Wooden Beaded – Best Affordable Beaded Car Seat Cover: Car Seat Cushion
Is price a concern? You don't have to give up quality for cost with the Zone Tech Wooden Beaded Car Seat Cushion. Although affordable, this beaded car seat cover from Zone Tech doesn't skimp on benefits. You can easily move this product from your car, to office, to armchair. You'll get a natural back and thigh massage wherever it sits.
The beads used are lacquer coated for strength and will not break under heavier weight. Additionally, the cord connecting the beads is strong and won't break with regular use. In terms of versatility, the longer seat flap can be used under your bottom or behind your back.
Unlike the first seat cover, this one does not require or use a headrest. You can simply lay it on the seat or slide it on using the elastic strap in the back. Regardless, the Zone Tech remains in position so you won't slide around on curves.
Dimensions: 16 inches wide and 54 inches long , Weight: 1 pound
$24.02
$27.99
in stock
3 used from $24.02
as of May 15, 2022 9:47 pm
What We Like
Breathable gaps create air pocket to minimize sweat and discomfort in the summer heat

Distributes weight evenly between back, bottom, and legs

Takes weight off the tailbone

Long-lasting
What We Don't Like
Elastic strap will interfere with airbags that come out of the side of your seat

Elastic strap will not fit over wider car seats

Wood shavings periodically shed onto your seat
The EXCEL LIFE Natural Wood Beaded Seat Cover is wide and long enough to fit on bigger seats in trucks. This product's dimensions also fit vans, semi-trucks, and busses. Overall, the EXCEL LIFE is the best option if you drive more than one vehicle regularly.
To attach, simply slide the top around the headrest. The light weight and easy on and off makes for a conveniently portable cover. As a bonus, a non-slip mat is attached underneath to prevent movement.
This seat cover is made with 1684 natural beads and over 1182 feet of double-strung nylon thread for quality. The upholstery is protected from sweat, the wood doesn't hold odor, and the beads won't come unraveled.
Dimensions: 17.7 inches wide and 51.2 inches long. Weight: 8.8 ounces
$66.99
$100.00
in stock
1 new from $66.99
as of May 15, 2022 9:47 pm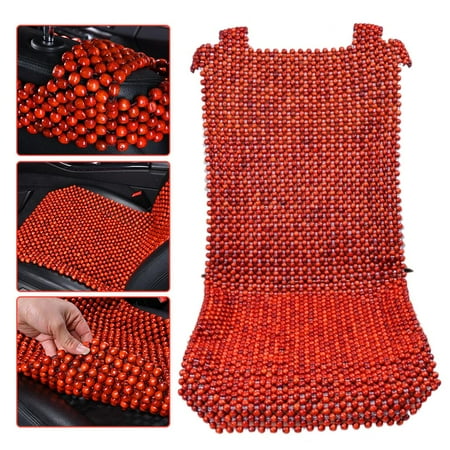 Walmart.com
What We Like
Durable

Long-lasting

Full coverage

No sliding when entering and exiting the vehicle

Great for vehicles with side airbags in the seat
What We Don't Like
Expensive

No strings way to attach the body of the cover to the seat
The VaygWay Wood Beaded Seat Cushion fits to the bottom portion of motorcycles, car seats, and any chair. On a motorcycle, this beaded seat cover helps with saddle soreness, swamp butt, and chafing. It also promotes even dispersion of weight to keep the pressure off your sitz bones. If you encounter rain on the ride, your bum will be kept dry.
To attach simply clip the back hooks and front hooks to the seat. Then, adjust the VaygWay as needed. This will keep the seat cushion in place without slippage. The black beads are held together by polyurethane wire to prevent unraveling.
Dimensions: 3.4 inches wide in the back, 13.5 inches wide in the front, and 10.3 inches long. The Weight: 1.9 pounds
$20.99
in stock
3 new from $20.99
as of May 15, 2022 9:47 pm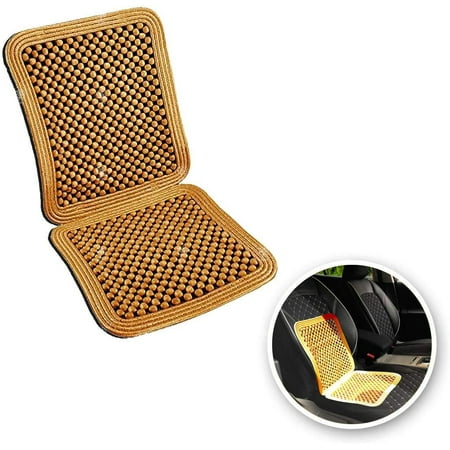 Walmart.com
Pros
Sturdy construction

Extends the motorcycle seat width to increase comfort for riders

Affordable
Cons
Over the years the paint color wears off

Slick pants on a motorcycle will cause sliding
Beaded Car Seat Benefits
Long-haul truckers, cab drivers, and other long-distance drivers have known what we are just now figuring out. The extraordinary benefits of beaded car seat covers! When deciding if you want this type of seat cover for your car, it's important to compare the benefits with traditional cloth seat covers. There are three primary advantages to beads: breathability, comfort, and multi-use.
Breathability
If you are like most people, summer means sweating in your car until the air conditioning kicks in. Sometimes that doesn't happen until you get to your destination! In the meantime, your back is sweating on the way to the office or your hot date.
Enter beaded car seat covers. They work by removing your body removed from the hot seatback. Also, the gaps between the beads create their own ventilation system to keep you from sweating. These covers are guaranteed to keep help you keep your cool, even in the hottest weather!
Comfort
We all know cars aren't manufactured with your comfort in mind. Even short trips can turn into a nightmare for your back and cause aches and pains. The beads in the cover conform to your body and create a natural massage for your back and thighs. Back twitches and pain are no match for these comfortable, easily installable wonders.
Multi-Use
Aside from using your beaded car seat cover for vehicles, you can also use it for chairs. All covers in our top 3 list can be easily transferred from your automobiles to your office. Even armchairs in your living room can be transformed for optimal comfort and breathability.
The Best Beaded Car Seat Cover for You
No matter what vehicle you drive or the way your vehicle seats are created, there is a beaded car seat cover out there for you. And we've made choosing one no sweat!
To recap: We found the best overall beaded car seat cover is the Zento Deals Wood Beaded Comfort Seat.
A more affordable beaded car seat cover option is the Zone Tech Wooden Beaded Car Seat Cushion. For a truck, the best-beaded seat cover is the EXCEL LIFE Natural Wood Beaded Seat Cover. If you have a motorcycle, we recommend the VaygWay Wood Beaded Seat Cushion. You may also be interested in Baja car seat covers.