Adult Car Seats, also called adult booster seats are not to be confused with the regular kids' booster seats. The adult version is softer and does not mean to provide increased safety. Rather, it is meant to provide convenience. Those Adult booster seats are mean to lift the driver. Check out our top 10 picks for the best adult booster seat.
Best Adult Booster Seats
| Product | Material | Height | Washable Cover |
| --- | --- | --- | --- |
| Everlasting Comfort | Memory Foam | 2.75 inches | Yes |
| Xtreme Comforts Large | Foam | 3.5 inches | Yes |
| FORTEM Seat Cushion | Memory Foam | 3 inches | Yes |
| Memory Foam Seat | Memory Foam | 2.8 inches | Yes |
| Comfort Finds Rise | Foam | 5-inches | Yes |
| WSGJHB Car Booster | Cotton Padding | 4.7 inches | No |
The Everlasting Comfort Seat Cushion is the ideal choice for an office chair. It is made from pure memory foam and can be used to improve posture and relieve leg pain. This is great for those who may sit in an office chair all day.
The cushion is responsive to heat and molds to shape your bottom perfectly. The U-shaped design is recommended by surgeons and doctors for the treatment of pain by relieving pressure in the area.
It will raise you 2.75 inches and the cover is machine washable. Use it at home or the office and there is a lifetime replacement guarantee.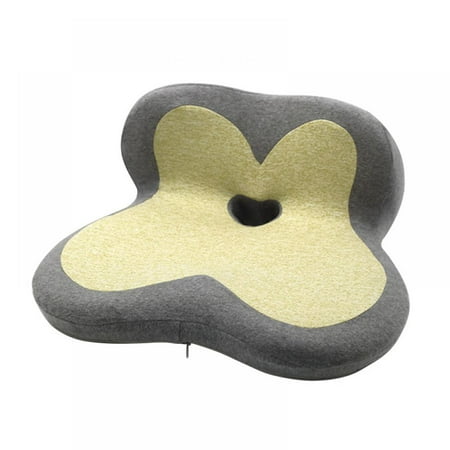 $39.95
$80.24
in stock
2 new from $39.95
as of August 14, 2022 7:45 pm
Are you looking for backache relief while driving or working? This adult booster seat can relieve sciatica nerve, lower back pain, numbness, and more. It promotes great weight distribution, relieving your pain naturally and effectively.
It will raise you 3.5-inches and has a removable mesh cover for easy washing. The mesh cover allows for breathability, keeping you cool all day long. Additionally, the non-skid bottom will ensure your booster stays in place.
$39.99
in stock
1 new from $39.99
2 used from $35.93
as of August 14, 2022 7:45 pm
The FORTEM Seat Cushion is made from 100% memory foam and will give you a 3-inch boost. It is perfect for lumbar support as it has a cushion behind and below you. It prevents pressure on your coccyx and supports the curve of your lower back.
It has a 3D ventilated mesh cover that can be washed in the machine. This cover will keep your bottom cool while supported. It also has a non-slip rubber bottom to ensure it stays in place as well as a carrying handle for easy transportation.
If you need that little extra boost to see better out of the airplane window, then this is the booster for you. This memory foam seat cushion is 3-inches thick and won't flatten. It absorbs and distributes weight evenly and adapts to the contour of your body.
It has a soft velour cover that can be taken off and thrown in the washing machine if it gets dirty or needs to be freshened up. It is designed to keep you in an upright position and stops slouching in its tracks. It may not be suitable for individuals over 250-pounds.
If you're short, you know the struggle of not being able to see well while driving. This car booster seat raises you 4.4-inches to increase your field of view. Its ergonomic design holds your bottom safely and is comfortable.
It is made from cotton filling encased in an air layer fabric for breathability. This cannot be washed, unfortunately. It has a built-in loop for easy transportation and has a non-slip grip to keep it in place.
$39.77
in stock
4 new from $39.77
2 used from $37.60
as of August 14, 2022 7:45 pm
If you're a trucker always on the go and need a lift to see better, the Bandwagon Adult/Driver Car Booster Seat is a great option. It's really simple and raises you 3-inches.
It is made from basic foam and encased in a poly surface that can be washed. It is the ideal seat for truckers since the cover is durable and the seat itself is very lightweight.
$24.99
in stock
2 new from $24.99
as of August 14, 2022 7:45 pm
Amazon.com
Wheelchairs are uncomfortable, which is why this 3-inch memory foam cushion is a lifesaver. It features a bamboo charcoal infused cushion for superior ventilation and temperature control.
The memory foam forms to your bottom and keeps it comfortable. The cover has a non-slip bottom to ensure it stays where it needs to be. It can be removed and washed if necessary as well.
It is designed to relieve pain in the lower back and provides tailbone pressure relief. It comes with a 5-year warranty and a 60-day hassle-free return.
$28.99
in stock
1 new from $28.99
as of August 14, 2022 7:45 pm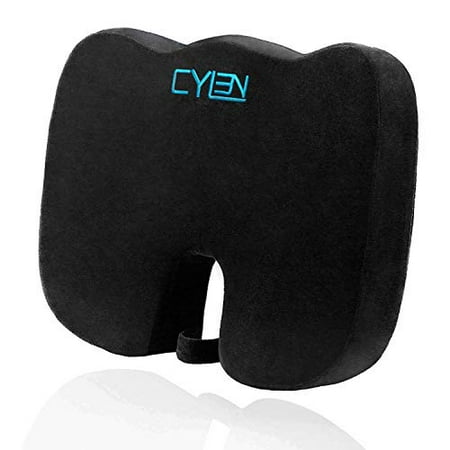 The PDWZNBA Seat Cushion is ideal for tailbone pain relief. The U-shaped design is used to help with chronic and acute pain by relieving pressure in the areas where you need it most.
Its versatile design is ideal for relieving tailbone pain. It is constructed of a 2.8-inch memory foam interior that responds to your body heat and contours to your bottom with ease. It also has a non-slip gel rubber on the bottom of the removable cover. The cover can be washed as well.
They offer a lifetime replacement if you are not 100% satisfied with your booster. You will get your money back or a replacement, whichever you choose.
out of stock
as of August 14, 2022 7:45 pm
Amazon.com
Pregnancy pain is no fun, which is why you should keep the ComfiLife Premium Comfort Seat Cushion on hand. It can be used in the car, at the office, or even in the home. It's constructed of 100% memory foam for optimal comfort and pain relief.
Its U-shaped design relieves sitting pain due to sciatica, herniated discs, hemorrhoids, and pregnancy. Its memory foam cushion contours to your bottom to relieve back pain due to pregnancy. However, it's not recommended for individuals over 225-pounds.
The cover can be removed for easy cleaning and it has a non-slip bottom to ensure your booster stays where it's supposed to. Additionally, it comes with a 100% satisfaction guarantee.
$34.95
$45.95
in stock
1 new from $34.95
as of August 14, 2022 7:45 pm
The Comfort Finds Rise with Ease Seat Cushion is a simple booster used for kitchen chairs, patios, and more. It raises you 5-inches and offers pain-free body lifting. This cushion is simply for raising you, it is not meant to keep you comfortable. It should not be used for extended periods.
The foam cushion has a dense polyurethane core and a removable cover made a soft sherpa material. You can clean it easily by throwing the cover in the washing machine.