Infant car seats are an important part of parenthood. They should be safe, comfortable, and easy to use. I tested the Baby Trend Flex Loc and found all of those things.
First, I was able to install the base with the LATCH system. However, these aren't fixed connectors that attach to the anchors, they are flexible connectors. Because they aren't rigid, they were much easier to connect to the anchors than other methods. It also made it easier to remove as well.
I love how the five-point safety harness is easily adjustable and fits even the smallest infants. There is an included infant insert as well. It's best for babies weighing 4-pounds. In addition to that, the car seat cushions kept my child comfortable and warm.
Another benefit I need to point out is the handle. It's smooth and didn't feel abrasive on my arm. It did a great job of distributing the weight of the baby so there was equal pressure on my arm while carrying them. The handle adjusts to one of four positions.
If you can get past the price, I do recommend the Baby trend Flex Loc. It's safe, comfortable, and convenient for both my baby and I.
Price Comparison
$109.99
in stock
1 new from $109.99
as of January 27, 2023 10:19 am
Amazon.com
Free shipping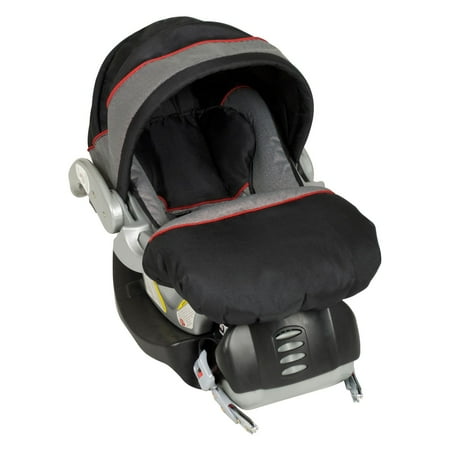 Walmart.com
The EZ Flex Loc infant seat is named so because of the style of its LATCH anchor connectors. Instead of fixed connectors that attach to the vehicle's LATCH anchors, it has flexible connectors. Because they are not rigid, they can be more easily connected to your vehicle's anchor points.
Aside from the EZ Flex Loc connectors, the car seat has many features that parents have come to expect in an infant carrier. The car seat accommodates infants weighing anywhere from four pounds to thirty pounds and under thirty inches in height.
The five-point safety harness is very adjustable. However, to snugly fit such tiny babies the car seat includes an infant insert.
The Baby Trend Flex Loc is a rear-facing infant car seat that includes many features that strive to make the installation more secure and less of a headache.
Baby Trend EZ Flex Loc Infant Car Seat, Carbon
1 new from $109.99
Free shipping
Buy Now
Amazon.com
as of January 27, 2023 10:19 am
Plus Infant Insert
This plush infant insert is removable but must be used with little ones weighing four pounds. In addition, the entire car seat shell is covered in comfortable material to keep all sizes of children cozy and secure.
Parents will love the fact that the seat contains EPS foam that absorbs energy in the event of a crash, especially in side-impact scenarios. Parents will also enjoy the infant carrier's unique handle.
The Baby Trend EZ Flex Loc car seat has what is referred to as a delta handle. Unlike traditional carrier handles, the bars on either side of the seat converge into a triangular shape.
This type of handle has a few unique benefits. It is smooth and won't feel abrasive on your arm and it distributes the weight so the pressure is evenly applied when carrying. Furthermore, it allows parents and caregivers to carry or hold the seat in a variety of ways. The handle can be moved into one of four positions; carry, mid-storage, storage, or non-rocking.
Comfort Features
Delta carrier handle

Four positions available for the handle

Plush infant insert

Comfortable shell and EPS foam

Collapsible canopy

Versatile 5-point harness
The installation of the car seat is not too difficult. Before installing, you should make sure that the car seat is properly fitted to your little one.
The 5-point harness can be adjusted to one of three positions so that the straps are even or a little below your child's shoulders. Similarly, the crotch strap can be shortened or lengthened so that a space of half an inch to one inch remains between the slanted buckle inserts and your baby's thigh.
The crotch strap is adjusted with a metal anchor clip that is fastened to the car seat. The harness straps can be adjusted in one of two ways depending on the version of EX Flex Loc seat that you have. This adjustment can either occur with a rotating knob or by changing the slot that they are threaded through.
The car seat can be used with our without its included base. Likewise, it can be installed using the LATCH connectors or only the vehicle's seat belt. If you choose to use the base, it adjusts to four different positions. Changing the recline is as simple as pressing a button. The car seat base includes a level indicator with weight ranges to help you properly position your infant carrier.
Installation
Flex Loc connectors

Can be used with or without base

Can be installed with LATCH or vehicle's seat belt

Push-button base recline
The Flex Loc car seat easily clicks onto the base and can be removed with one hand by compressing a lever. This allows parents to seamlessly transition from the car to on-the-go. Some versions of the EZ Flex Loc car seats are equipped with Snap-tech. This is Baby Trend's term for stroller compatibility, meaning that the car seat can easily attach to a travel system stroller.
Flex Loc Vs. Skyview
The Baby Trend EZ Flex Loc 32 car seat, sold as part of the Skyview Plus Travel System, has all of the same features as the basic Ez Flex Loc but the weight extends up to 32lbs. The EZ Flex Loc car seat sold with the Jogger Travel System is the basic model. Both of these car seats include Snap-tech.
The Baby Trend EZ Flex Loc Infant Car Seat Plus includes a "boot". This is a fancy term for a cover that secures to the perimeter of the car seat in the foot area and extends up to the mid-section. It resembles a blanket that connects to the lower portion of the car seat to keep the infant's legs warm.
Canadian Baby Trend
Finally, one version of this car seat is only available for use in Canada. The Canadian Baby Trend EZ Flex-Loc 32 infant car seat looks noticeably different as the base contains an anti-rebound bar. Furthermore, this car seat weight and height limitations both extend up to 32lbs and 32" respectively. The anti-rebound model is not available in the United States.
Available Versions
Baby Trend Flex Loc Infant Car Seat

The Baby Trend Flex Loc Infant Car Seat 32

Baby Trend Flex Loc Infant Car Seat Plus

The Baby Trend Flex Loc Infant Car Seat with Anti-Rebound Bar (Canada only)
As noted, there are various models available. However, their features do not vary greatly and as a result neither does the price.
Recommended Use
For infants weighing between four and thirty pounds and up to thirty inches in height*

The car seat is rear-facing only
*The EZ Flex Loc 32 extends the weight limit to 32lbs
Unique Features
Delta shaped handle

No-rethread harness with knob adjustment (on some models)

Flex Loc anchor connectors

The car seat is available in a variety of colors (three options are available for the car seat if purchased separately from a travel system)

Snap Tech (on some models)

Push-button base recline adjuster
Specifications
Seat weight: 21.2lbs

Car Seat height: 25"

Seat depth: 26"

Listed seat width: 16.5"
What We Like
Comfortable carrying handle

Fits small babies securely

Removable and washable seat cover

Easy to install and adjust

Some models compatible with Baby Trend strollers
What We Don't Like
Not all models have Snap Tech

Different adjustment procedures based on model
Stroller and Base Compatibility
This version of the Baby Trend Infant car seat is equipped with Snap-Tech can easily connect to Baby Trend strollers. Some of the strollers include the Baby Trend Jogger stroller, the Baby Trend SitNStand stroller, and the Baby Trend Skyview Plus Travel System stroller.
There may be off-brand adapters available that allow the EZ Flex Loc car seat to attach to other models of strollers. The EZ Flex Loc car seat can only be used with its included base and is not compatible with any other models of brands of bases.
Adapters
The EZ Flex Loc Infant Car Seat 32 and the EZ Flex Loc Infant Car Seat Plus include Snap Tec technology. Therefore, they can be connected to a variety of Baby Trend strollers without the use of adapters. The EZ Flex Loc Infant Car Seat, the basic model does not include Snap-Tec and will require adapters to be compatible for use with a stroller.
One available adapter is to connect your Baby Trend car seat to your Contours brand stroller. This universal adapter will allow your car seat to connect to your single or double Contours stroller using a bar and a strap.
It does not appear that Baby Trend manufactures its own adapters. The stroller brand you choose may manufacture a universal adapter that might be compatible with your EZ Flex Loc car seat. However, as the EZ Flex Loc 32 and the EZ FLex Loc Plus are not too much higher in price and include Snap-Tec, it may be worth it to purchase one of these models.
Customer Reviews
Parents really love the comfort and versatility of the infant carrier handle. Additionally, the seat receives high marks for how easy it is to recline. For those with the Snap-Tech feature, parents like that it connects to a variety of strollers, especially the popular Baby Trend Sit N' Stand.
However, even with the addition of the Flex Loc anchors, some parents found that it was difficult to install the base securely in their vehicle's seat. Some commented that the connectors were a breeze to secure, but the base was then difficult to tighten, taking a great amount of weight and pulling of the straps to lock it down.
Additionally, the harness straps and carrier handle posed other problems. The prongs of the harness strap connectors must be aligned together in order to route into the crotch buckle; this can be difficult if you have a wriggling child. The handle of the infant carrier can be tricky to move into different positions and does not glide easily.
Parent Likes
Delta shaped handle

Push-button recline

Snap-Tech compatibility
Parent Dislikes
Hard to securely install base

Hard to buckle harness

Heavy

Carrier handle is difficult to move
Customer Reviews on Installation
As previously mentioned, installation is made easier by the Flex Loc anchor connectors but then the base itself can be difficult to tighten down to your vehicle's seat belt. The car seat and base are not as intuitive as other models as they do not have color-coded belt paths, easy-to-read "ball" level detectors, or colorized recline indicators.
Furthermore, the car seat manual is somewhat difficult to read and follow. Once you familiarize yourself with installation procedures, you should not have an issue, but initially, it can be hard to install.
Expiration Information
The Baby Trend Flex Loc infant car seat expires six years after the date of manufacture. Your car seat expiration date can be found on your car seat label. As there are various models of this car seat you should always refer to your specific manufacturer's label and manual.
Cleaning
All the metal and plastic pieces of the car seat can be cleaned with a damp cloth and a mild soap. It is not recommended that you use bleach or abrasive cleaners.
The buckles and latch connectors can be wiped clean with a wet cloth only. No lubricants should be applied. If the buckle is difficult to secure due to build-up you should not use the infant seat and contact Baby Trend.
The harness straps can be spot cleaned only with cool water and should never be immersed. The car seat cover can be removed and is machine washable. The manual states that you should follow washing instructions found on the fabric label.
Frequently Asked Questions
How do you install the EZ Flex Loc car seat?
The EZ Flex Loc car seat can be installed with or without the car seat base. To use the base, you may install with the LATCH system or your vehicle's seat belt, threading the straps through the proper belt paths.
The infant car seat may be installed without the base. The vehicle's seat belt must be routed through the appropriate belt paths. In any scenario, the car seat should not move more than one inch in either direction.
How much does a Baby Trend Car Seat weigh?
The EZ Flex Loc Car Seat weighs 21.2 pounds.
Do you have to put the handle down on a car seat?
The Baby Trend manual states in the installation procedures to adjust the handle to the desired position. The images included in the procedures include a depiction of the handle in the carry position, the mid-storage position, and the non-rocking position. The manual does not overtly mention if one position must be used when installing in a moving vehicle.
How do you loosen the straps on a Baby Trend car seat?
To loosen the harness straps, locate the button found on the car seat in between your child's legs just in front of the buckle. This button must be depressed and then the straps may be pulled out towards you to loosen them.
$109.99
in stock
1 new from $109.99
as of January 27, 2023 10:19 am
Amazon.com
Free shipping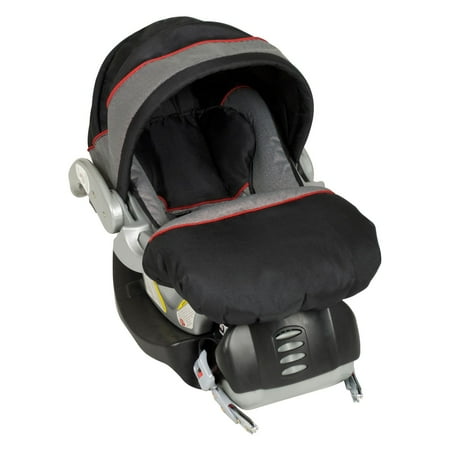 Walmart.com
Final Verdict
Baby Trend makes a strong effort to make installation simple for parents. However, many owners had difficulty securely installing the seat in their vehicles. Additionally, buckling in your child and adjusting the handlebar could be troublesome. In some instances, these issues are not worth the extremely affordable price.
Many of the features of the car seat are on par with other manufacturers' products, such as the 5-point harness, removable infant insert, and multi-position bases. However, other infant carriers may have more to offer in the way of versatility and easy adjustment.