Parents have so much to consider when buying a car seat, such as safety standards, comfort, quality, and price. The good news is that you won't have to compromise on any of these things if you choose to go with a Baby Trend car seat. 
Baby Trend is one of the leading manufacturers of baby products. With 30 years in business, Baby Trend prides itself on innovation and meeting the demands of busy moms and dads everywhere. Their infant seats continuously rank high on safety, ease of use, and value. 
Baby Trend does strenuous safety testing on their car seats and follows extensive quality inspection processes to ensure the safety of their products. You can purchase Baby Trend car seats and travel systems online or in-store at most major retailers, including Amazon, Wal-Mart, and Target. 
Our first choice among Baby Trend car seats is the EZ Flex-Loc Infant car seat. This highly rated car seat was recently ranked the top pick for new parents, and it's easy to see why. The adjustable 5 point safety harness and EPS energy-absorbing foam for side-impact head protection will give you the peace of mind that your little one is safe while on the road.
In addition, the seat is easy to install and adjust, and the smooth carrying handle makes it more comfortable to hold. The EZ Flex-Loc infant car seat is safe for infants from 4-30 pounds and up to 30 inches in length. The price is an excellent value for this seat, and the base comes with it, so you don't have to worry about purchasing separately. 
We've compared and tested Baby Trend's extensive collection of car seats and ranked our top 10 best Baby Trend car seats below. 
Comparing The Top Baby Trend Car Seats
Baby Trend's wide range and selection of infant, convertible, and booster car seats will guarantee that you find an appropriate car seat for any stage of your child's growth. 
The Baby Trend EZ Loc Infant Car Seat is our first pick for many reasons. It has the best safety features to protect your child and a stylish exterior you can't beat.
The car seat's size is 16.25 x 14.66 x 26 in and 16.87 lbs making it one of the more lightweight car seats around.
It is amongst the top 20 in car seats of all brands for infants and can hold a child between five to 30 pounds effortlessly. The car seat is even compatible with a variety of strollers in the Baby Trend brand and has a handle that won't scratch you while carrying your child in and out of your vehicle.
Baby Trend didn't take your peace of mind and child's safety lightly packing this car seat with energy-absorbing foam for the top-of-the-line side impact head protection. It comes with a 5-point safety harness and an easy one-hand harness adjustment with a push-button release to ensure the perfect fit as your child grows.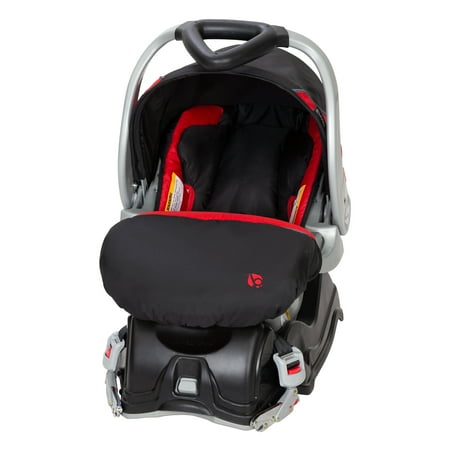 $109.99
in stock
2 new from $109.99
1 used from $96.65
as of June 7, 2023 8:15 pm
Grows With Your Baby
This car seat gets better as your child grows up because of the adjustable latch system and the standard 4-position push-button height adjustment with a level indicator allows the car seat to expand quickly. Baby Trend Flex Loc Car Seat can extend up to 30 inches to accommodate both toddlers and infants.
If you're a mom who has an infant or toddler and likes to work out, then the Baby Trend Expedition Jogger Travel System may be the stroller and car seat for you.
This travel system is 34.5 x 21.5 x 22 inches and can support a child up to 50 pounds. The Baby Trend Expedition Jogger comes with trays for both the child and parent as well as covered storage making it convenient for those morning runs with the baby.
All you need is soap and water for an easy clean, and you'll be ready for any mess or workout that is thrown your way!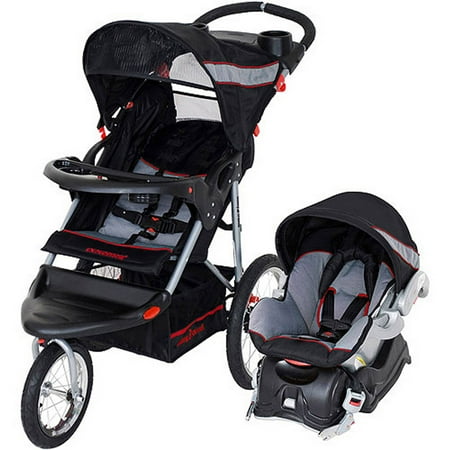 $190.95
$279.99
in stock
1 new from $190.95
as of June 7, 2023 8:15 pm
Designed For Performance
The Baby Trend Expedition Jogger Travel System is a top-notch stroller designed with you, the baby, and your workouts in mind.
This three-wheel jogging stroller is equipped with a front swivel wheel for jogging to maneuver on any surface when you run efficiently. It is durable enough to be pushed over rocks and ruts making for a smooth, effortless run.
Optimum Safety For Any Time of the Day
This stroller and the car seat is perfect for any time of day whether you're running early in the morning or late at night, this stroller can stand up to the test.
It has the EPS energy-absorbing foam for high-quality side impact head protection and seat pads. The canopy with covered sunroof ratchets block out the sun and wind so your baby can stay comfortable no matter how fast you run or what the weather is like. It has a 5-point safety harness that is easy to adjust with one hand.
The Baby Trend Go Lite Snap Fit Sprout Travel System is perfect for every parent who doesn't like to carry a lot of baggage while handling their child.
This lightweight stroller is 39 x 25.75 x 47 inches and only weighs 41.92 pounds. It is able to accommodate a child from five to 35 pounds. You can use this stroller from infancy to the toddler stages without missing a beat.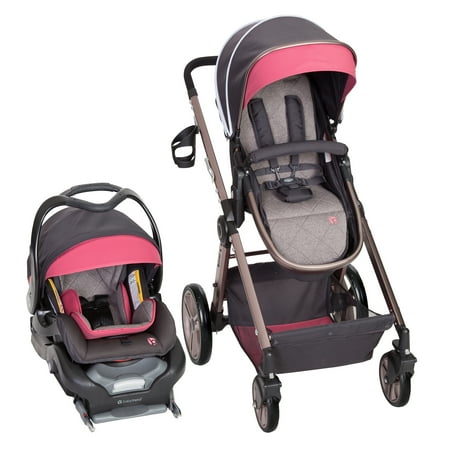 out of stock
as of June 7, 2023 8:15 pm
Customizable
If you like to personalize things then this is the perfect car seat and stroller for you. It comes in three different modes to allow you to sit your child either parent-facing, forward-facing, and carriage mode. It also comes with front swivel wheels and one-touch rear brakes to allow you more control of the stroller.
Amazing Storage
This Baby Trend Go Lite Snap Fit stroller, and car seat has the perfect amount of space for all your baby's needs. It features an extra-large storage basket for you to place your belongings in while you travel around or out of town. Not only does it have a lot of space it also comes with an adjustable 5-point safety harness and extendable canopy with zippered mesh panel.
If you have two kiddos, it may be a lot to deal with two separate strollers for them. Baby Trend makes it easier by coming up with the Baby Trend Sit N Stand Double Stroller.
It is perfect for twins or having two children that are in the toddler and infancy stages. It is designed with you in mind by being only 49 x 21.5 x 43 inches and lightweight at 32.5 pounds. The age range is 36 months and younger and can hold up to 80 pounds.
$99.99
$176.97
in stock
1 new from $99.99
5 used from $152.19
as of June 7, 2023 8:15 pm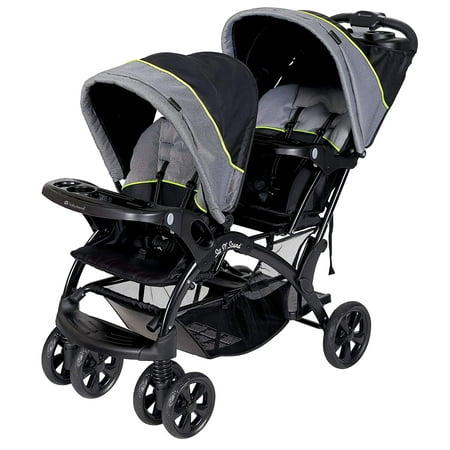 Big Family, No Problem
Having a big family is not a problem for this baby trend stroller. Two kids are able to occupy it with ease, and both little passengers are able to be protected from the sun by the canopy and use the removable child tray.
You can even customize it by having one child face the front and the other facing the rear so both can be supervised at once. If one child likes to stand while the other sits that isn't a problem either. This stroller can accommodate any sitting or standing position your child chooses.
Stay Organized
Being organized with multiple kids has never been more accessible with the covered parent organizer. It is equipped to hold your phone, keys, and drink plus it has a large under seat storage basket to keep the items you need on a daily basis.
The Baby Trend Secure Snap Tech 35 Infant Car Seat is unlike the rest because it is able to fit with all Baby trend Snap-fit products due to the modular adaptor.
That will make it easier for you to transition the seat to a stroller if need be.
It comes with a four-position push button height adjustable base that also features a level indicator to ensure the best positioning. The car seat is only 26.35 x 14.66 x 28.95 inches and weighs 18.13 lbs. It is able to accommodate children who are five to 35 pounds and 32 inches in height.
$119.99
$149.99
in stock
2 new from $119.99
as of June 7, 2023 8:15 pm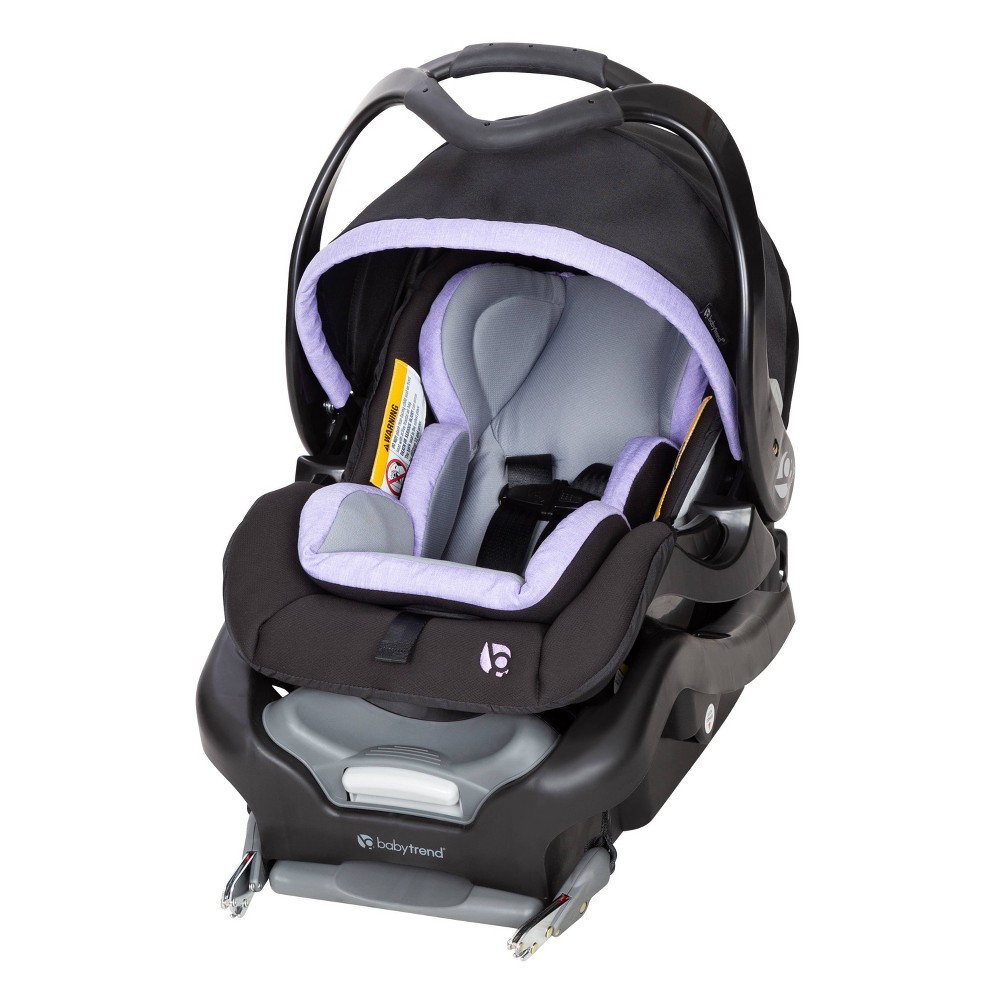 Target.com
Simple To Use
This car seat is easy to use for any mom or dad wanting to keep their life simple. One of the things that separate this seat from its counterparts is flexible latch connectors. The connectors make the installation process to look like a breeze!
You won't have to worry about if the car seat is fully locked in. There is even a rethread harness system to make adjusting the shoulder height effortless and prevent its misuse.
Comfort For Everyone
Make sure you and your baby are comfortable by using this Baby Trend car seat. It has a patented delta grip handle that allows the car seat to be carried in multiple ways for comfort.
The car seat also comes with superior side impact head protection so not only will your baby be able to relax its head, but will also be protected from an impact to the vehicle.
If you find yourself always on the move, then you need a stroller set that will move as quickly and effortlessly as you do. This stroller has three wheels for easy maneuvering while you travel on a variety of surfaces.
The Baby Trend Ride 5 Travel System is also durable and safe with a five-point safety harness and luxuriously padded seat with multiple recline positions. The dimensions are 23.62 x 34.65 x 42.13, and it weighs 36 pounds. It can accommodate a newborn up to a 30-pound child.
$135.99
$189.99
in stock
1 new from $135.99
as of June 7, 2023 8:15 pm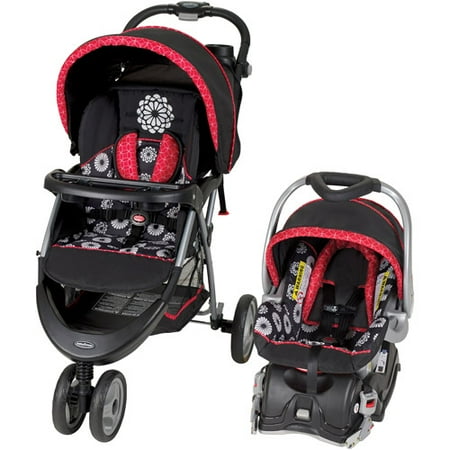 Best For New Parents
This stroller was designed with new parents in mind with its ability to keep the baby safe, comfortable, and effortless maneuvering.
The Baby Trend EZ Ride 5 will make sure your baby is secure, and the base can install in your car when you need to make the transition from outside use to in the car.
Nicely Designed
Baby Trend has outdone themselves with the creation of the Baby Trend EZ Ride 5 stroller and car seat combo. Its high-quality material can withstand any type of weather and has superior padding for the best protection for your little one. It is very stylish while still being mega safe.
Rated as one of Amazon's Top Choice, the Baby Trend Skyview Travel System is an excellent choice for any parent wanting a reliable yet stylish stroller and car seat.
This duo is 38.5 x 24 x 42.12 inches and 38.5 pounds. It comes with convenient features such as the large canopy that has a peek-a-boo window so you can still see the baby.
Not only did Baby Trend think about keeping your child comfortable, but they kept you in mind as well with the deluxe parent tray.
It has 2 deep cup holders and a covered storage compartment including the height-adjustable handle that will accommodate short-to-tall parents.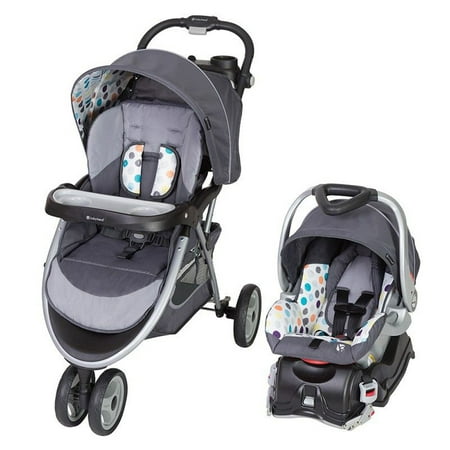 out of stock
as of June 7, 2023 8:15 pm
Durable and Safe
This model comes with the classic five-point safety harness to make sure the baby is securely placed in the seat.
It is made out of material that lasts and comes with two reasonably set rear brakes as well as a one-hand folding mechanism. It can hold a child up to 30 pounds so you won't have to replace it for a while.
Long-lasting
The Baby Trend Skyview Travel System is a stroller that has longevity. You and your child will be able to utilize this car seat from infancy to toddler age. It is built to grow as your child does and store every need as your child does.
The Baby Trend Skyline 35 Travel System is an FAA approved stroller that looks good and is easy to put together.
It has head support for the baby to help from having its head slump and keep him or her comfortable. It is 38.5 x 24 x 42.12 inches and weighs 38.5 pounds. Even so, it can carry a child that weighs up to 35 pounds.
$189.99
$219.99
in stock
1 new from $189.99
as of June 7, 2023 8:15 pm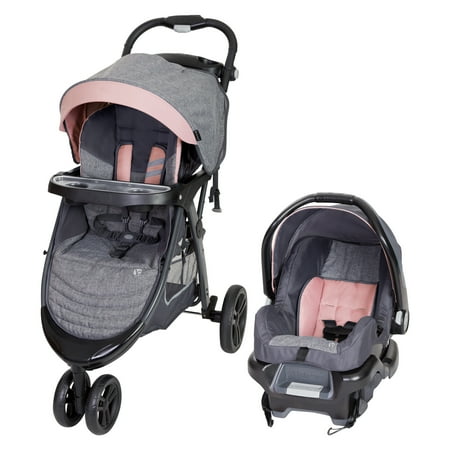 Stylish
This car seat comes in an array of colors and is functional for everyday use. It has a removal child's tray that can hold two drinks and snacks while the baby can be covered under the 2-panel canopy. The canopy also has mesh side windows so you can see your baby and your baby can see the beautiful world that surrounds it.
Easy Assembly
This model is so easy to assemble. It takes no time at all and makes the stroller even more convenient to use when you have to store it in a car. You'll get instructions on how to put the car seat together to ensure that it is safe to use, but it won't be rocket science at all.
Running with your baby just got a lot easier with the Baby Trend Cityscape Jogger Travel System. This model is equipped with bicycle wheels to stride along with you as you run on your surface of choice.
It is easy to fold up for storage and, so you don't have extra weight. It is 49 x 21.5 x 43 inches and 37 pounds. This stroller and the car seat are able to accommodate children who are four to 30 pounds. Jog at any time of day with footrest reflectors that will show cars you and your baby are there.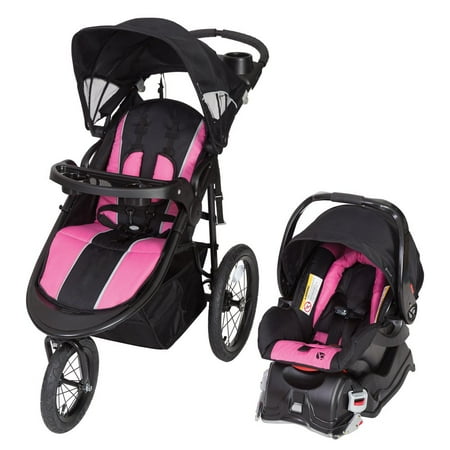 out of stock
as of June 7, 2023 8:15 pm
Easily Convertible
This model is versatile and transforms into whatever you need from a jogger to a car seat. If you're not jogging, then all you need to do is lock the 12-inch front swivel wheel for low-speed action and unlock it when you need free reign. When you unlatch they base you then have a fully functional car seat that you can place in your vehicle.
Affordable
The price point for this jogger is cost-effective for most parents who are in the market of buying a new stroller and car seat combo.
Your baby deserves the best car seat around and the Baby Trend Ally 35 Car Seat is just that. This car seat comes with maximum protection and a 2-panel adjustable canopy.
As an added bonus feature, the canopy provides the baby with the shade from the sun.
The one-hand easy-access seat release helps to adjust the car seat with ease. It is 27 x 18.5 x 25 inches and weighs only 13.23 pounds making it super lightweight. It can hold a child from four pounds to 35 pounds with zero problems.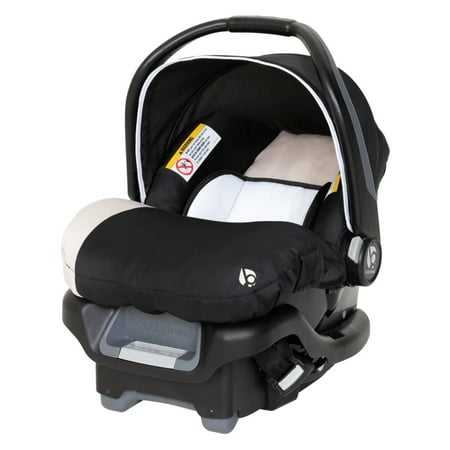 out of stock
as of June 7, 2023 8:15 pm
Extra Secure
We know safety is the number one concern parents have when trying to buy anything for their child but with Baby Trend Ally 35 Car Seat that is no longer an issue.
This car seat is equipped with EPS foam for optimal side impact protection that is higher and deeper than other car seats.
This seat also comes with a 5-point safety harness with one-hand adjustment as well as a 4-position height-adjustable base that comes with dual bubble level indicators and a 6-position crotch belt adjustment.
Latest Innovation
This model is the newest design on the market. It stands out because of all the safety features it comes with that were listed above.
It also has a stylish look to it. Furthermore, the seat is compatible with other Baby Trend strollers, such as the Baby Trend Sit n Stand Double Stroller.
Buyer's Guide
The most important things to look for when shopping for a Baby Trend car seat are safety, ease of cleaning, durability, and pricing.
Safety
Safety is every parent's number one priority. Our little ones' security is our top focus as children grow.
Riding in a car comes with a level of danger that requires constant vigilance. This matters particularly when it comes to the littlest family members.
Car seats should be crash-tested from all the sides: from the front and the back as well as from their side.
Rollover accidents are the most deadly kind of accidents. Maximum testing means maximum safety of every car seat. Therefore, the safest car seats not only meet but also exceed federal standards.
Ease of Cleaning
Any precious passenger young enough to ride in a car seat has a tendency to make a mess frequently. However, the child is not the one to clean its own mess but his caretaker.
It is essential to choose a car seat that can be cleaned easily to make a parent's life a bit easier. It is best to get a car seat with a machine washable cover. The one that can be quickly and easily put back on the car seat.
Durability
Car seats are a very important investment. You will want to select a car seat that is durable and safe for your precious cargo.
Look for a high-quality and lightweight car seat to simplify your life. Your goal is to make sure that the car seat can last for a child. No parent wants to repurchase more than one car seat of the same type in case one gives out.
Pricing
Is not practical to pay a higher price for a car seat with extra features. Many times is easy to find a less expensive and durable car seat with fewer features.
That car seat will definitely meet or exceed the standards so parents do not have to solely focus on the price factor.  In other words, a higher price does not necessarily mean a better and safer car seat.
Which Baby Trend Car Seats To Buy?
We believe that all of these Baby Trend car seats and strollers are worth buying. However, we think that the Baby Trend EZ Flex Loc Infant Car Seat stands out from the rest of the car seat choices.
It has the ability to grow with your child. Furthermore, Baby Trend Infant Car Seat is the number one safety car seat on the market to date!
For optimum protection,  infants and toddlers should be seated in a rear-facing mode. Most convertible seats will accommodate this very important safety need. Also, it is crucial to accurately know how to adjust and use the latch system that comes with the seat.  When in doubt, you should check the car seat manual for proper installation.