A jogger stroller is supposed to be convenient and easy to use. I was given the Baby Jogger City Select Lux to test out and disproved this theory. 
Right off the bat I wasn't impressed with this jogger. It was very heavy to lift. Unfolding and folding was easy, but I struggled to put it in my vehicle. Not only that, but there were no accessories that came with it like the other deluxe stroller models. 
I did notice that there was plenty of padding in the seat and my child seemed comfortable. The ride was overall pretty smooth and the tires allowed me to take it on different types of terrain. I was able to store my diaper bag securely in the bottom basket as well. 
There does seem to be the option to add more seats for double and triple mode, but you have to purchase the added accessories and hardware. Even then, it may be too cramped for multiple children. Also, if you plan to use it with a car seat, you have to purchase the adapter separately. 
I don't care for this jogger since anything important I need, I have to purchase separately. The jogger costs enough as it is. 
I don't recommend this jogger, especially since it's pricey and comes with no accessories. There are options for more children to use it, but even then it doesn't perform as well as traditional double or triple jogging strollers.
Price Comparison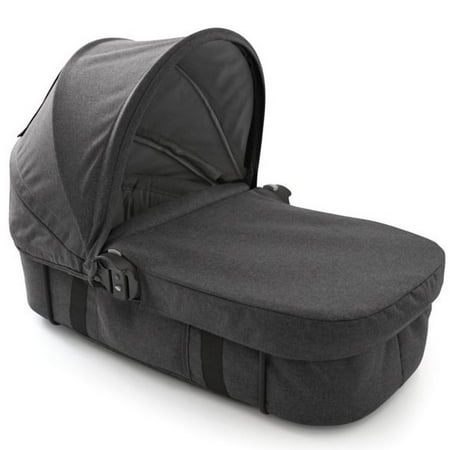 Walmart.com
$369.00
in stock
1 new from $369.00
as of October 19, 2023 6:39 am
Amazon.com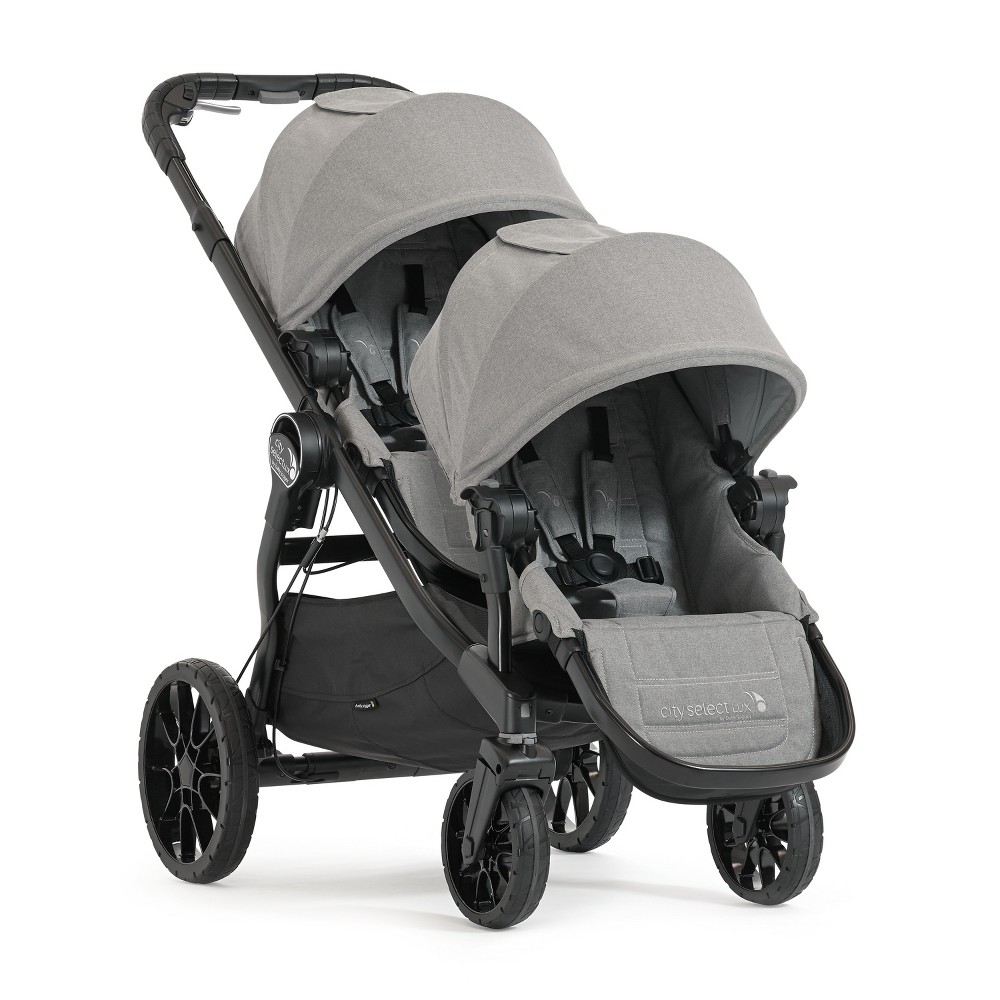 Target.com
Unique Features
The Baby Jogger City Select Lux stroller offers over twenty seating combinations in double stroller mode.
This is four more options than the original City Select stroller.  To fully utilize all 20+ configurations, you must have, in addition to the Lux stroller, a car seat, baby jogger city select bassinet or pram, a second toddler seat, a bench seat, and an attachment kit for all pieces. All of these pieces are sold separately from the original stroller purchase.
How to Convert for Multiple Children
Your original purchase of the Baby Jogger City Select Lux comes with the stroller frame and toddler seat. In order to convert the stroller into a double stroller, a second toddler seat must be purchased.
This seat will come with the appropriate adaptors for conversion. Simply clip the adaptors onto the stroller frame and click the new seat in, and you're done!
This configuration will allow two children to ride forward-facing, sibling facing, or one in each direction. To use this stroller as a double with a car seat and toddler seat, simply purchase the car seat adaptor for your specific car seat. As described previously, these adaptors attach to the frame and allow your car seat to click in. 
Bench Seat
Another option for two children is to purchase the bench seat. The bench seat allows an older child to sit facing in while the toddler seat is attached. The City Select Lux also has the capability to accommodate three children. 
To do so, you must have the attachments for any of the above configurations for a double stroller first. Then, the Baby Jogger glider board can be added to the back of the stroller. This allows a third, older child to stand and glide along with the stroller.
Convenience
The new features to the City Select Lux make it a convenient stroller combo for everyday use.  The stroller seat has multiple reclining positions for optimum comfort for your child. Use the easy-push button on the back of the seat to smoothly transition from full sit to full lay positions. 
Locking the stroller in place does not involve foot-push pedals with the City Select Lux. To lock the stroller in place, push the decelerating hand brake all the way down. When it is time to unlock, the quick-release lock button is available to push.  
In addition to the added features, the City Select Lux folds 30 percent smaller than its predecessor, the Baby Jogger City Select.
Folding takes seconds with the pull of two short handles and locks instantly in place with a self-locking latch. Once folded, the stroller can be carried easily by the crossbar, although it is notably more cumbersome than the original City Select stroller.
Aesthetics
The City Select Lux is offered in six stylish color options.  The fabric covering the canopy, seat, and harness is smooth and soft.The metal frame, wheels, and storage basket are black for all color options, giving the stroller an overall sleek look. 
Seats, prams, infant car seats, and other attachments connect to the stroller in ways that look natural so that nothing looks out of place.
Baby Jogger City Select LUX Stroller | Baby Stroller with 20 Ways to Ride, Goes from Single to Double Stroller | Quick Fold Stroller, Port
Buy Now
Amazon.com
as of October 19, 2023 6:39 am
Cleaning City Select Lux
The Baby Jogger Select Lux is easy to clean for on-the-go families who know how quickly a stroller can get dirty. The canopy fabric is spot clean only and can be gently wiped with a damp cloth and mild soap if necessary.
The fabric covering the seat of the stroller can be removed and machine washed in cold water on a gentle cycle with mild detergent.  To avoid shrinking or warping, the seat cover should be re-attached to the seat frame to dry.
Safety and City Select Lux
The City Select Lux has some wonderful features that will help keep your child safe during use.This stroller has a decelerating hand brake in addition to a parking brake. Both brakes are located on the handlebars and are easily and quickly hand-operated.
The decelerating brake is especially convenient for slowing the motion of the stroller while moving downhill. The seat of the stroller also has a five-point safety harness and UV 50+ canopy for extra protection.
Key Features
Converts to double stroller

Over 20 seat configurations

Compact fold that automatically locks

Available in multiple fashionable fabrics

Multi-position seat recline

Telescoping handlebar

All-wheel suspension

Convenient storage basket

UV 50+ canopy
Specifications
Stroller Weight: 30.4 lbs.

Stroller Height: 16.9-42.5 in.

Folded Height: 10.04 in

Folded Width: 21.46 in.

Folded Length: 30.51 in.
Customer Reviews
User reviews for the City Select Lux stroller tend to be mixed.  Most customers love the feel and look of the stroller, but mention struggling with what they believe to be design flaws.  Overall, the average of the reviews on the Baby Jogger website is a three out of five. The most prominent positives and negatives from the customer reviews are gathered below.
Pros 
Smooth ride and great maneuverability

Seat is soft and comfortable with good amounts of padding 

Sturdy tires that are good in all types of terrain

Roomy storage space

Handlebar extends far for tall parents
Cons
When in double mode, some seating arrangements are too close together

Heavy to lift

Need to purchase an adaptor separately if using with a car seat

Seats cannot recline when facing the same way in double mode

No accessories are included in an initial purchase like other deluxe stroller models

Hand brake is in an inconvenient location—gets in the way frequently
Warranty Information
The Baby Jogger City Select Lux has a limited lifetime warranty.  For the lifetime of the product, the company protects against manufacturer's defects for the frame of the stroller only. 
All textiles or other components of the stroller are protected under a warranty that expires one year from the date of purchase. This is only the case if you can provide proof of purchase, so make sure to store your receipt somewhere safe!
As always, warranties do not cover the normal wear and tear of the stroller.  They also do not cover corrosion or rust that may gather on the metal parts of your stroller.  The warranty also does not include any damage that may occur due to incorrect assembly of the stroller.
Baby Jogger City Select Lux vs. Joovy Qool
The Baby Jogger City Select Lux and the Joovy Qool are both convertible strollers from best-selling brands that can accommodate 1-3 children.  They are in similar price ranges and have many similar features.  
Similarities
The seat fabric is removable and washable

Can accommodate 1-3 children

Accessible with a bassinet or car seat

Many different configurations for child seating
Differences
Joovy Qool has 50+ different configurations instead of the Lux's 20+

Joovy Qool is a few pounds heavier

Joovy Qool does not have a decelerating hand brake

Joovy Qool comes with a few accessories (snack tray, drink holder, parent organizer)
Baby Jogger City Select Lux vs. Bugaboo Donkey
You'll find that the City Select Lux and the Bugaboo Donkey are both high-end strollers that can grow with your family.  The main difference between the two is the way they accommodate more than one child. The Lux converts to an in-line double, while the Donkey stroller is a side-by-side double.
Similarities
Convert to double stroller and have many configuration options

Easy fold

Multiple-position reclining seats

Large canopies with sun protection
Differences
Donkey is significantly more expensive

Children can recline more easily in Bugaboo Donkey

Single seating option for Bugaboo Donkey offers a side luggage basket

City Select folds more compactly than Bugaboo Donkey

Bugaboo Donkey has a lower upper weight limit
Accessories
This travel bag lets you carry your stroller more easily during travel or transport.  It also helps protect your stroller from damage from a rough environment. It is padded to provide the most protection, and has a convenient shoulder strap and carrying handles.  
The weather shield for the City Select Lux stroller covers the seat of the stroller to keep your child dry if caught in the rain. This cover provides your child with proper ventilation and an environment safe from wind, rain, and debris. This cover does not cover the entire stroller, just the toddler seat.
This is a newborn bassinet attachment for your stroller.  It provides a safe and comfortable mode of transport for your infant. The pram attaches to the City Select Lux where the stroller seat attaches.
This parent console easily connects to the handle of the City Select Lux stroller.  The insulated cup holder keeps your beverage appropriately cold or hot. There are also covered storage pouches to store your belongings.
This cup holder clips directly onto the frame of your stroller for a convenient place to hold your drink.  It is large enough to hold a metal water bottle or sizeable reusable cup. This cup holder is easy to put on and remove and can be clipped to any part of the frame. Make sure to purchase the cup holder specifically for the City Select.
Frequently Asked Questions
How do you recline a City Select Lux seat?
On the back of the stroller seat, there is a small handle.  While holding in the handle, glide the seat up or down depending on the level of recline you need. Once you have reached the recline you desire, release the handle and lock the seat back into the location you chose.
Can you run with a Baby Jogger City Select Lux?
Although part of the Baby Jogger brand, the City Select Lux is not safe for running.  The website does mention that it can handle power walking. If you are looking for a stroller to use while running, consider purchasing the Baby Jogger Summit X3 stroller.
What is the difference between Baby Jogger City Select and City Select Lux?
The Baby Jogger City Select Lux is the deluxe version of the City Select stroller.  They have many of the same features. The main differences are that the Lux has a more compact fold, more seating configurations, all-wheel suspension, and some new accessories. 
$369.00
in stock
1 new from $369.00
as of October 19, 2023 6:39 am
Multifunctional and Stylish Stroller
If you are planning on having more than one child, it is worth considering the Baby Jogger City Select Lux stroller.  The ease and convenience that this stroller offers will make your daily errands and activities run smoothly.
Add some accessories, and you have the capability of making the City Select Lux personalized to your needs. This stroller is a stylish and functional option that will last you many years as your children grow. Another stylish stroller is Hot Mom Stroller.