We tested the Nuna AACE and even though it isn't a well-known brand, they do create some of the most comfortable booster seats around. Not only does it have an impressive lifespan, but the safety features and comfort level are even more enjoyable.
This booster can accommodate children aged 4-8 years and beyond with weight limits ranging from 40-120 pounds and height limits ranging from 38-60 inches.
It features a 3D growth system that allows the seat to grow with your child in terms of weight, height, and depth. There are 9 heights that the headrest can adjust to as well as 3 depth settings. It's easy to adjust with just one hand and we appreciated how the shoulder and headrest work in tandem. You can also remove the back to transform it into a backless booster.
We found it easy to achieve a proper fit thanks to the lower anchors and belt positioner guides. The side impact protection pods also keep your child safe in the event of a crash.
Overall, we thoroughly enjoyed this car seat. The ease of use, safety features, and comfort of the booster make it worth the hefty price. The only thing we found that we didn't like was that it didn't have cup holders and it was a little on the bulkier side.
This article will cover the various features of the Nuna AACE booster seat including installation, use, comfort options, and safety features. We will also go into detail discussing the seat advantages and any drawbacks.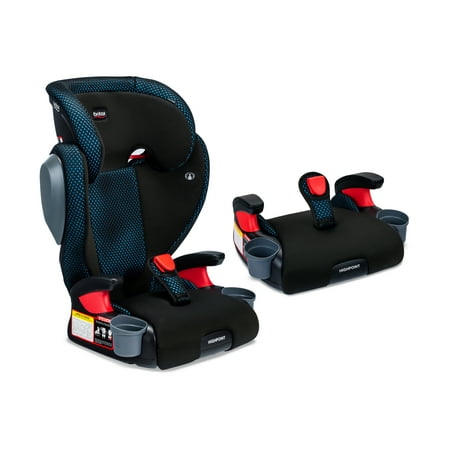 Walmart.com
Height & Weight Limits
The Nuna AACE booster seat has two modes, high-back booster, and backless booster. In high back booster mode, it can accommodate children weighing 40 to 110 pounds and 38 to 60 inches tall. The suggested age of use is at least 4 years old.
As a backless booster, the seat accommodates children weighing 50 to 120 pounds and 38 to 60 inches tall. It is recommended that to begin using a backless booster, your child must be at least 5 years old.
As you can see, most children will not need the Nuna AACE until they are at least 4 years old. However, they can use the booster until they grow out of it, typically 8 years of age at the earliest.
Top Features
3D Growth System
Perhaps the booster seat's most impressive feature is the 3D growth system. The seat accommodates your growing child in three different ways, height, width, and depth. This is responsible for the seat's long lifespan.
The first dimension of the 3D growth system is height. The seat's headrest can move upward as your child grows taller. There are 9 different heights. Next is width. As you raise the headrest, the shoulder wings expand outward.
Finally, to increase the depth, the seat base can be shifted forward or backward. There are three possible depth settings. This provides additional thigh support to your growing little one.
Easy to Adjust
Adjusting your seat in any of the three growth options is painless.
The 9 position headrest can be adjusted with one hand. The shoulder system works in conjunction with the headrest. It expands outward as the height increases. Transitioning the seat to any of the three depth options is simple.
When it is time to transition to backless mode, the seat back lifts completely away in one swift movement.
Two Seats in One
There is a long span of time between when your child outgrows their forward-facing seat and when they are ready for a lap-shoulder belt. Many forward-facing seats can be used until your child weighs 60 pounds with some going up to 90 pounds. The lap-shoulder belt cannot be used until your child is 4 feet 9 inches in height and at least 8 years old.
When they exceed 60 pounds in weight and are greater than 1 inch below the seat height, you will need to use a booster seat until they are ready for the lap-shoulder belt. The Nuna AACE is a great choice, accommodating children until they are at least 8 years old.
The Nuna AACE is a high back booster and backless booster in one. The back and headrest easily lift away, leaving a belt-positioning booster seat. Transitioning with your child as they move from a car seat to the vehicle's lap-shoulder belt system.
Easy to Use
A choice of installation either using the lower latch connectors or the vehicle's lap-shoulder belt makes attachment both customizable and safe. Colored and guided belt paths reduce the risk of installation error. The universal anchorage system connectors have color indicators to inform you of a secure latch.
What We Like
Safe Guided Installation
The Nuna AACE makes achieving a proper fit and installation headache free. In either mode, the lower anchors are simple to attach and tighten. The seat includes UAS connectors, which stands for a universal anchorage system, that work with nearly all vehicles. The seat can also be secured via the vehicle's lap-shoulder belt.
The belt positioner guides the shoulder belt into the proper position. In both modes, the guided belt path is colored and clearly labeled. Decreasing the chance of user error.
Finally, side impact protection (SIP) pods go over and above in meeting crash protection requirements. The ease of achieving a secure install makes switching vehicles headache free. The booster seats safety features mean no matter which car a child is riding in, parents can rest assured that their child is safe.
Adjustable Comfort Features
This seat has a handful of thoughtful comfort features. It offers an 8 position recline, even with the lower anchors attached. A rare find in a booster seat as most can only remain upright.
There are built-in armrests available in both high back and backless mode. Next to the armrests is a dishwasher safe cup holder that is easily accessible.
As you adjust the seat headrest, the padded shoulder wings also adjust. They move outwards to give your child more room. The adjustable depth feature helps to support growing legs. Each component results in a spacious seat for your child.
The breathable fabrics and included shell ventilation panels make the seat cool and pleasant, even on lengthy journeys.
Convenient for Parents
The one-handed adjustments are straightforward to use. They work in conjunction with one another so you don't have to perform multiple actions.
Spills and messes are an inevitable part of childhood. Parents will rejoice in the fact that the booster seat fabrics are machine-washable. The removable cup holder is dishwasher safe, a rarity with most child seats.
What We Don't Like
Bulkier and Heavier
While the comfort features may keep your little one happy, they make the seat a bit bulkier and heavier. In its highest positions, it has a height of 33 inches, a width of 22.5 inches, and a length of 15 inches. The flared shoulder supports, side-impact pods, and armrests all add bulk.
The seat has an overall weight of 15.6 pounds. Making it one of the heavier booster seats on the market.
Of course, the seat becomes narrower and lighter when the back is removed. But remember it cannot be used as a backless booster until your child fits the height, weight, and age recommendations.
Costly
The seat can't exactly be considered budget-friendly. Costing well over $100 it is definitely an investment. Its long lifespan can be viewed as a trade-off for its expensive price tag.
If you have more than one seat to purchase or a strict budget, you may want to consider other options before splurging.
Harness Booster vs Belt-Positioning Booster
It is important to mention that the Nuna AACE is a belt-positioning booster seat. This means that instead of using a 5-point harness system it relies on the vehicle's lap-shoulder belt to restrain your child. A 5-point harness system is regarded as the safest restraint type for young children. The AAP recommends a 5-point harness is used until at least age 5.
It is recommended to wait until your child is mature enough to maintain proper posture and meets the seat's height and weight limits before transitioning from a harness to a high back booster. Most children do not possess this maturity until between the ages of 5 and 7. As most forward-facing car seats accommodate children up to 60 pounds, your child should easily reach this age marker before making the switch to a booster.
Once your child is ready, the Nuna AACE is an exceptionally safe booster seat, helping achieve a perfect belt position across your child's shoulder, chest, and lap.
A Possible Contender
The Uppababy ALTA belt-positioning highback booster seat is similar. The Nuna AACE has 9 possible headrest heights compared to the ALTA's 7. The ALTA does not offer any recline positions. The AACE can become a backless booster while the ALTA does not.
Both seats include side impact protection, a cup holder, and armrests. Though the AACE is a bit more expensive it provides more options and increased longevity.
Overall Impressions
The Nuna AACE booster seat offers parents security and ease of use. It has many convenience and expansion features to keep children comfortable until they are at least 8 years old, but even until 12 years of age.
Finding a car seat that grows with your child in depth, width, and height is quite rare. A booster seat that reclines is also difficult to come by. These unique features set it apart from many other seats on the market. Though it is pricier, it is a top-of-the-line booster with a long lifespan, making it a wonderful investment.