I like my budget car seats, but occasionally I fancy a luxury one. I had the opportunity to test the Cybex Cloud Q Infant Car Seat and I wasn't disappointed. 
The first thing I noticed on this car seat was that it can lie flat when it's being used outside of the car. It made napping for the baby very easy and comfortable. It's actually ideal for preemies since they are the safest when lying flat, so this was very beneficial for my child. 
Furthermore, this luxury car seat can be used until the child is 35-pounds. Most car seats only accommodate children up to 30 to 32-pounds. I discovered that there were 11 adjustable height positions, something you rarely find on an infant seat. 
I was able to choose one that fit our child perfectly. The harness was easy to use, too. It doesn't need to be rethreaded, so it was simple to make it fit with our child. The only issue I had was that the buckle between the legs seemed to be too short for the thighs to fit comfortably. 
Even though I really liked this car seat, I just don't feel like every person who purchases it would benefit from it, so I don't recommend it. It's heavy, the crotch strap is too short, and it's pricey.

Instead, I recommend you check out our list of the best infant car seats for an alternative option.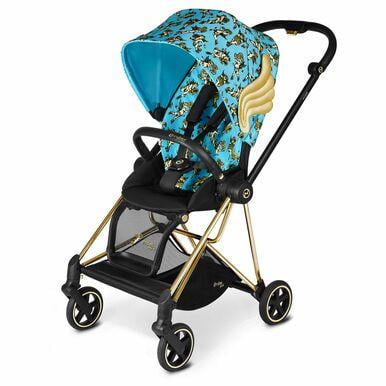 Walmart.com
out of stock
as of September 24, 2023 1:54 pm
out of stock
as of September 24, 2023 1:54 pm
Unique Features
Unlike any other infant seat, the Cloud Q has the capability to lie flat when using outside of the car. This really comes in handy when you're out and you need a safe place for baby to nap. This also makes it ideal for preemies as they're safest lying flat. To add to the safety factor of the seat, it also comes with an XXL protective sunshade with UVP50+.
These safety features, along with other protective qualities are what got this seat a "very good" rating in the safety category of the German Stiftung Warentest.
 The seat comes in its traditional design as well as a luxury option and a few exclusive prints. In total, there are 12 different colors/prints to choose from. Keep in mind, though, the luxury and exclusive prints cost more than the traditional ones.
The Cloud Q car seat is also available in "Plus" and "SensorSafe" editions. The main difference between the Cybex Cloud Q and the Cloud Q Plus is the fabric. While the original Cloud Q is made with soft, plush fabric, the Cloud Q Plus has a more hard-wearing fabric similar to denim.
An Adaptable Seat
When we say this seat grows with your child, we mean it. While many infant seats cap off at 30-32 pounds, this one can be used up to 35 pounds.
It comes with a removable inlay for preemies and newborns and has 11 adjustable height positions.
Not many infant seats come with an adjustable headrest, so this really sets the Cloud Q apart from others. The harness guides are integrated as well, so you don't need to worry about rethreading when you adjust the headrest.
Optimal Comfort
Not only is this seat one of the safest on the market, but it also comes with several qualities of comfort too.
You may choose between comfort fabric or the "plus" option. Both seats are comfortable for your baby, but the Plus is a bit more durable. The seat also comes with harness and crotch pads to prevent discomfort and red marks on your baby's skin. The straps are also extra wide to ensure safety and comfort for your little one.
Key Features
Three different seats styles

Unique lie-flat capability

Adjustable headrest (11 different positions)

XXL sunshade

Non-rethreading harness

Extra-wide harness straps
Honest Customer Reviews
When it comes to the Cloud Q, parents seem to be most impressed with the safety standard of this seat. This makes absolute sense as it consistently ranks high on crash testing and other safety standard tests.
However, this seat is much heavier than other infant seats, which can prove inconvenient as your little one gets heavier. Despite this setback, the pros heavily outweigh the cons of this seat. 
Cybex Cloud Q SensorSafe Infant Car Seat in Midnight Blue
out of stock
as of September 24, 2023 1:54 pm
What We Like
Comfortable for Baby
The traditional Cloud Q has a plush, comfortable fabric. While the Plus version is more hard-wearing, parents still say their baby seems satisfied too.
High Safety Ratings
The Cloud Q has gone through extensive testing and has received the highest marks in several different independent research tests.
Great Seat for Preemies
Because this seat can lie flat when not in the car and accommodates as low as 4 pounds, it's ideal for preemies and small babies.
Grows With your Baby
This seat will accommodate your little one from 4-35 pounds and up to 30 inches in height.
Plenty of Colors to Choose From
The Cloud Q has twelve different colors and prints available. Depending on which print, though, it may cost more than others.
What We Don't Like
Heavier than Other Infant Seats
While many infant seats weigh less than 10 pounds, this one weighs around 12.5 pounds without its base.
Price is Pretty Steep
This seat costs significantly more than other infant seats on the market.
Specifications
Product dimensions:

27 in. x 23 in. x 18 in.

Product weight (without the base):

12.6 lbs.

Weight restrictions:

4 lbs. – 35 lbs.

Height restrictions:

up to 30 in.

Lowest harness position:

8 in.

Highest harness position:

13.5 in.
Expiration and Warranty Information
The Cybex Cloud Q can be used up to 6 years after the date of manufacture. In terms of the warranty, Cybex will replace your seat if defects are found for two years after the date of purchase. In order to use the warranty, the original receipt is required and you will be responsible for shipping charges.
The warranty will not cover the following issues:
Regular wear and tear

Damage from negligence or improper use

Modification by the consumer

Damage from car accidents
Stroller Compatibility
The Cybex Cloud Q is compatible with all Cybex strollers without any adapters needed. It can also be used with any NUNA stroller or the Quinny Moodd by using the included adapter. The Cloud Q may be used with other strollers, but an adapter must be purchased separately. The following strollers are compatible (with an adapter) to the Cloud Q:
Austlen Entourage (front adapter only)

Baby Jogger strollers

Bugaboo strollers

Mima Xari and Zigi

Thule Urban Glide strollers

UPPAbaby VISTA, CRUZ, and MINU
Cybex Cloud Q vs. Cybex Cloud Z
The Cloud Q and Cloud Z both come with the same safety features but differ from each other in other aspects. For starters, the Cloud Z is much lighter than the Q as it weighs in at 10.6 pounds as opposed to the Q's 12.6-pound weight. The Z also comes in more color/print options and has a rotating mechanism when attached to the base. This comes in handy if you don't want to take the seat out of the base.
Similarities
Both have lie-flat capability

Both come with the same safety features

Same XXL canopy sunshade

Both cost roughly the same
Differences
Cloud Z has a rotating mechanism

Cloud Q weighs more than the Z

Cloud Z comes in more color/print options
Frequently Asked Questions
How much does the Cybex Cloud Q weigh?
Without the base, the Cybex Cloud Q weighs 12.6 pounds. The base for this seat weighs 12 pounds.
Is the Cybex Cloud Q car seat compatible with Bugaboo strollers?
Yes. The Cybex Cloud Q is compatible with Bugaboo Donkey and Donkey2, Fox and Lynx, Cameleon3, and Bee3 and Bee5.
How do you wash the Cybex Cloud Q car seat?
The seat cover can be removed and run through your washing machine. There isn't any information on whether or not it can be put through the dryer. To be safe, hang dry the cover. The seat's shell should be wiped down with a damp washcloth.
What is SensorSafe technology?
SensorSafe is a monitoring system that evaluates the environment in your car. You sync the technology with your phone and you'll receive pop-up alerts for a few different instances. These include if the buckle is undone while the vehicle is in motion, if you forget to unbuckle your child before leaving the car, or if your baby has been buckled too long.
Is the Cybex Cloud Q easy to install?
Despite having a few extra steps than typical installation, parents still say this seat is easy to install. The main idea is to feed the seatbelt through the base and use the belt tensioning plates to help lock the belt in place. For extensive instructions for installation, you can click here.
Matching Accessories 
Despite coming in several different color options, the seat doesn't come in any light colors. Because of this, it may be wise to get the summer cover if you live in a warmer climate or anywhere that experiences warm summers. This cover is made with 85 percent cotton and 15 percent polyester. The fabric is white, which will reduce the amount of heat absorption into the seat. 
If you're due to have your little one during the springtime or you live in a wet climate, it's also wise to have a rain cover. Not only will this protect your baby from the rain, but it can keep them safe from wind and snow as well.
The rain cover is completely transparent and has a fold-back flap for easy access to the baby. It's compatible with both the Aton and the Cloud Q car seat series.
Mosquitoes are the worst and can carry dangerous diseases for babies. Because of this, we recommend the Cybex insect net as well.
This one is compatible with both the Cloud Q and Aton series' and is machine-washable for easy cleaning. The netting is sheer and breathable so your little one can still see the world without compromising safety.
Safe and Comfortable Seat
When shopping for a luxury infant seat, finding one that will last a long time is of utmost importance. The Cybex Cloud Q seat is perfect for many families because it can be used up until your baby is roughly 18 months old.
Despite its high-end price tag, we can't recommend the Cloud Q enough if it sounds appealing to you. The safety features and comfortable design are far none compared to other seats. If you're looking for ease of installation and practicality, the Cybex Cloud Q is the one for you.