Babies and children of all ages loved to be snuggled by their parents or caregivers. Unfortunately, we as parents still need to use our arms for everyday activities and just can't constantly hold our little ones. However, baby carriers have made this task much simpler, even for the most petit mom or caregiver. 
Petit individuals sometimes have a hard time finding a baby carrier that works for them because of their small build. Many carriers don't adjust any smaller than a certain size, which is why we've come up with this guide for those who are struggling to find the perfect carrier for their petit frame. 
Our top pick for the best baby carrier for petite moms is the Ergobaby Omni 360 because it accommodates all sizes and has multiple carry positions that grow with your baby.
However, feel free to scroll through and check out some of our other top picks. 
Top Baby Carriers for Petite Moms
Ergobaby is known for making some of the most comfortable baby carriers on the market. They're a well-known company and is the preferred brand for many parents.
The Ergobaby Omni 360 is our favorite baby carrier for petite moms because it can be used for children up to 45 pounds or 48 months old and it has multiple carry positions for both of your comfort. Check out what else it has to offer. 
$154.79
$179.00
in stock
6 new from $154.00
9 used from $79.42
as of September 28, 2023 10:40 pm
Amazon.com
Free shipping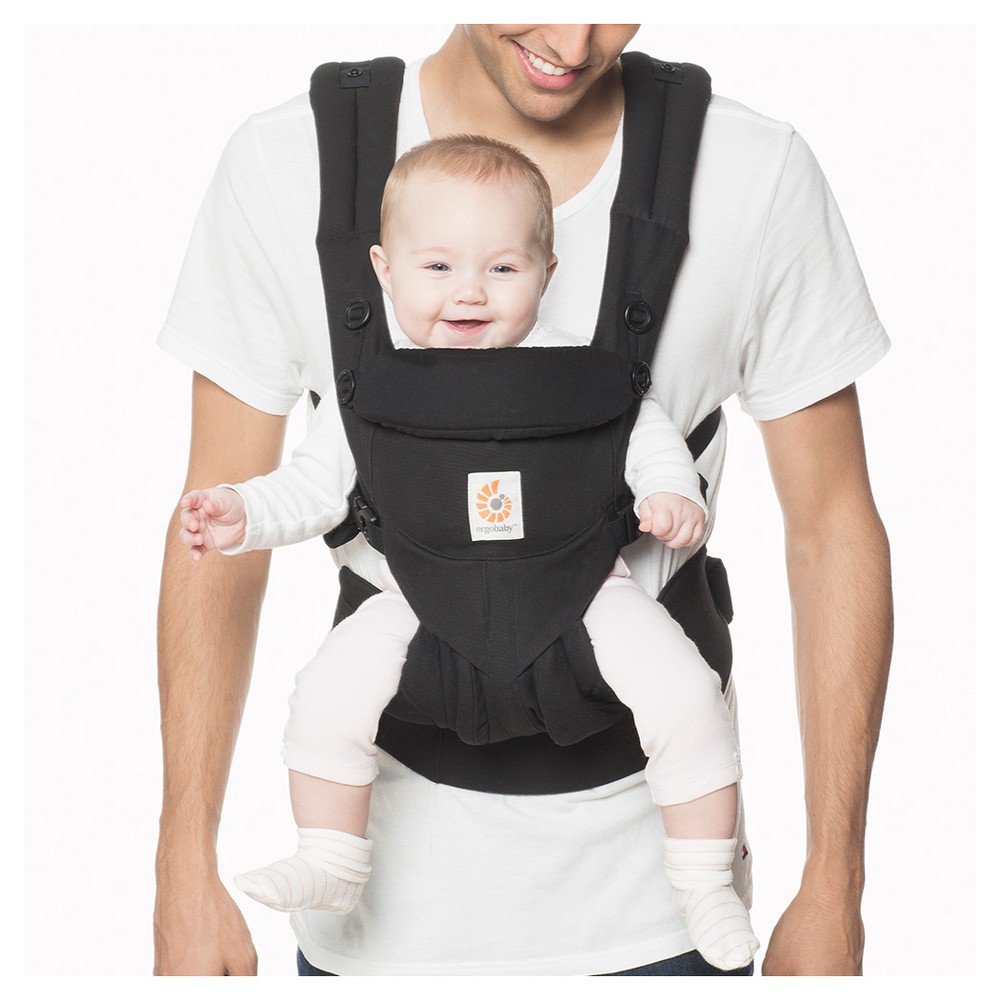 Target.com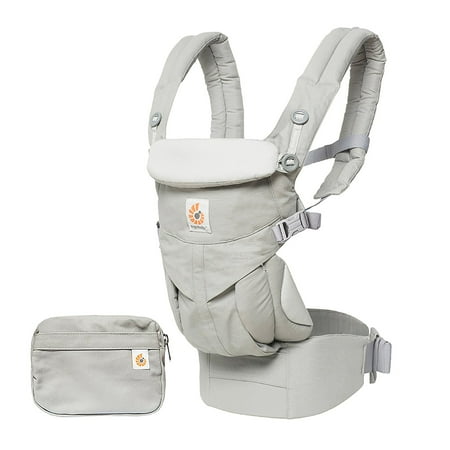 Walmart.com
Comfortable
Comfort is important when carrying a baby around. Not only for the caregiver but for the child as well. If your child isn't comfortable, then you aren't going to be either.
This baby carrier has padded lumbar back support and padded shoulder straps for maximum enjoyment. You can adjust the straps to either cross or remain normal. This is a feature that many petite parents look for, but not many carriers offer. 
Baby Safety
Baby safety is a top priority as a caregiver. The Ergobaby Omni 360 features a UPF baby hood that keeps your baby protected from wind and harmful rays from the sun. It also allows you to discretely breastfeed in public if you need or choose to. Additionally, the 100% premium cotton material is soft against their skin to prevent rashes. 
Adjustable
This baby carrier has been designed to fit multiple sizes including petite. As your baby grows, you can adjust the carrier to fit as needed. It can be worn in multiple positions including inward, forward, back, and hip for you and your baby's comfort. 
Bonus Features
One bonus feature that we love about this baby carrier is that it comes with a large storage pouch that's detachable.
This is the perfect item for holding baby food, your cell phone, a wallet, and more. Additionally, we discovered that this baby carrier has been acknowledged by the International Hip Dysplasia Institute as a hip healthy product. 
What We Like
Can accommodate children 7-45 pounds or 0-48 months

Adjustable

100% premium cotton 

Offers lumbar support

Detachable storage pouch

UPF protecting baby hood
What We Don't Like
It may be difficult to adjust

Customer service is subpar
This stylish baby carrier can be used until your child is 3-years-old, which is a pretty fantastic feature if you ask us.
A lot of baby carriers only accommodate infants, but not this one. It's comfortable, comes with a 1-year warranty, and is generally comfortable to wear. Let's see what else it has to offer. 
Adaptive
This baby carrier is adaptive to children up to 36 months. It can be used in all carrying positions including back, hip, inward, and forward. This gives you the option to be as comfortable as possible with whatever position your baby likes to be carried in. 
FRUITEAM Baby Carrier, 6-in-1 Baby Carrier with Waist Stool, One Size Fits All -Adapt to Newborn, Baby Hip Carrier for Breastfeeding, Infant & Toddler
3 new from $55.99
Free shipping
as of September 28, 2023 10:40 pm
This carrier is just what you're looking for! It is adjustable to fit both petite moms and larger body types. It's super comfortable to wear thanks to the soft cotton. Not only is comfy for you, but for your kiddo as well. 
Additionally, there is a padded lumbar support waist belt that helps keep pressure off of your lower back. There are also shoulder pads that help keep you comfortable while your child is in the carrier. We have seen some pretty bland carriers with no padding or lumbar support and these are the ones you want to stay away from. 
Bonus Features
Check out these bonus features! This carrier has a detachable hood for discrete and easy breastfeeding as well as sun and wind protection, which is perfect for those caregivers who are always on the go with their children. Additionally, you will get a 1-year 100% quality assurance guarantee. 
What We Like
Accommodates children up to 36 months

Multiple positions

Great for petite moms

Comfortable to wear

Protection for your baby

1-year warranty
What We Don't Like
Some users find it tough to figure out how to use it

Some users find it uncomfortable
Just because a product is cheap doesn't always mean it's not valuable. Let's take the You + Me 4-in-1 Ergonomic Baby Carrier for example. This product is under $50 and offers just as many features, if not more, than the expensive carriers. Let's break the product down a little more. 
YOU+ME 4-in-1 Ergonomic Baby Carrier, 8 - 32 lbs (Grey Mesh)
2 new from $28.55
Free shipping
as of September 28, 2023 10:40 pm
Multiple Positions
This carrier offers four carry positions including infant mode, forward-facing, wide, knee-to-knee support, and back carry.
Infant mode is for small babies, forward-facing is for babies 6+ months old who have neck and head control, wide, knee-to-knee support allows larger babies to have support for their growing hips, and back carry is for the toddlers. 
Additionally, it has a tailored holder fit that allows even the most petite caregivers to wear it with no hassle. 
Breathable Material
Have you ever noticed how much you sweat when wearing a baby carrier or even when you're just carrying your baby around?
This carrier is made with a Cool Mesh lining that keeps you from overheating while using it. This material is also on the waist belt and padded strap to keep the sweat at bay. 
Easy Transfer Between Partners
Here's a cool feature that we haven't seen on other expensive carriers. There is an internal harness that allows you to share the carrier with your partner easily and safely. You can leave the baby in the carrier and transfer the carrier to your partner. 
Bonus Features
There's one bonus feature of this carrier that we think may be valuable to you. It's the 2-in-1 bib. It helps keep the carrier clean between washes. If your baby is drooling due to teething, which we all know they do and sure can make a mess of it, you can take the bib off and throw it in the washing machine. 
What We Like
It's affordable for just about everybody

It comes with a bib

Can be easily transferred to your partner

It has reathable fabric

It's adjustable 

Great for all sizes
What We Don't Like
May not accommodat elarger babies

Leg holes are too high up
Let's take a look at a different type of baby carrier. The Baby Wrap Carrier is exactly what it sounds like-a wrap.
It provides a number of benefits for both you and your baby and it doesn't cost a fortune. Wraps help improve bonding with your child because they're kept close to your chest and they can hear your heartbeat. It's soothing and very beneficial to both of you. 
Baby Wrap Carrier - All in 1 Stretchy Baby Sling - Baby Carrier Sling - Baby Carrier Wrap - Baby Carriers for Newborn, Infant - Baby Holder Straps - Baby Slings - Baby Sling Wrap (Trendy Black)
3 new from $26.96
2 used from $24.35
Free shipping
as of September 28, 2023 10:40 pm
Adaptable
This baby wrap is one size fits all. This means that it is adaptable to all shapes and sizes, from the smallest to the largest. You can cross the ties as much as you ended to in order to make it fit the right way.
The flexibility of this wrap enhances both you and your baby's comfort. Additionally, it has been specifically designed to evenly distribute your baby's weight while you continue to be hands-free. 
Soothing
One thing we love about this carrier is that it provides colic relief. If you're familiar with colic then you know how uncomfortable it is. As your child is strapped to you, the upright position and constant swaying of your natural body motion help expel excess air from your baby that may be causing discomfort. 
Breastmilk Booster
It sounds strange, but baby wraps like this one are perfect for helping to boost your breastmilk production.
It's due to the skin-to-skin contact that releases the hormones used for breastmilk production. You can also breastfeed your baby while they are in the wrap. It's comfortable and discrete. 
What we Like
It naturally boosts breastmilk production

Can help ease colic

It's comfortable to wear

It's affordable

Has a postpartum belt

One size fits all
What We Don't Like
Fabric is uncomfortable

May cause sweating
Many baby carriers are focused on relieving the discomfort you feel when holding your child. However, the SUNVENO carrier is more focued on the skeletal development of your baby while providing you with relief and comfort. 
Ergonomical Design
As we mentioned, this carrier is focused on your baby's skeletal development. It allows your baby to sit in a natural M-position whereas other carriers cause pressure and discomfort on their hips.
This is why a lot of babies seem fussy when they're in a carrier. It's not becuase you;re doign something wrong, it's just the design of the carrier itself. 
Comfortable Design
The straps on this carrier is an x-cross design. This allows the stress between your shoulders and waist to even out, which provides you with a certain level of relief. Additionally, the straps are padded for optimal comfort. 
Not only are the straps comfortable, but the material is breathable and lightweight. As parents, we don't think there's anything more uncomfortable than being sweaty and overheated while carrying our children around.
The 3D mesh of this carrier allows you and your baby to remain cool. Additionally, the fabric is waterproof, durable, and can be washed. 
Bonus Features
One of the bonus features we love about this carrier is the multi-purpose pockets on the side and front. You can store your belongings such as a phone, wallet, pacifier, and more. Additionally, there's a tuckaway baby hood for wind and sun protection. 
What We Like
It's made with your baby's development in mind

It keeps both of you comfortable and cool

It's affordable

There's a 90-day money-back guarantee

Suitable for petite and postpartum moms

Reduces shoulder and abdominal stress
What We Don't Like 
No side support for baby

May not fit curvy women
Infantino is a well-known brand that offers an array of baby products that include baby carriers. The Flip Advanced 4-in-1 Carrier offers a variety of benefits for both you and your child. It can accommodate children from 8-32 pounds and provides you and your baby with a wonderful bonding experience. 
Adjustable
This baby carrier is equipped with an adjustable ergonomic seat, shoulder straps, and waist belt to help shift the weight of whoever is wearing it for optimal comfort levels.
Additionally, you can convert the carrier from inward-facing with a narrow seat to a wide seat, to facing out, and finally to a backpack. This will help transition the baby from forward-facing mode to outward-facing as they grow.
Bonding
This baby carrier gives you the freedom to bond with your baby while doing chores or while you're shopping. Not only that, but it also helps with developmental milestones. The baby is able to see the world as you see it instead of staring at one object from their swing or car seat. 
Durable
The durable material of this baby carrier prolongs its use, even for such an affordable product. If anything spills on the carrier, you can simply toss it in the washing machine in cold water on a delicate cycle. It cannot be put in a dryer, it must be drip-dried. 
What We Like
It's easily adjustable

Can be machine washed

Offers comfort for both you and baby

Petite moms can wear it

It's affordable
What We Don't Like
Some babies don't fit well causing broken blood vessels in their legs
Using a sling gives you and your baby a more intimate bonding experience since they're pressed so tightly to your body.
They are able to hear your heartbeat and it creates a soothing atmosphere for them. This is why the CuddleBug Baby Wrap Sling is such a great product in our opinion. 
Comfortable Material
There are plenty of wraps and carriers on the market that use cheap materials to keep costs down.
Fortunately, this carrier is both cheap and comfortable. It's made from a blend of French terry cotton and spandex. It allows the fabric to stretch to keep you and your baby comfortable. The spandex also helps promote hip development. Proper posture is a critical part of hip and spine growth. 
Enhanced Bonding & Learning
When your baby is pressed against you, it releases Oxytocin into your body. This allows you to better bond with your baby and fall even more in love with them than you would without being so close to them all of the time.
It's been shown that carrying your baby for at least three hours per day made them happier and cry less. 
Additionally, when you carry your child around, they have enhanced visual and auditory alertness. It helps greatly with their cognitive and speech development since they're more closely exposed to experiences and conversations. 
Added Benefits
The success of breastfeeding is doubled when moms wear their babies regularly. This is due to the Oxytocin release we mentioned earlier.
This will help promote breastmilk production as well. Additionally, wearing your baby in a carrier helps ease back pain that may be caused by carrying your child around without one. 
What We Like
It helps promote breastfeeding

It's comfortable

Offers enhanced bonding & learning

Allows you to multitask

Fits petite mothers

Lifetime warranty
What We Don't Like
It's not meant for larger people
Here we have another wrap that will help enhance the bonding experience between you and your baby. It has a wonderful balance of comfort, style, and support that will keep you comfortable and your baby safe. 
Comfortable Material
We're huge fans of breathable material. Nothing is worse than taking off a baby carrier and finding yourself soaked in sweat. The material of this carrier is soft and breathable. It's made from a high-quality rayon/polyester blend. It's lightweight and breathable allowing you to remain cool and comfortable all day. 
Gender Neutral Design
This carrier is made with a gender-neutral design, which to us is rather unique. It has double-sided side stitching for better posture stability and strength. It allows your baby's hips to develop properly. 
What We Like
It's made with breathable materials

It's affordable

It can fit petite women

Frees up your arms for multitasking

Easy to wrap

Comes in multiple colors
What We Don't Like
Long fabric made it difficult for some people to figure out
Graco is known for making some of the most innovative and safe baby products in the world. They are constantly creating new ideas to make our lives as parents much easier to handle. The Cradle Me 4-in-1 Carrier is proof. 
Safety Features
Here's something we haven't seen on many baby carriers. The Cradle Me is equipped with a SecureConnect buckle system. The buckles use magnets to guide and secure the latch to ensure your baby stays put. It also helps get your baby in and out of the carrier easier.
Comfortable
This baby carrier has a breathable mesh front panel with a hideaway shield for all-season use. The mesh keeps you and your baby cool and comfortable. Additionally, the shield keeps your baby protected from harmful UV rays and the wind. You can also breastfeed discretely and let your baby nap in peace. 
Hip-Healthy
The Cradle Me carrier has been certified hip-healthy by the International Hip Dysplasia Institute.
Your baby will always have comfortable leg placement in all positions to help ensure proper hip development. It works for the front baby seat, facing-out baby seat, and back-carry baby seat.
What We Like
It's Hip-Heathy certified

It's easy to use

There are added safety features

It's comfortable

Ideal for all shapes and sizes
What We Don't Like
 It's pricey

Awakward for infant use
Last up is the Baby K'tan wrap. We really like this wrap becuase it's easy to use and there's no need to fuss with extra fabric. It's comfortable, safe, secure, breathable, and all around simple. This is something that's hard to find in a baby sling for petite moms. 
Total Comfort
As we mentioned, this is one of the more comfortable baby slings. It's crafted from 100% cotton and it allows for even weight distribution.
The fabric is breathable and soft against your baby's skin. We've seen baby carriers that are made from a mix of materials that cause rashes and scratches on a baby's delicate skin. You don't have to worry about that with this wrap. 
Simple Design
Yes, finally! A baby sling that's easy to put on and wear. The wrap doesn't have belts, buckles,rings, or excess fabric. All you have to do is slip the sling over your head like a t-shirt and you're good to go.
Your baby can safely go with you and even breastfeed discreetly. Even though the design is so simple, your baby is safe. The unique double loop and one way stretch hold your baby secrely against your body. 
Multiple Positions
A baby sling with multiple positions? Who knew! This carrier grows with your child. It can be used as a sling wrap for preemies and newborns, an upright seated carrier for newborn up to 35 pounds, and more.
Additionally, this sling has been approved Healthy-Hip by the International Hip Dysplasia Institute. 
What We Like
There are multiple positions 

It's comfortable and safe

It's Hip-Healthy 

It's easy to use 

There are several cute patterns
What We Don't Like
Not for big breasted women

Lacks head support
Conclusion
We hope that you have been able to find a baby carrier that works well with your petite frame. All of these wraps and carriers are ideal for smaller caregivers and some are even great for larger individuals.
This is why we chose the Ergobaby Omni 360 as our favorite baby carrier. It can fit both petite and larger caregivers and there are multiple positions to accommodate your growing baby. 
Before you make a final decision, be sure to check the manufacturer's website for sizing charts. There are some carriers that come in various sizes, so it's best to ensure you'll fit in the carrier size you choose.