I learned that when properly using a car seat, parents reduce their childs' risk of vehicle related injury by as much as 70%. On the contrary, many (nearly half) of car seats are not installed correctly (American SPCC, 2020). Cue the anxiety!
This travel system boasts a newer technology that can put most parents at ease. 
Based on our testing, the Sensorsafe technology was great. However, stroller maneuverability was lacking, which is a major issue for a travel system. 
Newborns weighing in at as little as 4lbs up through 35lb toddlers are safe in the infant seat. The stroller is compatible with newborns, using the infant seat carriage function all the way up to 5-year-old children.
With a 6-year expiration date, parents can utilize the system without the fear of outdated features. The lightweight carrier, 31.6lbs, is attractive to many parents. 
Price Comparision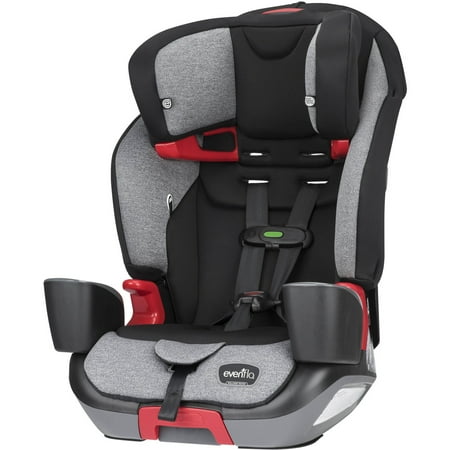 Walmart.com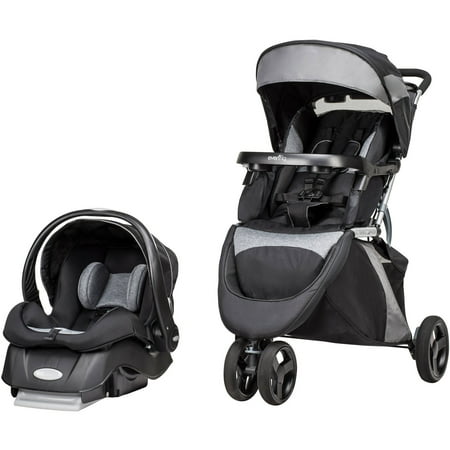 Walmart.com
out of stock
as of September 2, 2023 4:43 pm
Amazon.com
It was facts and statistics such as these that set me off on the search for a travel system that checked all the important boxes, from safety to ease of use and more. As parents we want the very best for our babes. 
When it comes to travel systems, we have a world of factors to consider. According to the National Highway Traffic Safety Administration, heatstroke is the number one non-crash, vehicle related cause of death for children under the age of 14.
It was this terrifying, albeit eye-opening stat that peaked my interest in the Evenflo ADVANCED EPIC 4 travel system with sensorsafe.
What is Sensor Safe Technology?
The Sensor Safe Technology works by signaling through bluetooth upon arrival, reminding caregivers that a child is present in the car. The technology can also alert caregivers if the chest clip becomes dislodged during the car ride.  (American SPCC, 2020).
Whoa, that's a mouthful! Let's look at the key phrases here. A travel system is an all-encompassing infant car seat, car seat base, stroller set. They are convenient because the parts work together, saving the need for adapter parts.
Parents love them because the infant car seat is compatible with the stroller. The stroller can then be used as the child grows and is able to sit up. Evenflo ADVANCED EPIC 4 travel system with sensorsafe is geared towards new parents looking for an all-inclusive solution to their multiple travel needs.
This technology not only reminds parents and caregivers that a child is in the seat but also lets you know if the buckle comes dislodged during transport.
This is ideal for parents and caregivers alternating childcare drop-offs and navigating the busy, working parent lifestyle. Don't let a mindless mistake become your worst nightmare. Sensorsafe technology makes a difference and sets this travel system apart.
How Does It Work?
The Evenflo ADVANCED EPIC 4 travel system with sensorsafe is simple to use. The infant car seat/carrier easily clicks into the car seat base, which remains installed in the car.
What's more is that you can purchase additional bases for the system for multiple caregivers. When using as a carriage, the infant seat clicks into the stroller, with no additional adapters needed.  
Key Features
Safety
Aside from the sensorsafe technology this system boasts additional safety features. Evenflo ADVANCED EPIC 4 travel system is nationally recognized by safety advocates for low-birth weight babies. Additionally, the infant car seat was built to withstand energy level testing a more than double the federal crash test standard (American SPCC, 2020).
Buckle Storage
A smart feature of the ADVANCED EPIC 4 travel system is the unique buckle storage. This feature keeps baby safe from hot, metal buckles during summer and saves the hassle of fumbling with straps when placing baby into the seat.
What I Love About It
Sensorsafe Technology
 I cannot say enough just how impactful this technology is. Most parents cannot envision ever leaving their child in the car. However, it unfortunately happens. We are incredibly busy and exhausted to the point of the local barista knowing us by name. The peace of mind that the sensorsafe technology gives parents is irreplaceable.
Large Storage Space
If you're expecting your first baby, let me tell you this: that little bundle of joy requires a LOT of stuff. Thankfully, the ADVANCED EPIC 4 travel system's stroller comes with ample storage for all that baby gear that we find necessary to tote around.
Easy to Use
With both belt and LATCH technology, the base is easy to install. The car seat is lightweight and easily clicks into both the base and the stroller making it a piece of cake to use.
Sturdy and Extended Sunshade
A significant amount of stroller use is outdoors. The skincare buff in me knows that even on overcast days the sun can have damaging rays. Despite avid sunscreen application, the extended sunshade is a great addition to this stroller. It adds just the right amount of extra protection and comfort for my babe.
Baby's Comfort
Am I the only mom who didn't necessarily consider baby's comfort when researching travel systems? Of course, we all know that unhappy babies cry, ultimately making everyone unhappy.
But I was so wrapped up in safety features and ease of use that I hadn't thought much about baby's comfort (#newmom). However, the car seat and stroller are both made with extremely comfortable, breathable features that have kept baby happy, which means I am too!
What I Would Like to Change
Stroller Maneuverability
It is no secret that mamas juggle a lot of stuff. The stroller we use should serve as an extra set of hands, rather than an additional struggle. Unfortunately, this stroller is challenging to steer, often making it more burdensome than it need be. 
Sensorsafe Technology Compatibility
According to Consumer Reports, the technology struggled with some car brands. While this may not be an issue for everyone, it does cause me to hesitate, second-guessing the reliability of the technology. It is something to consider when deciding if this system is right for your baby and family.
The Stroller Is Not Ideal For Jogging 
Is your family more active? If so, a travel system with a jogging stroller may be more useful than a stroller with two cupholders and a snack tray. Other factors such as storage options, durability, stroller size and weight capacity are all important to consider.  
Evenflo ADVANCED EPIC 4 vs. Evenflo Folio 3 Stroll and Jog
The Evenflo Folio 3 Stroll and Jog and the Evenflo ADVANCED EPIC 4 are both all-inclusive travel systems that are very similar.  Their safety tests as well as their product specs closely mirror one another. 
However, the Folio 3 Stroll and Jog comes with a jogging stroller equipped for more active use. Its air-filled tires allow this stroller to maintain its durability on rougher terrain. While both boast similar storage space, the ADVANCED EPIC 4 is geared more towards everyday use.
On the other hand, Folio 3 has the all-terrain capability. A common issue with 4-wheeled strollers such as the ADVANCED EPIC 4, is difficulty with the front wheels getting stuck and poor maneuverability.
Another major difference is the sensorsafe feature. This feature, unique to the ADVANCED EPIC 4 model, sets it apart and may even be ultimate deciding factor for many families.  
Ease-of-Use- 4/5
The overall system is quite easy to use. With the infant car seat seamlessly clicking into the base and stroller, the issues with maneuvering the stroller knocked this down a point.
Features-5/5
From the safety technology to the storage, and yes, even those two cup holders, it is safe to say this travel system knocked it out of the park. The features are the perfect combination of fun, functional, and necessary.
Customer Service-5/5
Everyone loves a good customer service experience and Evenflo provides just that. With the sensorsafe compatibility issues, they're known for walking customers through the steps to rectify the situation. 
Our Final Verdict
It all comes down to personal preference and what you feel is best for your family. The unique safety features make the Evenflo ADVANCED EPIC 4 travel system stand out against many competitors. 
The stroller could be a deal-breaker for those looking for a more versatile stroller. However, if you're more interested in everyday use, this system would be the perfect fit with the added bonus of a unique safety feature.
The sensorsafe technology provides peace of mind unlike any other travel system on the market. Pack the snacks mama, this one-of-a-kind travel system with storage for days is sure to please! You may be interested in Evenflo Lux24 review.