I enjoy travel systems that are built to make my life easier. One such system I was able to review was the Peg Perego YPSI travel system. 
I live in the city and found the stoller to work well with my area. It's crowded, but the stroller is small enough to maneuver around without an issue.
If I need to quickly put it away, there's a button that allowed me to fold it with a baby in one hand and the stoller in the other. I also found that it performed well on various rough terrain. 
I did like how well the stroller absorbed the energy from the rough terrain and the bassinet that came with the stroller kept my baby comfortable. It was easy to remove from the stroller and place back in if I needed. 
One of the features that seemed to create quite a buzz was the ability to convert it into a double stroller. Yes, this stood out from the rest of the travel systems, but I found the conversion to be too difficult and I had to purchase the clips separately. 
While I did enjoy using the travel system, I just don't recommend it. It has a hefty price tag and lacks features that make it stand out from others. It does have the ability to convert  into a double stroller, but I still don't think the price is justified. 
Below, we discuss, in detail, the travel system and its components. We also compare this travel system to a similar Uppbaby Vista Travel system. 
$799.99
$999.99
in stock
3 new from $799.99
as of September 29, 2023 3:59 am
Amazon.com
Free shipping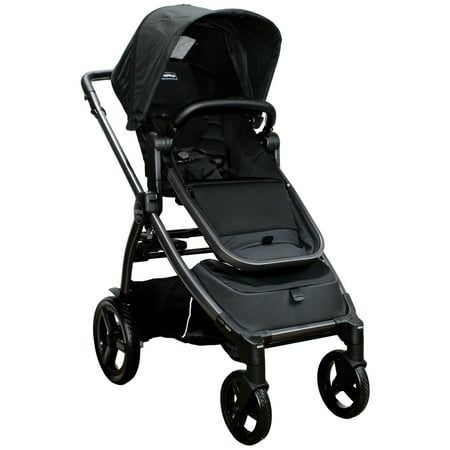 Walmart.com
What Makes Up the Travel System?
The YPSI Travel System consists of the YPSI stroller, full-feature stroller seat (or toddler seat), and Primo Viaggio 4-35 Nido Car Seat and base. 
While these are the components that come together to make up the Peg Perego YPSI Travel System, the stroller can also be used with the YPSI bassinet. However, the bassinet is sold separately and not included with the purchase of the stroller system.
Key Features
Single to Double 
The YPSI travel system has the capability to convert from a single to a double stroller. This is an important feature to many families who are interested in having more children in the future. Having a stroller that can change from a single to double means that you don't have to purchase a different stroller should you add another child to your family.
Peg Perego makes it easy to convert the YPSI chassis to a double stroller. In order to do this, you will need to purchase adapters that clip onto the frame of your stroller. These adapters make it possible for another seat to be added. You will also need to purchase the second seat that you will need for your stroller. 
If you have an infant, you could purchase an extra Primo Viaggio 4-35 Nido Car seat or a YPSI bassinet. For an older child, a regular toddler stroller seat (the seat that comes with the stroller) would be the perfect addition. 
When the YPSI stroller is converted to double mode, both children will be riding in tandem instead of side-by-side.  This allows for better navigation through crowded spaces as it does not take up as much horizontal space. 
It also allows for more flexible seating options for your children. Though your children will be riding in tandem, they will still have ample space for themselves. No matter which seat combination you choose, both riding children will be happy and comfortable. 
Peg Perego YPSI Travel System, Atmosphere
3 new from $799.99
Free shipping
Buy Now
Amazon.com
as of September 29, 2023 3:59 am
Compatible with Multiple Seating Options
The YPSI Stroller is compatible with a variety of different seating options for your child as he or she grows.  The Primo Viaggio 4-35 Nido Car Seat clicks easily out of your car and directly into the stroller frame. This convenient feature allows a sleeping baby to remain sleeping as you run errands and go about your day.
Another wonderful and unique seating option available for infants is the YPSI Onyx bassinet.  While this option is not included with the purchase of the stroller system, it is a great option that many families choose to add.
The bassinet is a much more comfortable stroller option for an infant than a car seat. It is equipped with a soft mattress and is even approved for overnight sleeping. This bassinet clips directly into the stroller chassis and gives your baby the most comfortable option. The YPSI Onyx bassinet is suitable for children from birth to 20 pounds. 
When your child is able to sit up on their own, they are ready for the regular YPSI stroller seat. This seat offers multiple reclining modes for sitting, lounging, and laying so that baby is comfortable at all times.
The integrated footrest has multiple adjustment levels as well. The YPSI stroller seat is also equipped with a UPF 50+ sun cover that keeps the baby cool, comfortable, and safe on hot days. 
What We Like
Perfect for City Living
The YPSI Travel System is designed to be easily maneuverable in tight spaces. In fact, it is only twenty inches wide with any seating option attached.  This makes it the perfect stroller for families who live in the city as it can be moved around conveniently in crowded spaces.
The YPSI Travel System is engineered to be easy to use in any situation. The YPSI stroller conveniently has a quick-fold system.  With the press of a single button, the stroller can close with the use of only one hand. 
It requires very little force to close the entire frame, so you will never be struggling or out of breath just to get your stroller closed. The frame is also designed to fold inward so that it keeps all the fabric safe and clean. 
The wheel system of the YPSI Stroller is also equipped for city streets.  The wheels have a high-quality suspension system and twelve ball bearings.  These two features working together make this stroller 30% easier to push.  It also means that it is well-equipped for use on multiple different surfaces, like brick or cobblestone or uneven sidewalks. 
Safety of the System
When it comes to car seats, safety is a parent's first concern. The frame of the Primo Viaggio is covered in Energy-absorbing Expanded Polystyrene (EPS). This type of foam consists of thousands of tiny beads that can be molded into a specific shape or size. It has the ability to withstand a lot of abuse and naturally absorbs energy. 
The frame of the stroller is made from lightweight aluminum.  This material was chosen to keep the overall weight of the stroller as light as possible while still providing a sturdy frame.  While the seat provides your child the most protection, the frame of the stroller helps absorb energy and shock from the road. 
Single Hand or Foot Adjustments
As previously mentioned, the Peg Perego YPSI Travel System has adjustments that require only one hand or one foot to operate. 
This was designed with busy moms in mind, as we rarely have two free hands. The locking mechanism of the stroller is locked or unlocked with a foot pedal at the base of the stroller.
Adjustments that require only one hand include the canopy of the stroller seat and car seat, back adjustment of the stroller seat, and the handlebar of the stroller, to name a few.  All of these can be controlled with the press of a button. 
$799.99
$999.99
in stock
3 new from $799.99
as of September 29, 2023 3:59 am
What We Don't Like
Weight
The weight of the stroller and the car seat are both a little too hefty for our liking.  The stroller is made with a sturdy, high-quality aluminum that gives your child protection. However, without any seat attached, it is 22.6 pounds.
This means that if you are lifting the folded stroller with the stroller seat attached, it will be a good bit heavier and, therefore, harder to get up and down stairs or in and out of your car. 
The Primo Viaggio 4-35 Nido Car Seat that is included with this travel system is also on the heavier side for a car seat. At 10 pounds, carrying the seat by itself is tough with a growing baby nestled inside.
Fortunately, the car seat clicks easily into the stroller frame for mobility. However, adding those weights together makes the system over 30 pounds.  If you need to maneuver up and down curbs or into and out of buildings, this may make things a struggle. 
Double Mode Maneuvering
While this travel system is made for easy maneuvering, things are a little different when it is converted into a double stroller.  Adding two seats to the stroller frame makes things heavier to push.
With the seats in tandem, it also makes the system very long.  This makes sharp turns more difficult as they require you to put some weight behind it. This issue seems to follow most double strollers, however, so we don't see this as a huge negative. 
The YPSI Travel System and the Uppababy Vista Travel System have quite a few similarities.
However, they are different in some key areas. First, your purchase of the Vista Travel System does NOT include an infant car seat.  Instead, it comes with the bassinet.
The Uppababy Vista Travel System also is offered in quite a few additional colors and fabrics than the YPSI Travel System.
Additionally, the basket of the YPSI Stroller in the Peg Perego Travel System is expandable to fit the capacity you need. The basket under the Vista Stroller is roomy, however, it always stays the same size. 
Perhaps the most important difference is that the Uppababy Vista Travel System is more expensive than the Peg Perego YPSI Travel System by a couple of hundred dollars.
Personally, we prefer the YPSI system because not only is it less expensive, but it includes a wonderful infant car seat. The included bassinet is great with the Vista system, however, you still need to purchase an expensive car seat on top of that. 
Final Thoughts
If you live in an urban area and are looking for a travel system, look no further than the Peg Perego YPSI Travel System. 
One purchase gives you everything you need for many years, and all the included products are safe and made from quality materials. This travel system has the perfect, no-hassle features to accommodate a busy, growing family. You may be interested in the Peg Perego Orion Review