Maxi Cosi may not be a well-known brand, but they're definitely working their way up to the top with their innovative car seats. I was happy to be able to test the Maxi Cosi Coral XP. 
The Maxi Cosi Coral XP is the world's first infant car seat with a unique modular design.  This means that the soft, inner part of the seat separates from the hard, safety shell for light and easy transport. 
The first thing I noticed with this car seat was the two-piece design, which is something I've never seen before. It would have been a great feature had the crossbody strap not been so awkward. Otherwise, being able to remove the soft shell from the hard shell with my baby still inside was impressive and convenient. 
Additionally, installation was easy with the LATCH connection system that self-retracted. There's also a stability leg on the base that keeps the seat in place. We found similar car seats to be more difficult to install than this one. 
I wasn't impressed by the low weight and height limit. Most car seats in this price range offer higher limits, but this one will have you needing to purchase another car seat a little earlier than anticipated. 
It's unfortunate that this car seat didn't quite tickle our fancy and therefore we don't recommend it. It's a pricey infant car seat with low height and weight limits, awkward crossbody strap placement, and inconvenient rethreaded harness. 
We will discuss weight and height limitations, important features, what we like, what we don't like, and our overall impression.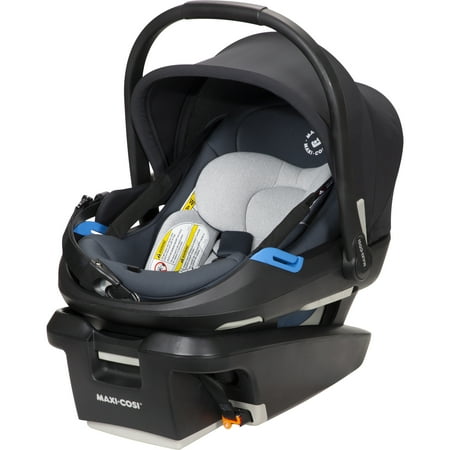 Walmart.com
$399.99
in stock
2 new from $399.99
as of September 30, 2023 11:08 am
Amazon.com
Free shipping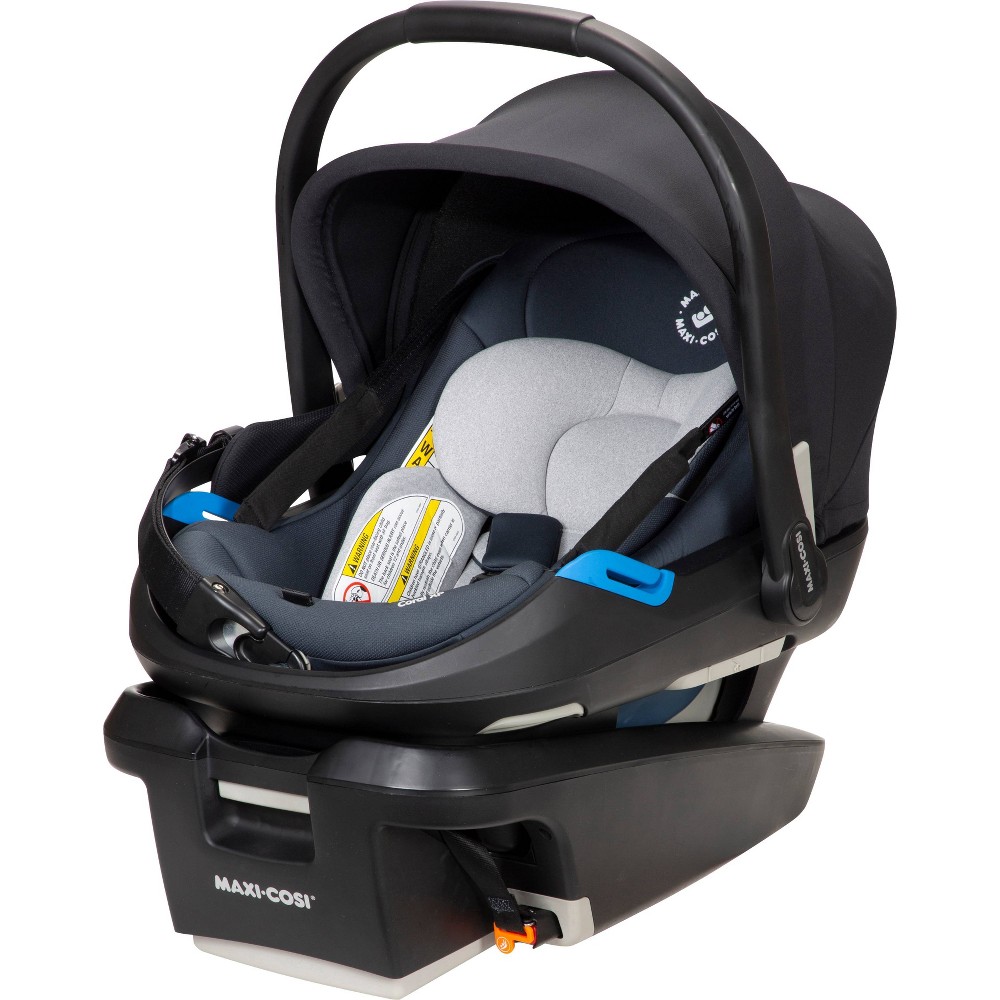 Target.com
Weight and Height Limitations
The Maxi Cosi Coral XP Infant Car Seat is suitable for children from 40-75 cm tall and up to a maximum of 13 kg. If you're not up on your metric conversions, this means that this seat can be used from about 15-29 inches and about 4 to 22 pounds. 
Key Features
Modular Design
The modular design is the focus of the Maxi Cosi Coral XP Infant Car Seat.  This seat comes in two major parts.  The hard, protective shell stays anchored to the car for safety. The soft, inner seat has the capability of being removed to carry your baby. 
Simply press a single button and lift for the carrier to release.  When it's time to get into the car again, the soft seat clicks easily into the hard shell to keep your baby safe. 
This car seat is the first to have this innovative design feature.  It is meant to give mom's back a break from carrying such a heavy and awkward car seat to and from the car, or into the store. 
The soft, inner seat is significantly lighter than any car seat on the market, and keeps your baby close by and comfortable wherever you need to go. 
Safety Features
With the invention of new car seat designs comes the concern for the safety of your child.  With the Maxi Cosi Coral XP, there is nothing to worry about. 
The Maxi Cosi Coral XP either meets or exceeds all government safety standards that are in place.  The company even goes above and beyond to do additional safety testing than is required by law. 
The base that comes with the Maxi Cosi Coral XP features the proprietary MaxiLock secure locking system.  This system has self-retracting LATCH connectors that allow for easy and safe installation every single time.
The base also includes an anti-rotation stability leg.  This provides an additional level of safety as it reduces movement in the event of a crash. 
Maxi-Cosi Coral XP Infant Car Seat, Essential Blue
2 new from $399.99
Free shipping
Buy Now
Amazon.com
as of September 30, 2023 11:08 am
Adjustable Crossbody Strap
The crossbody strap that is attached to the soft, removable seat is a great and innovative addition to the traditional car seat.  A car seat is one of the most awkward and cumbersome things to carry. 
The Maxi Cosi Coral XP's crossbody strap eliminates the awkwardness by giving you a more natural and comfortable way to carry your baby. Not to mention it allows you to navigate with both hands-free. 
The crossbody strap is attached to the removable seat only.  To carry your baby with the strap, simply push the button and lift to remove the soft, inner seat with your baby inside. 
Then, adjust the crossbody strap easily and with one hand so that it fits your body perfectly.  Your baby can then be carried comfortably and safely while you go about your day.
What We Like
Allows baby to remain sleeping
No matter how compact your hard car seat is, it is almost impossible to move baby from the car without disrupting them. And nothing is worse than unintentionally waking up a sleeping baby.
The detachable infant insert allows you to quietly and smoothly transfer your sleeping baby without waking him or her up. Get those precious extra minutes of downtime by keeping baby in the soft seat. 
Saves your back 
Being a mom and having back problems come hand-in-hand nowadays.  The Maxi Cosi Coral XP Infant Car Seat gives your back a welcome break. 
Some popular car seats, like the Graco SnugRide SnugLock 35 Infant Car Seat, are 15 pounds or more.  Add a 15-pound baby, and that is a lot of weight to lug around.
The soft, removable carrier of the Maxi Cosi Coral XP is only about 5 pounds without the additional infant insert. The convenient carrying handles and crossbody strap give you more comfortable carrying options that don't require you to struggle or lift with your back. 
Materials
The fabric on a car seat is constantly in contact with your baby's sensitive skin. Because of this frequent contact, it is important to know what type of material is touching your baby's skin. The Maxi Cosi Coral XP uses PureCosi fabrics that have no added flame retardants or chemicals, so you know your baby's skin is safe. 
Also, the three different color options are made with premium, super soft fabric for your baby's utmost comfort. The seat cover can also be easily removed to be machine washed and dried.
Easy Connect with Stroller
Another amazing feature of this seat is that you don't need the hard shell to connect this seat with a stroller.  The soft, lightweight, inner seat can be removed from the shell and clicked directly into a compatible stroller system. This allows you to transition quickly from car to store to home, etc.
The Maxi Cosi Coral XP Infant Car Seat connects easily with select Maxi Cosi stroller systems, like the Lila XP.  It also is compatible with Quinny strollers and many other popular strollers when using the Coral XP Inner Carrier Stroller Adapter. 
Read on more about the quality and comfort of Quinny strollers; they come in different price ranges and are loved by many moms.
                                        Compatible With Most Maxi Cosi Strollers
What We Don't Like
Rethread Harness
Most modern car seats have added a harness to their infant car seat that does not need to be rethreaded in order to adjust. The Maxi Cosi Coral XP has a harness that does need to be rethreaded for each adjustment as your child grows. This means that adjustments take some more time and effort than most other modern car seats. 
Awkward Placement of Crossbody Strap
While the crossbody strap itself is a huge positive, when the soft seat is inserted into the hard shell, the strap can be slightly awkward.  It lolls to either side and is in the reach of your child. 
So, when they are old enough, they will play with the strap, potentially messing up your length adjustments. It is important to note that this strap is not a safety issue, but merely an inconvenience. 
Low Weight and Height Limitations
Many infant car seats have different weight and height limitations. However, most popular brands have similar, if not the same, limitations.  A typical infant car seat, like the UppaBaby Mesa, allows your child to ride until they are about 35 pounds and 32 inches tall.

The Maxi Cosi Coral XP weight and height maximums are a few inches and few pounds lower than the typical car seat.  This means you will have to transition to a new seat a little earlier.  
Price
If this car seat piques your interest, then you'll pay a pretty penny for it.  Because it is the first of its kind and made with highly innovative technology, the Maxi Cosi Coral XP comes with a steep price tag.
$399.99
in stock
2 new from $399.99
as of September 30, 2023 11:08 am
Maxi Cosi Coral XP vs. Doona Infant Car Seat
The Maxi Cosi Coral XP and the Doona Infant Car Seat and Stroller combo are both new and innovative products on the market today. 
The Doona Infant Car Seat and Stroller combo differ from the Maxi Cosi Coral XP in that it has the capability to turn into a stroller. 
The Doona Infant Car Seat has wheels and legs tucked up underneath of it.  When the seat is removed from the base, these wheels and legs can unfold in a single motion to turn into a stroller.
While this seat-to-stroller combo is convenient in many situations, it is not the greatest for situations in which you do not want a stroller. The removable seat of the Maxi-Cosi Coral XP allows you to use it in any situation, even in close quarters and does not require navigation.  It also keeps your hands free. 
This three-pound seat can even be carried over the shoulder with the handy crossbody strap. This one-of-a-kind feature allows a healing mom to move her baby from the car to the stroller to the house with ease instead of struggling with a heavy, bulky seat. 
Maxi Cosi may not be one of the first brands that come to mind when you think of car seats, but it is THE go-to car seat brand in Europe. In fact, most Europeans refer to a car seat as a "Maxi Cosi." Explore the interesting details of this European-made car seat below. 
Final Thoughts
It's been quite some time before a company has come along and completely revolutionized the way a car seat is designed.  With its modular design, the Maxi Cosi Coral XP is a trendsetter.  If this seat is something that you must-have for your new baby, then it is time to act fast. 
If you have busy older kids or are constantly on the go, the convenience of this seat is a perfect fit. Running errands and attending soccer practice is a lot easier with a free set of hands and your baby close by.