It's not an easy task trying to keep your baby happy and entertained while you're driving. There's only so much front-seat singing you can do in one trip.
Do you want to know the secret to keeping your baby happy while they're in their car seat? A car seat toy! Yes, it's as simple as that. 
If you need help picking out the best car seat toy for your perfect bundle of joy, check out our top five picks. 
Best Car Seat Toys
| Product | Rattles | Universal | Musical |
| --- | --- | --- | --- |
| Taf Toys Toe Time Infant | Yes | Yes | Yes |
| Infantino Spiral Activity | Yes | Yes | No |
| Lamaze Mortimer The Moose | Yes | Yes | No |
| Bright Starts OBall Flex 'n Go | Yes | Yes | No |
| Bright Starts Take Along Musical Carrier | Yes | Yes | Yes |
Looking for a more interactive toy for your baby while they're in their car seat? The Taf Toys Toe Time car seat toy offers more activities for your baby and more fun. Your baby can kick the toy and listen to the music that plays each time they do so. 
Additionally, there are three soft hanging toys that jingle and crinkle and a mirror they can view themselves in (see other car seat mirrors). All of these activities combined help your little one develop their fine motor skills, stimulate their aural and visual senses, and with this, they can get a jump start on their color recognition. 
Lastly, you can adjust the height and angle of the toy with the help of the Velcro straps. The toy can grow with your baby. They will love getting in their car seat and listening to the music they create with their tiny feet. 
$28.79
$35.99
in stock
2 new from $28.79
as of September 28, 2023 3:43 pm
Infantino is a popular manufacturer of many baby products. This particular baby product can help keep your baby calm in the car or stroller.
This car seat toy is shaped like a spiral. It is ideal for wrapping around the car seat bar and the stroller bar. 
This toy encourages several important milestones such as visual tracking and gross motor skill development. The toy is overwhelmed with bright colors for your baby to stare at and a variety of toys to grab at and play with. 
Furthermore, the toy features a flower with a mirror for your baby to stare at themselves, click-clack rings, a two-sided rattling pig, and a crinkly bee. The toys are BPA-free, so your child can stick them in their mouth if they wish. 
$25.65
in stock
1 new from $25.65
as of September 28, 2023 3:43 pm
If you want just a simple car seat toy that won't overstimulate your baby, then Mortimer the Moose is a good choice. Mortimer the Moose is extremely soft and snuggly. It has a special squeaky tummy that helps your baby with their auditory awareness and keeps them entertained. 
Moreso, this colorful moose has colorful, satin legs and hooves that crinkle and jingle. This is a great way for your baby to have their tactile senses stimulated. They can pull down on the legs and release them, hopefully resulting in a cute little giggle.
Additionally, you can hook the moose right to the stroller, car seat, or diaper bag so they can be entertained no matter where you go. You can also give it to them freely for a more hands-on experience. They'll be free to chew, gnaw, and cuddle as much as they want.  
$11.99
$18.49
in stock
7 new from $11.99
as of September 28, 2023 3:43 pm
Bright Starts is another name that you may recognize. They are another manufacturer of helpful baby toys and products. Comparatively, this car seat toy is more sturdy and durable than some of the others, lasting through multiple children. 
You will find three hanging toys on the arch. An easy-to-hold Oball, a monkey rattle, and a circular rattle toy. You will also get four linky loops so you can attach multiple toys. The loops are also fun for your child to gnaw on if they are teething. 
Lastly, you can attach the arch to both a stroller and a car seat for entertainment on the go. You can detach the toys so they can play with them on their own or leave them attached to the arch to improve their fine motor skills. 
$14.99
in stock
1 new from $14.99
as of September 28, 2023 3:43 pm
5.Bright Starts Take-Along Musical Carrier Activity Toy Bar
Another car seat toy by Bright Starts makes the list. The Take-Along Musical Carrier Activity Toy Bar is fun and exciting for your baby. You can use it on both a stroller and a car seat thanks to the easy-to-use straps. 
Additionally, your baby will be able to use their fine motor skills to grasp at the three included toys. There is a spinning zebra roller ball with colorful beads inside that the baby can see.
Second, there is a paddle mirror that the baby can use for self-discovery. Lastly, the tiger with the light-up nose. The tiger also plays four tunes for your baby to listen to. 
The engaging lights and music will keep your baby occupied the whole time they are out and about.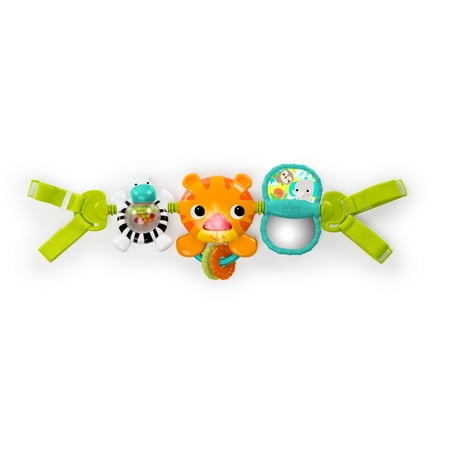 Walmart.com
Benefits of Car Seat Toys
Car seat toys offer numerous benefits to both the child and the parent equally. They are sought after by new and experienced parents and for all of the right reasons. Here are some benefits of car seat toys that you may or may not be aware of: 
Teething
A variety of car seat toys have been created specifically for teething. As your child grows, teething will begin and it will become uncomfortable and sometimes unmanageable. It can usually be soothed by chewing on different items. 
Car seat toys that are designed to be chewable ease your child's aching gums and can bring both your child and yourself, some much-needed relief. 
Multi-Sensory Stimulation
Children who play with car seat toys are very likely to improve their cognitive skills. They can view different colors, play with different shapes and textures, and they can hear different sounds. A few types of stimulation include: 
Tactile Stimulation: This makes the baby aware of touch sensations, temperature, and texture. 
Gross Motor Skills: This is the ability to use the arms, torso, and legs to complete whole-body movements. 
Fine Motor Skills: This is the coordination of the hands and fingers, such as grasping small objects. 
Auditory Awareness: The ability to respond to a sound depending on where it comes from. 
Visual Awareness: The Awareness of external visual stimulation. 
Entertainment
This may be the most important benefit of car seat toys. The ability to keep your child happy and occupied can be easily achieved by car seat toys. Your child won't be bored, they will be stimulated, and they won't bother with items that they shouldn't be playing with, such as your purse keys. 
Our Final Thoughts
There's no doubt that car seat toys can be both entertaining and beneficial. They are affordable, versatile, and can soothe a cranky baby with ease. Hopefully, this article has helped you choose the best car seat toy for your baby.